Are You A Freiberufler, Freelancer or Gewerbe in Germany
Top Takeaways From This Post
Last updated on December 23rd, 2022 at 01:06 pm
Anyone wishing to set up their own business in Germany must deal with the formal framework right at the beginning. This includes, above all, the question of the tax status: Are you a Freiberufler (Freelancer) or Gewerbe in Germany? Let's see how the distinction is made in German tax law. 
When you become self-employed in Germany, you either run a business as a trader or work in a liberal profession as a freelancer. It is important to distinguish between Gewerbe and freelancer in Germany, as there are some special features that apply to the liberal professions.
This is not always easy and the final decision is made by the tax office (Finanzamt), which classifies self-employment on the basis of certain criteria. The classification also decides, for example, whether an entrepreneur must pay trade tax (Gewerbesteuer) or not.
What are the differences between a Freiberufler (Freelancer) or Gewerbe in Germany? This post attempts to answer the most important questions.
But first, here is a glossary of the most important and frequently used German terminologies in this post.
| | |
| --- | --- |
| German | English |
| Finanzamt | Tax office |
| Freiberufler | Freelancer |
| Freier Mitarbeiter | Freelancer / Contractors |
| Gewerbe | Trade (Commercial activity) |
| Freie Berufe | Liberal professions |
| Gewerbetreibende | Trader |
| Gewerbeanmeldung | Trade registration |
| Gewerbesteuer | Trade tax |
| gemischte Tätigkeiten | Mixed activities |
---
For busy people: Here is this blog post in a video format. Otherwise, continue reading!
---
1) What is Self-Employment in Germany?
The definition of self-employment in Germany is simple.
Anyone who does not work for an employer is self-employed. So both (Freiberufler) Freelancer or Gewerbe in Germany are considered self-employed. 
However…
The terms "Freiberufler", "freelancer" and "self-employed" are often used as synonyms – but they are actually different -at least in Germany. The most important thing to remember is –
All freelancers are self-employed people, but not all self-employed people are freelancers in Germany. 
Let's dig deeper into the concept of self-employment, Freiberufler or Gewerbe in Germany – because this is where the infamous German pedantry shines through.
2) Self-Employment as a Freiberufler or a Freelancer in Germany
2.1) What is a Freiberufler in Germany? 
The term Freiberufler comes from German tax law, where §18 of the Income Tax Act (EStG) describes the income from various freelance activities. Only individuals who practice so-called 'liberal professions' (Freie Berufe) are considered 'Freiberufler' in Germany.
Freie Berufe is divided further into THREE subcategories.
2.2) Liberal professions subcategories in German tax law
The income tax law  in Germany distinguishes in §18 paragraph 1 No. 1 into three freelance activity groups:
Catalogue professions (Katalogberufe) – the independent activity of the so-called catalogue professions (Income Tax Act, Partnership Company Act). More details on catalogue professions are in the next section.
Similar occupations (ähnliche Berufe)– the independent activity of occupations similar to catalogue occupations (also called: analogous professions).
Professions (Tätigkeitsberufe) – scientific, artistic, or other professions carried out independently, writing, teaching or educational activities.
2.3) What is included in the catalogue professions?
Medical professions: Doctors, dentists, veterinary, physiotherapists, midwives, masseurs, psychologists
Legal, tax and business advisory professions: Lawyers, patent attorneys, notaries, auditors, tax consultants, consulting economists and business consultants
Scientific/technical professions: Surveyors, engineers, chemists, architects, pilots, full-time experts
Education/cultural professions: Journalists, photojournalists, interpreters, translators, artists, writers, teachers and educators.
3) Freiberufler vs  Freelancers in Germany – What is the Difference? 
In Germany 'Freiberufler' and Freelancer are two different things. Time and again Freiberufler and freelancer are confused and used synonymously by English-speaking international freelancers and unfortunately expat bloggers in Germany.
This is INCORRECT!
Although the two words are quite similar, it is important to be extremely careful here.
Not every Freiberufler is automatically a freelancer in Germany. 
The technical German term for freelancers is Freier Mitarbeiter.
A Freier Mitarbeiter is hired by businesses (clients) for short-term projects and specific time periods. Whereas a Freiberufler generally has their own practice, firm or studio where customers visit them to receive their services. 
| | |
| --- | --- |
| Freiberufler in Germany | Freelancer in Germany |
| They (mostly) practice catalogue professions like doctor or lawyer or an architect, tax advisor etc. | They generally fall under the category of similar professions like marketing consultants, graphic designers, web developers, photographers etc. |
| They often have their own practice, law firm or design studios – a specific place dedicated to their work. Their clients/customers visit their offices to get their services. | They can work onsite at their client's office or work remotely from their home office or a coworking space. |
| Their clients are generally end-customers. i.e patients that need medical treatment from a doctor, clients looking for legal help from a lawyer, or professionals who need tax consultation etc.   | Their clients are mostly other businesses that hire them as external contractors. Web development agency hiring a web developer or graphic designer.  A business hiring a marketing consultant, etc. |
---
Related: How to Register Your Freelance Business With Tax Authorities (Finanzamt) in Germany
---
4) Self-employment as a Trader (Gewerbetreibende) in Germany
A trader is a self-employed person who carries out a trade. It must be distinguished from a freelancer who pursues a liberal profession (lawyer, doctor, etc.).
The legal basis for this is the Gewerbeordnung or GewO for short. According to this, trade is an economic activity that you carry out on your own account, under your own responsibility and with the intention of making a profit in the long term.
In contrast to freelancers, tradespeople must register their self-employment as a business. Registration with the tax office (Finanzamt) is done by means of the questionnaire for tax registration, which every self-employed person (i.e. also freelancers) must fill out at the beginning of their activity.
---
Related: How to Register Your Gewerbe Business With Tax Authorities (Finanzamt) in Germany
---
4.1) What is Commercial Activity (Gewerbe) in Germany
By contrast, industry, crafts, trade and "simple services" are neatly piled under commercial activities. These include the following economic sectors:
Industrial manufacturing,

Craft and craft-related professions, excluding artistic activities,

Wholesale and retail trade (in the broadest sense the sale of products),

Gastronomy and hotel industry

Specialised services (for example, household-related services such as plumbing, cleaning or repairs)

Representatives, intermediaries and agencies and

Money and investment advisor

Sale of digital products
Furthermore, regardless of the type of business and activity, all corporations (limited liability companies and stock corporations) are automatically considered to be commercial due to their legal form.
Anyone who practices in any of the above-mentioned fields is considered a 'trader' by Finanzamt in Germany.
5) Tax Benefits for a Freiberufler or Freelancer in Germany
Anyone who meets the criteria and can work as a self-employed freelancer can enjoy various benefits that tradespeople can only dream of.
The following overview illustrates the difference between freelancing and trade in Germany.
Freelancers do not have to register their business as a 'trade or 'Gewerbeanmeldung'

Freelancers do not pay a trade tax 

Freelancers are not subject to trade supervision

Freelancers are not subject to trade law

Freelancers are not subject to commercial law

Freelancers are not subject to the obligation to be members of a chamber

Freelancers are not required to keep accounts (regardless of the amount of income)

Freelancers only have to submit a surplus income statement for the annual accounts

Freelancers have the possibility of a partnership company, etc.
---
Related: Guide to Value Added Tax For Freelancers in Germany
---
6) Freelancer or Gewerbe in Germany- You Can Be Both!
Just so you know, you can be both a Freelancer or Gewerbe in Germany.
If you carry out several activities that are both freelance and trade, this is called a mixed activity (gemischte Tätigkeiten). These are again divided into separable and inseparable mixed activities.
Freelancing sole proprietors can declare their income from freelancing and trade in Germany separately for tax purposes in order to prove the share of their freelance activities to the tax office.
Otherwise, they run the risk that their freelance income will be classified as commercial and thus subject to trade tax. By the way: the activity of corporations such as the UG (limited liability) is basically commercial.
Some examples of mixed activities:
A freelance author sells her works through her own online publisher.
An architect earns commissions from the brokerage of real estate in addition to his core tasks.
A computer scientist tests programs from other developers.
A graphic designer, in addition to his freelance work, also places printing orders from his own customers in his name and on his account.
---
Related: How to make a German client-freelancer contract
---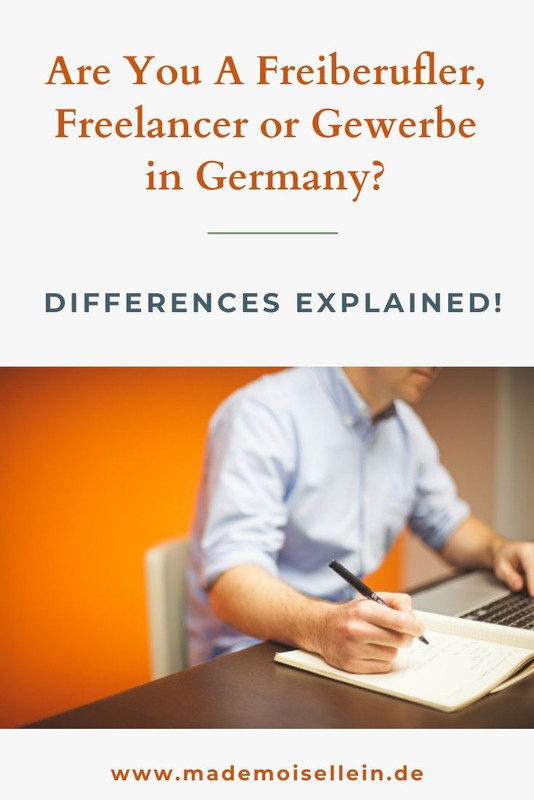 So this is how you differentiate between Freiberufler, Freelancer or Gewerbe in Germany. Do you have experience with setting up a freelancing or trade in Germany? Let us know in the comments below.