Tips for Buying a House in Germany as a Foreigner + FREE Checklist to Avoid Pitfalls
Top Takeaways From This Post
Last updated on January 6th, 2023 at 07:36 pm
Believe it or not, many expats living in Germany often end up buying properties in Germany. Are you planning to live in Germany for a long time or just want to make a solid investment for future? Then here are some insider tips for buying a house in Germany as a foreigner.

PS: Download a FREE list of questions to ask your real estate agent or seller before buying a house at the end of this post. 
Nearly 50% of the German population doesn't own a house in their lifetime. As of 2019, only half of the German population are homeowners. An average German family buys a house for life, mostly for family use and not as an investment or a passive source of income.
They either rent a house their entire lifetime or real estate is passed down from generation to generation.
However, this should not deter you from buying real estate in Germany as an expat. Buying a house or an apartment in Germany is a great investment for many expats since it really opens up other income streams in the long term. 
If you are considering taking this step, then here are some tips for buying a house in Germany as a foreigner.
---
Disclaimer: This post contains some affiliate links. This means I may earn a small commission for certain qualifying purchases at NO extra cost to you.
---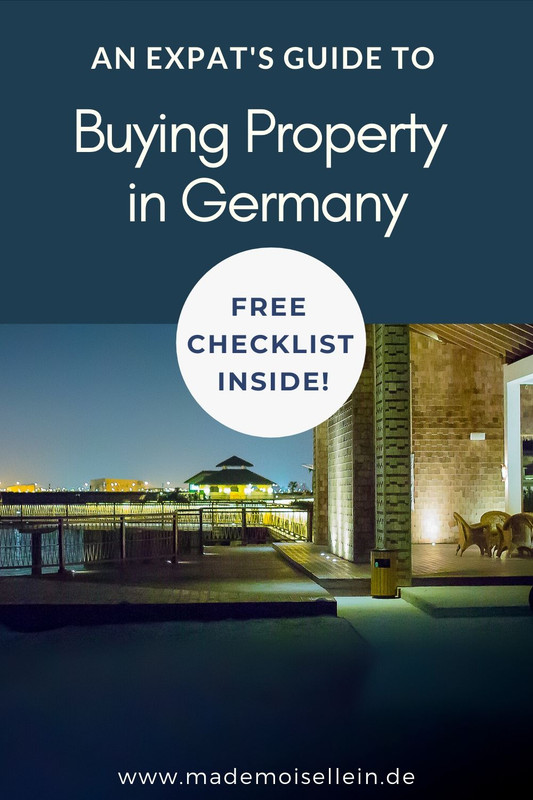 Can Foreigners Buy Property in Germany? 
Your nationality does not pose any limitations on owning real estate in Germany as a foreigner.
You can buy property in Germany as a foreigner without any restrictions. An expat does not even need to live here to own property in Germany. If you ever move to a different country, you can still keep your house in Germany and rent it out. 
The only downside of buying a house in Germany as a foreigner comes into question during the financing stage. Usually, German homeowners take out loans and pay monthly instalments for two-three decades in Germany.
This makes expats (who generally stay in a country for a few years) less than ideal candidates for house financing for most German banks. Short-term stays of expats also influence the commission rates and other costs i.e. real estate agent's fees.
Having said that if you have a German spouse or partner then you may not face any issues during the financing.
---

Read more: German real estate mortgage for foreigners explained

---
Can Foreigners Buy Property in Germany to Get a German Visa? 
That's a negative! 
Non-residents cannot buy a house in Germany to get citizenship or become permanent residents or get a visa. However, you can buy a property in Germany without needing a local residence permit.
To get German residency through investment, you may wanna look into a Business and Startup Entrepreneurs Visa.
Where to Find Houses for Sale in Germany
As in every country, there are certain procedures for finding an apartment or house and closing the sale. In Germany, you can find a house on sale from multiple sources. Here are a few of them:
Online Property Platforms
Gone are the dodgy days of wild west internet! 😉 The fastest way to find houses for sale in Germany is by searching online through Google. 
There are plenty of legitimate platforms that offer listings on apartments and houses for sale. You can also find extensive information on financing and other topics related to buying a property in Germany.
Just keep in mind that many of these properties have a 'makler or provision' fee attached to them. This fee is usually calculated at 3.5% to 5% of the property price. When you buy a property directly from the seller, you can skip this extra fee entirely – but such properties are rare to find in Germany.
Click here to find apartments on sale in Germany or your dream house to buy in Germany.
Real Estate Agencies
You'll inevitably come across real estate agencies (AKA Makler) when searching for a house to buy in Germany. This is one of the most common ways properties are bought and sold in Germany. 
If you want to get middleman support for buying a house in Germany, you can search for Immobilienmakler (real estate agent) in your area from the database of the German Real Estate Association (Immobilien Verband Deutschland). 
Private Sellers
Every now and then you will come across a property for sale as 'von privat'. This means that no real estate agent is involved. One benefit of buying from a private seller is that you can save on the Makler fee.
If you are interested in buying directly from the seller, then try search terms such as 'provisionsfrei immobilie kaufen + your desired location', 'haus Ohne Makler kaufen + your desired location' or 'wohnung von Privat kaufen + your desired location'.
You can also easily find 'maklerfrei' houses and apartments on sale in Germany on ohne-makler.net. Ohne-Makler.net is the largest directory of provision-free properties in Germany.
Banks or Financial Institutes
Apart from a vast number of private agents or real estate companies, a lot of banks, especially the local Sparkassen (savings banks) offer properties for sale as well. There are also some advantages of buying a property through the bank.
As you have already established a relationship with them, there is the possibility to negotiate a good mortgage rate when you plan to finance your home in Germany.
We bought our land for building our house through a local Sparkasse last year.
How Much Do Houses Costs in Germany 
Factors such as age, state of renovation and location of the property play a BIG role in determining the cost of a house in Germany. The type of property also has an influence on the price of the house. A city villa can cost way more than a standard family home. 
Click here to find the latest prices for various property types in Germany.
Besides this, there are hardly any official benchmarks for property valuations in Germany. Supply and demand can distort prices quite a bit. This brings us to one of the most important factors influencing the price: the location.
Houses costs in Germany vary from region to region. Just like the cost of land, houses cost much higher in the urban city areas and much lower in the countryside. 
So if you want to buy a house in big German cities such as Hamburg, Frankfurt or Munich, you have to dig very deep into your pockets. Here is a brief overview of the average housing rates in top German cities.
Berlin Housing Real Estate Costs
100m2 is about 350,000 EUR
150m2 is about 485,000 EUR 
200m2 is about 700,000 EUR 
Frankfurt Housing Real Estate Costs
100m2 is about 420,000 EUR 
150m2 is about 675,000 EUR 
200m2 is about 840,000 EUR 
Cologne Housing Real Estate Costs
100m2 is about 360,000 EUR 
150m2 is about 640,000 EUR 
200m2 is about 880,000 EUR 
---

Related: Tips for getting a real estate mortgage in Germany as a foreigner

---
What Additional Costs Should
You
be Aware of
Homeowner Insurance (Die Hausbesitzer–Wohngebäudeversicherung)

As a new homeowner in Germany, it is essential to have at least basic homeowners insurance. Most insurance policies do not provide coverage for the first three to six months of a new contract so you will have to plan ahead before you buy a property in Germany. Many house owners also take out property owners' liability insurance as well as home content insurance.
---

Read this post to learn about the most important insurances for homeowners in Germany.

---
Real estate agent fees (Maklergebühren)
Once a property has been purchased there will be additional (closing) costs. These can vary from 5% to 15.4% of the purchase price, depending on location and estate agent fees.
Notary Fee (Notargebühren)
The notary fee costs about 2% of the total purchase price. This fee covers the preparation of the contract, negotiations, the signing ceremony and entry into the land register.
Translation and Interpreter fees
Once the buyer and seller have agreed on a purchase price, the property sales contract must be signed in the presence of a notary. However, you will note that your contract will be in German.
If you are not a native-level German speaker, then you should absolutely make sure you understand each and every word of the contract BEFORE signing the dotted line. 
Your notary can organise a translation and interpretation of your contract in your native language. But this can lead to additional euros for translation and interpretation services.
---

A budget-friendly alternative is to order a certified translation through Lingoking.

---
Lingoking is an international translation and interpretation service. With Lingoking, you can calculate the price of your certified contract translation in TWO steps using their stupid-simple online calculator.
Just enter the number of pages and language combination and Voila! Get your contract translation costs in real time.
An interpreter is highly recommended for expats who are buying a property in Germany as a foreigner. German notaries are obliged to ensure that all parties can either understand the terms of the German purchase contract or have a suitable interpreter at the signing ceremonies.  
Lingoking also offers independent on-site interpreters at super affordable rates. Click here to find a local interpreter who could support you with your signing ceremony.
Avoid Pitfalls When Buying an
Apartment or a
House in Germany as a Foreigner
Any potential buyer should carefully research the property when buying a house in Germany. Sometimes there are pitfalls hidden in plain sight. Then there are the obvious language challenges and things get lost in the translations. 
House-hunting in Germany is time-consuming. So start early and take your time with each property that you find interesting. Waiting for the right house is better than buying a house in a jiffy and later finding out that it was an expensive mistake. 
Sometimes, many  "inexpensive" houses on sale require major renovation investments – often well beyond their purchase price. So don't get too excited the moment you find a low-priced house – be sceptical and ask as many questions about the condition of the house as possible.
Watch out for a house that is listed for 'für

Schnellentschlossene'

(for quick decision-makers). This could also mean that this property has been on the market for a long time and may not be very desirable. 
Another warning signal to watch out for is the description. A phrase like '

grosszügige

Räume', meaning "large rooms" or "very spacious." could be interpreted as "very expensive to heat." ALWAYS ask for the energy efficiency rating of a house. This would give you an estimate of how much you will end up spending on annual heating costs.

Before signing a purchase contract make sure to get it checked out by a neutral, 3rd party lawyer. Backtracking on a signed agreement is next to impossible in Germany. A lawyer can check for any possible clauses that could come back to bite you in the ass later. You can search for and hire a lawyer on your own.
Another option is to use an online contract check service by 'YourXpert.de'. You can upload your contract online and they'll assign a real estate lawyer to investigate your contract for possible pitfalls, missing and unfavourable clauses and identify any legally doubtful or improvable passages. It costs under 190 EUR (for comparison our real estate lawyer charged 300 EUR/hr)
Check out how the contract check works here (in German)
---
Want to avoid other similar pitfalls before you spend hundreds and thousands of euros for buying a house in Germany? Download this FREE detailed (English) checklist and make sure you don't overlook any expensive potential traps or issues with your future house.
Make sure to ask ALL of these questions to your real estate agent or the seller and inspect every item in the checklist for a safe and sound investment in Germany.
---
Here are some of my tips for buying a house in Germany as a foreigner. Have you bought a house in Germany as well? How was your experience? Let us know in the comments below.