How to Get German Freelance Visa From India (or any non-EU Country)
Top Takeaways From This Post
Last updated on January 12th, 2023 at 04:55 pm
Are you an Indian national and wondering if it is possible to apply for a German freelance visa from India? The answer is an astounding, YES! Read this post to learn how Indian (or any Non-EU) nationals can apply for a German freelance visa. 
I get a lot of messages from people interested in freelancing in Germany. Many of them are from India and other south-east Asian countries.
I applied for my German freelance visa after I finished my master's degree in Germany. So even though I am a third-country/ non-EU national, my visa process was somewhat different from those located outside Germany.
Based on the information shared by the German consulate in India and my experience with other non-EU freelancers I have put together this short guide.
Here is how you prepare and apply for a German freelance visa from India (or any non-EU/ 3rd country) 
Continue Reading or watch the video explanation here:
---
Before going further here is an important distinction between a German entry visa and a residence permit for citizens of Non-EU countries.
Citizens of certain Non-EU nations, namely Australia, Israel, Japan, Canada, South Korea, New Zealand, and the United States may enter Germany without applying for an entry visa from their respective countries. These nationals can apply for a residence permit for living and freelancing in Germany without needing a German entry visa.
The citizens of the rest of the world (also known as third-country nationals) need to apply for a German entry visa from their home countries. Once they have entered Germany they can apply for a German residence permit for freelancing as any other non-EU citizen. If your country is NOT on the above list, then you will have to apply for your German freelance visa from the country of your residence. 
---
1. Prepare Early – Search for Clients in Germany
As a German freelance visa applicant, you have to demonstrate that your skills are in demand in Germany. German Act on the Residence, Economic Activity and Integration of Foreigners in the Federal Territory clearly states that:
    (1) A foreigner may be granted a temporary residence permit for the purpose of self-employment if
an economic interest or a regional need apply,
the activity is expected to have positive effects on the economy and
the foreigner has personal capital or an approved loan to realise the business idea.
If you are applying for a German freelancer visa from India, points 1 and 2 are the most relevant for you.
This means you have to convince your visa officer that your professional skills have some demand in Germany. It is only fair! They want to make sure that you will be a valuable member of German society and pay taxes and other social security contributions.
You can prove this to your visa officer by showing letters of interest from businesses based in Germany. If you already have a freelancing contract with a German business then that dramatically boosts your chances to get this visa.
If you do not have any letter of intent or contract from German clients, start several months in advance.
Start getting in touch with businesses based in Germany and pitch your services. You can use traditional online job boards, but there are plenty of lesser-known alternatives for freelance, remote AND English-speaking jobs in Germany.
---
Here are the top websites where you can find freelance gigs in Germany
---
2. Prepare your German freelance visa application
Here is a step-by-step guide to preparing your German freelancer visa application from India.
2.1) Prepare the required documents
As with any visa application, you need to prepare a set of documents for your visa officer.
The website of the German Embassy in India finally has a checklist for a German self-employment visa.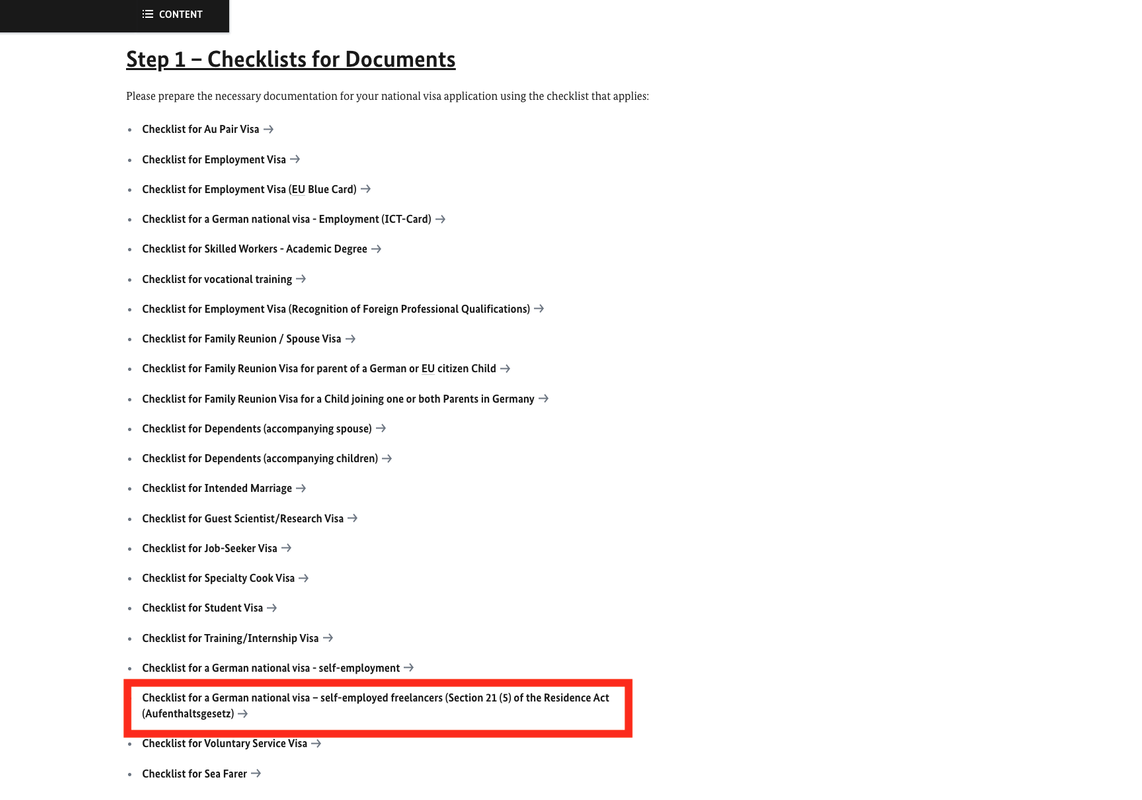 Click on the checklist to find out the documents required for your German freelance visa from India.
As per the official guideline, here is the set of documents that you should prepare for the German freelance visa category. Bring both originals and prepare 2 identical sets of the following documentation for your visa:
Valid passport (issued within the last 10 years and valid for at least another year as of the date of the visa application; passports with observations on the front data page cannot be accepted) with at least two empty pages
Application form & declaration (in accordance with Section 54 of the Residence Act) duly signed (2 copies)
Copy of your passport's data page (A4 size copy) (2 copies)
A well-structured and detailed description of your planned freelance employment, supported by fee contracts and/or letters of intent (2 copies)
Curriculum vitae (2 copies)
Proof of qualification, e.g. university degree, training certificate, experience certificates, reference letters (2 copies)
Proof of available capital (2 copies)
Revenue forecast (2 copies)
If applicable: further supporting documents depending on the specific case (2 copies), such as:
For applicants seeking employment in a regulated profession: original permission to exercise a profession (Berufsausübungserlaubnis) issued by the competent recognition body (for further information on regulated professions and the competent authorities, please check https://www.anerkennung-in-deutschland.de/en/interest/finder/profession)
Rental contract, if already concluded
Proof of business contacts in the relevant professional field in Germany/Europe
Degree from a state or a state-recognised higher education institute or comparable training institution in Germany
Proof of secure means of subsistence for at least one year (2 copies)
If you are 45 years or older: evidence of adequate retirement benefits (e.g. offer from a private pension or life insurer, own assets, acquired pension rights or operating assets); ultimately, at the age of 67, you must have either a monthly pension of 1280.06 euro payable for at least 12 years or assets totalling 187,682.00 euro (2 copies)
3 passport photos complying with biometric specifications, not older than 6 months
Visa fee of 75 euros in INR only (please check the embassy's website for payment options and current exchange rates)
Health insurance. Please provide ONE of the following:

• Proof of private German health insurance which starts at your tentative travel date
Or
• Proof of public German health insurance, which consists of a letter from your German healthcare provider, and additionally a travel health insurance from your travel date up to the starting date of the public German health insurance.
Or
• Proof of a private foreign (including Indian) health insurance mentioning the specific policy you chose which starts at your tentative travel date
When does health insurance meet the requirement of being equivalent to German public health insurance?
• No limit to the reimbursement in case of sickness
• If the insured person becomes sick, no deductible higher than 300 € per year can be demanded
• Preexisting conditions must be included
• No clause for termination regarding the insured person reaching a certain age, change of residence permit or loss of residence permit
• The Insurance cover cannot have any time limit (or needs to be automatically renewed)
 Here you can find the visa office-approved expat health insurance plans in Germany.
---
A budget-friendly way to get your documents translated is through Lingoking-certified translations.
Click here to calculate the price of your certified contract translation in TWO steps using their stupid-simple online calculator.
Just enter the number of pages and language combination and Voila! Get your contract translation costs in real time.
---
2.2) Use the right visa form
To apply for a German freelancer visa from India you need a long-term visa application form. It is called 'Antrag auf Erteilung eines nationalen Visums' or Application for a national visa.
There are two ways to fill out this form.
German National Visa is usually issued for three months, but in some cases, it can also be issued for up to twelve months.
Once you arrive in Germany, a German residence permit can be issued after entry into Germany.
This D visa is valid for short stays in other Schengen countries.  Notice that this form does not have a 'self-employment' category under question 9 'Purpose of Stay in Germany'. In this case, you can select 'other' and specify clearly that you intend to take up self-employment in Germany.

3. Make Your Appointment 
For a German national visa, you will need to schedule an appointment for a mandatory personal interview at the German embassy of your jurisdiction.
It is possible to schedule this appointment online.
Before scheduling an appointment, make sure to choose the German embassy responsible for your place of residence. You can find the correct embassy here.
The embassy website also advises booking appointments as early as possible. The waiting time for an interview can exceed two months or even more.
4. Pay The Visa Fee
Payment methods for visa fees can differ from country to country. It will be best to check the official German embassy in your country to confirm this.
According to the guidelines by the German embassy in India you have to prepare your visa fee with a demand draft. This demand draft should not be older than two months.
At the point of writing this guide, the visa fee cannot be paid in any other form like cash or credit card.  You pay this fee at the time of the visa interview.
5. Turn Up For Your Visa Interview
On the day of your appointment turn up at least 15 minutes earlier. Check and double-check that you have all your documents. Organise them neatly in a folder.
During your appointment, you will have to submit biometric information. This consists of your fingerprint and facial scan. Your visa officer will use a digital finger scanner and collect images of all 10 digits.
Without biometrics information, your visa application will not be processed.
6. Track Your Application and Wait For The Decision
Once your visa interview is over, you can track your application online.
According to the FAQs, the standard processing time for a self-employment visa (incl. a German freelancer visa) can take up to 12 weeks. Sometimes, the duration of the application procedure may even take longer than mentioned.
You will receive an email update when a decision has been shared with the Visa Application Centre.
After a decision has been made on the German freelance visa application, you can pick up your documents from the Visa Application Centre. It is also possible to have your documents returned to you by courier for an additional fee.
So this is the process to apply for a German freelance visa from India (or pretty much any third country).
Congratulations! Now you are ready to launch your freelance career in Germany.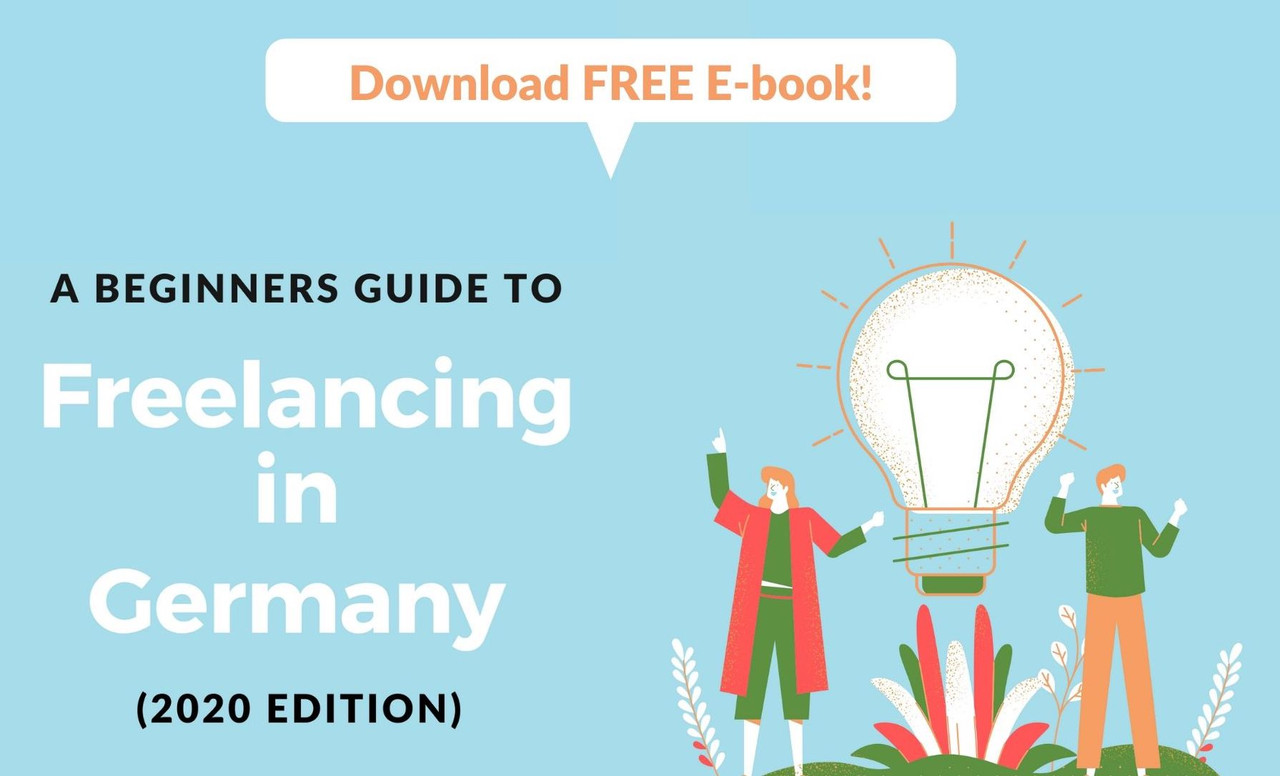 ---
---
Have you applied for a German freelance visa from India? How was your experience? Let us know in the comments below.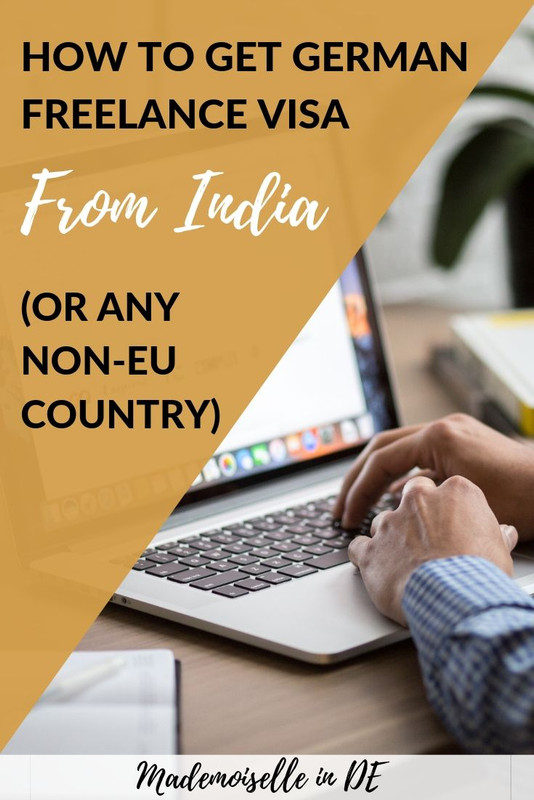 ---
Disclosure: This post contains affiliate links that may earn me a small commission, at no additional cost to you. I only recommend products I personally use and love, or think my readers will find useful.
---