German Health Insurance for Freelancers
Self-employed people in Germany are spoilt for choice when it comes to health insurance. Are you looking for German Health Insurance for Freelancers? Then read this overview of health insurances in Germany (and what might work best for you!). 
Self-employed or freelancers can freely choose between the statutory (aka public) health insurance funds and private health insurance.
It is hard to say which type of health insurance is best for freelancers in Germany but it strongly depends on the personal, professional and family situation of the freelancer.
Note: You can read the 2020 update of health insurance for freelancer in Germany HERE.
In this post, I have described an overview of the German Health Insurance for freelancers in Germany.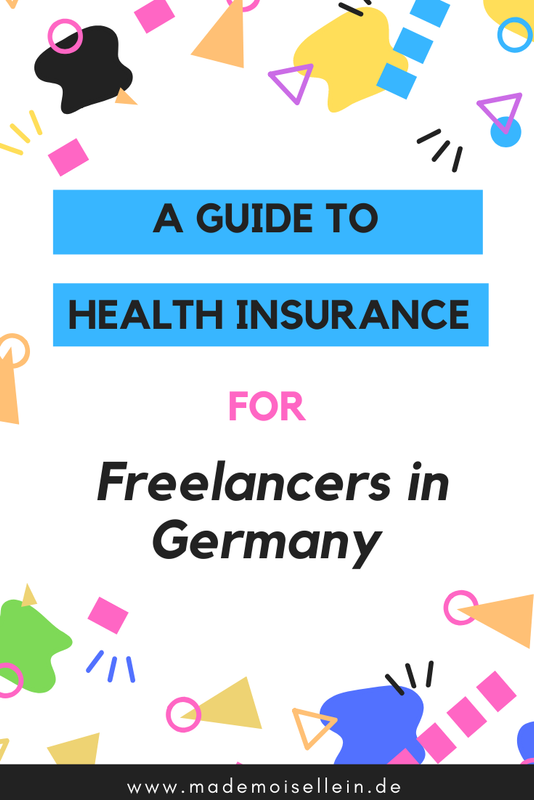 1. Types of Health Insurances for Freelancers in Germany
Freelancers in Germany can either become a member of the statutory health insurance or take out private health insurance.
Those who were previously employed full-time or insured under family insurance subject to compulsory social insurance have a choice between
Take voluntary membership in the statutory health insurance scheme or

Get private health insurance

Take up artists' health insurance (depending on their profession)
In the statutory health insurance system, the monthly contribution is based on average monthly income.
The more you earn as a self-employed person, the more you pay. In the case of low incomes, however, the health insurance company sets a minimum income. More about it later.
Your income is irrelevant to private health insurance. The monthly costs are mainly determined by what benefits you want.
Let's take a look at both of them in detail:
1.1. Private Health Insurance for Freelancers in Germany
Private health insurance is open to almost all occupational groups without any preconditions.
Around nine million people in Germany have opted for private health insurance (PKV). There are various factors that are taken into account for joining private health insurance provider. 
Your age
Your general health condition
Your profession
Your or your family's medical history (This is relevant for those of you who have dependents)
Any preexisting health conditions or certain health risks
With very flexible options, freelancers can take out a private health plan that is individual to their personal needs and their chosen benefits, including the associated costs.
Freelancers interested in private health insurance can choose between more than 40 providers and hundreds of monthly plans for private health insurance. For a preselection, it is, therefore, useful to concentrate on the offers that are tailored to the personal requirements of health insurance.
Even though private health insurance is advantageous for freelancers most of the time, switching back from a private scheme to statutory health insurance is very hard, except for in some special cases.
1.2. Statutory Health Insurance for Freelancers in Germany
The statutory health insurance (GKV) is part of the German social insurance system. There are around 110 statutory health insurance schemes, some of which differ significantly in price and benefits.
There are over 70 million people with statutory health insurance. About 51 million members pay contributions. The rest are insured free of charge, for example through family insurance.
There are different types of public insurance in Germany, such as the Allgemeine Ortskrankenkasse (AOK), the Betriebskrankenkasse (BKK), the Innungskrankenkasse (IKK) and the Ersatzkasse.
Techniker Krankenkasse (TK) is currently the largest provider of statutory health insurance in Germany. It registers about 10.4 million insured people. On the second position is Barmer GEK with about 9.2 million members. 3rd place goes to DAK-Gesundheit (5.7 million). The top 5 are completed by AOK Bayern (4.6 million) and AOK Baden-Württemberg with 4.4 million insured persons.
1.3. Künstlersozialkasse (KSK)
The Künstlersozialkasse (KSK) is a division of the Federal and Railway Accident Insurance. By implementing the Artists' Social Insurance Act (KSVG), it ensures that independent artists enjoy similar protection under the statutory social insurance system as employees. 
It is not itself a service provider but coordinates the payment of contributions for its members to health insurance of their choice and to the statutory pension and long-term care insurance.
Under KSK  Independent artists and publicists only have to pay half of the contributions out of their own pockets. The KSK tops up the amounts with a subsidy from the federal government (20%) and social security contributions from companies (30%) that utilize art and journalism. 
The individual monthly contribution paid by an artist to the KSK depends on their income. If this income does not exceed the minimum threshold of EUR 3,900.00 per year, the KSK cannot normally be used (The only exception are beginners).
2. How Much Does Freelance Health Insurance Cost
The amount of the contribution to the statutory health insurance depends on income. In private health insurance, on the other hand, this does not play a role. So high earning freelancers can benefit from lower health insurance costs of private health insurance.
2.1. Monthly contributions from statutory health insurance
The contribution to statutory health coverage is determined on the basis of the monthly income earned by the freelancer. However, there is a minimum contribution that has to be paid, even if you earn little or nothing at all.
This makes public insurance too expensive for freelancers in Germany.
As far as the monthly cost is concerned, this is capped at the monthly maximum rate for public health insurance.
The general contribution rate for voluntarily insured self-employed persons and those insured under the Künstlersozialkasse is 14.6 percent (2020). The general contribution rate entitles you to sickness benefit in the event of incapacity to work.
It is up to you to decide whether you wish to receive sickness benefit. The conclusion of this optional tariff results in a three-year commitment to the statutory health insurance fund.
There is an alternative to this. 
You can take out insurance at the reduced contribution rate of 14 percent and additionally take out supplementary daily sickness benefits insurance with a private health insurance company.
The statutory health insurance contribution is income-dependent.
For freelancers with an income above 4,537.50 euros per month (from 2020, the amount changes to 4,687.50 euros), the contribution without sickness benefits including long-term care insurance amounts to around 774 euros per month plus individual additional contribution.
High-earning freelancers who are entitled to sickness benefit pay at least 800 euros. Income also includes income from renting and leasing, income from capital assets and pensions.
---
Read More About: High Paying Remote Jobs in Germany (and Worldwide!)
---
2.2. Monthly contributions from private health insurance
Freelancers with a relatively low income can start with a basic tariff. They can change to a more comprehensive tariff later when their income grows.
In private health insurance monthly income does not play a role. So high earning freelancers can benefit from lower health insurance costs of private health insurance.
Depending on their tariff, freelancers are either reimbursed monthly payments by the health insurance company or they get a percentage share back.
3. What are the Pros and Cons of Public and Private Health Insurance
3.1. Private Health Insurance
In private health insurance, there are advantages and disadvantages for the self-employed, as the first overview shows.
Advantages
Non-income contribution 

Performance plus compared to statutory health insurance

Individually combinable service level such as chief physician treatment and single room in the hospital 

Short waiting times at the doctor's and for a specialist appointment 

Depending on PKV tariff, premium refund possible, performance guarantee

   
Disadvantages
Difficult change of provider

Cost development in old age

No change to the GKV from the age of 55 possible

Each family member must be insured separately

3.2. Statutory Health Insurance
There are also advantages and disadvantages for the self-employed in statutory health insurance.
Advantages 
Free co-insurance of children up to 25 years of age     

Calculable contributions     

Uncomplicated change of supplier     

Benefits can be cancelled
Disadvantages
Income dependent contribution

Only basic services and standard services

No change to the GKV from 55 years of age possible
4. What Kind of Health Insurance Tariffs are Available 
Which is the best health insurance for freelancers in Germany?
Freelancers who are legally insured can get better benefits by changing their health insurance company. However, there is no difference between the various health insurance providers in terms of standard care.
The situation is different with private health insurance.
Here the providers have several tariffs on offer at the same time, which offer completely different benefits and contribution levels. Depending on which services the self-employed attach importance to, tariffs with solid basic protection, with extended services or all-round protection are recommended.
5. Changes in Freelancers' Health Insurance as of 2019
From 2019, employers and employees will pay contributions to statutory health insurance in equal shares. Self-employed people who earn little have to pay less for their health insurance. The Federal Council approved the corresponding law.
Minimum contribution for the self-employed declines
Freelancers with a low income can expect lower contributions in future if they are voluntary members of a statutory health insurance fund.
Those who earn up to 1,142 euros per month will generally only have to pay a contribution of 171 euros per month from 2019. At present, the minimum contribution is about twice as much.
Are you also a freelancer working in Germany? What do you think is the best health insurance for freelancers in Germany? Let us know in the comments below.