Explained: Getting Married in Denmark as a Foreigner
Top Takeaways From This Post
Last updated on January 23rd, 2023 at 12:48 pm
Couples from all over the world have been getting married in Denmark to get around bureaucracy in their home countries. Read my (first-hand) guide on how to marry your (German) boo as a Non-EU citizen in Denmark with easy. 
In 2020 my fiancé and I decided to get married. The only caveat, one of us is a German citizen and the other an Indian. If you read my guide about getting married in Germany as a foreigner citizen, you may have noticed the sheer amount of bureaucracy and effort required for a 15 min ceremony at the registry office.
That was enough to put us off the entire idea. Getting married in Germany, that is, not getting married. 😛
We took one look at the German bureaucratic prerequisites and promptly said, well fuck this! We'll get married in Denmark instead. And we did. And it was SO easy!
Here is my guide on how to get around Die Deutsche Burokratie around marrying your German boo as a Non-EU citizen.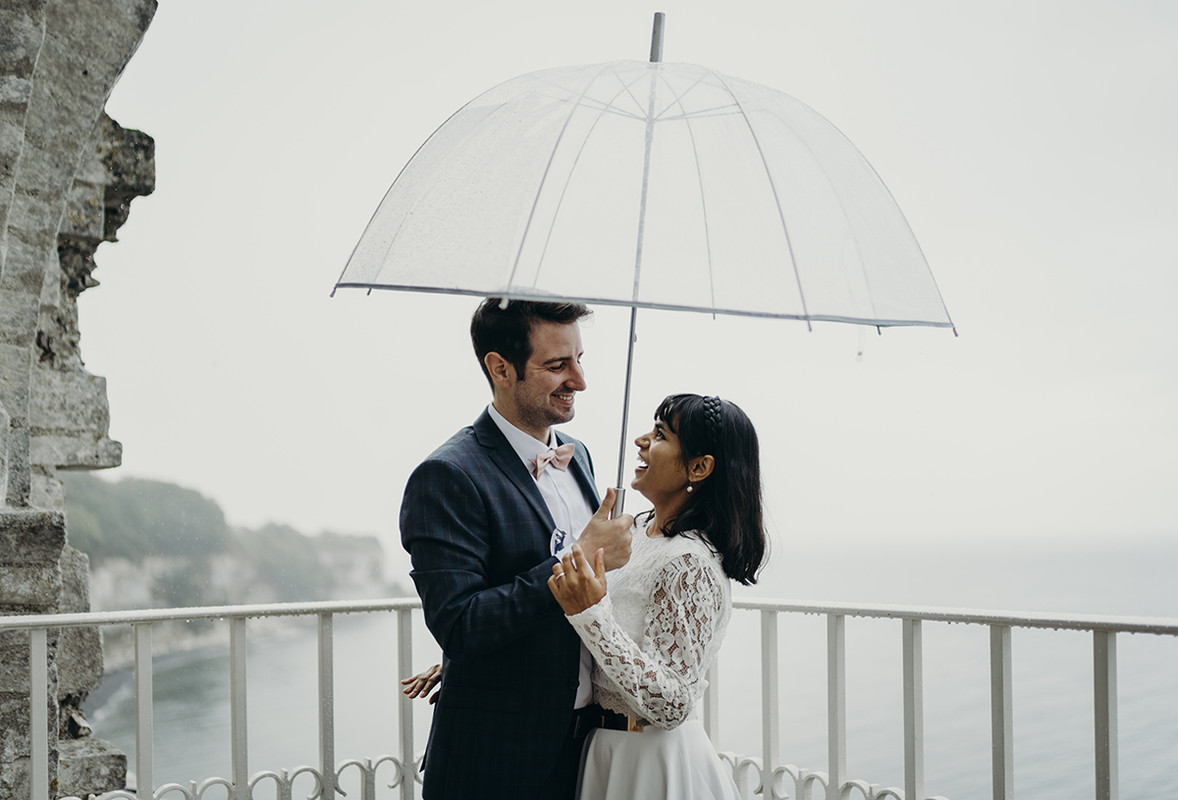 ---
Disclaimer: This blog post may include affiliate links.  These links do not cost you anything but I might earn a small commission if you decide to use goods or services from one of my recommended partners.  Thank you for your support to help keep this platform growing!
---
1) All About Marrying a German citizen in Denmark
When it comes to international or LGBT weddings, Denmark is one of the easiest countries in Europe to do so, no matter how complicated your circumstances. Getting married in Denmark is a smooth and simple process as opposed to one of bureaucracy, hurdles and difficulties that international couples experience in Germany.
1.1) Why should you get married in Denmark as a Non-EU citizen?
There are SO many reasons to get married in Denmark as a foreigner.
Uncomplicated paperwork. Fast processing time at Danish offices. Friendly smiling officers! An effortless destination wedding in one of the world's most beautiful countries.
What do you need more?
For years international and multi-international couples, gay, straight, interracial and interfaith couples from countries all over the world have been coming to Denmark to get married. It is for no reason that Denmark is also known as the Vegas of the EU.
In our personal experience, the entire process could not have been any better. We got married in Denmark in midst of a global COVID-19 pandemic – without running into any delays let alone bureaucratic bottlenecks.
Even though time was never an issue for us, we were still positively surprised by how fast everything went. It took under four weeks to get our wedding approval from Danish authorities. Once we got married, we received our Apostille certificate in SIX days (and there was a weekend in between!).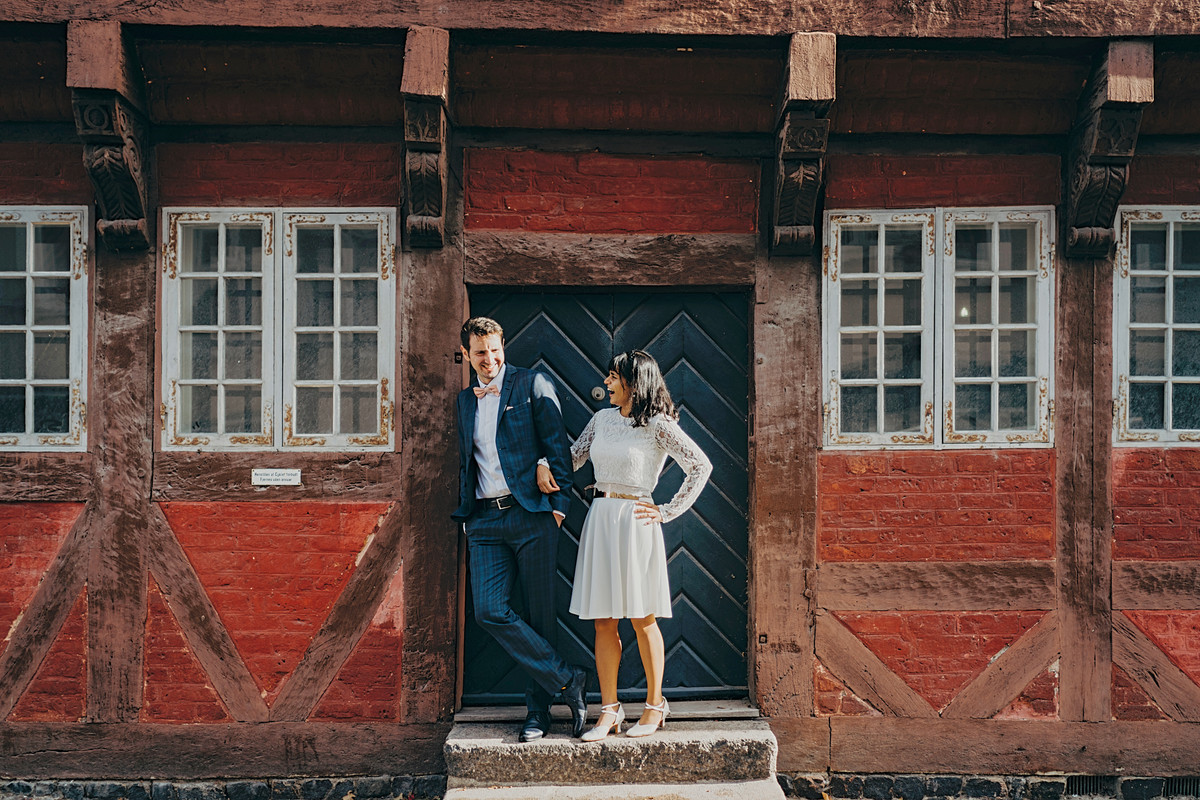 1.2)
Who should consider getting married in Denmark?
Danish borders know no bounds to love.
Legal citizens of any country can get married in Denmark – unless you are a convicted criminal or a religious extremist facing an entry ban of course. Denmark is especially popular amongst international couples living in the EU – such as an Indian national marrying a German citizen.
Getting married in Denmark is pretty common amongst international couples residing in Germany because of its geographical proximity. You can basically hop in and out of the border and get married – all in one day!
1.3) Is a Danish marriage to a German citizen legal in Germany?
Your marriage in Denmark is legal worldwide, that includes Germany. Although you should inform your local Standesamt and provide them with a copy of your marriage certificate so they can coordinate with Finanzamt (tax offices) for change in your tax class.
If you wish to change your name and eventually apply for a new passport, then you should also get in touch with the consulate of your country in Germany and ask for the requirements.
You can always get an Apostille legalisation of your wedding certificate. Danish officials can do this for you soon after you get married in one of their civil registry offices.
---
Note: Please check the latest COVID-19 travel guidelines for international visitors before planning your wedding in Denmark.
---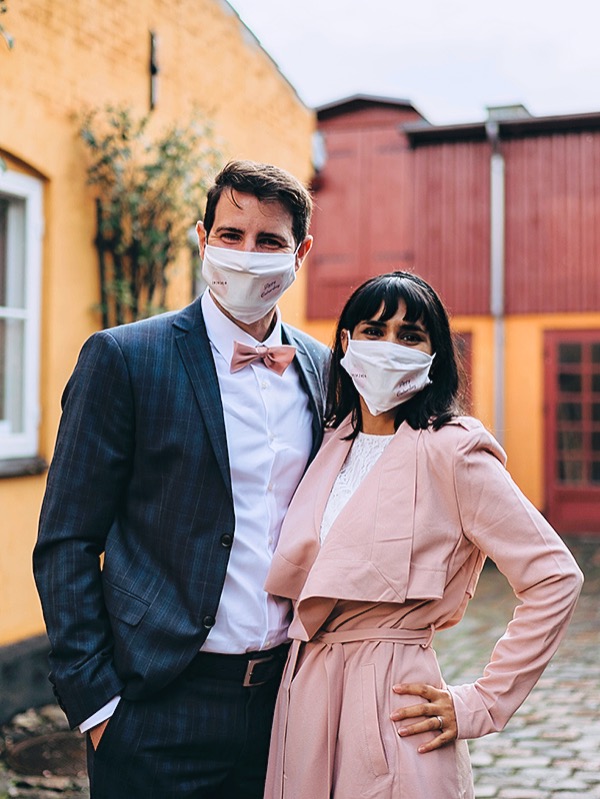 2) Step-by-step guide to getting married in Denmark as an international couple
As always, your mileage may vary – this guide is based on my own experience as an Indian citizen living in Germany for several years and marrying a German citizen in Denmark. You may not go through the exact same steps or be asked for these exact documents, but this should give you a rough idea of the entire process.
2.1) Find an agency for getting married in Denmark
Start by getting in touch with an agent specialising in organising marriage in Denmark for international couples. There are plenty of agencies that can take up the entire organisation and official communication with Danish administrative offices.
We used the services of Getting Married in Denmark (GMiD). GMiD has rave reviews everywhere, and even though we were sceptical initially, their reviews definitely looked legit. They offer several packages depending on the couple's requirements and budget. We went for a 'Complete Package with Apostille service' where their team took over every communication with Danish authorities and us.
Seriously, we didn't have to lift a finger, well except to check their email updates regarding our application.
The entire process from booking their services to getting our marriage approval took only about FOUR weeks. It was much quicker than we had expected. Getting the documents prepared was also a breeze and very uncomplicated. GMiD's team guided us through it thoroughly and all our questions were swiftly replied to. Similarly, our Apostille certificate was in our hands SIX days after we got married. We felt like we were in good hands all the time.
Mind you all of this while there was a raging global pandemic.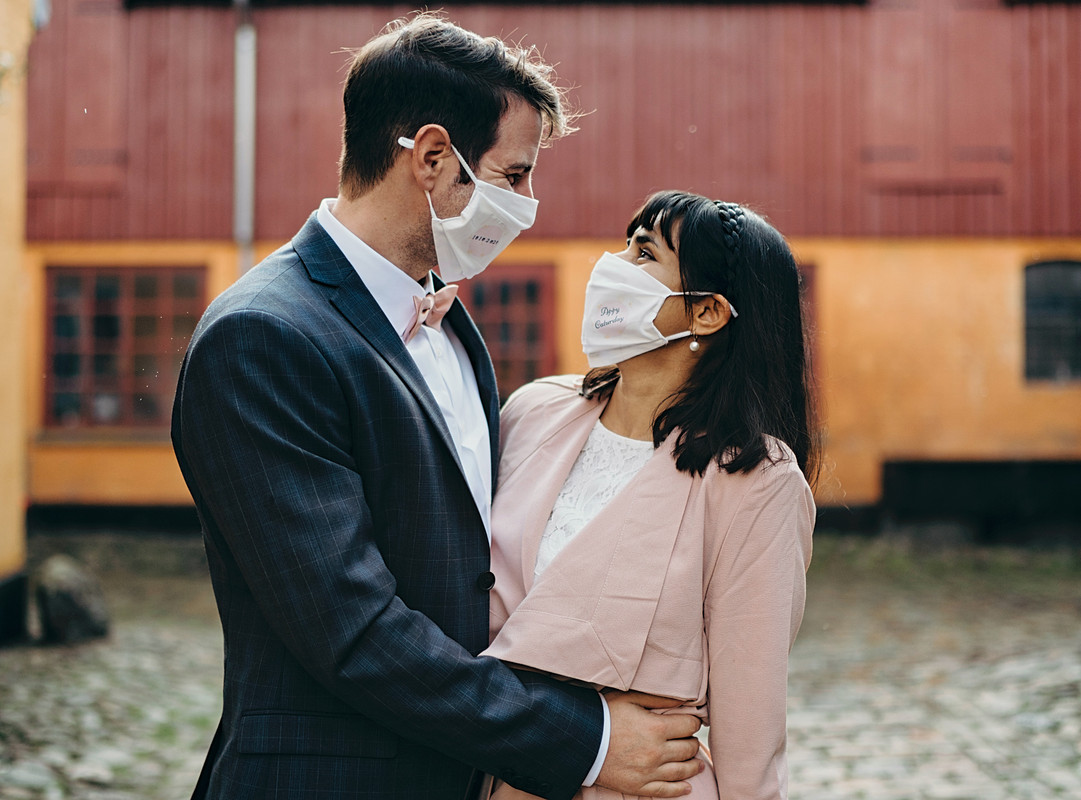 ---
Pro Tip: There are wedding agencies based in both Denmark as well as Germany. Choose an agency based in Denmark. The level of Danish customer experience is truly top-notch and plainly speaking way better than anywhere I have ever experienced in Germany. 
---
2.2) Prepare all your documents for Danish authorities
Danish authorities require some documents to evaluate your case and grant a marriage licence. If you are going through a wedding agency as we did, you will get comprehensive guidelines from them.
While this is not an exhaustive list, generally you will need the following documents:
– Passports or Valid EU ID:
For EU citizens: You require to submit the information page of your passport or EU ID only.
For Non-EU citizens and UK citizens: You will be asked for a scan of every page of the passport. Your passports must have a minimum of 3 months validity from your anticipated date of ceremony in Denmark.
-Non-EU partner's Residence Permit for Germany: The front and back of your German resident card as well as the supplemental sheet.
– Residency Proof (if both partners live at the same address): This is not necessary especially if two of you live in different cities or countries. But you can prove that you live together through a signed rental contract, shared bank account statement, or utility bills.
– A duly filled "Declaration of Marriage" (DOM) form: You will get a questionnaire from Danish authorities in which you fill some basic personal details. Most of these questions are about your immigration status or nationality and current family status.
– Power of Attorney: If you are working with an agency to help you organise your marriage to a German citizen, then you need to provide them with a Power of Attorney. This will allow the agency to liaise with the Danish authorities on your behalf.
– Proof of your relationship together: The Danish authorities reserve the right to request evidence of the longevity of your relationship. This is requested in the majority of cases and can cause delays if you do not provide this right at the beginning of the process. So it is good to be prepared.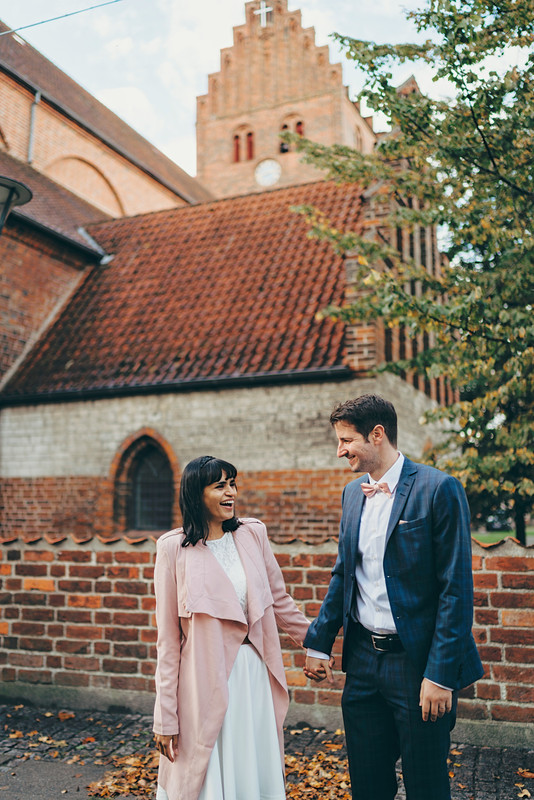 What is proof of relationship?
Generally, anything that establishes a legitimate relationship between you and your partner can go in this document. Our wedding agency asked us to describe our relationship in a short paragraph and add some documentary proof. It generally includes the following:
Screenshots of conversations over text, WhatsApp or FB messenger with time stamps over the period of our relationship.
Screenshots of some social media posts in which you appear together.
Travel tickets and boarding passes with name and date that prove that you have been travelling together/ or visiting each other
Photos of the couples together
Our agency was helpful in reviewing our documents and asked us to revise the first version of the proof of relationship since it was lacking some solid evidence.
So in the second version, we included boarding passes or flight tickets (with our names and dates visible) from some of our holidays along with photos of famous landmarks from those trips. We also added some family photos.
This was enough for proving our relationship and we were good to go! Granted this part did feel a bit invasive but apparently, it is quite a common document for marriage-related visas all over the world.
Bear in mind though that the Danish Agency of Family Law reserves the right to request further documentation from couples.
Additional notes to prepare your documents properly for getting married in Denmark
Sending documents as scans
Make sure to use colour scans only. Ensure all edges and corners of all documents and pages are visible and all text is clear and easy to read. The text must not be blurry and must be very clear.
Translating foreign language documents
Any documents that are not in English or German must be translated into English by a professional translator. All stamps and legalisations such as present on the document such as the Apostille and other legalisations should also be translated.
Pro Tip: You can easily translate all documents through a certified interpreter such as lingoking.
2.3) Choose a wedding date to marry your German partner in Denmark
Choose a date at least FOUR weeks or more away from the date your documents are ready for processing. It is highly recommended that you stay flexible with your date. Our agency asked for at least three options for our wedding date.
Once you have approval from the Danish Agency of Family Law, you can pick a specific wedding date for getting married in Denmark. Bear in mind that the validity period of your approval is about three months. That means if you get your approval in April, you should set your wedding date by June end.
After the approval, it is just a matter of choosing the right Danish town hall where you can marry your German partner as a Non-EU citizen.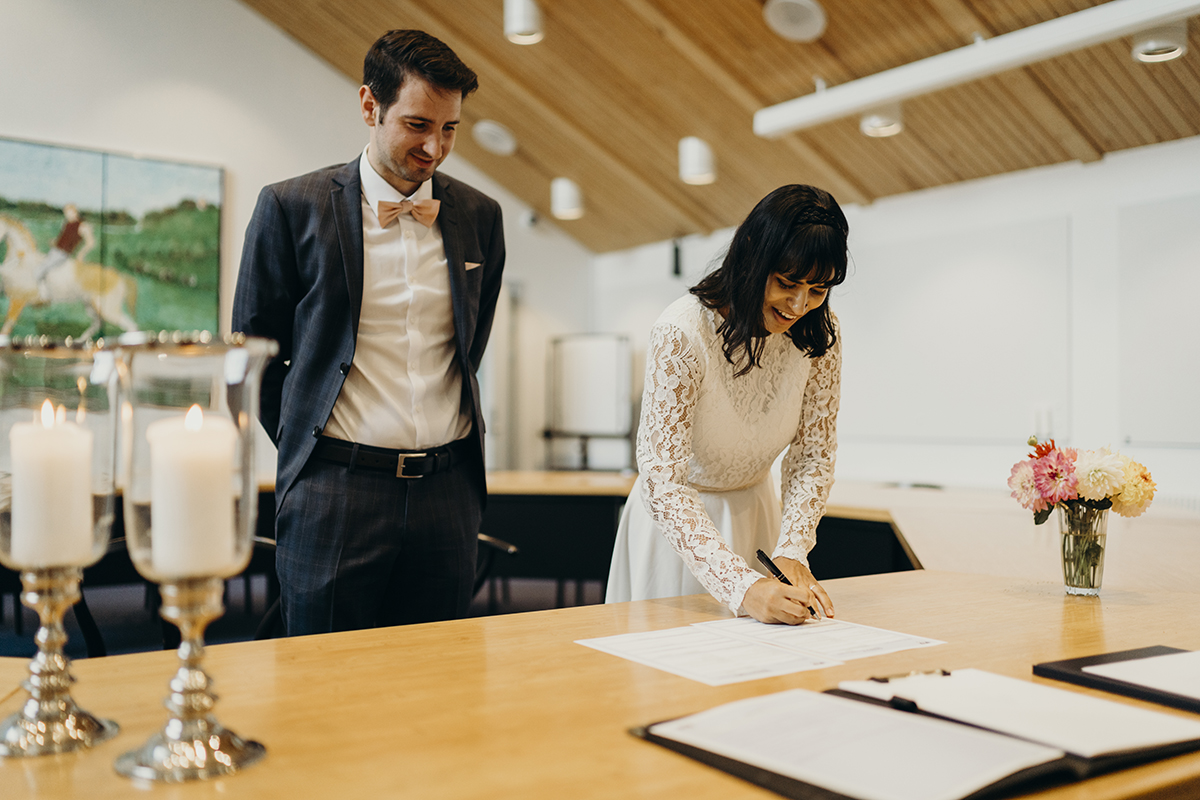 2.4) Decide on a town hall in Denmark
Once the Danish Agency of Family Law approves your application you will be able to book your wedding with one of the various town halls in Denmark.
There are quite a few Danish town halls to choose from, and they all have different things to offer for couples looking to get married in Denmark as foreigners. Some town halls in Denmark are busier than others, due to popularity or location e.g. Copenhagen. Also, some town halls do not conduct weddings on Sundays, and some are closed on Wednesdays.
Most town halls provide witnesses on the couple's request. Some may charge a fee for this service or offer it for free. Also, not every town hall can provide witnesses on a Saturday so always double-check this before confirming your date. We had to bring our own witnesses for our wedding since it was on a Saturday and our chosen town hall did not offer them on weekend weddings.
Your wedding agency should provide you with a list of town halls in Denmark where you could organise your wedding ceremony. This way you can compare the formalities involved, along with travel and transport so you can make an informed decision regarding which town hall would suit you best.
What are the best town halls to get married in Denmark for couples from Germany? 
Denmark isn't a huge country and it doesn't take long to get around, however, if you have time constraints, the location of the town hall will be very relevant for you.
A majority of couples from Germany go to town halls located close to the Danish-German border. Tønder and Aabenraa are popular choices for those who want to hop over the border and get married in Denmark.
For others living away from the border, it takes just a couple of hours of flight to get to Copenhagen, Frederiksberg or Stevns. If you have enough time to travel and plan your wedding in Denmark, then Ærø, Ribe and Kolding are simply beautiful seaside locations for a beach wedding. Obviously, summer is much better for a Danish beach wedding than the rest of the year.
We chose Stevns for our Danish wedding. It is a beautiful coastal town located about an hour from Copenhagen. For us, this UNESCO World Heritage village was both a beautiful and practical option to get married in Denmark.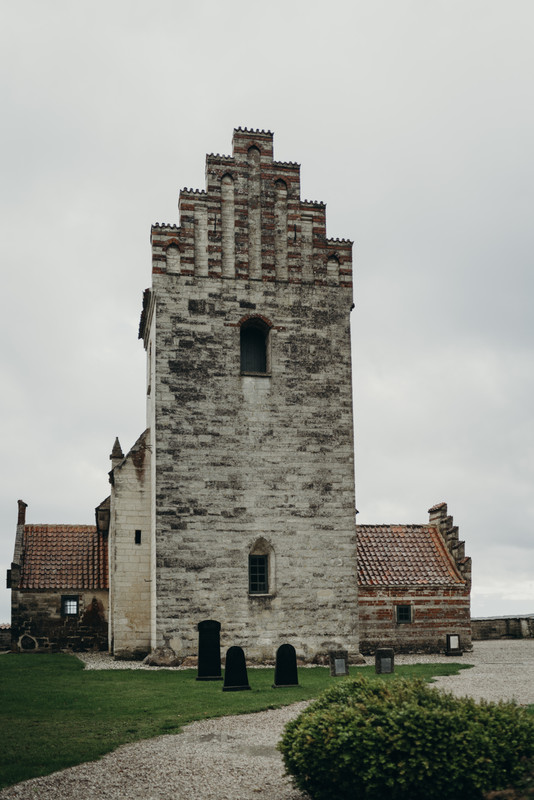 3) How to get around in Denmark
Denmark has superb public transport in its larger cities. If you are getting married in Copenhagen then you can easily get around by intercity public transport. Heck if you are centrally located then you could just walk around – granted the weather is suitable.
Since our wedding was in Stevns, a small coastal village an hour away from Copenhagen, we decided to take rent a car. As always we rented a car from SIXT in Copenhagen city centre and this time as well we had a convenient car pick and drop-in experience.
Click here to find out a SIXT car rental offer in Denmark.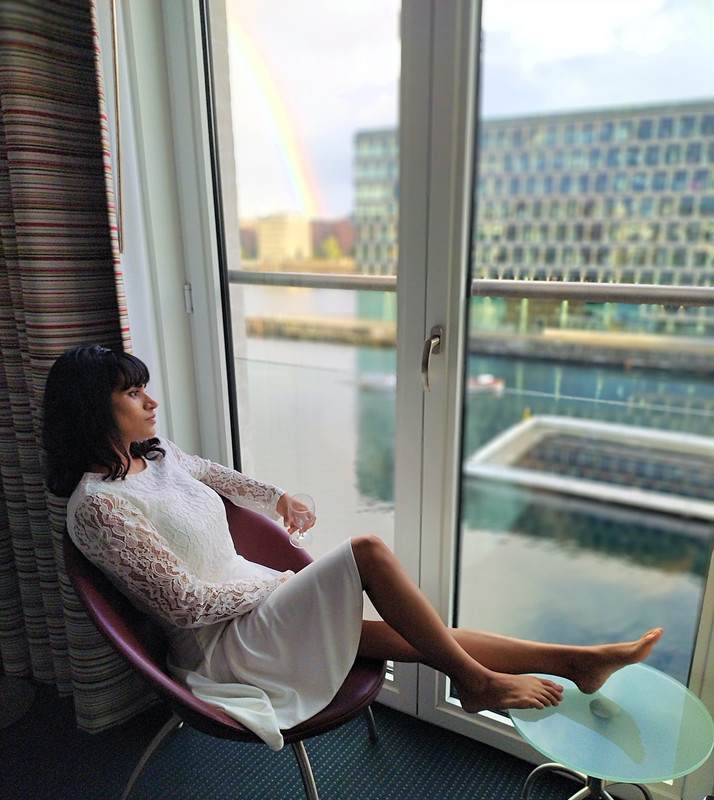 You can also cut down travel costs by staying at a centrally located hotel. We stayed in Hotel Copenhagen Island which is just a few minutes away from Tivoli Gardens in the Vesterbro district. The area is also well connected with a train station just a stroll away.
Click here to check out the offers at Hotel Copenhagen Island.
4) What happens on your wedding day in Denmark
It is better to arrive in Denmark at least a couple of days prior to your wedding. This way you can also relax and prepare yourself for your big day.
Here is a general overview of what to expect on your wedding day in Denmark.
4.1) Presenting your documents at the town hall
On the day of your wedding, you should arrive at the registry office at least 15 minutes before the ceremony. The officer at the Town Hall will ask you to present your passports and residency permits/visas before the appointment. However, if your wedding is on a Saturday then documents must be presented the day earlier, on Friday.
This was recommended to us by our agency, although when we went to the town hall they informed us that it was not necessary to visit them on Friday. But you can call the office just to confirm this to avoid any issues.
4.2) Witnesses for your wedding day
Most town halls in Denmark provide witnesses at no extra cost on Monday – Friday. However, this service is usually not provided on Saturdays. If your wedding in Denmark is on a Saturday, you will need to bring your own two witnesses. Check this information before choosing a town hall so you can plan the witnesses in advance.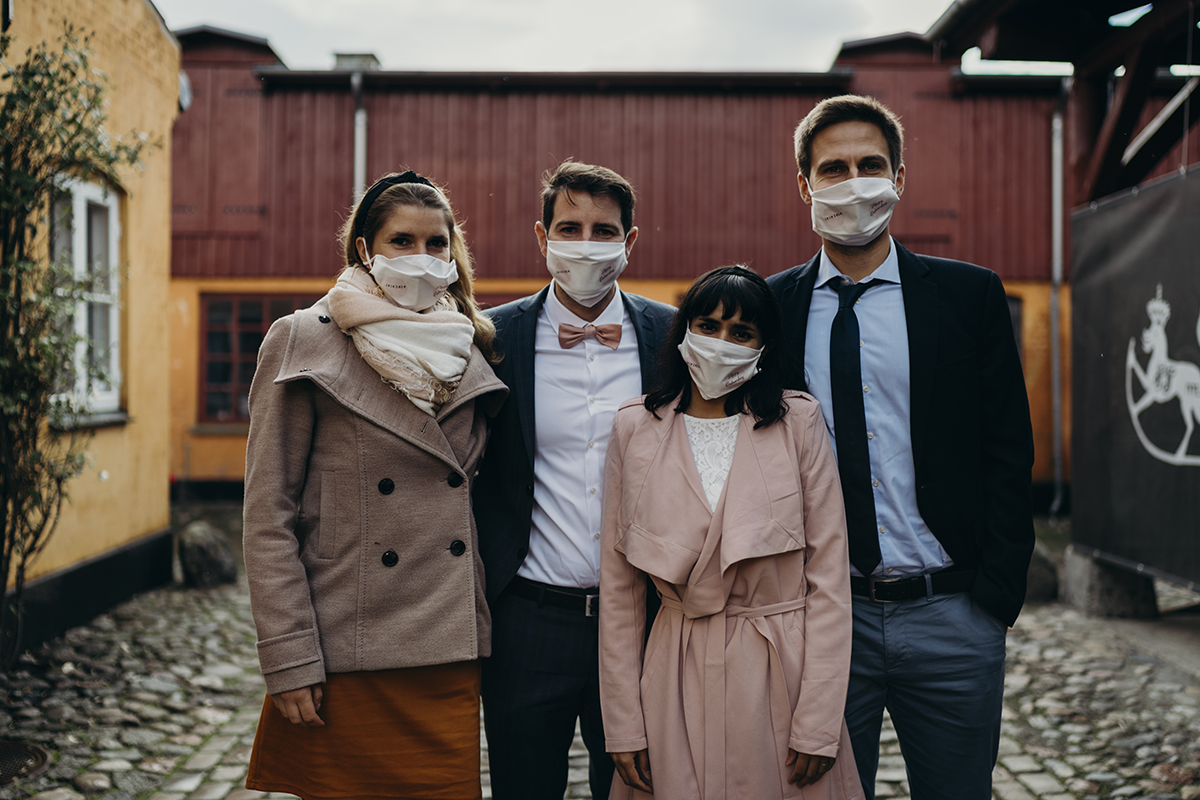 4.3) Documenting and photographing your wedding ceremony
Pictures and video is allowed during the wedding ceremony. Most wedding agencies have several vendors including photographers who can offer you some discounts on their services.
We booked a photographer before the wedding and met her at the wedding venue. She joined us in the waiting room and covered the entire ceremony in the town hall. We also had additional two hours of photography sessions at Stevns Klint and Køge.
4.4) Dress code for your wedding in Denmark
You can wear whatever you like for your ceremony, it can be formal or totally informal. When we were there, we saw brides wearing full-length wedding dresses complete with a bridal bouquet, veil and the whole deal. There was also a bride who was dressed casually in a non-white outfit. So you can go for whatever you wish! I chose a simple two-piece white wedding outfit because I wanted to go for a comfy semi-casual wedding look. Thomas on the other hand went for a dressy formal suit.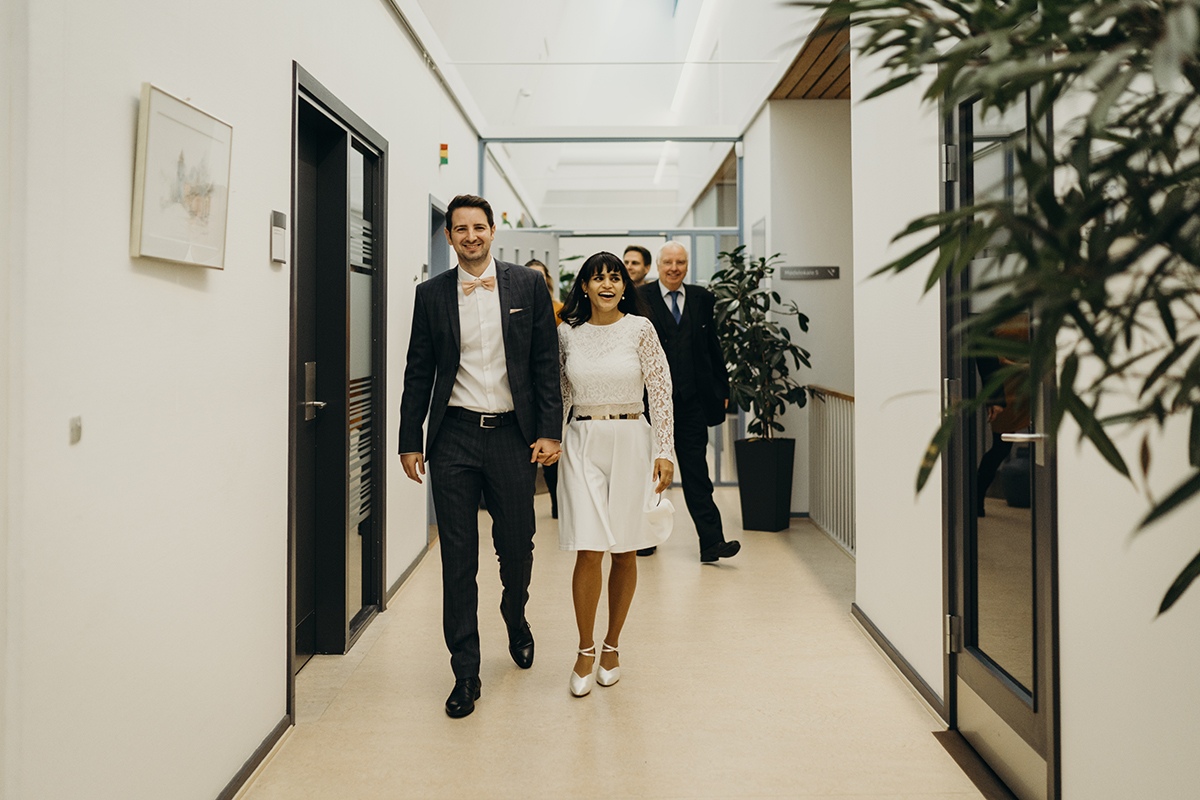 4.5) Your wedding ceremony in Denmark
The wedding ceremony is quite short and lasts between 5 to 10 minutes. They are predominantly held in English making weddings widely accessible for all nationalities. You can request a German language ceremony in advance as well.
The officer will first take you to a waiting area and then when everything is ready you will be asked to go into the wedding hall.
Once everyone if in the hall, the registrar will begin the ceremony with a short speech. At the end of the speech, you will be formally asked whether you want to marry. When you have said, 'I Do' you will sign the wedding papers followed by your witnesses. You are also welcome to exchange rings and say short vows, but it is not mandatory.
4.6) Getting your wedding certificates
Your wedding registrar will hand you TWO wedding certificates immediately after the ceremony. You can also request up to five if you need them at no extra cost. These certificates are each issued in five languages (Danish, English, German, Spanish and French).
It is highly recommended that you check every detail on the certificates before leaving the town hall. If there is some error you can alert the officers and they will reissue a corrected version on the spot.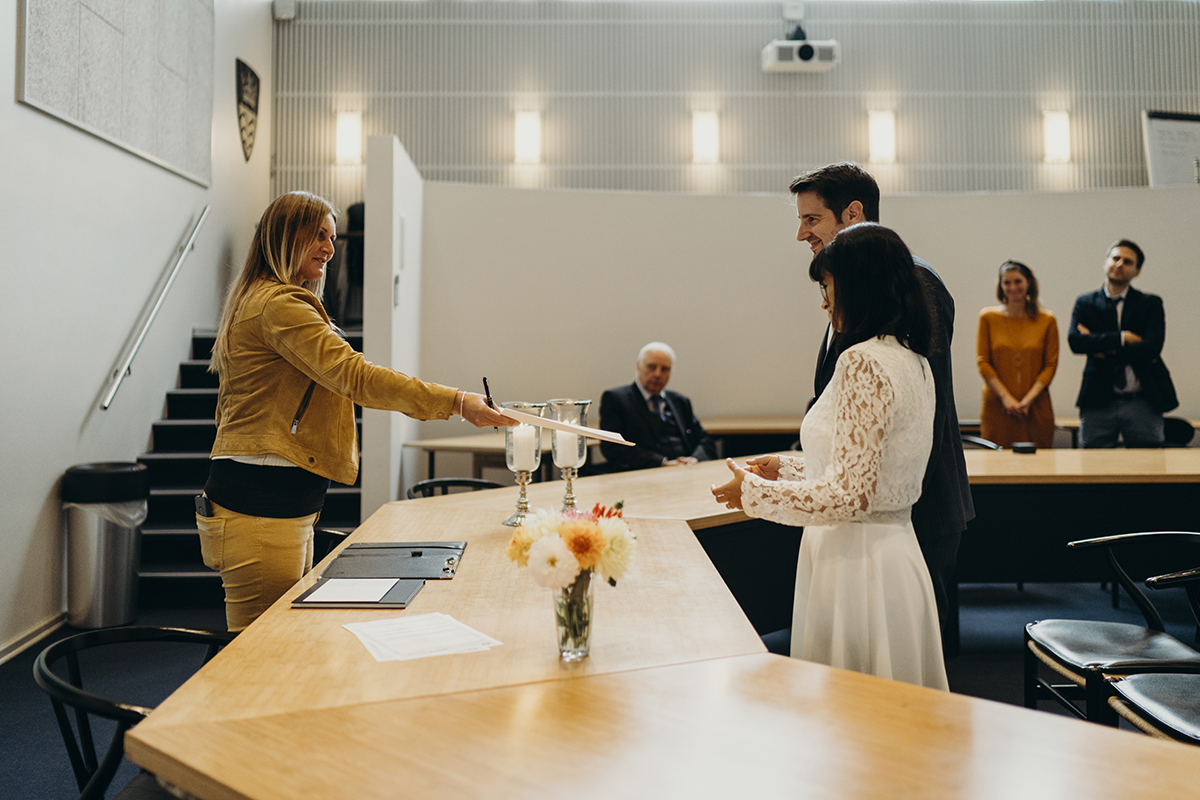 5) Costs of getting married in Denmark
The wedding budget is a big deal for any couple. We also set aside some budget even though it was a small – a micro wedding – if you will!
Denmark is quite an expensive country and small expenses can add up very quickly. It is much easier if you set aside a budget for your wedding trip. If you are planning your wedding during nicer weather, you could turn this opportunity into an uncomplicated destination wedding as well!
The following is just a rough estimate since the cost of accommodation and flights can vary greatly depending on the season and your preferences. Let's take a look at the breakdown of our spending (in euros) for getting married in Denmark.
Wedding agency – 1.045 €
Accommodation (per night) –  100 €
Flights – 350 €
Airport taxi transfer (ca. 20 mins ride) – 30 €
Rental car (1 day) – 40 €
Photographer (approx. 2 hours) – 600 €
A 3-course dinner in a fancy-ish restaurant (per adult) – 150 €
Dinner in a mid-range restaurant (per adult) – 70 €
A bottle of champagne – 125 €
A glass of wine – 12 €
A bottle of beer – 7 €
Wedding outfit (Bride) – 250 €
Wedding outfit (Groom) – 600 €
Wedding rings – 550 €
In total, we spent roughly 5000 € for our little 'destination' wedding in Denmark and a five-day stay. As you can see, some of these costs can be reduced drastically depending on personal taste or preferences.
I was able to have a budget wedding outfit by explicitly not buying anything related to 'wedding or bridal'. My 'bridal' blouse was basically a casual lace crop top from NA-KD that I ordered online. I think my trench coat was the most expensive item in my wedding wardrobe. Thomas on the other hand went for a high-quality dressy suit, for which he paid the appropriate price. 😉
---
---
Depending on the location of your town hall, you may spend a little less on a hotel or transport. Same for our wedding dinner. We decided not to go for super fancy Michelin dining since Copenhagen is full of several high-quality restaurants. You can find great restaurants in any central neighbourhood of the city and have a great evening celebrating your wedding in Denmark.
We had a 'wedding dinner' for six at a place called Paté Paté in Vesterbro.
6) What happens after your wedding in Denmark
Minimal paperwork is involved after your wedding in Denmark. You can go ahead and enjoy the rest of your stay in Denmark. After all the day is about you as a couple enjoying getting married and not about waiting around for formalities to be completed. We were accompanied by my in-laws in Denmark and the next few days were basically resting and enjoying family time in Copenhagen.
If you have chosen to get an Apostille service, then you may have to wait a few more days, but that is it. We got the Apostille done through our wedding agency. They managed everything and promptly send us our certificate soon after our wedding day. It took just under a week to receive our certificate in the post.
After we received our Apostille, we notified our local registry office to set up an appointment so we can formalise the last loose ends in Germany. As of now, after 10 working days, we still have not received a response from our Beamter.
Tja…so much for the great German efficiency. 😉
After a few follow-ups and a month-long wait, we received an OK from our local Standeamt for our marriage in Denmark. That means our Danish marriage is recognised in Germany.
---

Read here how to change your tax class for joint tax filing in Germany as a couple

---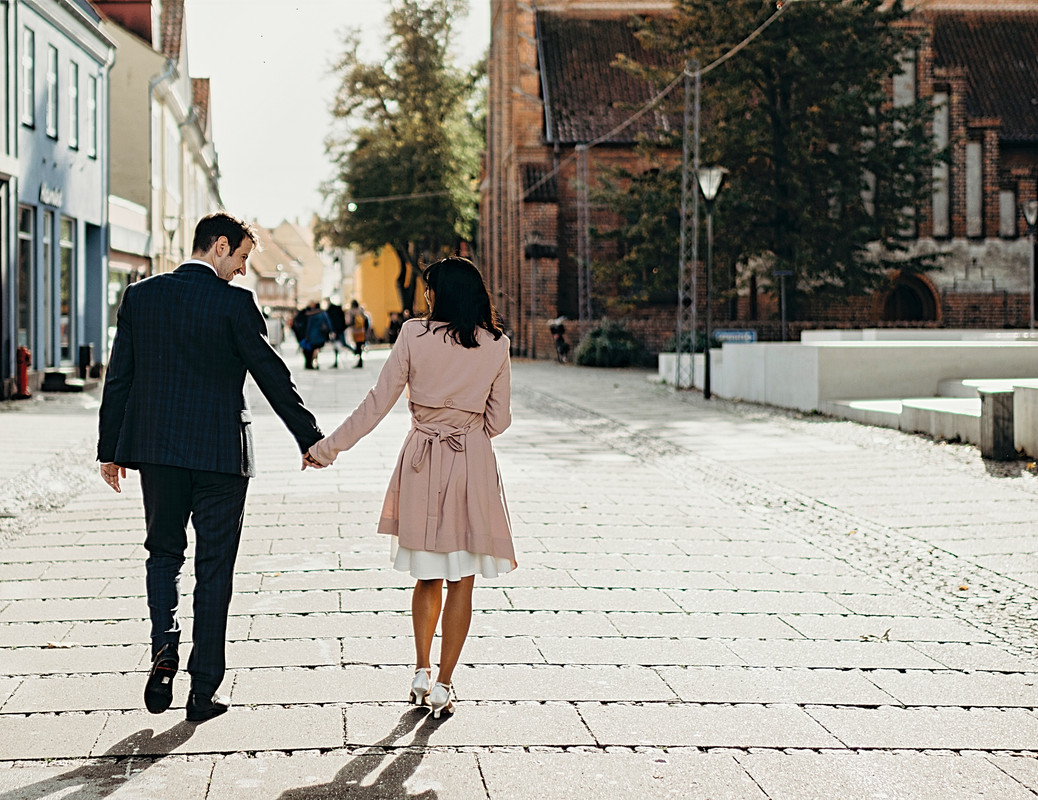 So here was my long-ass guide about getting married in Denmark as a foreigner. I hope this will help anyone looking for information about marrying a german as a non-EU citizen.
Did you also get married in Denmark? Tell us about your experience in the comments below. Also, do you have any questions for me? Please feel free to ask me anything!