Health Insurance for German Freelance Visa
Top Takeaways From This Post
Last updated on January 6th, 2023 at 06:04 pm
Health insurance and Germany go hand in hand! So much so that you need health insurance coverage even before you enter the country. Learn more about health insurance for German Freelance Visa applications.
Health insurance is one of the most widely discussed topics for the German Freelancer Visa application. Proof of a secure livelihood must include sufficient health insurance coverage in Germany. This obligation is called Versicherungspflicht.
So what should you choose as health insurance for a German freelancer visa?
In this post, I will explain some of the well-known health insurance for German freelancer visa.
While I am doing my best to provide comprehensive and up-to-date information, please make sure you do your own due diligence and pick the best option for your health condition and budget.
---
Disclaimer: This blog post may include affiliate links. These links do not cost you anything but I might earn a small commission if you decide to order something from one of my recommended partners. Thank you for your support to help keep this platform growing!
---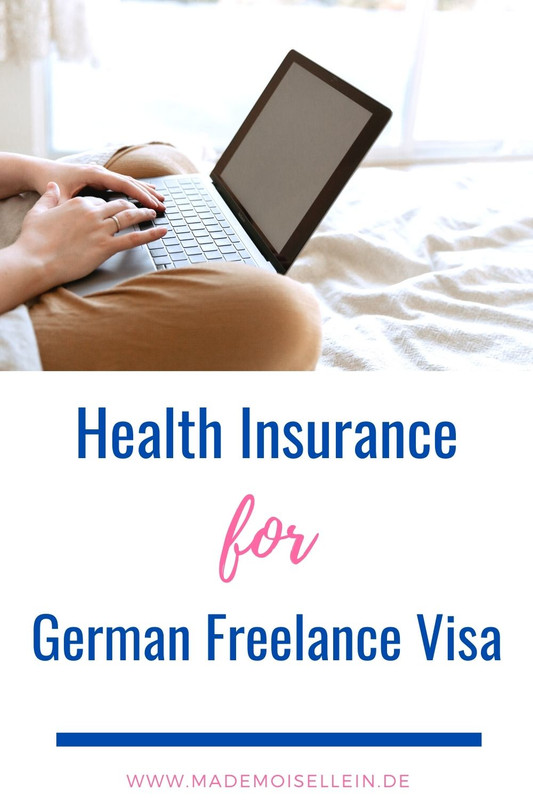 1. Short-Term Health Insurance in Germany
There are German insurance providers that offer short-term health insurance coverage for visitors who want to stay in Germany for a few months. Some expats have reported successful German freelancer visa applications with their travel insurance coverage.
Below are a few well-known travel insurance providers in Germany.
Care Economy
Care Economy is an international policy offered by Care Concept, a German health insurance company. Care Concept is often recommended by several fellow expats who have successfully applied for a German Freelancer Visa using their coverage.
The Care Economy's health insurance plan has a maximum duration of two years. This special international health insurance plan is ideal for foreign nationals who are travelling to Germany on a Schengen visa.
Care Economy provides coverage against the costs of diseases and accidents abroad – starting from 1.00 EUR per day. It is simple and easy to sign up for this plan online.
Another very convenient Care Economy feature is that you can buy their plan for as little as one day of coverage as opposed to a long term contract. It makes Care Economy very suitable for expats who are still waiting for the results of their visa application and want to wait until signing a more comprehensive two-year-long health insurance contract.
By purchasing only 90 days of coverage upfront you
get enough coverage to get the visa itself.
minimise the risk of paying for a long-term plan that you cannot use (or refund!) if you don't get the visa and have to leave Germany
Click here to check out the details of the Care Economy plan.
2. Expat Health Insurance in Germany
If you are planning a longer stay in Germany, it is important that you have adequate and high-quality health insurance coverage.
Generally, expat health insurance plans are adequate to apply for your German freelance visa. However, it is always best to confirm this with the providers – either from their website or through their customer care service.
Here are some well-known expat health insurance providers in Germany.
Care Expatriate 
Care Expatriate is for anyone who intends to stay in Germany for more than 6 continuous months.
This insurance protects you against the costs of medically necessary treatments – starting at €58 per month!
You can apply directly online, quickly and easily. Any citizen of a 3rd country who is staying in Germany can take coverage of Care Expatriate.
The minimum duration of this coverage is 6 months. If you live in Germany you can get health insurance coverage for a maximum of 5 years.
There are three types of Care Expatriate tariffs – Basic, Comfort and Premium. All these tariffs provide various healthcare coverages and have varying monthly premiums.
Click here to check out the details of all Care Expatriate tariffs.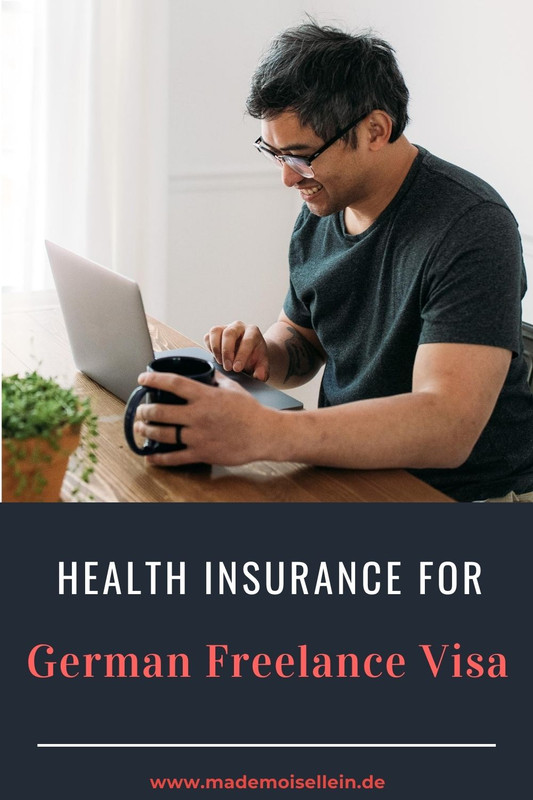 3. Private Health Insurance in Germany
Most expat health insurances are not a great long-term option, both for fulfilling health insurance requirements and actual health care during your stay in Germany.
Most of them are only valid for a couple of years so you will need proper and more comprehensive health insurance if your plan is to stay in Germany for a longer period.
Below are some options for private health insurance providers in Germany.
Foyer Global Health Exclusive
Provider: Foyer Global Health
Minimum Duration: One year
Maximum Duration: Ongoing
Coverage: Foyer offers a full-health insurance plan – also known as Vollversicherung in German. It covers all your medical costs and needs, preventive health screenings, and inpatient and outpatient treatments.
Other Features: This plan is suitable for foreign citizens who are moving to Germany for the long term and require real international health insurance instead of travel insurance.
Cost: Get an individual quote here
Click here to learn more about Foyer Global Health Exclusive​ plan here (ENGLISH)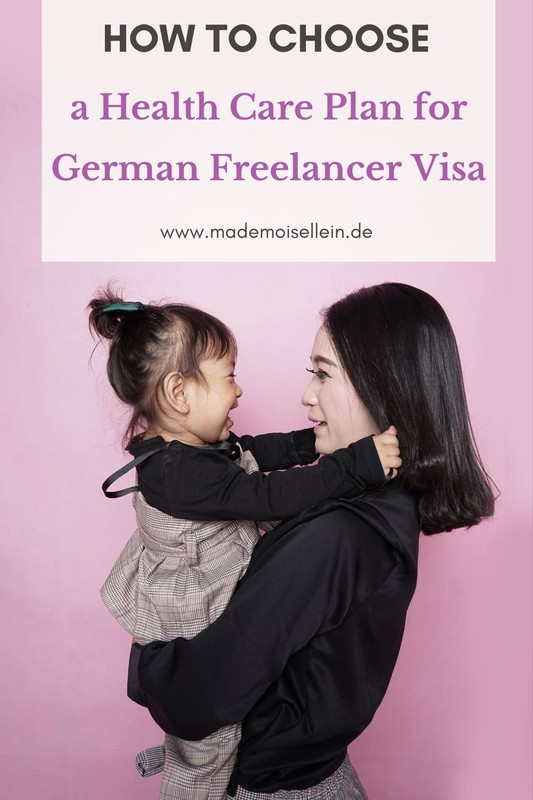 ---

Related: Learn how mental health therapies are reimbursed by German health insurance providers

---
4. Public Health Insurance in Germany
If you're planning to stay in Germany permanently, it may be worth considering joining the public system despite its higher cost.
Why? Because as you get older, your private insurance premiums are likely to get higher and your ability to switch policies or add an additional cover, due to your higher risk status, is likely to be very tricky. 
While private health insurance may be advantageous for young and healthy freelancers, switching back from a private scheme back into statutory health insurance is usually ruled out by the law (except for in some special cases.)
In particular, if you are a bit older or have a chronic disorder, or have a family should check critically whether switching to a private health insurance scheme really makes sense.  
However, getting into the public health insurance system as an international freelancer is quite hard.
---

NOTE: International freelancers can get into the German public health insurance system if they have been a contributing member previously. For example, if they had public health insurance as a Master student or as a full-time employee in Germany – they can simply switch to voluntary membership as a self-employed person.

As a complete newcomer to the German health insurance system, a private provider might be your only option.

---
For freelancers who are considering going down the route of public health insurance, the income threshold is relevant for the size of the contribution. 
If you want to opt for public health insurance as a freelancer in Germany, there are many public health insurance providers to choose from.
DAK Gesundheit: 
DAK Gesundheit or DAK is one of the largest statutory health insurance provider in Germany with over 6 million members. This public health insurance company has been around for 230 years, making it one of the oldest providers in the country.
DAK is very popular in the international community because it offers its services in English, Arabic, Polish, Russian, Turkish and several other languages – as opposed to many companies that only operate in German.

Like most other insurance providers in Germany, DAK will cover the costs of your doctor visits, treatments, medications and other types of care. Although some parts of your care (i.e. special medications and treatments) might be subject to additional costs or contributions.
Anyone can apply for DAK coverage – students, employees, pensioners and self-employed people qualify for DAK's health coverage.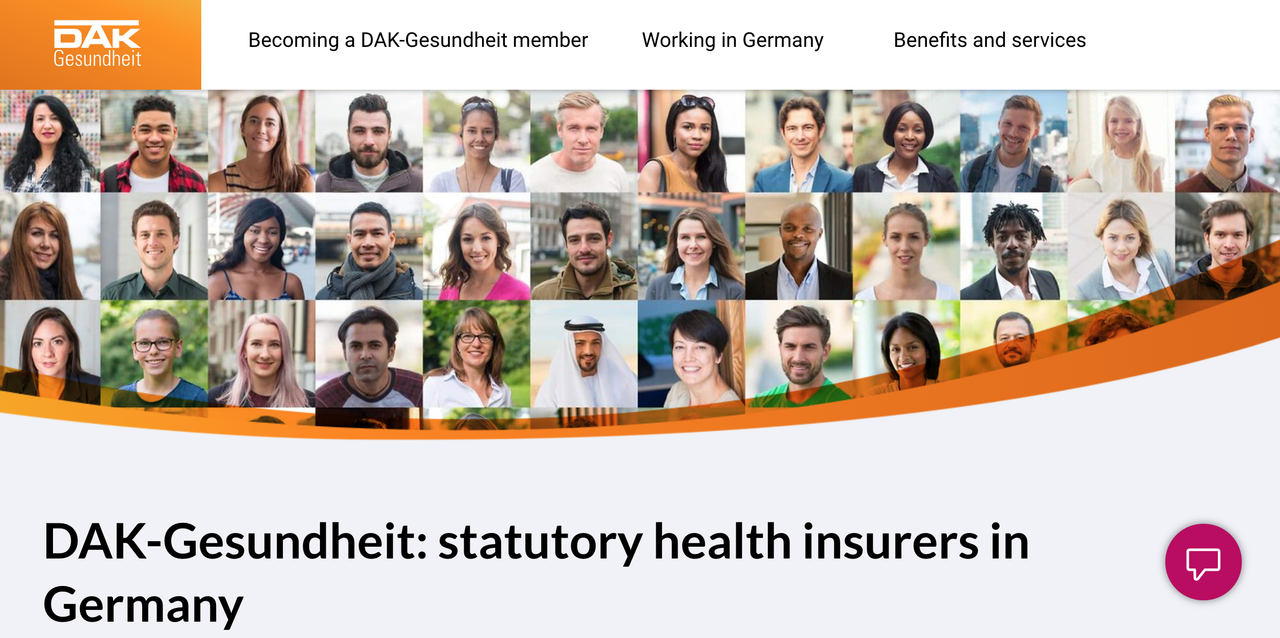 As is the case with public health insurance in Germany, DAK costs are also determined by your monthly income. Generally, you can expect to pay 16.1% of your gross monthly income.
You can easily sign up online with DAK (in English) here
Conclusion
As a general rule, those with statutory health insurance are considered sufficiently insured for German freelance visa applications. However, it is hard to sign up for it if you are not a resident of Germany.
Private health insurance must include the specific type and extent of coverage to be sufficient health insurance for a German freelance visa.
Expat health insurance also provides enough coverage to qualify as adequate health insurance for your German freelance visa. After a year, however, you should consider switching to a more comprehensive health insurance in Germany.
While this post gives an overview of various health insurance plans available for expats and freelancers in Germany, you absolutely must do your own research to find a plan that works for them and also meets the requirements.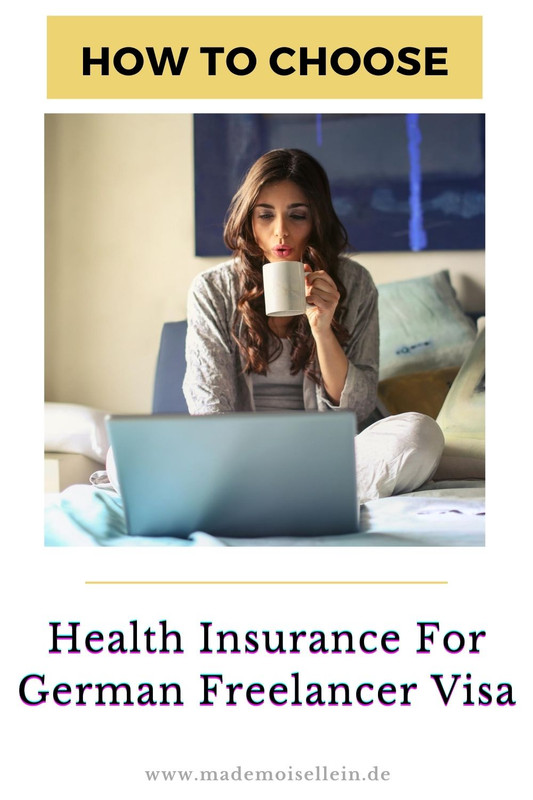 So there were some of the best known options for health insurance for German Freelance Visa application. Have you applied for freelancer visa in Germany with a different health insurance plan? Let us know your experience in the comments below.