Tips For Travelling With Pets in Germany – Holiday With Pets in Germany
Top Takeaways From This Post
Last updated on May 10th, 2023 at 01:21 pm
Are you planning a holiday with pets in Germany this year? Not only is it easy to arrange but also a lot of fun. Read this post to learn everything you should know before travelling with pets in Germany. 
If you are new in Germany you may find that the locals take their pets everywhere. Even on holidays. Germany is an extremely pet-friendly country. You can travel with pets in Germany with more ease than in many other countries.
It's not only dogs who can go on a holiday in Germany with their humans. If you are a cat owner then let me assure you that you do not need to leave your kitty all alone at home with a sitter. You can totally take him along on a hike or a city trip.
We have been on a number of holidays with our cat not only in Germany but also in other EU countries. It's just so wholesome to take Jonsey outdoors and see his reaction to new smells and surroundings (don't worry he's used to travelling and enjoys it!)
Let's take a look at how you can plan a holiday with pets in Germany – a dog, cat, hamster or guinea pig. 🙂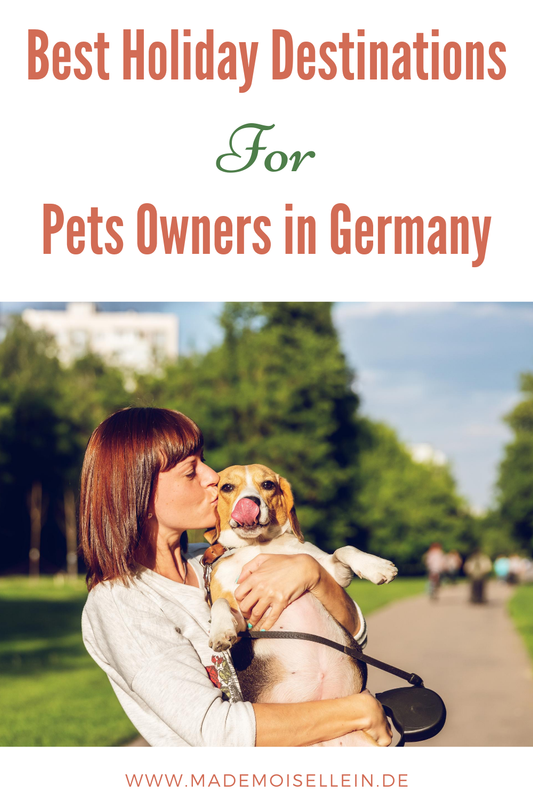 Where Should You Stay With Your Pet – Hotel or Holiday Home
Dogs are allowed in almost every public space in Germany (besides grocery stores) with only the rare 'No Dogs Allowed' (Kein Hund erlaubt) signs. As for the cats, they are welcomed at many hotels and holiday homes all over Germany.
You will be able to find dog-friendly accommodation nearly in every major city or tourist destination in Germany. A quick search on Booking.com shows nearly 40,000 pet-friendly hotels in Germany.
So what is better when you go on holiday with pets in Germany –  a hotel or a holiday home?
First, finding a pet-friendly hotel in Germany is much easier than a holiday home. There are a number of hotels all over the country that will welcome your pet. Dogs are allowed in most hotels in Germany. Some hotels charge a small fee for your pet, some don't.
In fact, there are thousands and thousands of pet-friendly hotels all over Europe where you can enjoy a  lovely holiday with your pet.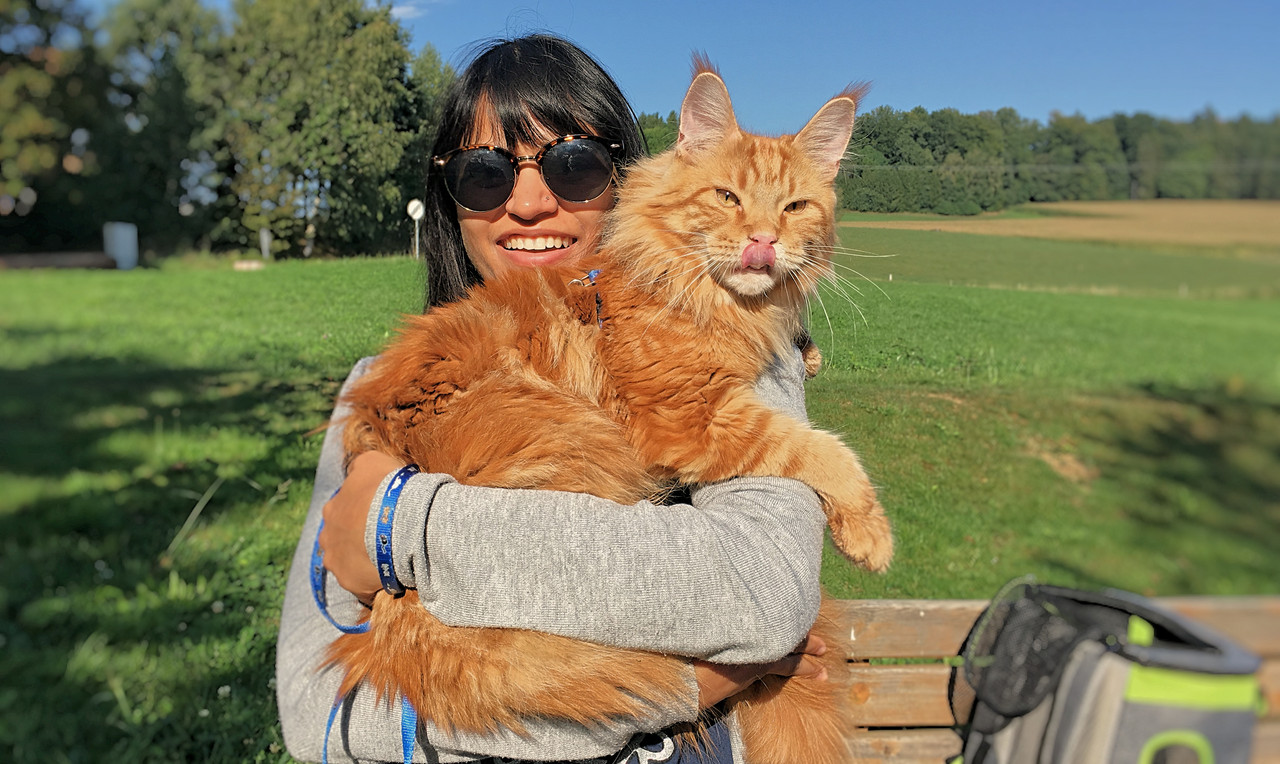 Personally, after travelling with our pet in Germany a few times, I prefer a holiday home over hotels for several reasons.
One of the major ones is that we travel with a cat. He might be a travelling kitty he's still a lazy bug! 😉 Cats need several hours of sleep each day, so it is not practical to take them out for a full day of sightseeing. Simply too stressful for a cat. Instead, he accompanies us for shorter trips lasting just a few hours.
For instance, in Usedom, we took him out only when we went for short hikes or for a walk around the lake near our cat-friendly accommodation. The beach was too hot at over 30 degrees so we spared him the hot sun for a full day. Instead, he spent those days in the spacious and cool apartment watching the world from the balcony and window.
But I digress. Now back to the reasons for choosing a pet-friendly holiday home over a hotel room when you travel with pets in Germany. 
They tend to be larger than a typical hotel room. We have almost always stayed at a pet-friendly holiday home or an Airbnb when we went on a holiday with our cat. These accommodations have at least two rooms, a balcony and windows where our kitty has enough space to run around, sleep and play or look at the world outside. Sure there are junior and family suites at most hotels but it does not beat having an actual apartment or a home.
They often cost less in comparison to a hotel room. Junior and family suites at most dog-friendly hotels in Germany cost way more than a 2-bedroom family holiday home or Airbnb apartment. There are also additional charges per night to keep pets.
They offer more privacy than a hotel. If you have ever known a cat you will agree that even the friendliest of cats need some time to warm up to strangers. At a hotel, your kitty may have to deal with room service every day which might get stressful for him. Whereas at a holiday home you have the entire space to yourself for the duration of the stay. You can leave the kitty at a cat-friendly accommodation without worries if you want to explore the place without your pet for a few hours.
You can find several pet-friendly accommodations in Germany via TUI Ferienhaus if you want to travel with your four-legged babies. They have a collection of dog-friendly holiday homes in Germany, as well as in nearby EU countries like Denmark, Austria, France, and Italy.
What Are The Best Dog-Friendly Destinations in Germany
Whether holidays at the North Sea or the Baltic Sea, in the low mountain ranges or at the lakes around Brandenburg, there are numerous possibilities to spend a wonderful holiday with pets in Germany.
You can plan your holiday with pets in Germany almost anywhere. Weekend city trips in Berlin, Munich or Hamburg or a scenic hike in the Alps, calm lakeside holiday in South Germany or the Baltic Sea coast. You basically have a choice of almost 3000-holiday homes at your disposal.
Let's take a look at some dog-friendly holiday destinations in Germany and everything you should know before hitting the road with your doggo/ kitty.
Beach holiday with pets in Germany
So yeah, I hope that this isn't news for you because Germany has some pretty darn good beaches. You just have to travel to North Germany to spend some days at a beautiful white sand beach town.
Also known as 'German Riviera', the north coast of Germany touches the North Sea and Baltic Sea. Both coasts are popular tourist destinations for Germans and foreigners alike.
We went to Usedom with our kitty in 2019, and it was one of my favourite holidays in Germany. The island is small but offers so much, beaches, cute imperial-era towns, hiking trails, biking paths, one of the longest promenades in the EU and much more. Staying at a beachside holiday apartment only made the entire experience even more memorable.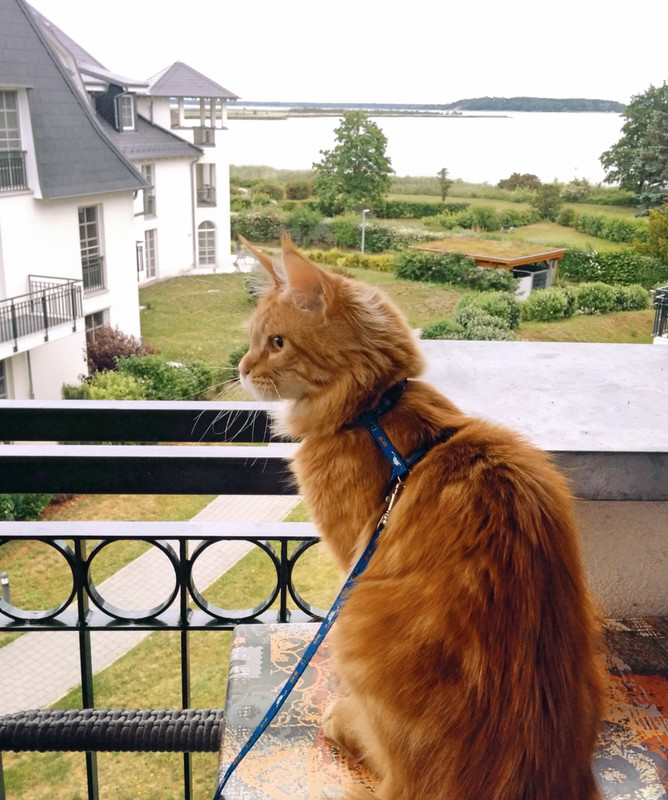 If you are travelling with your dog, then there is no shortage of dog beaches for you on Germany's Baltic coastline. Take your dog for a beachside walk on one of the many dog-friendly beaches in Germany's  North Sea or the Baltic Sea. Or relax at the beach, while your pup mingles, plays with other dogs and lets off some steam in the sand.
Click here to find a beachside holiday home on North Sea Coast starting from as little as 209 € / week
Lakes side holiday with pets in Germany
There are tons of lakes that are popular with pet owners who want to travel with their pets across Germany. Lake Constance, Chiemsee, Königsee and Starnberg are beautiful lakes in the South of Germany.
Lake Constance is an amazing holiday destination in Germany for everyone. Scenic beaches, beautiful ancient cities, vineyards, and hiking trails everywhere. Lots and lots of fun stuff to do if you are travelling with pets to Bodensee.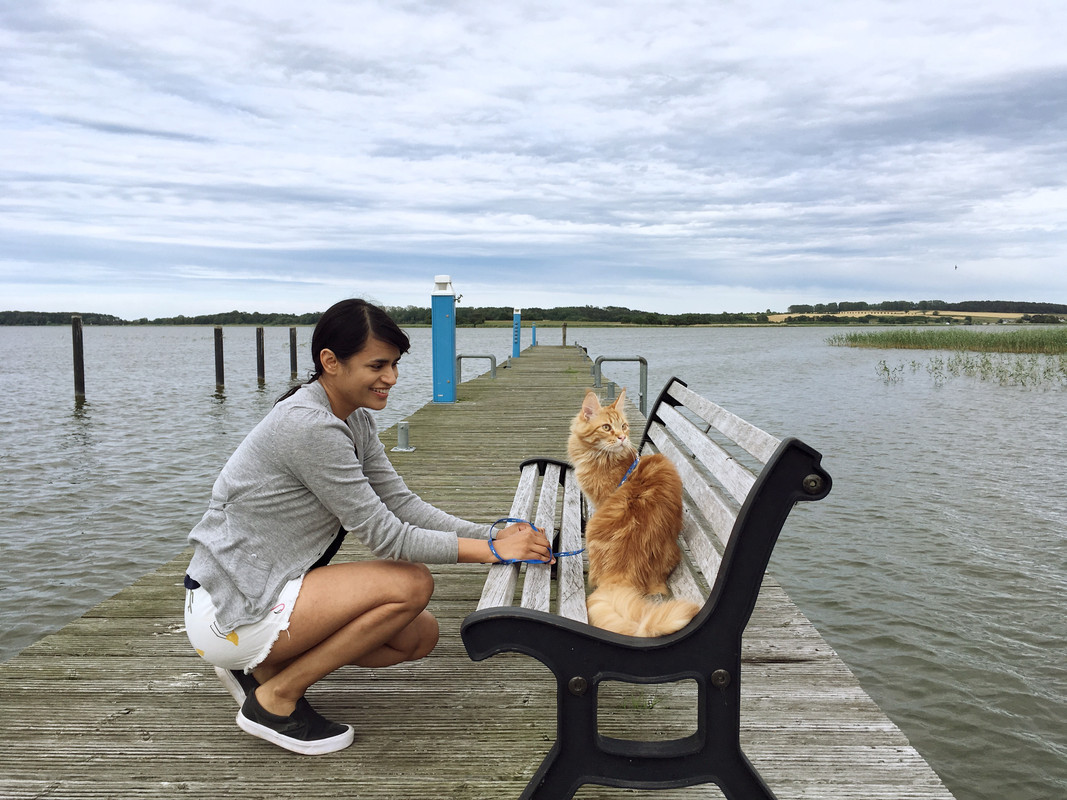 Lake Constance is full of vast beautiful hiking trails. You and your pups or kitty can spend a lot of free time in nature and explore new routes.
Dogs are welcome to swim at most if not all beaches in Bodensee such as the Seerhein, Hörnlepark near Strandbad Horn, although its best you confirm if dogs are permitted in the water before letting them jump in.
Beautiful cities like Bregenz, Immenstaad, Lindau or Lochau, Meersburg are located right at Lake Constance. You will never run into problems strolling in the city with your pet on foot. In the summer months, the walkways can get too hot. it might be best to walk your pup in the shadowed areas or simply pick them up!
You can find pet-friendly hotels anywhere in Bodensee. But with so much natural beauty all around it, Lake Constance is perfect for staying in a holiday home. Some of the holiday apartments are located directly on the lake so that you can take your four-legged buddy every morning or evening for a quick run and a dip in the cool waters.
PS: Read my guide for planning a holiday in Bodensee.
Alpine holiday with pets in Germany
South Germany, Austria, Switzerland and Italy are all very popular holiday destinations for Alp admirers and avid hikers. The Alps are easily accessible with a car or train ride from practically anywhere in Germany.
It may sound like the Alps are only ideal for hiking lovers. Actually, that is not true. This is the highest and most extensive mountain range system in Europe. It houses many major cities in all four countries, along with several forests, rivers, lakes, a number of tourist attractions to boot.
You can go hiking for hours with your pets, or for a swim if the weather is warm enough. Whether you love the seclusion of the mountains or want to take a short weekend trip with your pet in a city like Innsbrück, Tyrol or Munich – there's a vast choice of activities in the Alps.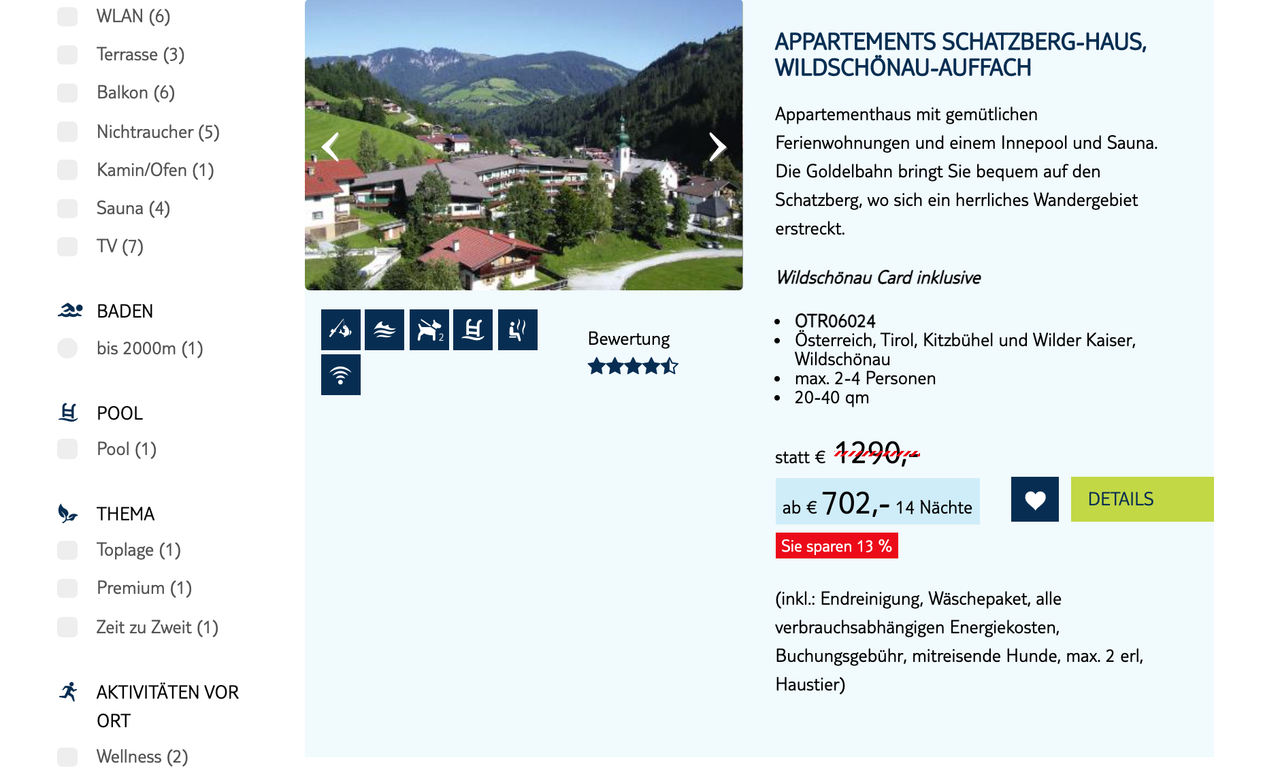 Even if you prefer to stay inside the borders, there are still so many options for travelling with pets in Germany's alpine region.
A pet-friendly holiday paradise with mighty mountains and crystal clear lakes stretches out all the way from the Allgäu to the Chiemgau. It's not just for the hikers though.
Those interested in culture also get their money's worth in the German Alps. A picturesque road trip along the "Romantic Road" to Füssen, will bring you right to the world-famous attractions such as the castles of Neuschwanstein and Hohenschwangau.
You can find a gorgeous holiday home or chalet in the Alpine mountains starting at just 212 € / week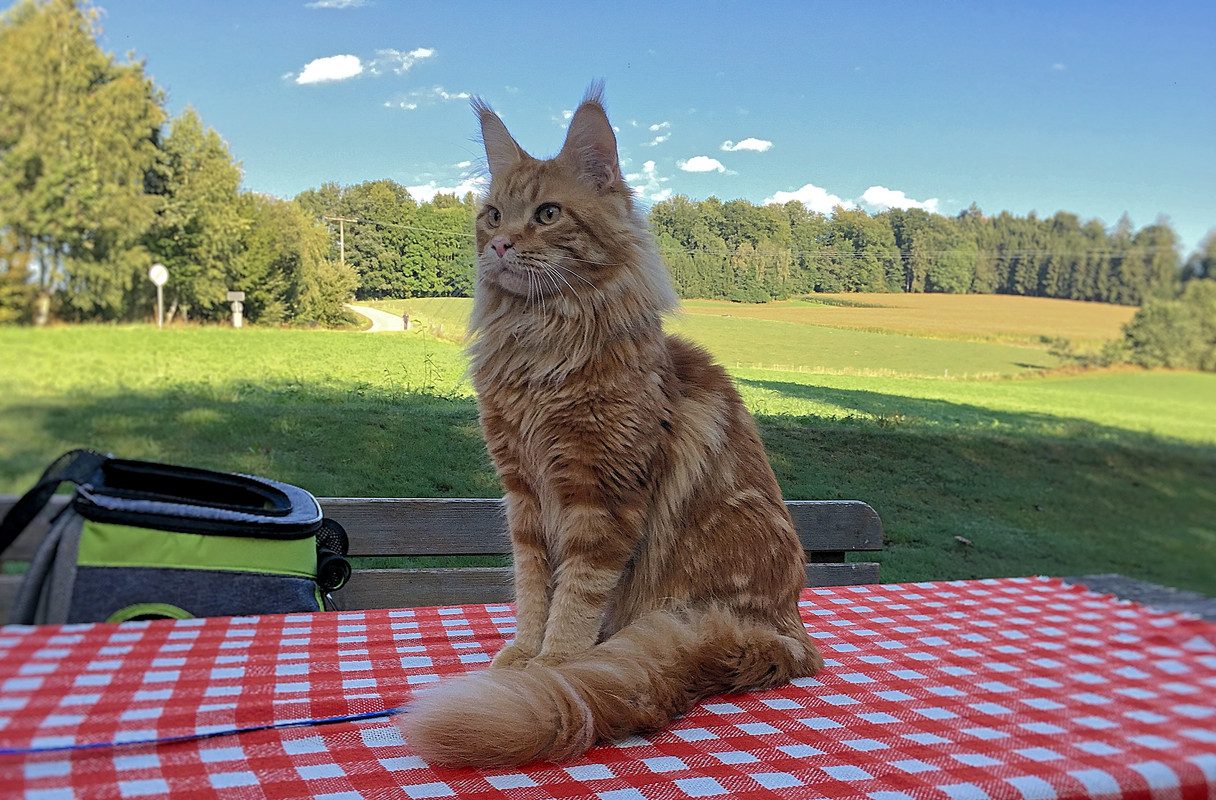 Caravan/ RV holiday with pets in Germany
RV holidays in a caravan park have always been popular in Germany. No wonder, so many caravan parks offer a huge range of leisure activities not only in Germany but also in neighbouring countries in the EU.
These special holiday parks often consist of spacious pools, water slides, kids pools and relaxation zones with sunbeds and parasols. Sports and games facilities, children's clubs with daycare are also offered by many caravan parks in Europe, so perfect conditions for a successful family holiday.
You won't even have to compromise with comfort during a caravan park holiday with pets.
These modern mobile homes have all the comfort you could wish for during your holiday. Depending on the type and size, some of the mobile homes can accommodate up to 6 people and have a large living room with an open kitchen, separate bedrooms, a bathroom and a cosy veranda.
Fancy a camping trip with your doggo but do not own an RV?
Click here to find some cool caravan parks stays (starting from 214€/ week) where you can go on a relaxing holiday with pets in Germany and in the EU.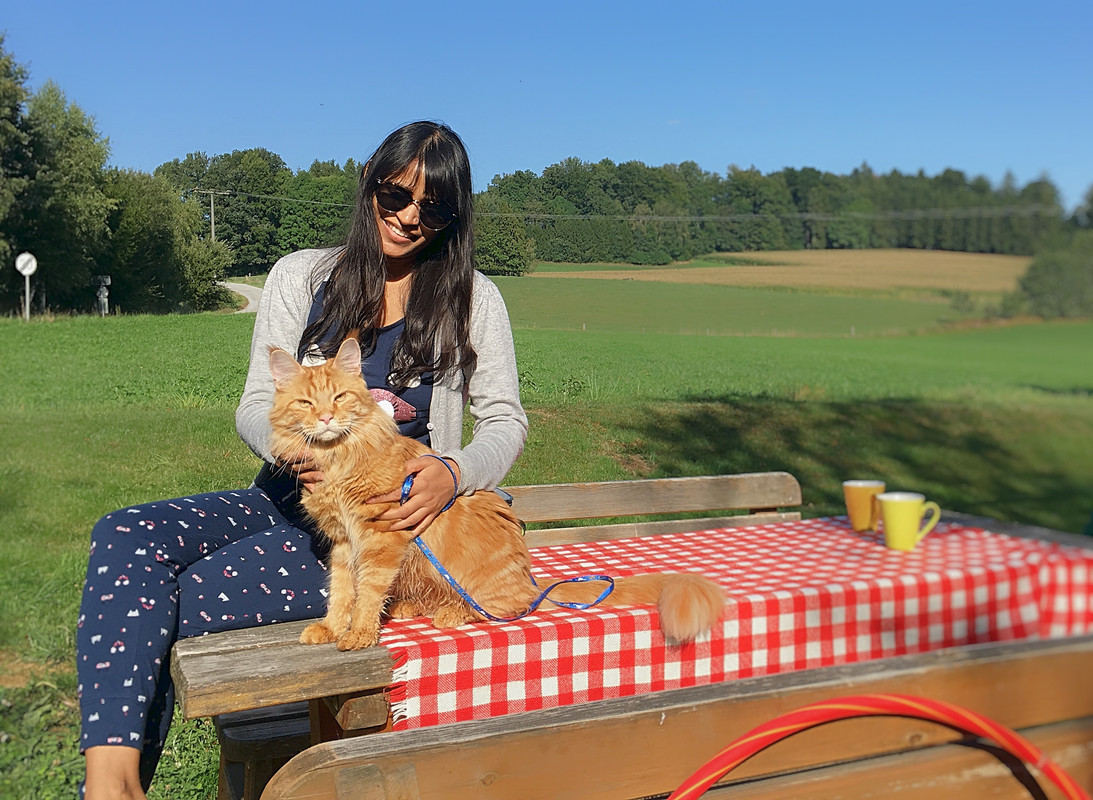 Tips for Travelling With Pets in Germany
How to Travel With Pets in Germany
Theoretically, you can travel with your pet in a car, train or plane. For the sake of our cat's health and comfort, we prefer to get around with him by car.
Since we got our kitty we have taken quite a few road trips in Germany, Austria, Italy and France. Road tripping in a car means that we can travel with him without putting him under too much unnecessary stress.
I have seen some people travel with their cats by train. It is hard for me to say how long is too long for cats.
We have never flown with him but I am aware that many people fly with their pets. I also know that cats and dogs are way more sensitive than humans and I honestly cannot imagine putting my poor cat through a flight or a long train journey.
He is used to travelling in the car and he just snoozes off after a few minutes of meowing.
If you have a dog then it probably depends on the kind of exposure he has had to trains and planes. I see far more dogs than cats on public transport in Germany. So with a bit of training and exposure, I'm sure your doggo will be ready to go on a holiday with you in no time.
Here is a cool post covering all the public places where you can travel with your dogs in Germany. 
Which Pet Carrier is Suitable For Travelling With Pets 
Regardless of the mode of transportation, pet carriers are a must for travelling with your pups and kitties. Pet travel carriers come in several shapes, sizes, and materials including canvas, leather or hard plastic. Whilst these are terrific you should make sure that your pet does not overheat and that they have adequate ventilation.
Your cat or dog must have enough space to turn around, stand and sit erect and lie in a natural position inside the container. The ideal pet carrier should be the following size:
Width: Twice the width of the animal.
Height: At least the height of the animal.
Length: The pet's length plus the length of the front legs.
Our Jonesy is an adolescent Maine Coon cat so we got a carrier that is actually for mid-sized dogs! It is large enough for him to stand and get a full-body stretch. This carrier is completely foldable and hardly takes up storage space when it is not in use.
Additional Tips for Travelling with Cats in Germany
One of the most important things to do before travelling with your cat is to get him vaccinated against rabies. This is a must for taking a cat outside Germany. Sometimes cat flu vaccination is also required.
We always take our cat's passport which also has a record of all his vaccinations.
Our cat is harness trained so we always have him on a leash whenever we are outside. We also carry him in a special cat backpack so he feels safe outdoors and let him out in quiet calm places. If you want to learn about leash training your cat – read this post
We don't pack any cat bed. Instead, we line his carrier box with a couple of his blankets. He often prefers to sleep in his carrier since it's spacious and comfy but gives him a safe cave-like environment that he prefers in a strange new house.
Some of his foldable and small toys. His favourite toy is this three-way tunnel that he uses for playing 'hide and seek' with us. Some catnip toys don't hurt either.
We take along a zippable mobile litter tray. It's foldable and waterproof (obviously!). He didn't even need extra training to use it. We just filled it with cat litter and he was able to take a sniff and understand that this is his new toilet now. It is also easily washable and dries up relatively fast.
I will highly recommend using high-quality litter that soaks up any odour and clumps easily. If you are sharing a hotel room with your cat you don't want to be stuck indoors surrounded by kitty pee or poop smell 24/7.
Don't forget to pack litter scoop and poop bags!
Lastly, the essentials such as cat food – we carry both dry and wet food. Treats are always welcomed and we keep them in our pockets every time we step outside with the cat.
Collapsible cat food bowls and water bottle – we use this camping set which works perfectly
Cat-sized life jacket – in case you plan to go kayaking or anywhere in the water.
There is no official cat liability insurance in Germany – however, it is good to have personal liability insurance that covers any pet-related damage. Otherwise, there is also general pet liability insurance that covers dogs and other house pets.
Additional Tips for planning dog-friendly holidays in Germany
If you are going on holiday with a dog in Germany, then please make sure you have adequate dog liability insurance. Many accommodations don't accept dogs without liability insurance. Read this post to learn more about mandatory liability insurance for dog owners in Germany.
Your dog will need essentials such as lead, harness, bed, towels and toys.
A bungee leash for picnics and sitting outside so that they can wander around without any risk of disappearing.
Attach a poop bag holder to the leash so you have it handy at all times. You can easily find poop bag dispensers in parks and on the roadside all over Germany. Still, you don't want to be caught without a poop bag on a walk with your doggo on a busy hiking trail.
A fold-up water bottle and food bowl
A pet-friendly fly repellent and sunscreen (white-topped noses) are nifty when camping out in the summer.
Consider investing in a life jacket for your dog if you plan to take him on boats, kayaks and canoes. It keeps them safer and makes it easier to pick them up if they accidentally fall into the water.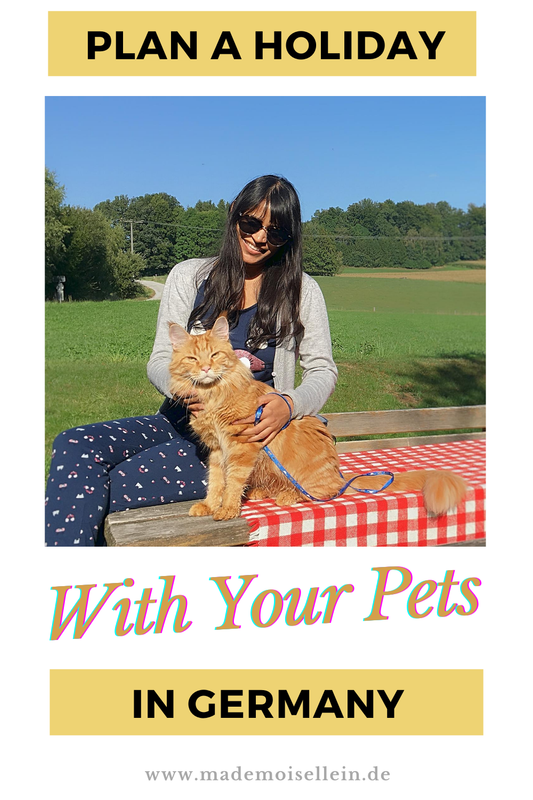 ---
Disclaimer: This blog post may include affiliate links. These links do not cost you anything but I might earn a small commission if you decide to order something from one of my recommended partners. Thank you for your support to help keep this platform growing!
---