House Hunting in Germany. What to Expect?
Last updated on June 4th, 2021 at 03:29 pm
House hunting anywhere can be a daunting experience. But when you are house hunting in Germany as an expat, it is a completely different ballgame. Read some of my tips on how to find a perfect rental apartment in Germany as an expat!
Last year, I found myself in the emotional whirlwind that is house hunting in Germany. It was at times quite exciting, and the others quite frustrating. If you are a foreigner from a non-EU country, there are more than just a few things that you may not be prepared for.
So here are some of the basics that you should know before or while looking for a rental apartment in Germany.
PS: If you want to BUY a house in Germany, then read this post instead!
---
Disclaimer: This blog post may include affiliate links.  These links do not cost you anything but I might earn a small commission if you decide to use goods or services from one of my recommended partners.  Thank you for your support to help keep this platform growing!
---
1) Be prepared…for the bureaucracy
As Germany runs heavily on paperwork, be mentally prepared to be asked for several documents, even before you actually get to visit the house. The landlords or rental agencies can ask you to 'apply' for a rental apartment in Germany just like you apply for a job!
It is even called a 'Bewerbungsprozess' or an application procedure in German.
You also have to prepare are a 'Selbstauskunft' which basically is a folder containing details about your work, net monthly income, identity, etc.
A Selbstauskunft contains the following documents:
1.1) A Schufa certificate (a form of German credit report)
You also have to produce a Schufa BonitätsCheck (credit score) to provide evidence that you do not have any pending debts in Germany. Having this certificate can improve your chances of getting your dream rental.
You can easily order your Schufa certificate online through Immowelt.de. It is available for 60 days for download.
Click here to generate your digital Schufa certificate quickly
1.2) Proof of rent payment (Mietzahlungsbestätigung) 
You may also need yet another piece of paper from your previous landlords (in Germany) proving that you have been a great tenant by paying your rent and dues on time.
1.3) Work contract with salary details
You can ask your HR department for this document. Since it is a very commonly used paper in Germany, they would know exactly what to do.
After they approve of you as a potential tenant, then you may get an invitation to visit the house.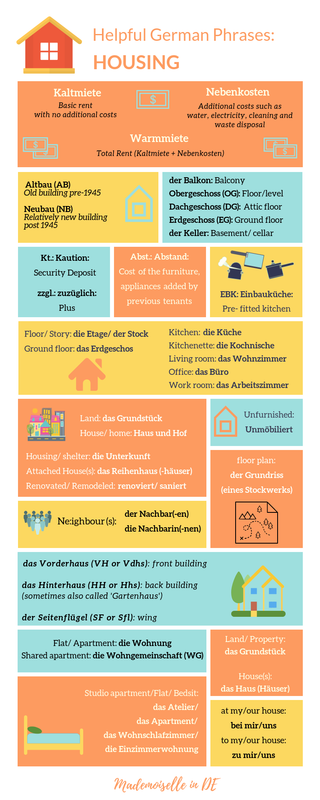 2) Start early with apartment hunting in Germany!
Seriously. Start as early as possible.
You may not be able to find your dream rental apartment in Germany right away. And even when you do, chances are that there is a lot of competition for your dream apartment. Only a handful of apartments match all of your criteria anyway and if you start late with your house hunting, you may end up settling for one.
You can avoid this shuck up by starting your house hunting in Germany at least three months in advance. Start even sooner if you are looking for a rental apartment in Berlin or other bigger city in Germany.
This way you will feel comfortable weeding out 'less favourite' apartments – areas with some dodgy neighbourhoods, contracts with some strange clause, or simply some potentially troublesome landlords.
We started a few months in advance and were able to turn down a few apartments before we found the perfect one that met all our criterion.
3) Expect… the unexpected when finding a rental apartment in Germany
Be prepared for shit to go down. Well, it won't ever go that far but still! 😉
Once we thought we finally found our perfect rental apartment – ideal distance to work, rent within our budget, and overall a big bright apartment with an inbuilt kitchen. We were also the favourites of the owner to be the tenants as well. All good, right?
Well, the agency called my boyfriend during working hours to inform him that we had the apartment.
He could not answer the call right away…because he was at work! By the time he called them back in about half an hour, the apartment had already been handed over to the second favourite applicant.
This is something that we were not prepared for because. Well, it is kind of an unexpected way of picking a new tenant, but apparently, it happens.
The Mietvertrag (rental contract) here can also take you by surprise at times. We were often informed that we can expect to commit to leasing for 24 – 36 months. This is a bit of a grey area since German rental contracts only require a minimum of 3 months notice for both tenant and landlords.
---

Also Read: How to Buy Land in Germany

---
4) Stock up on some savings
When moving into a new apartment in Germany, you have to pay more than just the rent and a security deposit. There is something called a 'Provision' or a 'Makler' fees that can set you back about a few hundred Euros.
New rental apartments or houses in Germany are absolutely empty.
By that, I not only mean that there are no bed, sofa or a dining table. I mean there are no light fixtures, no mirrors, no fittings, and no kitchen.
Yes, you read that right.
You can totally expect to walk into your potential rental home in Germany and find that your future kitchen to be absolutely empty except for a layer of tiles on the wall and fittings for your water pipeline.
You see, when you move into a new rental apartment in Germany, you are expected to buy your own kitchen. A completely new kitchen – from the stove to the oven, to all the cabinets and even the water faucet and the sink. Depending on your individual requirements you can expect to pay anything between €1000 – €10,000.
The good news is that every now then, a rental apartment in Germany will come with a so-called 'Einbauküche' which means a fully equipped kitchen is already present in the house.
These offers are rare and very sought after- but they exist. So next time when you are searching online for rental apartments in Germany, make sure to check the 'Einbauküche' box in your search criterion.
Another trick is to ask the letting agency whether the previous tenants are willing to leave their kitchen behind. With any luck, you may be able to get an existing kitchen for nearly half the price of a brand new one.
Finally, be brave during house hunting in Germany
Don't let all this quirkiness put you off moving to Germany though.
Finding your dream rental can be emotionally exhausting in any part of the world, and Germany is no different. For me, house hunting in Germany was quite an amusing, but at times annoying experience. But it was definitely worthwhile – especially once we finally found our very own dream rental apartment in the Bavarian countryside.
Well, now that you are mentally prepared for your house hunting, start searching for your dream rental apartment in Germany here. Or use this search form below! 
Always remember: Once you have found your perfect rental apartment in Germany, make sure to educate yourself about your tenant rights in Germany.
How was your experience of house hunting in Germany? Did you have a pain in the arse landlord, an unreasonable contract or a shady neighbourhood when looking for a rental apartment in Germany? Let's discuss in the comments!
Image source 1
Image source 2
Image source 3