How I Got My German Freelancer Permit (as an Indian): A First-Hand Experience
Last updated on December 22nd, 2022 at 05:39 pm
Relocating to Germany as a foreigner is not for the faint hearted. But here we are. Wait, you want to be a freelancer in Germany? You're one brave soul. Well, here is how you apply for the German freelancer visa (as an Indian national).
In 2018 I got my German freelance/ self-employment visa as a Non-EU national. I receive a lot of queries about how to work as a freelancer in Germany so I decided to describe my experience in great detail.
As you will notice in this post it was a very lengthy (and incompetent) bureaucratic process but in the end, I was able to change my 'student job seeker visa' into a German freelancer visa as an Indian living in Germany. It only took nine months!
Please note that this guide is for converting a current valid German resident permit into a German freelancer visa.
If you are an Indian (or non-EU) national applying for a German freelance visa from India (or your home country), then check out this step-by-step guide instead. This process is also valid for other non-EU nationals from south-east Asia, Latin America, and other third countries.
---
Disclaimer: There are a few affiliate links in this post. I may earn a small commission from qualifying purchases at no extra cost to you.
---
1) Make Your First Appointment
Depending on where you live in Germany, the setting up of your first appointment may differ from city to city. In some cities such as Berlin, you can simply book an online appointment and bring your documents to the day of your meeting.
In my region (a small city close to Nürnberg), I had to fill up the relevant visa application form, "Antrag auf Erteilung eines Aufenthaltstitels" and submit it at my local Rathaus (Town Hall). The Rathaus forwarded my application form to the responsible Auslanderbehörde (ABH in short).
After radio silence for a few weeks and some follow-up calls demanding the status of my application, I finally received a response from my visa caseworker (Beamter) requesting a list of documents and finally kick-started my German freelancer visa process.
2) Prepare the Paperwork
Regardless of where you live in Germany, every ABH requires a more or less similar set of documents for this visa. Depending on your personal circumstances, profession and your caseworker, ABH may ask you for additional documents.
I received a list of documents that they needed to process my visa application. It looked something like this:
List of documents required for a German freelancer visa: 
Valid passport
A biometric photo: This photo should not be older than six months
A duly filled form "Antrag auf Erteilung eines Aufenthaltstitels" (Application for Issuance of a Residence Permit): Only required for first-time application
Health insurance for freelancers in Germany: Ideally from a German statutory insurance provider. If you are applying from

outside of Germany

, then here is an overview of visa office approved German health insurances.
Anmeldung (Proof of residency): This is the document that you receive when you register at visit your local Bürgeramt, or citizen office.
Curriculum vitae: Details of your professional career, qualification certificates, diploma, references/sponsors) OR Portfolio (bring copies of any recent and relevant work, especially if your profession is more creative).
Academic Certificates: Certificates of your Bachelor, Master and other studies
Revenue forecast: For this ABH accepts a tax declaration from past years
Adequate pension plan: Only if you are above the age of 45
Business Plan (see image below for a sample)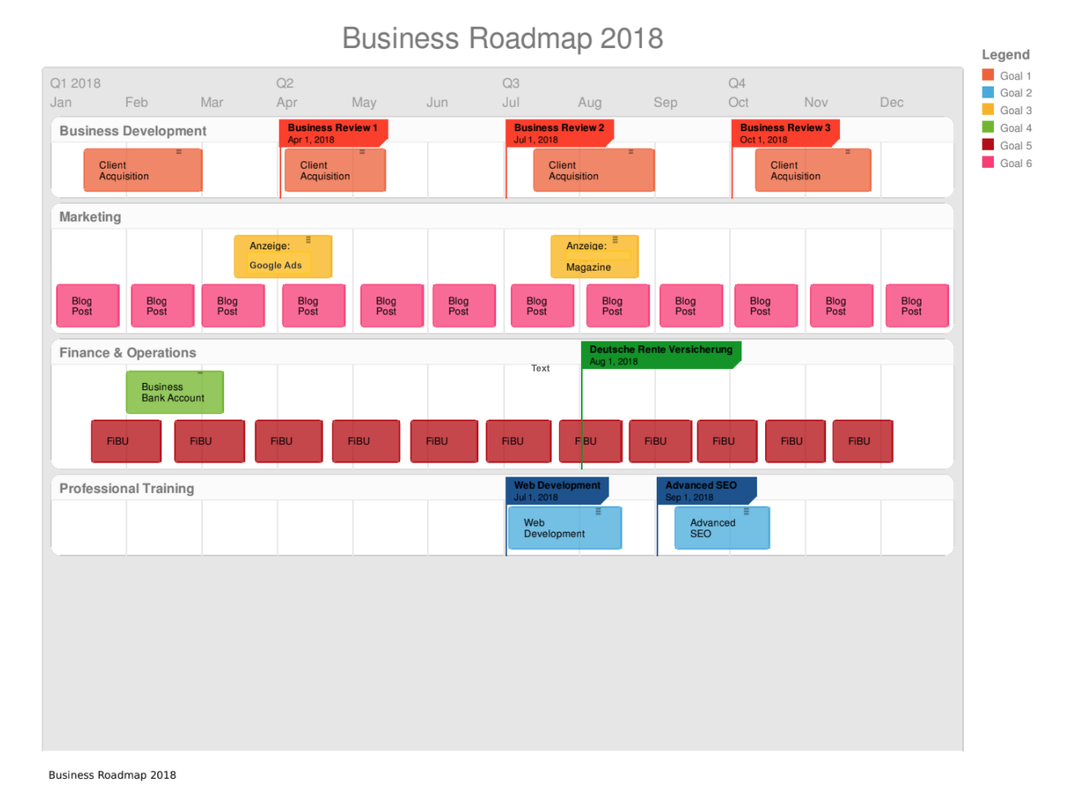 Take original documents to your appointment. Your caseworker will make a copy on the spot and return the originals to you right away.
BTW, if some of your documents are in a foreign language then you will need a certified translated copy in German. 
A budget-friendly way is to order a certified translation through Lingoking– an online translation and interpretation service. With Lingoking, you can calculate the price of your certified contract translation in TWO steps using their simple online calculator.
Just enter the number of pages and language combination and Voila! Get your contract translation costs in real time.
---
You May Also Like: All About Freelancing in Germany
---
3) Bring Your Own German (if you don't speak fluent German)
On the day of the appointment bring a native German speaker with you. You don't need a professional translator for this. Ask a German friend to help you in exchange for a nice meal and beer. Or take your German SO if you have one!
Ideally, you should go there prepared to communicate in German. There's a very little chance that your caseworker will speak English or any other language – a good fact to remember when dealing with German bureaucracy in the day to day life. Even if your German is pretty basic, just muster up some courage to speak some coherent sentences. The best way to do this is to practice with a German friend before the meeting.
Even writing down some common phrases help. You want to demonstrate you're committed to building an integrated life in Germany. Besides this, it also eases the mood a little bit at an otherwise bland and super official proceeding.
4) Be Ready For Additional Appointments and Paperwork
Almost halfway through my visa application process, I was asked to drop in and bring additional documents – a business plan, and details of my past and current clients. That and my application was forwarded to the Institute für Freie Berufe (IFB) for further assessment.
At this point, I'd started to panic. On paper, I met all the requirements for the German freelancer visa, but my mind was manifesting all kinds of worst-case scenarios.
Another scenario in which I was completely unprepared was the length of this process. Of course, I knew it takes a few months. Most of the sources, even the official ones state that it can take up to three months to get your German self-employment visa.
Timeline of my German freelancer visa processing:



Early Dec 2017: Application sent to the Rathaus. I didn't expect any response until January 2018 since Dec is the shortest work month in Germany.
Jan 2018: No response from Rathaus or ABH. I followed up with Rathaus. They told me to connect with the AHB directly. ABH told me to contact Rathaus instead. Fun times!
February 2018: Finally a response from ABH for the first meeting with the required documents
March 2018: Radio silence
April 2018: I receive a new request to submit additional documents
May 2018: More radio silence. My existing Job Skeers Visa came close to its expiry date in early June. I tried to get in touch with my case worker but never received any answers to my phone calls or emails.
June 2018: With just one day left on my existing visa, I made an unscheduled visit as my last resort to get a temporary visa. I got told off by my case worker for dropping in without an appointment. Then he was kind enough to grant me a temporary three-months visa (Fiktionsbescheinigung).
July 2018: Radio silence. I call up IFB to get some information. They inform me that they already 'processed' my case a few weeks ago.
August 2018: Finally I receive a written confirmation in August end that I have the approval to work as a freelancer in Germany. Phew!
September 2018: I receive my visa in September end after another couple of visits to ABH
This entire ordeal was after I'd been working as a freelancer in Germany for almost a year (legally on a job seekers visa) – with proof of regular income, clients et al.
Not gonna lie, this whole experience made me very envious to read success stories of people who just fly in from the US or Canada and get their German freelancer visa on their first visit to the ABH.
5) Have a lot of patience. A LOT!
Germany is notorious for being overly bureaucratic. And for the right reasons. I had to wait for nine months to get my German freelancer visa as an Indian living and working in Germany.
My application ping-ponged between my local Rathaus, the ABH, and the Institute für Freie Berufe (IFB) before getting approved. I had to submit additional documents, attend additional meetings to convince my case worker and follow up with all the above-mentioned Amts several times to get some clarity. All that was extremely draining and affected both – my work and personal life.
But when you are down with the red tape anxiety, it's helpful to remind yourself that Germany is in need of a bright, entrepreneurial, skilled workforce. Your motivation to work and set up a business here is seen as a positive trait, not as some sneaky scheme to benefit from their social system.
So even if you find navigating the visa system intimidating, I'd say that it is a great learning experience. And once you get your visa, an extremely rewarding one. After all, now you get to fulfil your dream of having an independent professional career abroad.
So keep your head up, stay cool and once you have your German freelancer visa – go out and treat yourself to a nice German beer.
---
Got your German self-employment visa? Now learn about Registering as a Freelancer With German Tax Authorities.
---
Have you applied for a German freelancer visa as an Indian living in Germany? How was your experience? Are you still sane? Let us know in comments below!