Missing a Furry Friend? Here's How to Get a Pet in Germany
Did you have to leave your furbaby behind when you relocated to Germany? Or are you finally at the right time and place in your life to get your four-legged buddy? *quietly raises hand* In this post you can find out how to get a pet in Germany. 
There is no need to feel shy about wanting companionship. After all, we are all expats, living miles away from home. Nurturing meaningful human friendships can take a long time in a new country, so no one can judge you for wanting a loyal pet to keep each other company.
Here are a few ideas about how to get your own pet in Germany!
1. Fly Down Your Pet From Your Home Country
As much difficult as it is to imagine, it is always possible to fly with or transfer your pet to Germany. The first thing to bear in mind is that the rules of flying with animals may differ from country to country and airline to airline. So give yourself adequate time to do some homework before your trip.
And, prepare in advance!
You may be required to present documents for your pet's blood test, vaccinations or microchips. These may take a while to prepare so you may wanna start making vet appointments several weeks before the flight.
Make sure to get proper health coverage for your kitty or puppy before you take them on the road.
On the day of the flight, consider your pet's comfort at all costs. Flying is an extremely stressful experience for human bodies, then imagine the toll it takes on animals who can't comprehend the situation as we do.
Bottom line is – educate yourself as much as you can and you will be able to fly down your beloved pet to your new home safely.
Why not start here: German Way and Pet Travel have published very detailed articles about transferring your pet internationally to Germany.
2. Adopt From an Animal Shelter
So you made one of the toughest decisions of your life to leave your pet behind. This doesn't mean that you cannot give your love to a German animal in need. Sadly, every year several pets are abandoned and require immediate re-housing.
Bear in mind that there may be a long list of forms to fill up as well as some additional paperwork for you to provide, because we are in Germany, of course! But once you have your new cuddlebuddy at home with you, all that hassle is certainly worthwhile.
If you are prepared to take in an adult animal then you can start by searching on Google. Start by typing:
your city + tierheim or
your city + tierschutzverein or
your city + katzenschutzverein or
your city + hundeschutzverein or
your city + tierschutzverein
If you are looking for a specific breed, you can find it in specific animal welfare organisations.
For example, we found that there is a nationwide Maine Coon welfare organisation in Germany – Maine Coon Hilfe e.V. 
Here is how you can search in Google for a specific cat breed from an adoption centre:
Cat breed name + in Not 

(e.g.

Bengal Katze in Not)

Cat breed + Hilfe

 (e.g.

Bengal Katze Hilfe)



Dog breed name + in Not (e.g. Rottweiler in Not)
2.1. A Non-Exhaustive List of Animal Shelters in Germany
Der Deutsche Tierschutzbund e.V. – This is the official German animal shelter platform. It has a large directory of animal shelters across Germany. You can easily sort by location and find an animal shelter close to your city.
Tierschutzverein Europa e.V. – Here you can find pets from all over Europe who are in urgent need of a home. They also have a lot of young puppy and kittens who are up for adoption.
Rassekatzen-im-tierheim – They list abandoned cats and dogs in need of a home from all over Germany and some EU countries. You can sort through specific cat breeds, ages, temperaments or care-level. There's also a section for older doggos waiting for adoption who also have a great temperament with cats and kids.
Tiervermittlung.de – It's a very large directory of several types of pets all over Germany and neighbouring countries. You can also find lists of animal shelters in your area and directly contact them.
Note: Dogs owners in Germany need a special liability insurance. Learn more about dog tax and dog liability insurance here.
3. Volunteer at an Animal Shelter
What if you are not ready to commit to full-time care yet but would like to test the waters? Then you can always volunteer at your local animal shelter. There are two ways to do this: Fostering an animal at your home or by taking care of the animals directly at the shelter.

It isn't uncommon for animal shelters to be understaffed and under-resourced. If there is a dog or a cat on the waiting list, you can always take them in temporarily until they find a forever home.
The German word for foster care is Pflegestelle. You want to combine it with other keywords such as your city or town name, the animal that you want to foster. So an example of a search query would be
Katzen Pflegestelle + Berlin or
Tierschutzverein, Pflegestelle + your city name.  
Other forms of volunteering are taking dogs for a walk (Gassi-Geher), kitty petter (Katzenstreichler). That one really exists!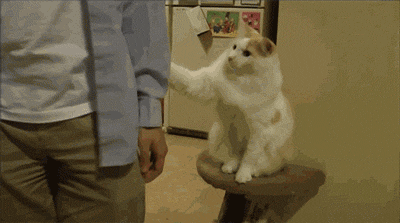 But because we are in Germany and even having fun requires paperwork, most of the animal shelters require dog walking volunteers to take a mandatory dog walking course or seminar. Once you have your shiny German approved dog walker licence (called a Hunde-Gassischein), you can take dogs out for a walk. There is usually some small fees that you may have to pay and that differs from shelter to shelter.
---
You may also like: How to leash train your cat (and take him on walks!)
---
4. Buy a Pet From a Breeder
It is often considered a controversial option to buy directly from the breeders. But tough, sometimes you want what you want. And sometimes, circumstances call for it.
Maybe you have young children and a quiet, calm patience dog breed suits your needs the best. Maybe you want a cuddly kitty with a dog like temperament, and only a few cat breeds have this temperament.
The reasons could be many and you should not feel guilty or judged about your wants and needs.
If you want an older pet breed, you can start by looking for specific breed dogs or cats that are up for adoption. Websites like rassekatzen-im-tierheim and deine-tierwelt are great starting points to find the specific cat or dog breeds in need of rehousing.
Or if you choose to buy a young animal then here are some tips.
4.1. Tips For Responsibly Buying a Pet From Breeders in Germany
If you have decided to buy a specific cat or dog breed in Germany, here are tips on how to do it responsibly.
Before

buying

a cat or dog in Germany, you may wanna do some thorough research in your area for a certified breeder. Most legit breeders will already be verified members in organisations relevant to the animals that they breed.
Animal breeders in Germany have to go through various certifications and verifications, with very little loopholes to allow a 'puppy or kitten' mill type of situation. So even if there are kittens or puppies on sale for a much cheaper price elsewhere outside Germany, I highly recommend sticking with breeders inside German borders.
I found it best to contact breeders in our local area. This way we were able to personally visit them and check their facilities – whether the animals looked healthy and happy, their house was clean and spacious enough for all animals.



We visited four Maine coon breeders and never found any suspicious-looking breeding conditions. Many of them were 'hobby' breeders. This means they don't breed animals for business. Sometimes there were also long waiting period because they allow only one or two litters per year. All in all, the breeders we met seemed to genuinely love their 'breeding' animals like their own pets, kept them at home with the entire floors, terraces and gardens of their house dedicated to them.
Even if everything looks great during your visit, make sure to ask the breeders if they provide all proper paperwork for the cats. We got the vaccination, passport, deworming certificates when we got our cat. A breeder that hesitates to provide proper paperwork and seems too eager to sell animals for a lower than average market price, you should nope out of there.
It doesn't hurt to Google some local breeders and read reviews. Some also have social media pages so find as much info you can about their legitimacy and operations.
You can also search for private classified adverts on Quoka.de. Search under "tiere" and then "hunde"  or "katze" and then filter the search based on your postal code.
---
Ready for the next steps? 
If you have made up your mind to get a pupper, read here to learn about dog tax and dog liability insurance before buying a dog in Germany.
OR,
If you have decided to welcome a kitty to your household, read here how you can cat-proof your home in Germany and sort other formalities. 
So here goes! Do you have a pet in Germany? Did you adopt, buy or fly them down from your home country? Make sure to share your story in the comments below!