Travel with Cat – How To Harness & Leash Train A Cat
Top Takeaways From This Post
Last updated on December 16th, 2022 at 01:31 pm
Is it possible to leash train your cat? Yes, our cat is living proof of that. In this post, I will cover some essentials and a few tricks on how you can harness and leash train a Maine Coon (or any other cat breed).
Whenever we tell our family or friends that we take our cat for walks their reaction is generally a snigger or genuine curiosity. We also get odd smiles and double-takes from strangers when they see us walking with our kitty.
Truth is that we enjoy travelling with our Maine Coon. 🙂 We got him exactly because it is very easy to harness and leash train a Maine coon.
The general belief floating around is that cats are not trainable. Don't let the naysayers stop you. Cats are extremely trainable. Especially Maine Coons. With all the right tools and techniques, it is easy to harness train a Maine Coon.
1) Is walking Maine Coon cats a thing? 
It has been a thing for a while, actually. You just have to be persistent, and patient and have the right tools to properly harness train a Maine Coon cat. Our kitty is living proof of that.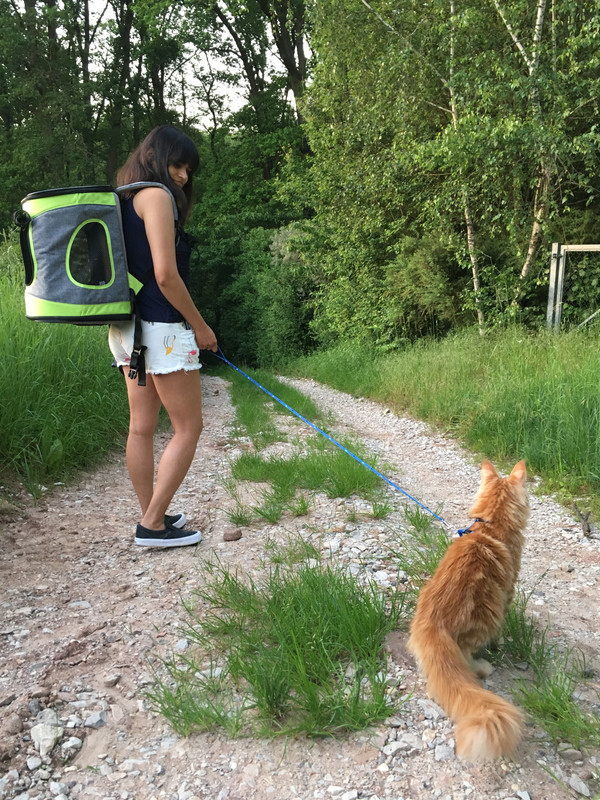 This is Jonesy, my ginger Maine Coon kitten on a walk with me. Jonesy is a leash and harness-trained Maine Coon. He basically has dog software running on cat hardware. We take him out for walks with us. He has already joined us on a few holidays.
1.1) Can you walk a Maine Coon?
Yes, you can absolutely go for walks with your Maine Coons. They are very curious like most cats. What sets them apart is their trainability and temperament. They are very social creatures with a dog-like personalities. Our Maine Coon is happy to be around us where ever we go. Like many other cat breeds, they do not need to be in their territory.
1.2) Is it cruel to keep a Maine Coon cat indoors?
Maine Coon cats are highly sociable so they need higher levels of social interaction with either their owner or another pet. They can happily live indoors as long as they have a mentally enriching environment, meaning full of activities, playtime and socialisation.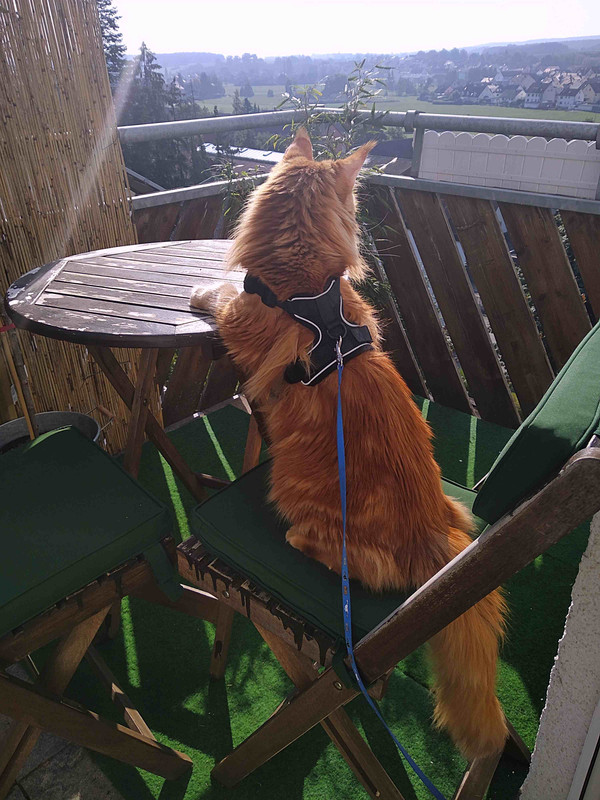 1.3) Do you have to walk a Maine Coon?
No, Maine Coon cats do not need walking. It also depends on the cat's personality. If you have an indoor main coon cat, he may enjoy new stimuli every now and then. Or maybe he will be perfectly content just staying at home looking at birds out of the window. Our cat is very happy to sit on the balcony enjoying the birds and insects for hours.
1.4) Can you train a Maine Coon to walk on a leash?
Maine coons are very motivated by treats and head scratches which makes them fast learners. But we, as trainers also need to be persistent and consistent with the training schedule because they, after all, are cats, not dogs.
---

Read this post to prepare your home for a Maine Coon cat

---
2) Steps to leash train a Maine Coon Cat
Here is how you harness and leash train a Maine Coon cat so you can enjoy the outdoors with them.
2.1) Start Training Early
When to start harness training a kitten?
Don't wait too long to train your kitty. Start as soon as you bring them home.
Adult cats can be challenging to train. By the time they are a few years old, it is harder to teach them new tricks and get them used to new habits.
I would still argue that it is easier to harness train an adult Maine Coon than other cat breeds. We started training Jonesy when he was still just a small kitten. He was about five months old and very responsive to the training.
Every time we got a new piece of equipment, harness, leash, clicker or backpack and clicker, we first associated it with treats.
And for cats, treats = awesome!
2.2) What equipment do you need to leash train a Maine Coon?
To start training your cat you will need to assemble the gear first: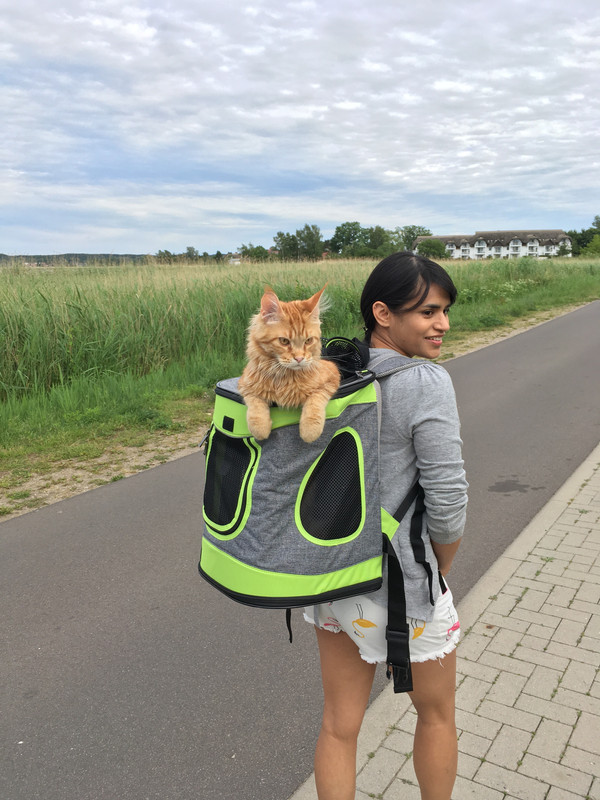 2.3) Try Multiple Harnesses Before Finding The Right One
You may not be able to find the right harness at first. If you have a kitten, then you may need a different harness anyway when he grows bigger.
So what is the best cat harness for a Maine Coon?
The best harness for a Maine Coon is the one which perfectly fits your cat. An H-harness is the best harness for a small Maine Coon cat because it minimizes the chance for them to wriggle out of it. A vest-style harness is better for grown-up adult Maine Coons as long as it fits perfectly and comfortably on them.
Here are some of my recommendations based on our experience: 
With Jonesy, we first tried a vest-style harness. It was very easy to put on him, but since he was a small-sized Maine coon kitten, he was just able to wriggle himself out of it. Now we are saving this for when he grows into a full-sized Maine coon cat. 🙂
For now, I got an H-shaped harness specially made for kittens. and Voila! This time I was able to easily put it on him. He did not even pull a Houdini this time. This harness comes with a leash, however, I notice that Jonesy finds it a bit too short.
In future, I will consider buying an extendable bungee leash that will give him a little more room to explore his surroundings.
2.4) Give Your Kitty Time To Get Used To The Harness
Now comes the trickiest part. At this stage, you need to be very patient and gentle with your cat.
How long does it take for a cat to get used to a harness?
We took time before putting the harness on Jonesy. In the beginning, we started out by just placing the harness next to him, and letting him smell and play with it. We also gave him treats whenever he interacted with the harness or leash in any way.
How to put a harness on a cat?
When you have the harness ready, try to slip it on your kitty when he's distracted by the treat. It may work the first time, or you may have to try it a few times. But never force the harness on kitty otherwise he will associate it with a negative experience and just sprint off every time you try to get the harness on him.
When you first put the harness on your cat, notice how he reacts to it. He will most likely hate it and fall flat on the ground.
My cat struggled to walk and staggered like a drunk kitty across the living room. But that is a normal reaction and nothing to get alarmed about.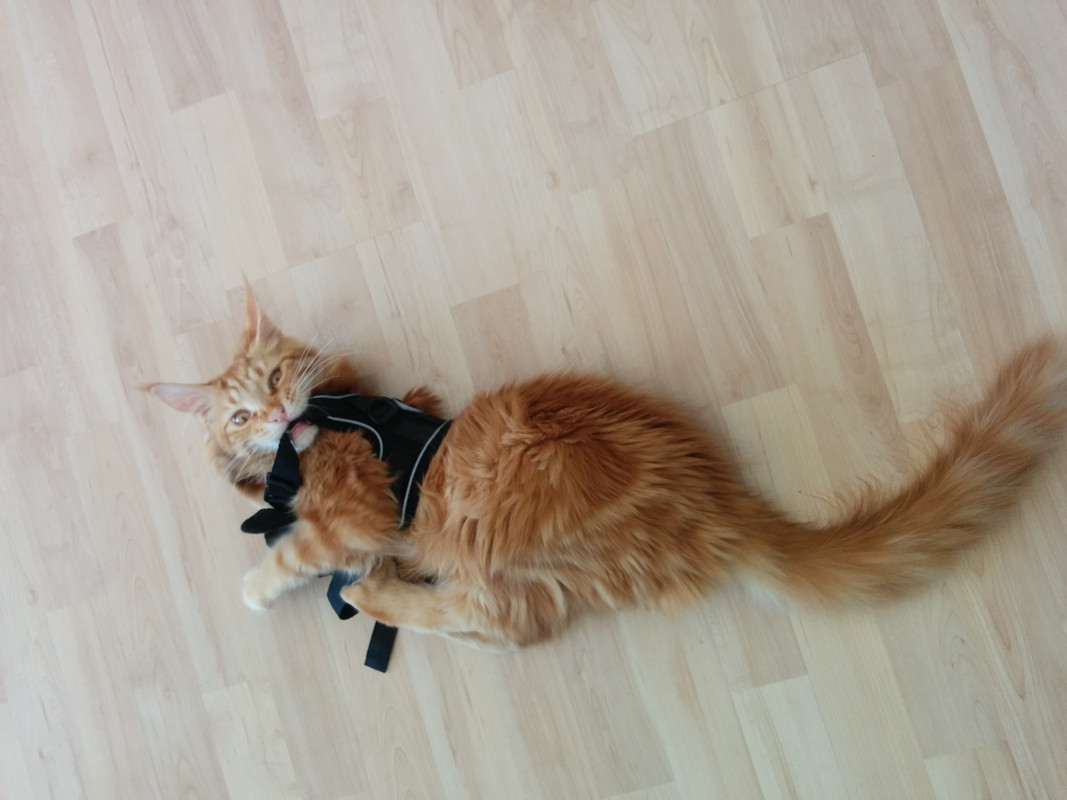 What to do when your cat won't let you put a harness on?
One trick that ALWAYS worked for me is putting the harness on when the cat is sleeping, usually during the afternoon. He is too lazy to even notice! Try and see if it works with your kitty as well 🙂
How to get my cat used to a harness?
In the beginning, keep the harness on the cat for short periods of time. Five to 10 minutes per session are optimal. After this take the harness off to avoid stressing the cat too much.
Gradually, increase this time to 30 mins to an hour over the next few days. This will slowly get your cat used to the harness. We took about 10-12 days before leaving the harness on for a full hour on our Jonesy. Eventually, he got comfortable enough to sleep in it.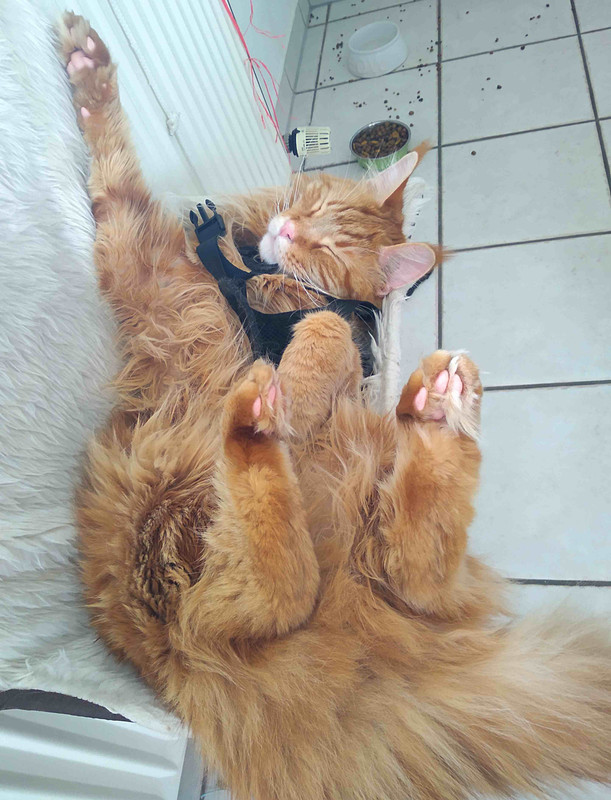 This is pretty much the basics of harness training a Maine coon. Now you are ready to leash train your cat.
2.5) Practice Indoor Walking With Clicker Training
Clicker training is very helpful for teaching cats all kinds of tricks. The two most important parts of this training are Treats and Clicker.
First, find a treat your cat adores. Treats are so incredibly motivating that most cats will do just about anything to get them. Our Jonesy loves soft snacks with lamb and poultry. Before these, we also used Whiska's treat sticks which we used to buy from our local Edeka.
Second, you need a clicker. The clicker that I got comes with a training book and an expandable target stick. The target stick is really handy as I can point it to wherever I want Jonesy's attention.
When training began, I had to help Jonesy establish a connection between the sound of the clicker and his favourite treat. When I had his attention on the clicker, I clicked it and immediately handed him a cat treat. We repeated this multiple times each evening. Then we were ready to use a clicker to harness and leash train him.
Once the harness is on the cat and the leash is attached, I stand next to the kitty with treats in my one hand and the clicker's target stick extended. When I start moving the target stick forwards he starts following the stick. Once we walk to the end of the room, I click and give him a treat. Then we turn and repeat the drill.
We practised this multiple times with him over the week.
When he was used to the leash we started to train for one last important step.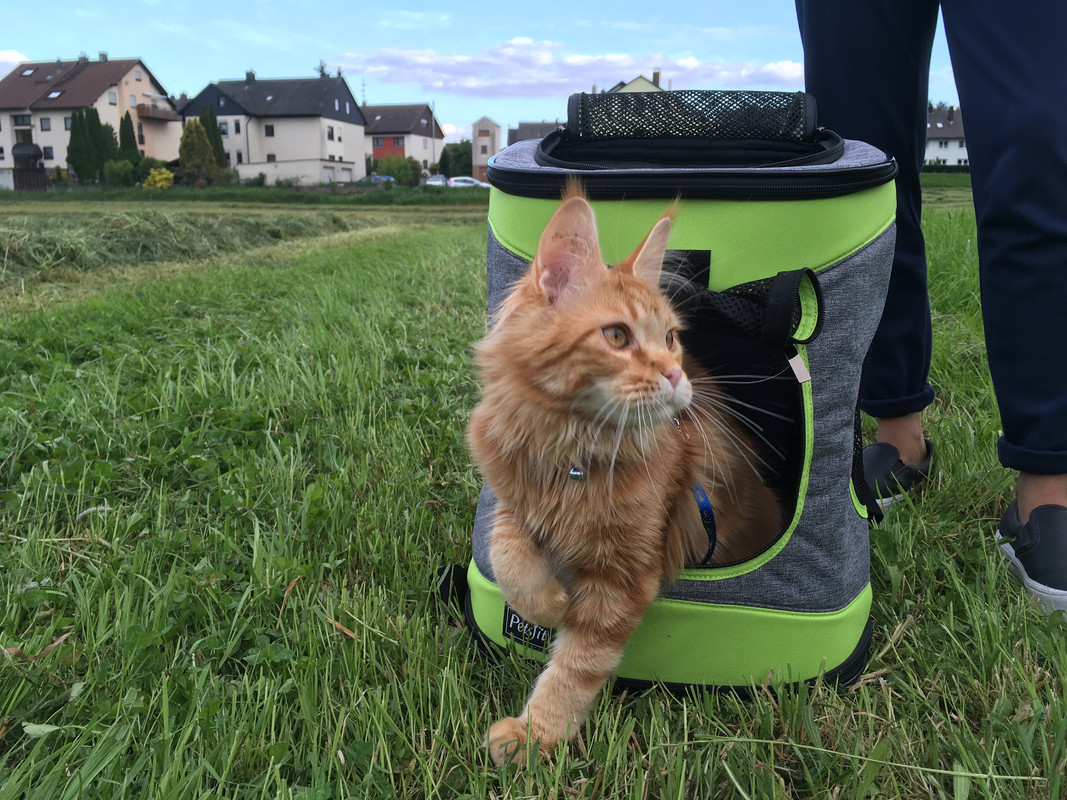 2.5) Train Your Cat To Stay In The Backpack
We never just walk out of the house with Jonesy on the leash. He is ALWAYS in his cat backpack whenever we step outside the house. Once we reach a walking place, which is usually a park away from cars, bikes or too many people, we get Jonesy out of the backpack.
The reason for this is safety.
We have to walk through some busy streets and roads before we reach a cat-safe park. Cats can spook easily, especially in the early days when you introduce them to new sights, sounds and places. The last thing we want is an oncoming car or an overexcited dog or a loud child suddenly panicking the cat and causing him to dash somewhere.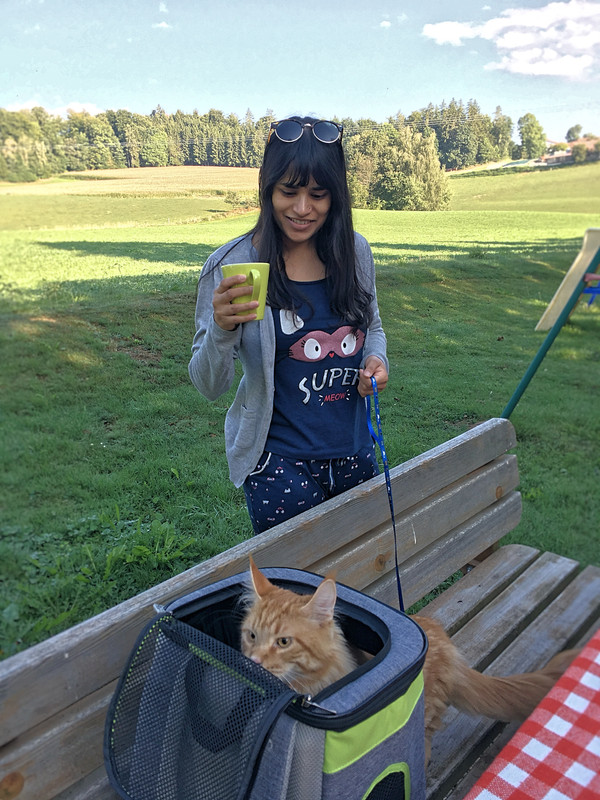 A cat backpack acts as a mobile safe spot for the cat.
Cats love dark compact cave-like spaces which let them observe the world from a safe distance. In case you run into an overexcited dog in the park, you want your kitty to be able to easily hide in the backpack and feel protected.
So we backpack-trained Jonesy as well. He made it much easier for us by voluntarily sitting in the backpack. So every time he jumps in, we just give him treats. It is his new favourite thing. The backpack is always out in the house so he can go into it whenever he pleases.
Now you know how we leash-trained our cat and prepared ourselves for outdoor adventures. It took only about a month of indoor training before we put Jonesy in the backpack and took him for a walk in a nearby park. A few months later we also took a 'family' holiday together in Ostsee.
Once your cat is trained in all of the above, you can safely take him out. Start with shorter 10-15 mins walks, and then gradually increase the time. Just remember to stay away from anything that may startle your cat, like excited small children, barking dogs, or busy roads while outside.
Even if you have harness trained your Maine coon to walk outdoors, just one scary encounter may scare it and cause it to be afraid of going for a walk in the future.
If you own a cat, dog or other beloved pet, you may be wondering, should I get pet insurance? Pet insurance can help by offsetting some or most of the costs of diagnosing, treating and managing your pet's illness or injury. 
PETPROTECT
offers affordable pet insurance in Germany with great coverage.
Click here to find suitable coverage now at PETPROTECT for your beloved kitty or doggo.
So here is how you leash train a Maine coon cat! Do you also take your cat our for walk? Did you harness train your Maine coon? How did you do it? Let us know in comments below.
Read More About Traveling in the EU.
---
Disclosure: This post contains affiliate links that earn me a small commission, at no additional cost to you. I only recommend products I personally use and love, or think readers will find useful.
---