Tips For Staying Safe (and Sane) When Travelling in India
Last updated on June 23rd, 2020 at 06:00 pm
India is full of amazing places and adventurous possibilities, but it can also be a very challenging tourist destination. Especially for women. I recently went back to this vast country after several years. Here are some of my tips on how to stay safe in India while travelling (and keep your sanity).
A few weeks ago, I travelled with my fiancé, Thomas to India. First time for him. First time in several years for me.
I expatriated from India in 2005, and honestly, to this date, I hardly ever feel the motivation to go back again. This time though, I travelled with Thomas because it was always his dream to visit India and it was about time he gets to meet my parents who still live in New Delhi.
I should mention that I lived in India for the first 19 years of my life. So I am not a complete stranger to the country.
Even then every time I go back, it feels like being in a foreign land.
North Indian cities are super loud, crowded and chaotic. Life is extremely dynamic and fast-paced. The air quality hasn't been exactly at the healthiest levels lately.
As you can guess, India can be quite intense, so we decided to take it slow and explore just three cities in about two weeks. We did a very touristy Golden Triangle and took a few days for each city.
The thing about India is that it can be quite an uncomfortable country to travel to.
Especially if you are a woman. Or appreciate peace and quietness. Or prefer to organise and plan your day to day life. 😉
So here are some of my tips on how to travel safely in India.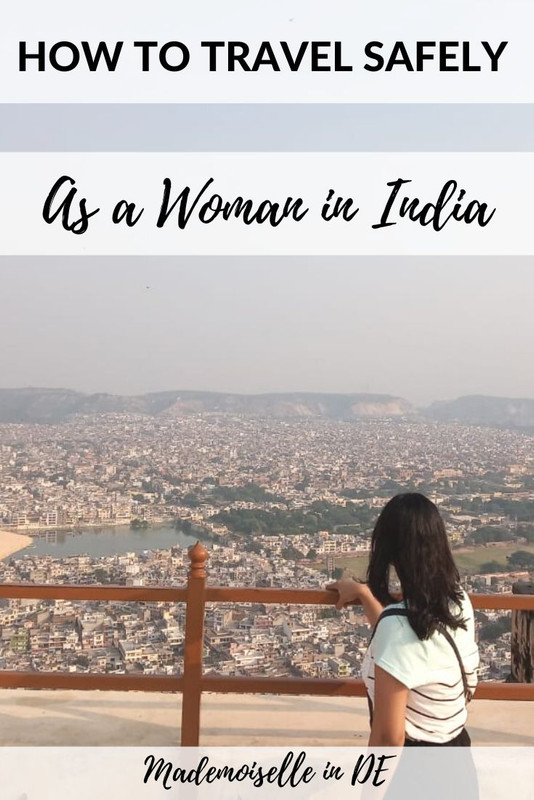 ---
Disclaimer: This blog post may include affiliate links. These links do not cost you anything but I might earn a small commission if you decide to order something from one of my recommended partners. Thank you for your support to help keep this platform growing!
---
Get a Local Sim Card With a Mobile Data Plan
When travelling in India – a fully functioning smartphone with mobile data is your best friend. There are several affordable mobile carriers in India.
Abbi from Spin the Wind Rose has described the process of getting a sim card in India in great detail. My suggestion is to take a look at this and pick a plan that suits your data requirements.
If you do not want to go through the hassle of all the paperwork and verification process, then you can check out Trabug. It is kind of a phone rental service specially designed for the tourists travelling to India.
I did not use this service because I borrowed my parents' phone, but from the description and reviews of other bloggers, it seems like a simple easy way of getting a smartphone and staying connecting while travelling in India.

Travel Safely Within the Cities
Thomas and I are walkers. When we travel, we love to explore the cities on foot. Some Indian cities are not exactly 'walk-friendly' for tourists.
There are several reasons for this- the weather can be too hot and humid, the air too toxic, or some areas are just unsafe for women or foreigners to be just walking around.
Jaipur and Agra are remarkably bad for this.
It is hard to just step out of the hotel without getting hassled by someone selling something or an auto-rickshaw following us. Agra was shockingly worse because there are no proper walkways. We often found ourselves walking too close to the chaotic city traffic.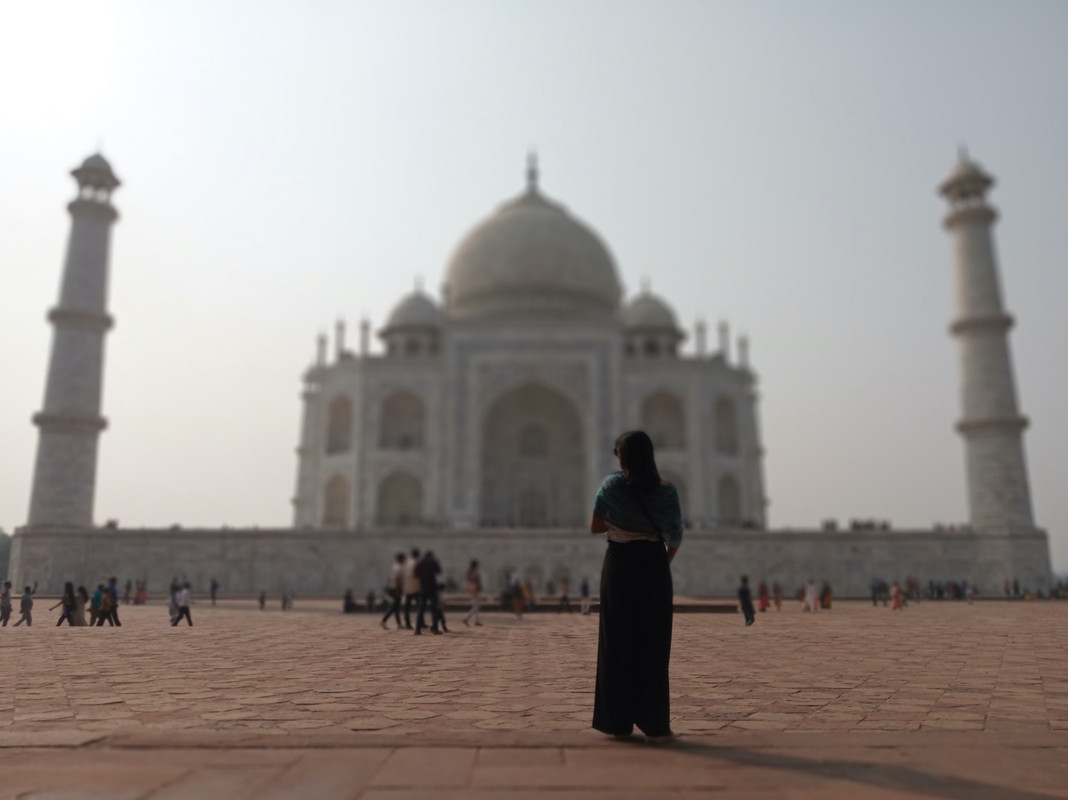 So needless to say, you are very dependent on public transport to get around in north Indian cities.
In New Delhi, you can get around by using the metro. Taxis and auto-rickshaws are very popular for short-distance travel in Jaipur & Agra.
However, foreigners are systematically ripped off by drivers who charge ten times the usual cost. It is a never-ending battle of haggling with the cabbies or rickshaw driver. In most cases – they win.
You will save a lot of nerves (and money!) if you just download an app like Uber or Ola to travel from pint A to B within the cities. I used Ola as it is most widely used in India.
A great advantage of this app is that you can just pay with cash at the end of the drive, so you don't even have to use your credit or debit cards.
I also loved Ola's safety features.
There is a security code assigned to the ride when you confirm your booking. You give this code to the driver when you get in the cab. This activates the ride and an 'emergency' button appears on the app screen (which you can use in case of an emergency). The ride is also tracked automatically via GPS so you can always check if the driver is taking you to the correct destination.
Ola was extremely useful when travelling within the cities, however, it was a completely different story when using Ola's intercity cab service.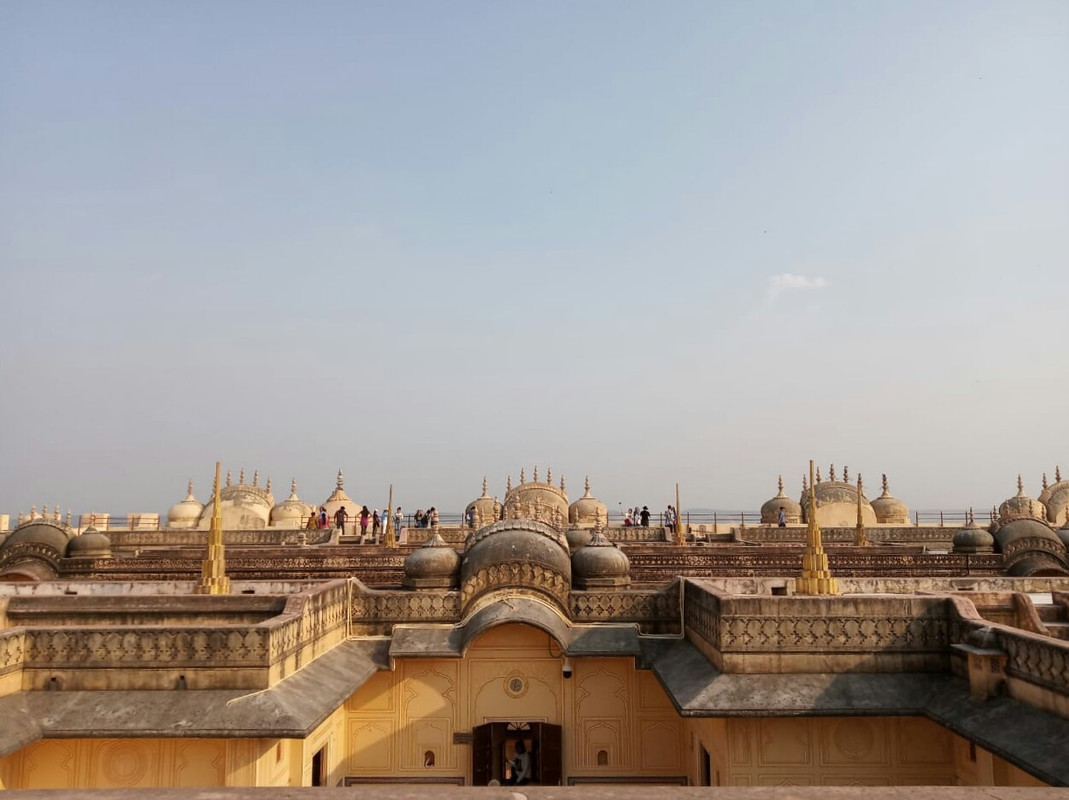 Travel Safely From One City to Another
Ola and other services like Make My Trip offer intercity taxi services like Delhi to Jaipur or Delhi to Agra. I used both and unfortunately had very poor and scary experiences.  
So for our return trips back to Delhi from Jaipur and Agra, we asked our hotel to arrange a cab. They generally charge you a lot of money for this but it is safer to use as the drivers are employed and vetted by them.
Another safety strategy is to ask for your cabby's national ID card (called Aadhaar ID card) and their phone number. Take a photo of the card and send this to a friend or family member. Make sure to inform this to the driver as well so they know that their contact details and ID is with another person.
This may seem too extreme, but it is an essential safety measure for women or foreigners travelling long distances in India.
You can, of course, use flights, trains or buses to travel between the cities. They're safer and you can expect them to leave on time! 😉 Whenever you plan a long trip, always make sure you arrive at your destination during the day time.
This is something that I wouldn't just do in India, but pretty much anywhere in the world.
---
---

Wear The Right Wardrobe
I love the freedom to be able to wear whatever I want, but unfortunately while travelling sometimes one needs to be mindful of the clothing. You don't have to cover from head to toe in India as some people will have you believe. Indian traditional wear for ladies shows a fair bit of cleavage and midriff after all! 
But it is just smarter to wear something modest to avoid unnecessary attention.
My favourite travel outfit in India were comfy loose trousers or long skirts combined with summer tops and a light travel wrap. I put on the wrap whenever I felt the need to cover up and took it off when I felt comfortable enough.
The wrap also provided some much-needed sun protection for my head and shoulders.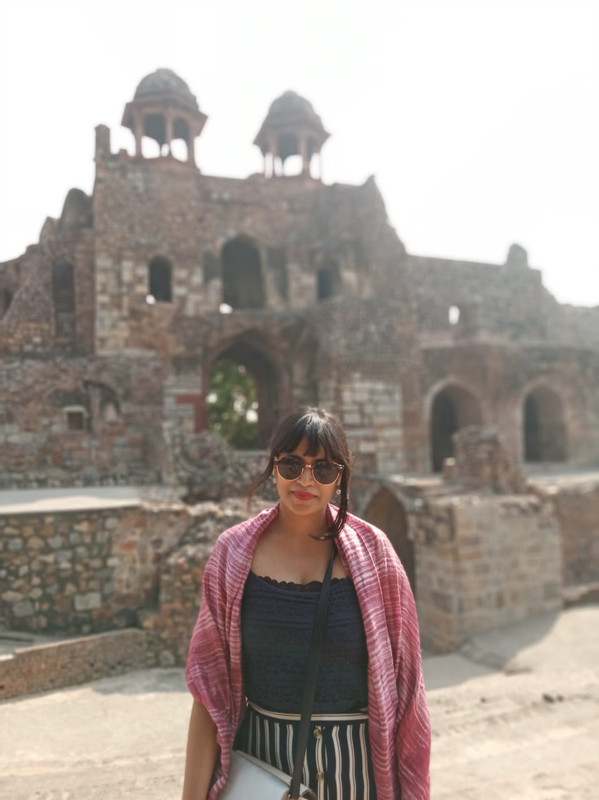 Besides this, you can cover up all you want, but it isn't gonna protect you from unwarranted stares and attention from Indian men (or women). Even though I was covered up most of the time in public places, I still got stared at by men, at times even by women.
Staring has very little to do with the clothing, and more to do with the mindset.
But wearing the right clothing can help you camouflage, especially in smaller Indian cities like Agra or Jaipur. In some select few pockets of New Delhi, Goa or Mumbai, you will be able to diversify your wardrobe much more.
---
---

Fending Off Unwanted Attention


My personal experience is limited to North Indian cities so please take it with a pinch of salt. I have not travelled to the South of India (except for Mumbai & Goa) so I don't know if it is any different there.
I wouldn't exactly call North India an unsafe tourist destination. However, it brings a whole new level of discomfort and unease for female travellers. 
More on this in a bit.
Foreigners travelling in India can find certain situations unsafe in the worst case or annoying in the best. Some people will aggressively chase you to buy their shit, the others will try to get you in their cab/ auto-rickshaw and whatnot.
Everyone wants to sell you one thing or the other, but in a pushy, in your face manner.
When shopkeepers or auto-rickshaw drivers pester you, tell them off loudly and walk away. Many of them understand some English so you can simply yell, 'No, Leave Me Alone'. Or you can also shout in Hindi, 'Jaoo, Nahi Chahiye' which roughly translates to "No, go away!".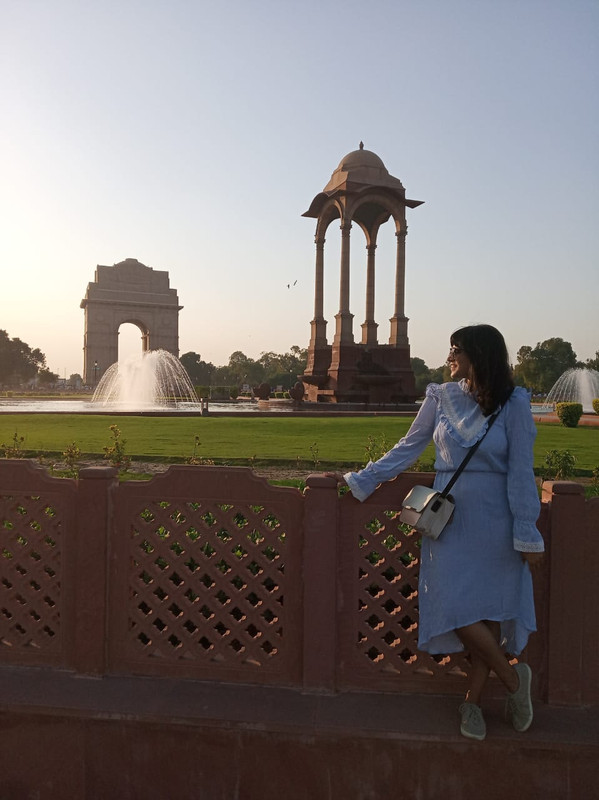 As for the women, well they get stared at in India – like…a lot. If you are a foreigner or westernised Indian woman, then be prepared to be ogled at. It isn't just simply out of curiosity or admiration. Sometimes, it is downright lecherous.
(Disclaimer: Not ALL Indian men stare at women like that!)
I find this to be the most uncomfortable part of travelling or living in India as a woman. There is nothing more creepy (and infuriating!) than standing in a ticket queue minding your own business and getting endlessly stared down by a bunch of guys inches away from you.
Unfortunately, there's very little you can do about this. Getting stared at does not cause any physical harm (yes it is distressing mentally). Moreover, if you scream or shout at the guilty parties you may attract even more attention.
If you are a white person, regardless of your gender, you will be approached for selfies. Thankfully this didn't happen to me (guess why?!) but my fiancé was approached at least twice on average every day by random strangers for selfies.
If someone asks you for a selfie, and you don't want to oblige simply tell them, "NO" in a firm voice and walk away!
Don't worry about being polite in India, because your politeness will be perceived as a weakness and you get hounded even more.
When dealing with pushy people, sport your meanest bitch-face and get your crazy voice on and you should be alright.
---
---

Avoid Getting Ripped Off While Travelling
Tourists get ripped off anywhere in the world, this isn't news. It will happen to you in India as well, so be geared up for that.
Thankfully, the currency value of Indian Rupee against Euro or US Dollar doesn't hurt most tourists visiting India. This does not mean that you have to grin and bear it.
Using apps like Ola or Uber can avoid getting unfairly charged by taxi or auto-rickshaw drivers. I did not use these apps in the first leg of the trip and was shocked to see how high these guys were charging us.
They would just see my fiancé and immediately quote 800 rupees for a 5 km ride, which would never be more than 150 rupees for a local. We were able to remedy this significantly by booking rides through Ola because it shows you the price before you get in the cab. And you pay only what's on the app.
But then there are other ways of getting ripped off in India, AKA "I. Don't. Have. Change."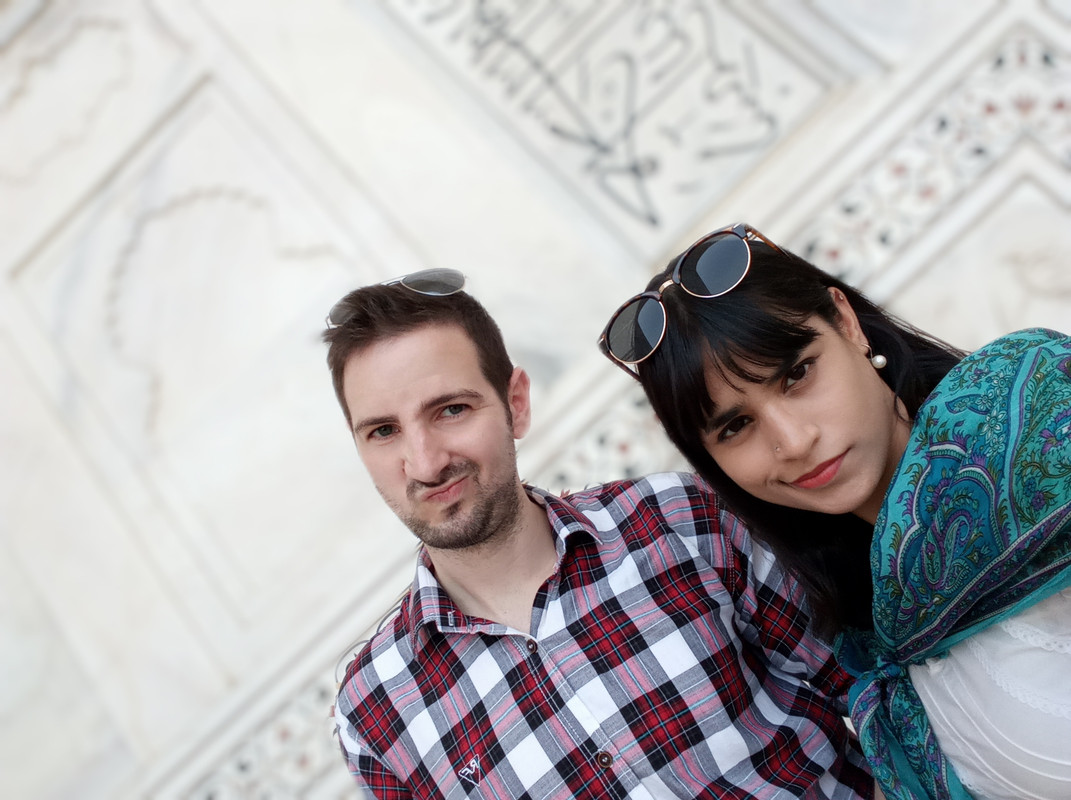 Cab drivers simply shrug and tell you, "Sorry, no change".
Seriously, no one in India seems to have small change. Especially when dealing with tourists. Shopkeepers don't keep loose change. Heck, even our hotel in Jaipur did not have change when we checked out.
Once we got this same sorry ass response even at an official tourist ticket counter. At this point, I'd had enough of the Sorry-no-change Indians. I got super pissed and threw the tickets back at the guy and yelled at him to give me my money back. It very quickly made him apologise and call his mate to get change for our money.
So yes, carry as much small change as you can. Get your bigger currency notes changed at your hotel reception before you head out for the day. And remember the advice mentioned above.
Be confident, not polite and don't be afraid to raise your voice when necessary.

When In Need of Quiet Time, Visit a Park
Indian cities can be maddening for first-time visitors. The culture shock, noise, crowd, that big city smell, the heat and humidity plus the day to day annoyances the tourists deal with – all of it at once can be very overwhelming.
All your senses are constantly in overdrive mode.
Thankfully, New Delhi has a lot of quiet green parks to offer. If you need a break from the loud traffic, maddeningly crowded city, packed tourist attractions, then go for a walk at one of the many parks to get some quiet time.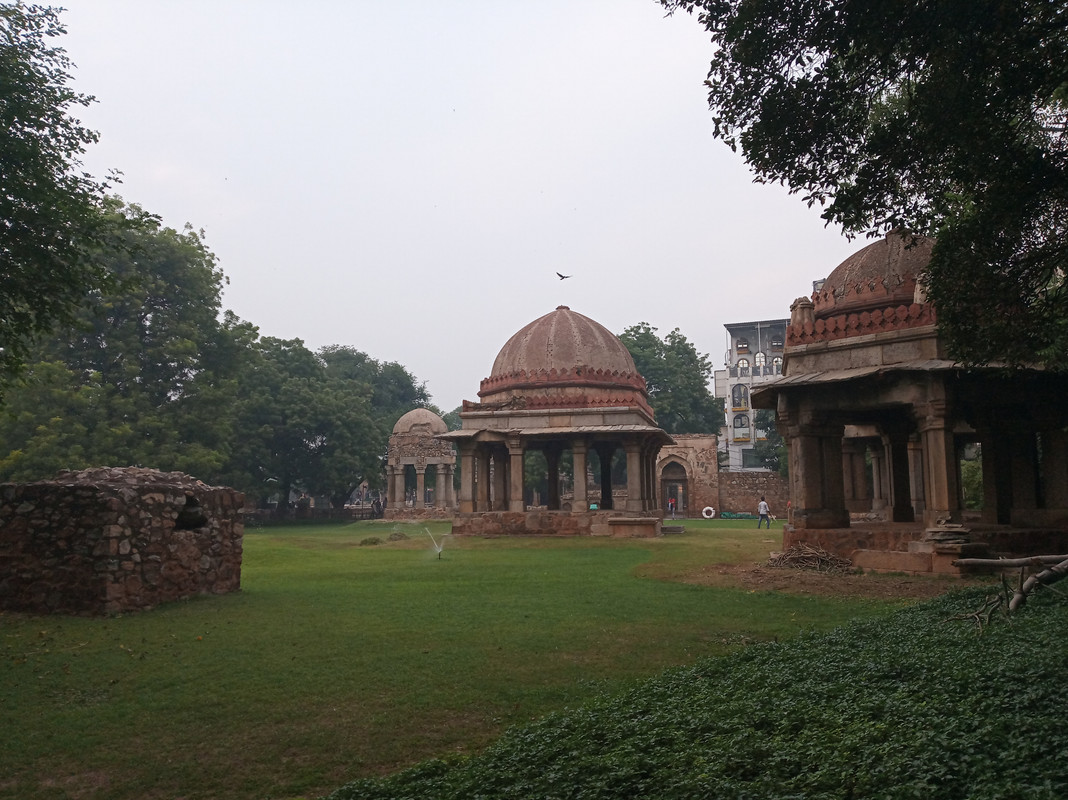 Lodhi Garden in central Delhi and Deer Park in Haus Khaz are a couple of the many parks in New Delhi where you can walk around and get away from the traffic and to some extent the crowds.
Besides this, Old Fort complex and Mehrauli archaeological park (just next to Qutub Minar) have green parks along with ancient ruins. You will feel like you're in a 3D Tomb Raider game!
No matter where you go, remember to follow the safety guidelines even when you're at any park.
They're often less crowded and can attract anti-social elements so you will still need to be cautious about your surroundings. So much for moments of peace, eh?

In conclusion…
When you plan your trip to North India, adjust your expectations. Be mentally prepared for the fact that it is not going to be a relaxing holiday. Not in the major Indian cities anyway. It's going to be chaotic and disorganised so go there with this mindset to avoid a massive shock.
As for your personal safety, don't be fearful, but be cautious and aware of your surrounding.
In short, use common sense that you would use while travelling in other countries too. Prepare yourself by researching before you land there. Once you land in India put on your confident self and be ready to occasionally yell at the locals
(but only when they're being pushy or making you uncomfortable).
---
You May Also Like: Ten Day Golden Triangle Itinerary – How to Explore New Delhi, Agra & Jaipur
---
Have you travelled to India? What did you love about your trip? What are your top tips for staying safe while travelling in India as a woman?