The No Nonsense MVP Approach: How to Set Up Your Blog in One Week
Top Takeaways From This Post
Last updated on April 23rd, 2020 at 11:58 pm
Blogging is one of those new-age professions out there that people find really hard to take seriously. Earning income by writing posts online? It must be SO easy huh? But it's only when you set up your blog, that you realise it actually requires hard work and some serious dedication to be a consistent blogger.
Ask me, I have launched new blogs almost 2 – 3 times and left halfway through because I either didn't take it seriously enough or life just got in the way. So easy huh? But now I'm truly enjoying blogging every now and then about my expat life in Germany.
If you blog frequently then you'd know what I am talking about. Running a successful blog takes major investment, in terms of time and effort if not so much in terms of money.
In this post, I will try to cover some of the things that I've learned from blogging on and off in the past few years. I am also listing some free tools, apps and resources that help me manage my blog workflow.
---
Disclaimer: This post contains affiliate links. I may earn a small commission if you buy a product recommended in this blog post. Read the full disclaimer in the privacy policy.
---
So let's start with the No-Nonsense MVP Approach For Setting Up Your Blog in One Week.
What the heck is MVP Approach?



MVP here is not what you think it is. By MVP I mean Minimum Viable Product. According to Technopedia,
A minimum viable product (MVP) is a development technique in which a new product or website is developed with sufficient features to satisfy early adopters. The final, complete set of features is only designed and developed after considering feedback from the product's initial users.
The MVP principles don't just apply to startups or tech businesses. In your case, the MVP approach means creating a blog with just enough features to satisfy you creatively and enough value for your potential audience to come and engage it. Don't chase perfection.
Or it'll never get done! Dedicate your first hour for brainstorming your MVP blog. What name you want to go for, what content categories you want to write about? Write it all down on a paper, or in your Evernote.
So let's get started
DAY 1
Decisions.

Decisions.

Decisions.
The first step in this approach is not getting a website domain, or even writing your first blog post. It's making up your mind.

Just start already! You've been toying with this idea for a while. You were looking for motivation, resources, ideas and knowledge on how to set up your blog. After all, that is how you ended up on this page, right?

Starting with something new is overwhelming. Just like starting this post was overwhelming for me yesterday.  And now it's already a shiny new WIP waiting to be published.

If time is an issue, then break down the steps in this post in one hour time frames. One for each day of this week. If budget is an issue, then decide to set aside a small percentage from your personal fun funds towards your blog.
DAY 2
Set Up Your Domain Name, Website Hosting



These are an absolute must once you finally made the decision to launch your MVP blog. And since 2019 a great time to be alive, you can have both at extremely affordable prices.
You need a domain first and then a web hosting service to host the website. As a first step, you want to check the availability of your dream domain name. .Coms are considered the top-level domains, but if your blog name can creatively use a specialised extension, then, by all means, go for it. If your domain is available, go ahead and purchase it. Most web hosting companies offer both domain registration and website hosting, and you have the option of buying annually or monthly basis.
I use just one provider – 1&1 IONOS for all purposes. They often have promos and special offers and this is how I ended up with them. Since it's a German business, all their paperwork and dashboard is in German – which made it a bit difficult for me to deal with the technical issues that come with website and domain set up – but I survived. Besides this, have not had any complaints yet.
DAY  3
Set Up Email and Social Media Pages
Once you have your website hosting setup you can also configure your own branded email id. It's very important to have a dedicated email id for all the tools, and resources that you'll most likely sign up for in the next few days. Branded email also looks much more professional than something @gmail.com or live.com. So if you intend to become a professional blogger at some point you should create a professional email address for business-related communication.
Setting up social media channels should be relatively easy once you have the domain name set up. Ideally, you want to keep the page name, handles, username same as your blog name for consistent branding. So go ahead and reserve your brand name as soon as you can before someone else snags it.
DAY 4
Install a Content Management System (

CMS)

When it comes to my favourite blogging platform, I swear by WordPress. It's been my go-to CMS since 2010. Maybe I'm a creature of habit or WordPress is really that great! 😀 I've created several websites on this platform, not just for me, but also for my clients.
Bonus! Most hosting services offer a suite of tools and apps and WordPress is almost always a standard addition in this suite.
Website Themes
WordPress Themes: Since we're using the MVP approach, we will skip the custom made websites, and start with WordPress themes for now. WordPress offers tons of themes that can be used for simple blogging, eCommerce or portfolio websites. If you are new to blogging, I recommend starting with a 'lite' or a limited version of a theme of your choice before buying a fully-featured theme. This is because in the early days you may want to play around with the look and feel of your blog. It is easier to test a free version of a theme for a few months and see if you are ready to commit to it for the long term.
Install Essential WordPress Plugins
Yoast SEO: Yoast SEO plugin is one of the most widely popular WordPress plugins around and it's easy to understand why. I find its real-time SEO score very helpful when I'm creating new content. It gives me peace of mind right away to see that I can add the SEO essentials like meta descriptions, keyword density on the go.
MonsterInsights: Tracking your website analytics is a very important practice of running a blog. The best to start it is – as soon as possible! Monster Insights is an effortless Google Analytics plugin for WordPress. Especially if you use Elementor, you may need to use a plugin like Monster Insights to properly connect your website with WordPress.
Elementor: So you feel creatively limited by your current free version of WordPress theme? Get a page builder plugin. For that, I love Elementor, hands-down! Elementor is a WYSIWYG page builder that lets you easily create and customise your website pages. I have this plugin in ALL of my WordPress websites. You can do tons of custom page building even the freemium version. Even this website is currently running on a freemium theme customised using Elementor.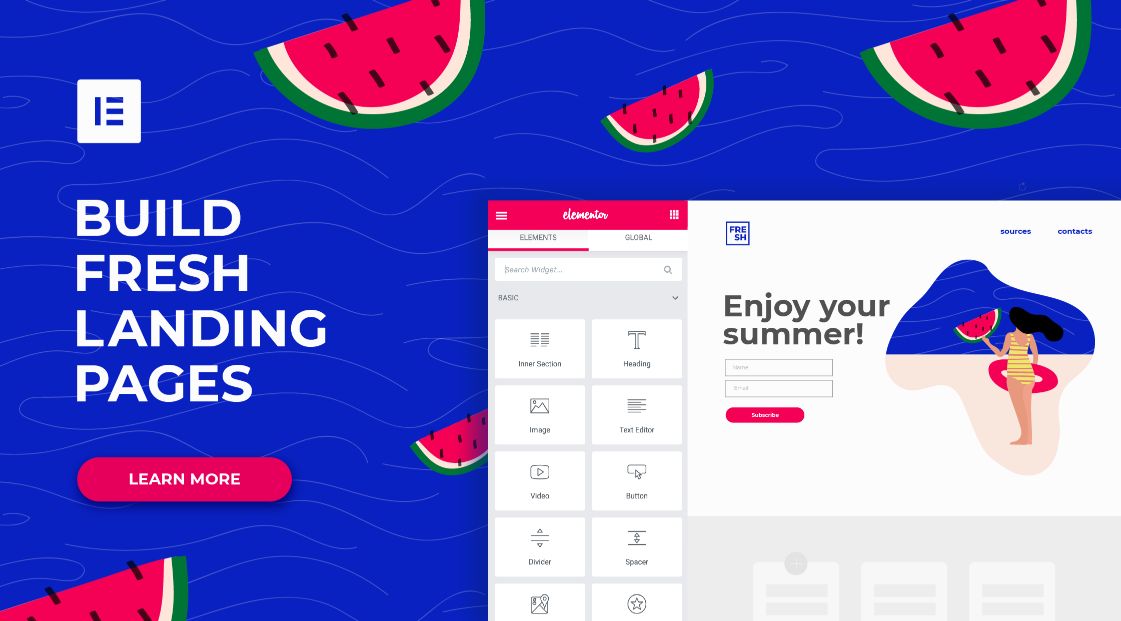 DAY 5
Organise Content Creation and Management Tools
Google Drive: Google Drive basically serves as my editorial suite. Here I segment my content strategy by months and content type. I also use it as a  backup for my entire editorial content. The best part is that I can access it on my all mobile devices. In the beginning, you can stick with the personal account which gives you 15 GB of free storage.

Grammarly: A nifty tool for eliminating typos and error. As a non-native English speaker (and writer) I really appreciate Grammarly's interventions. It also nitpicks on your grammar in WordPress editor so it's a huge plus for me.
Yoast SEO: Did you know that Yoast SEO is more than just an SEO plugin? Yoast SEO also comes with a robust 'readability analysis tool that helps you improve your readability score on the fly.
Play Around With Graphic Design Tools



Image Sources: I use my own photographs for most of my travel-related posts. For other posts, I usually go to Unsplash or Freepik. Freepik also offers numerous vectors, flat lay designs, as well as editable image files. However, if graphic design is not your forte, then using some high-quality imagery from Unsplash should suffice.
Canva: When it comes to creating attractive social media graphics, it doesn't get easier than Canva. Canva offers shitloads of premade templates for various social media channels and other marketing templates. Even though working with this platform is super easy, you still need to have a good eye for basic design aesthetics, composition.
Vectr: If you want more than just standard Canva templates, then meet Vectr – Your photoshop in the cloud. While it is not an as advanced photo editing tool like good old PSD, it requires a bit of a learning curve and basic knowledge of image editing principles. However, if I can train myself to use it, so can you!
DAY 6
Sign up for SEO & Research Tools
SEMrush: SEMrush is a powerful but easy to use competitive intel suite for online marketing. While it is targeted at marketing pros, it has an intuitive interface and knowledge bank that can help even the noobs to figure out their online marketing requirements. You can also generate several insightful reports even with its freemium version.
Buzzsumo: Buzzsumo is a great content analysis tool for bloggers. You can search for the keyphrases from your niche and see what kind of content performs the best. It not only gives you great ideas for your own content strategy but also lets you know how the content of your competitors has been performing.
DAY 7
Start Listing Down The Content Ideas
Don't overthink this one. Consider this the first step of your long term content strategy. Open a new folder in your google drive and name it 'Content Strategy 2019′. Now launch a new blank word file. Start writing whichever blog post titles that come to your mind. Make sure that these are relevant to your blog niche. Once you have about 15 – 20 blog post ideas, you will start seeing the categories. This is how you can identify what your main categories will be. Keep in mind that this list will be a WIP and will evolve as you learn more about your own blog niche.
So here goes! Congratulations for setting up the building blocks of your MVP blog. Now you are ready to compose your first blog post. 🙂
Is there another important step that you do when setting up a brand new blog? Tell us all about it here!