Sustainable Fashion Brands in Germany
Top Takeaways From This Post
Last updated on January 6th, 2023 at 02:56 pm
Germany offers plenty of options for anyone who wants to consume sustainably and responsibly. Read this post for an ever growing list of clothing and lifestyle brands for a conscious shopper.  
At first glance, German high streets appear to be flooded with fast fashion stores with shoppers swarming in and out with bags full of mass-produced clothing.
However, if you look closer, more and more German fashion brands are adopting a sustainability first approach with fair wages for everyone in the supply chain and more eco-friendly materials.
The fast fashion industry offers low-cost on-trend designs, creating a vicious cycle of cheap thrills, overconsumption and high waste. By supporting sustainable clothing brands in Germany, we not only reduce our own carbon footprint but also encourage fair wages and work conditions for fashion vendors and suppliers in developing countries.
In this post, I have compiled a list of sustainable clothing brands in Germany, that are suitable for all budgets and styles. For your convenience, I have also added a price range for basic items such as t-shirt, jeans for each brand/ store.
Here is a collection of some slow fashion-oriented sustainable clothing brands in Germany.
---
Disclosure: Some of the links contained in this article are affiliate links, meaning we receive a small commission for any sales resulting from these clicks. This has no bearing on the price of the product or service. Thank you for supporting us – we appreciate it!
---
Preloved/Second-Hand Clothing Stores in Germany
Confession time, I used to be one of those people who found second-hand clothing off-putting.
Second-hand clothing in Germany is either associated with buying and selling vintage clothing items or (unfortunately) with less privileged members of society.
I warmed up to the idea after learning that thrifting can not only extend the overall lifecycle of a clothing item but also reduce our personal carbon footprint.
Every year, several thousand tonnes of clothing are simply thrown away in Germany only to end up in the landfills of less developed countries. The most sustainable way to deal with this enormous waste is buying them second-hand in Germany – because now nothing new has to be produced!
Recently I discovered a few online platforms that are striving to normalise thrifting and actively making second-hand clothing in Germany more and more mainstream.
Momox Fashion is Germany's largest second-hand online shop.
They stock a huge selection of second-hand clothes in Germany, shoes and accessories for women, men, and kids. You can find pretty much every brand in the known universe here. Every single item is quality-checked too.
Momox has extensive filters, allowing you to choose your favourite brands, material, sizes or lengths. Their products descriptions also include useful dimensions such as shoulder breadth, inner leg length, waist size, dress length.
They also offer free shipping and returns with the option to pay after delivery. You can as safely buy from their store as you would from any other major fashion store!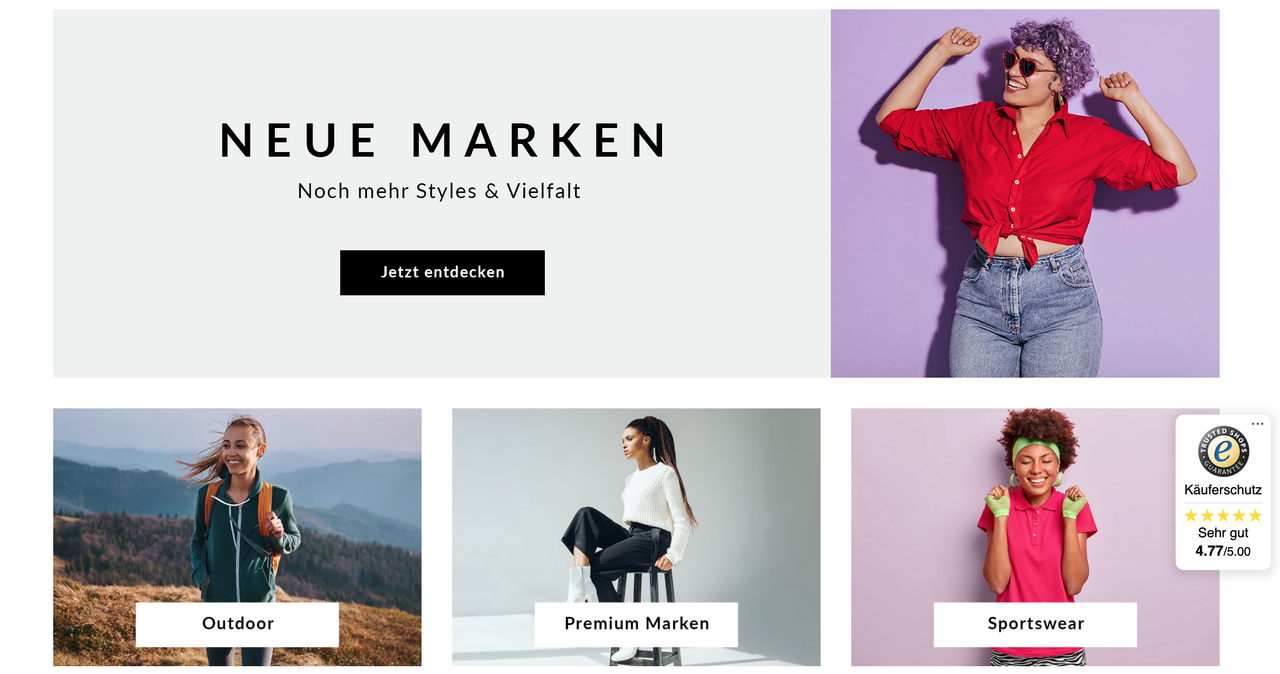 Momox Fashion is particularly great for people with special sizes such as petite frames or small feet – I happen to have both! 😉
As someone with an unusually small shoe size 34 – 35, it is a real struggle to find stylish shoes and petite clothing in Germany. While sneakers in my size are widely available, trendy shoes like loafers, Chelsea boots, pumps are super hard to come by in regular footwear stores. Most fashion brands in Germany also do not sell clothing for people under 5'3″.
Not only Momox Fashion has 100s of shoes in size 34 – 35, but also several clothing items in EU size 32. Needless to say, I'm over the moon about discovering this store!
February 2022 Update: Since writing this post, I ordered twice three times (Footwear and a mid-season jacket, dress, and blouse) from Momox.de. On both all occasions, I was positively surprised by the quality of the products. There were little to no signs of wear and tear. Neither visible nor smellable! 😉
Return (due to fitting) was free of cost and uncomplicated. I can safely recommend Momox Fashion!
Price Range: T-shirts starting at €5,00, Jeans starting at €5,00

Get a 20% discount on your first purchase through the banner below
Second Life Fashion is an online store doing its bit for a healthy planet by revolutionising the image of second-hand clothing in Germany.
Second Life has very strict quality control of the second-hand clothes they receive. Besides the condition of second-hand clothes, they also make sure that the garments are still current and modern. Their store has a huge collection of women's clothing. The men's section is considerably smaller, but you can still find over 1000 items of second-hand men's clothing in Germany.
They also ship plastic-free and reuse cardboard boxes from returns or purchases. Customers can also return items for free through Second Life's own return service.
Price Range: T-shirts starting at €2,99, Jeans starting at €4,99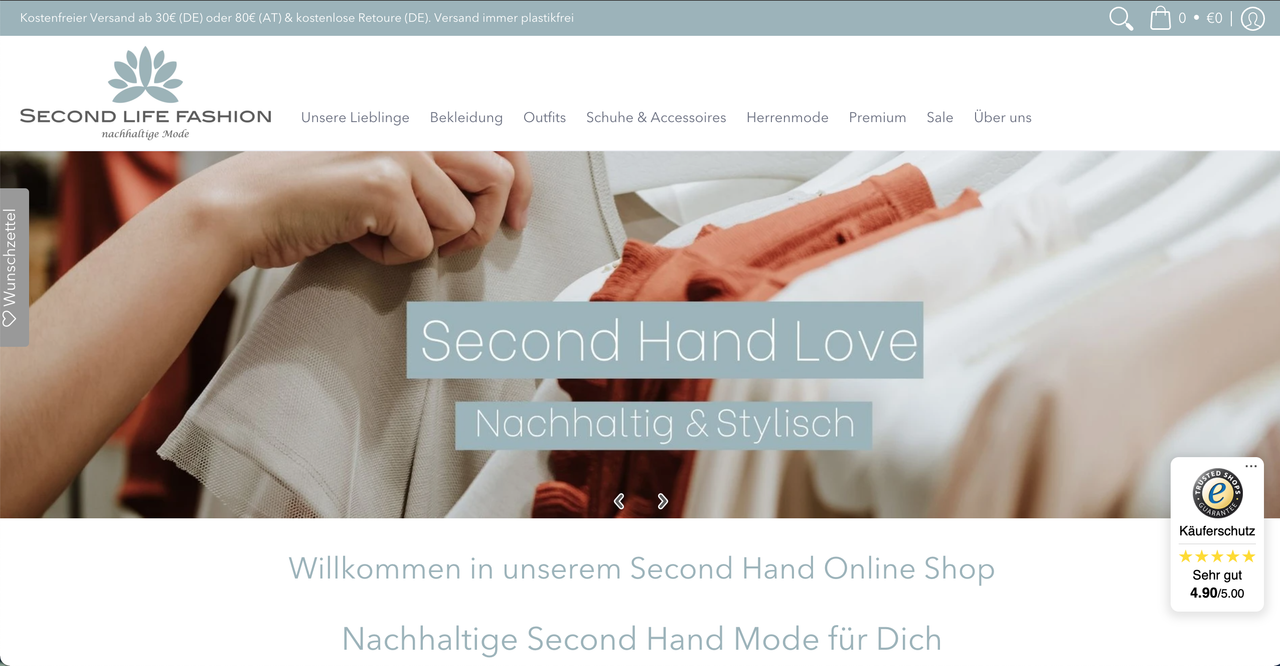 Mädchenflohmarkt has been around since 2012. It is a marketplace for high-quality second-hand designer fashion and vintage fashion in Germany.
You can thrift thousands of items from premium brands like Louis Vuitton, Prada, Gucci and Chanel etc to regular fashion retailers such as H&M, Zara, Asos and many more.
They too have strict quality control for their second-hand clothing in Germany. Any item marked with 'Concierge' has been verified for authenticity by their own team in their warehouse so you can safely buy it.
If the item does not fit or you do not like it, you can return it free of charge within 3 days of delivery.
Price Range: T-shirts starting at €1,00, Jeans starting at €1,00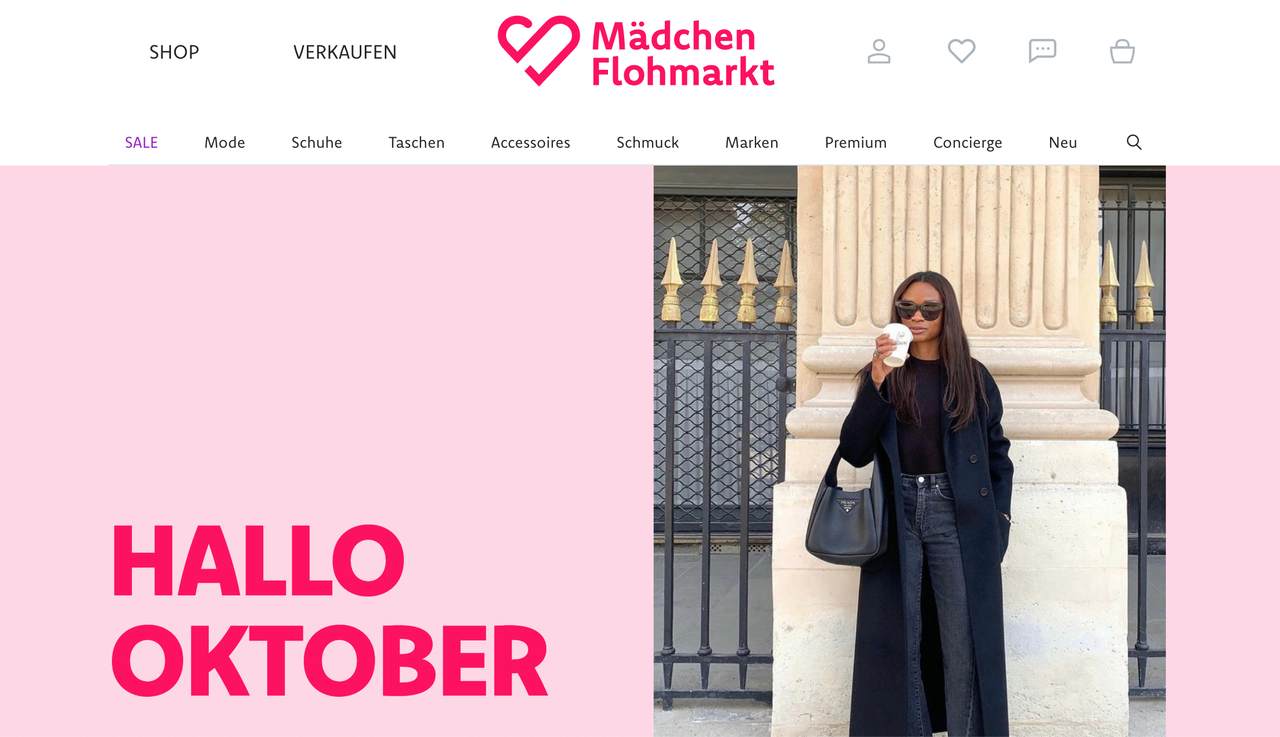 Mid-Range Sustainable Clothing Online Stores in Germany
Second-hand clothing in Germany cannot fulfil all your wardrobe requirements. Every now and then you will need a new piece of clothing.
The biggest barrier to slow eco-fashion is that sustainable clothing brands in Germany (or anywhere really) tend to be quite pricey for most of us. This is the price we have to contribute when everyone in the supply chain is treated fairly.
Worry not! You can still shop responsibly while staying within your annual clothing budget. Here are some online stores that stock and sell affordable AND sustainable clothing in Germany.
Avocadostore claims to be Germany's largest online marketplace for eco-fashion and green lifestyles.
They stock items of more than 1,000 suppliers and manufacturers sell a total of over 300,000 sustainable products from a wide range of categories.
According to their mission statement – all products at Avocadostore meet at least one of their ten sustainability criteria. These fulfilled criteria are clearly shown on each product listing ensuring transparency for the customers.
Price Range: T-shirts starting at €7,00, Jeans starting at €29,00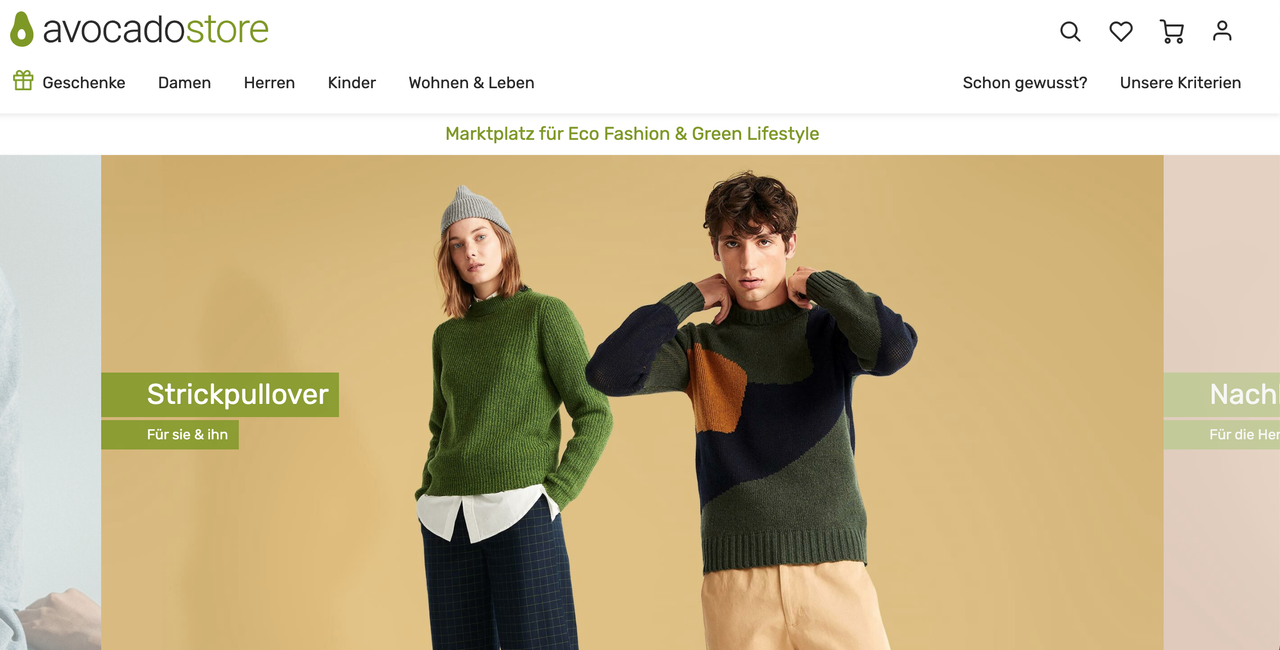 The Founded is a curated online store of multi-brand fashion brands in Germany for women, men & kids.
At first glance, it appears to be a regular online fashion store, but they have an entire section dedicated to the sustainable collections of their partner brands.
You can find sustainable German clothing brands such as Only Life, Object More Responsible, Vero Moda AWARE, Aligne etc.
These eco-friendly clothing lines use fibres from recycled materials such as PET bottles, fishing nets, in addition to ecologically grown natural materials such as certified organic cotton.
Price Range: T-shirts starting at €12,90. Jeans starting at €18,99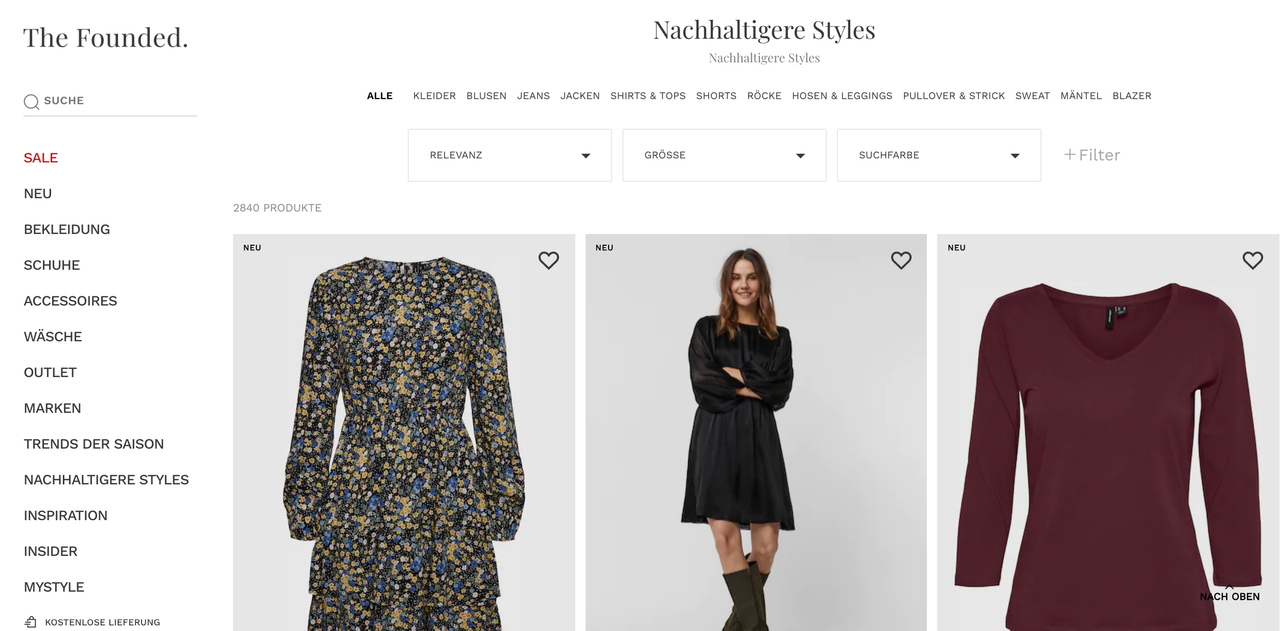 German Sustainable Clothing Brands for Essentials
Here is a compilation of slow fair German fashion brands that offer everyday basics such as T-shirts, jeans, loungewear, streetwear etc.
Green Shirts is a social eco wear for men, women and everyone founded in Germany in 2012.
Contrary to its name, Green Shirts actually sells a variety of clothing besides shirts such as dresses, shorts, hoodies, blouses, polos, chinos and much more.
They may not have the largest collection out there, but you can be 100% sure that each of their items is made from innovative clothing fabric such as coconut, coffee grounds or ecologically produced organic cotton, linen, wool and recycled fabrics.
This Bavarian clothing brand offers traceable production routes, environmentally friendly production as well as high-quality and above all modern cuts, designs and colours.
Price Range: T-shirts starting at €19,00. Trousers starting at €39,00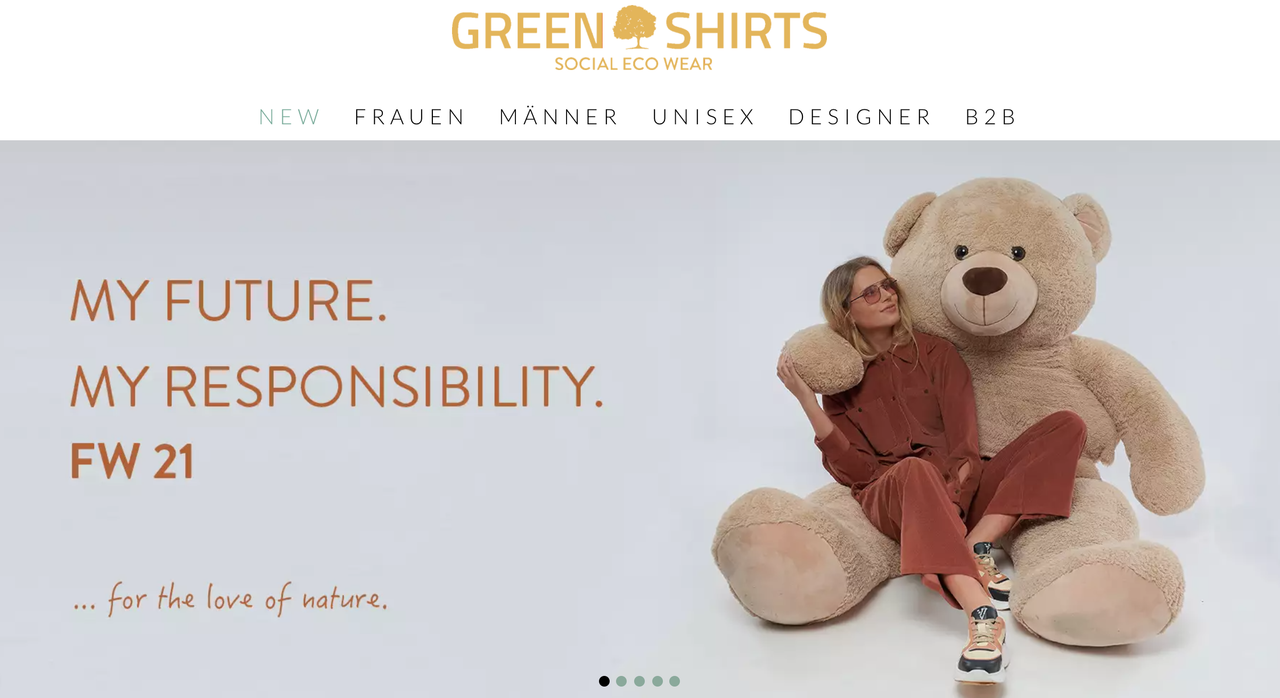 Armed Angels is one of the best known German sustainable fashion brands and I can recommend it too.
They have just rolled out a new collection, DetoxDenim which incorporates natural dyes, recycled fabrics, and uses no hazardous fertilizers, synthetic pesticides or toxic bleach.
But toxin-free jeans is not the only reason to support Armed Angels.
The brand is also politically engaged towards climate crisis and actively strives to change the fashion industry for good.
Every year, Armed Angels support the Bangladeshi National Garment Workers Federation. NGFW supports textile workers by taking legal action against bad pay and unjustified dismissals and actively works for more women's rights in Bangladesh.
During the Corona pandemic, they also donated 85 cows to their organic farmers in India. The pandemic made it impossible for the farmers of ARMEDANGELS Organic Farmers Association to work and consequently feed their families. These cows not only produced natural fertilisers for these farmers but also milk that they could resell to the local markets and support their families.
Price Range: T-shirts starting at €29,90. Jeans starting at €49,90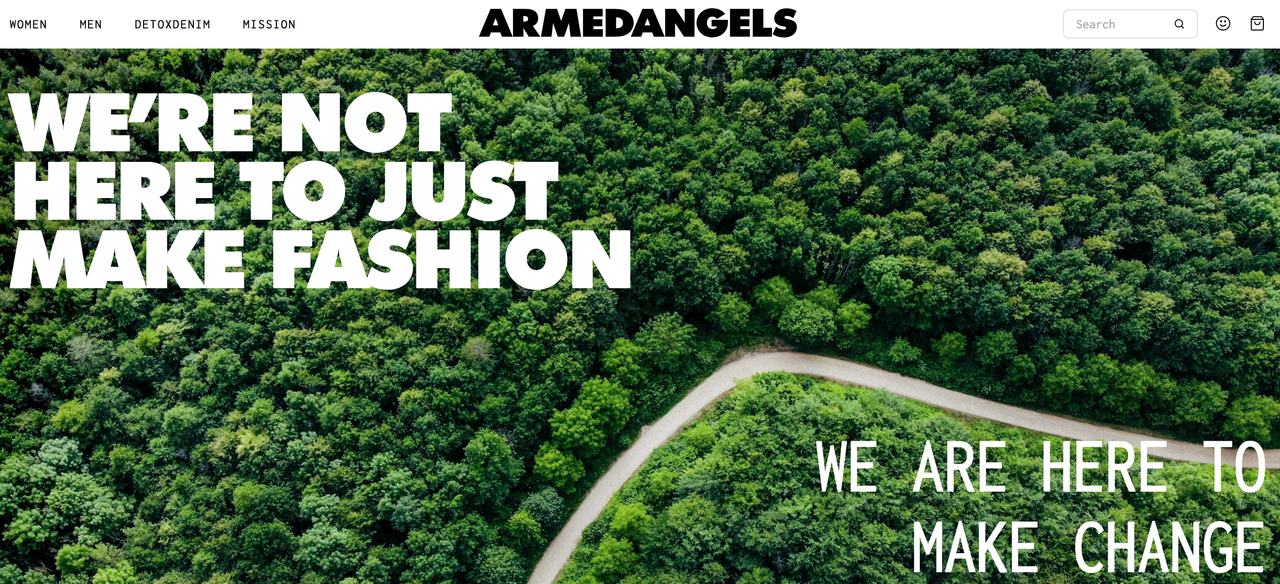 Treesteem is a German clothing brand inspired by nature and founded to bring eco-friendly and affordable clothing to adventurers and nature lovers.
According to its mission statement, Treesteem wants to remind humanity where its roots come from and what really matters in life. Their clothing shows off nature-inspired designs to draw attention to the irreplaceable beauty of nature and the need for humanity to make a difference.
Treesteem is all about sustainability from the start to the end of its product cycle.
All of the textiles are made of either 100% organic cotton or 85% organic cotton + 15% recycled materials. The items are packed in plastic-free boxes. Even the packaging tape is made of 100% recycled materials! Finally, all products are shipped with DHL "GoGreen".
Their clothing is not only carbon neutral but also has a positive impact on the environment by planting lots of trees! You see, for every product they sell, Treesteem initiates the planting of 10 trees through a donation to a non-profit organisation called Eden Reforestation Projects.
Price Range: T-shirts starting at €25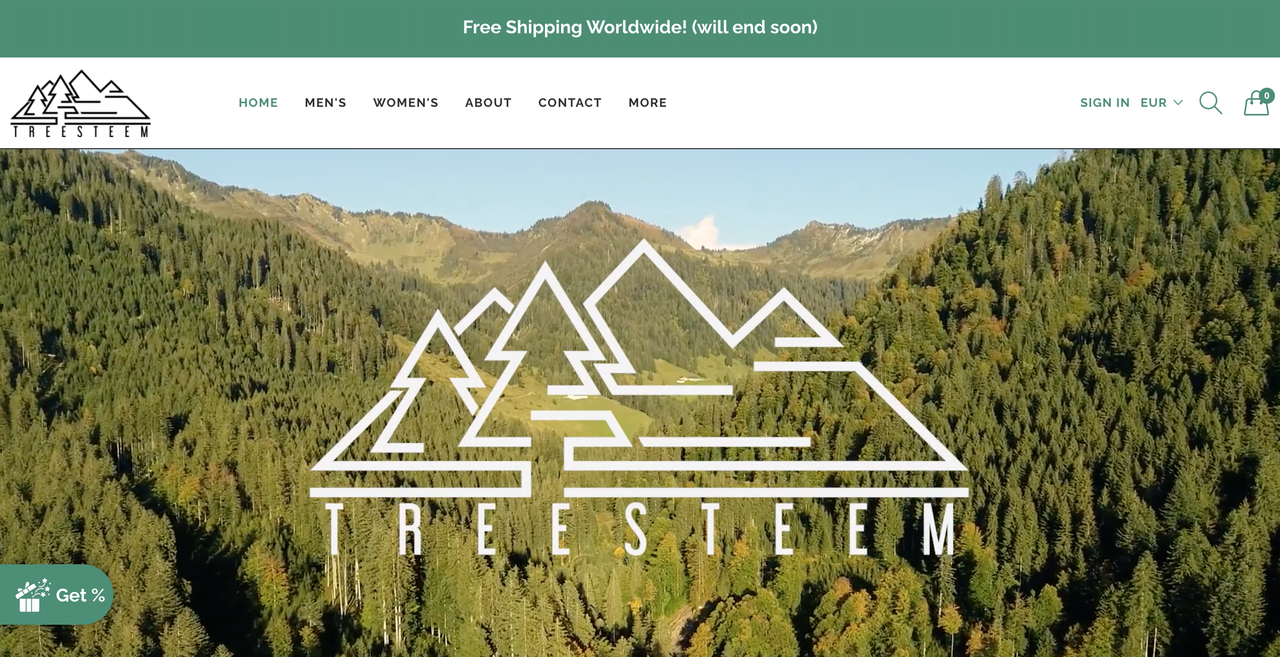 Grundstoff is another German sustainable clothing brand that only ships to Germany or Austria. All their clothing articles are produced under fair conditions (Fair Trade) and are mostly made of organic cotton.
Their clothing range includes over 1000 different Fair Trade T-shirts and tops. You will find garments with reputable certificates and seals, such as the well-known Fairtrade seal, the seal of the Fair Wear Foundation, or the GOTS certificate (Global Organic Textile Standard).
They deliver orders in plastic-free packaging and only use recycled cardboard boxes, recycled paper/silk paper, and paper tape with natural rubber glue
Price Range: T-shirts starting at €21,90. Trousers starting at €44,90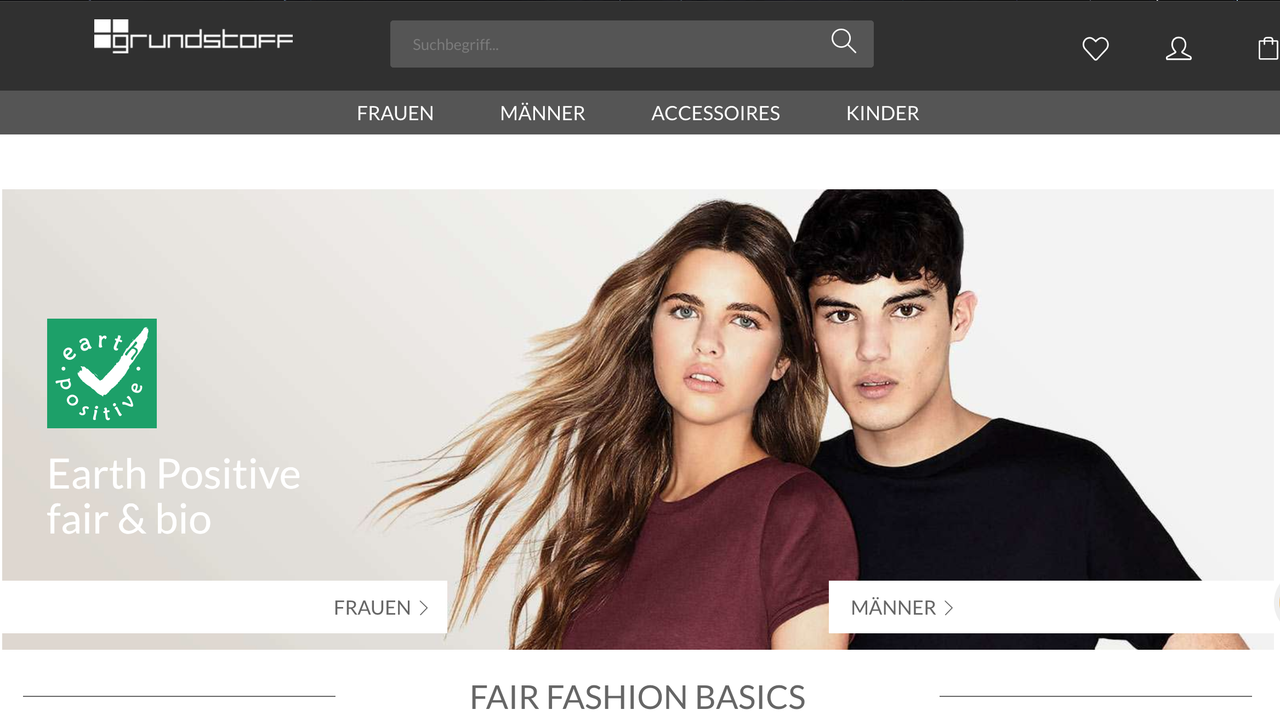 German Sustainable Fashion Brands for Sophisticated/ Timeless Clothing
Basics only make up one part of our wardrobe. And they are not suitable for every occasion, right?
If price is not a huge factor in buying sustainable clothing in Germany, here are some fair fashion brands that offer sophisticated, stylish clothing for women (and men too!).
The Curated offers premium staples for women's wardrobes such as gorgeous ethically made cashmere and merino based coats and sweaters. According to their mission statement, they focus on the longevity of clothing items and key investment pieces to elevate your existing wardrobe.
The Curated's collection is very small and centered around key pieces that are suitable for any capsule wardrobe.
Their coats start at €400 which might be considered costly, however, they are classic, timeless pieces that can be worn for several years without ever going out of trend. High-quality clothing lasts for years and drastically cuts down the overconsumption pattern which is the key problem with fast fashion.
The Curated also operates with preordering to sell and balance their production in a more efficient way. In order to create environmentally sustainable fashion, The Curated predominately produces clothing with leftover fabrics in small quantities to prevent overproduction.
Price Range: Coats starting at €400,00.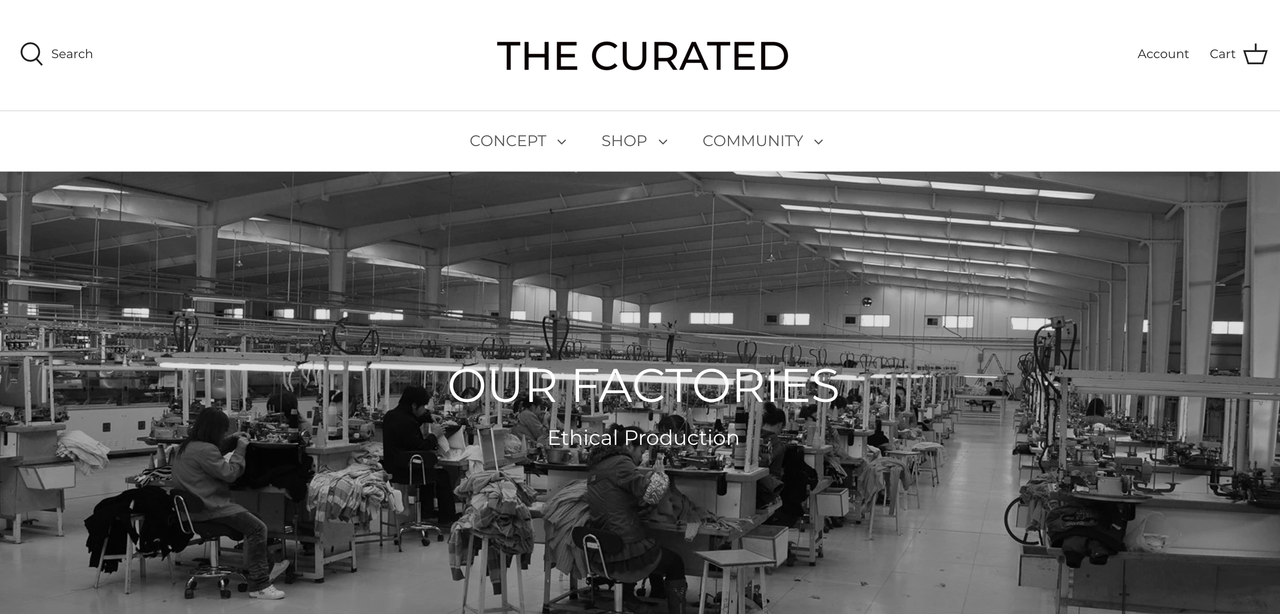 Closed is a multi-kulti European fashion brand founded in the 1970s. It started as a denim clothing brand that now offers a wide variety of clothing for men, women and kids.
Closed aims to produce its collections with less of an environmental impact, while never compromising on high quality. In its eco-friendly denim line A BETTER BLUE, Closed uses 50% less water, 25% less energy, and 65%  fewer chemicals, thanks to innovative dyeing and washing methods.
Their prices might be higher than typical essential wear brands in Germany, however, they make up great investment pieces. It is totally worth checking out their sales section which sometimes offers up to 50% reduced prices. Their price-quality ratio for the knits is also better than some of their competitors in my opinion.
Price Range: T-shirts starting at €50,00. Jeans starting at €150,00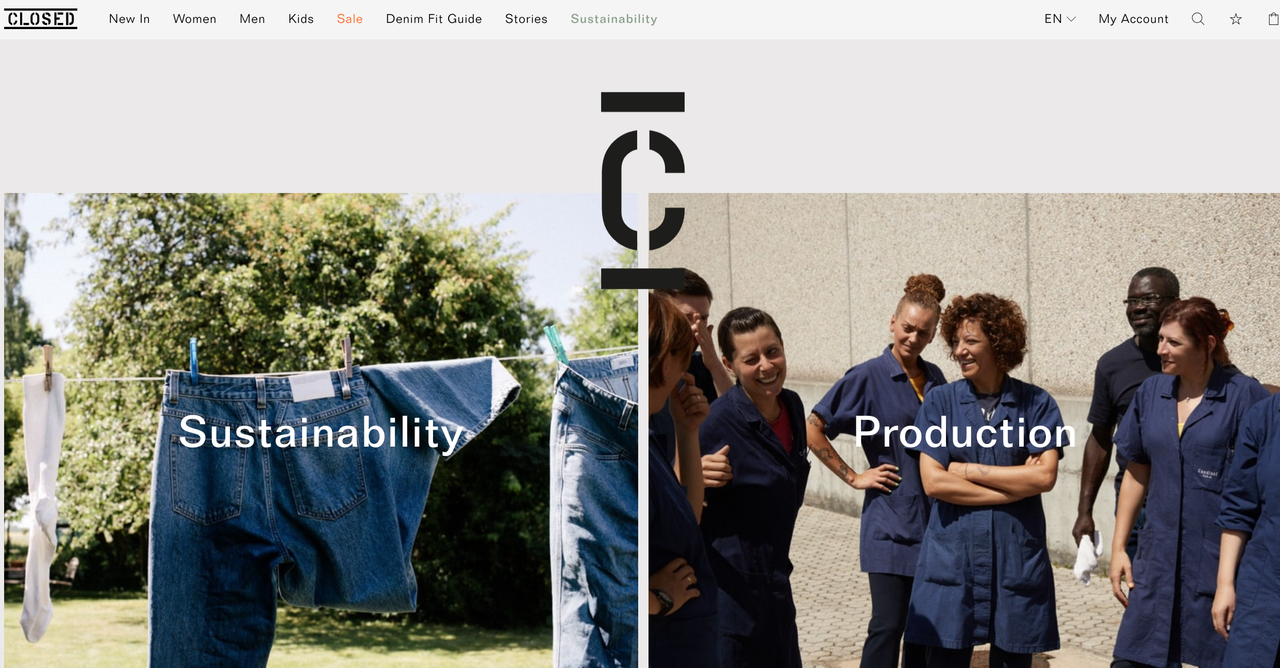 Jan 'n June is a Hamburg based brand that believes fashion and sustainability can go hand in hand.
All of their products are fairly produced in Portugal and Poland using only sustainable materials such as organic cotton, recycled polyester, recycled cashmere, lyocell and many more.
Transparency is a big deal for Jan 'n June's philosophy. Each of their clothing items has a QR code that leads to an ECO-ID – the passport of the item.
This ID reveals every step of the supply chain starting from the origin of the resource to the final production. You can also find this ECO-ID on every product on their online store.
Price Range: T-shirts starting at €30,00. Trousers starting at €50,00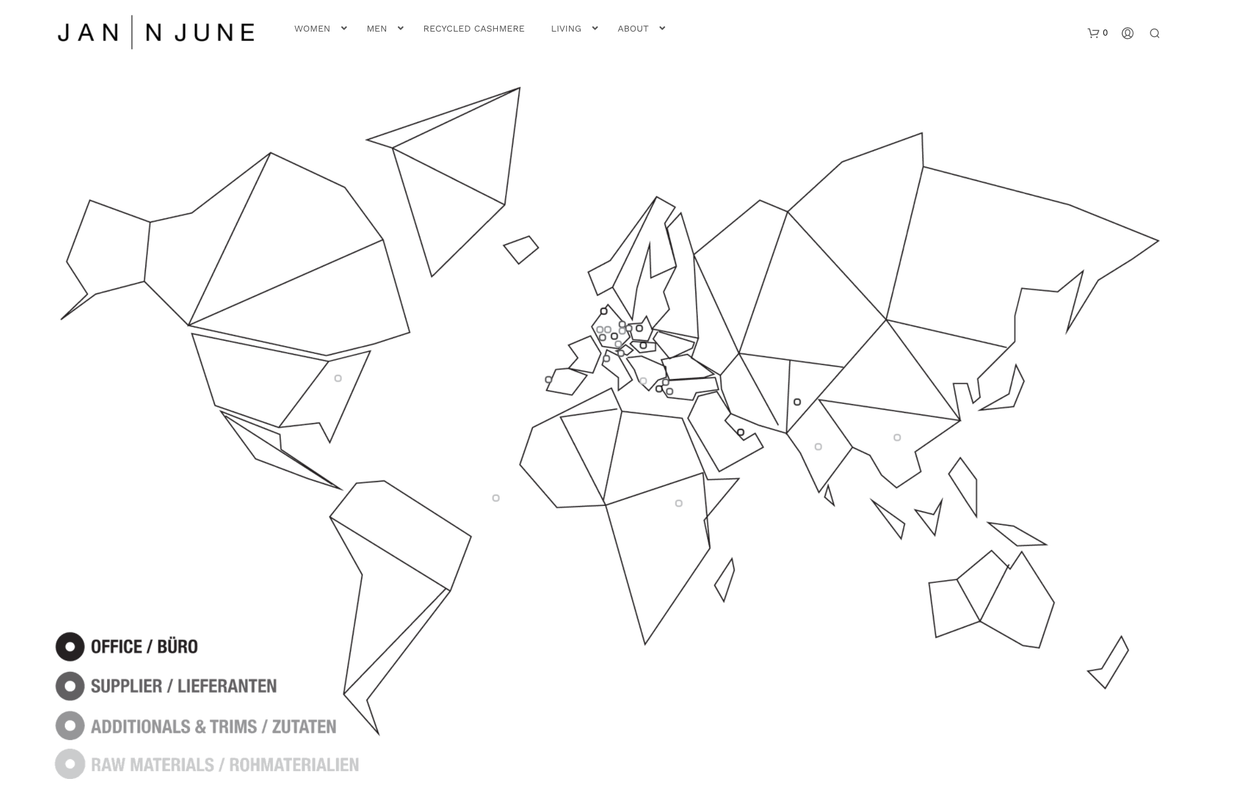 Sustainable Made to Measure Clothing
This small online shop is based in Slovenia and offers a small collection of trendy women's clothing almost exclusively made of linen.
Luci Clothing incorporates carefully selected, high quality, natural fabrics sourced and made in Europe such as 100% GOTS certified organic cotton, OEKO TEX certified linen, and Tencel. All items are designed, cut, sewn and packed in their studio in Slovenia.
They have a zero-waste manufacturing approach and deliver their clothing in plastic-free and recyclable packaging.
Luci Clothing is ideal for anyone with special sizes because customers can request alterations before placing orders. They offer this service without an additional fee in some cases.
Price Range: Tops starting at €45,00. Trousers starting at €90,00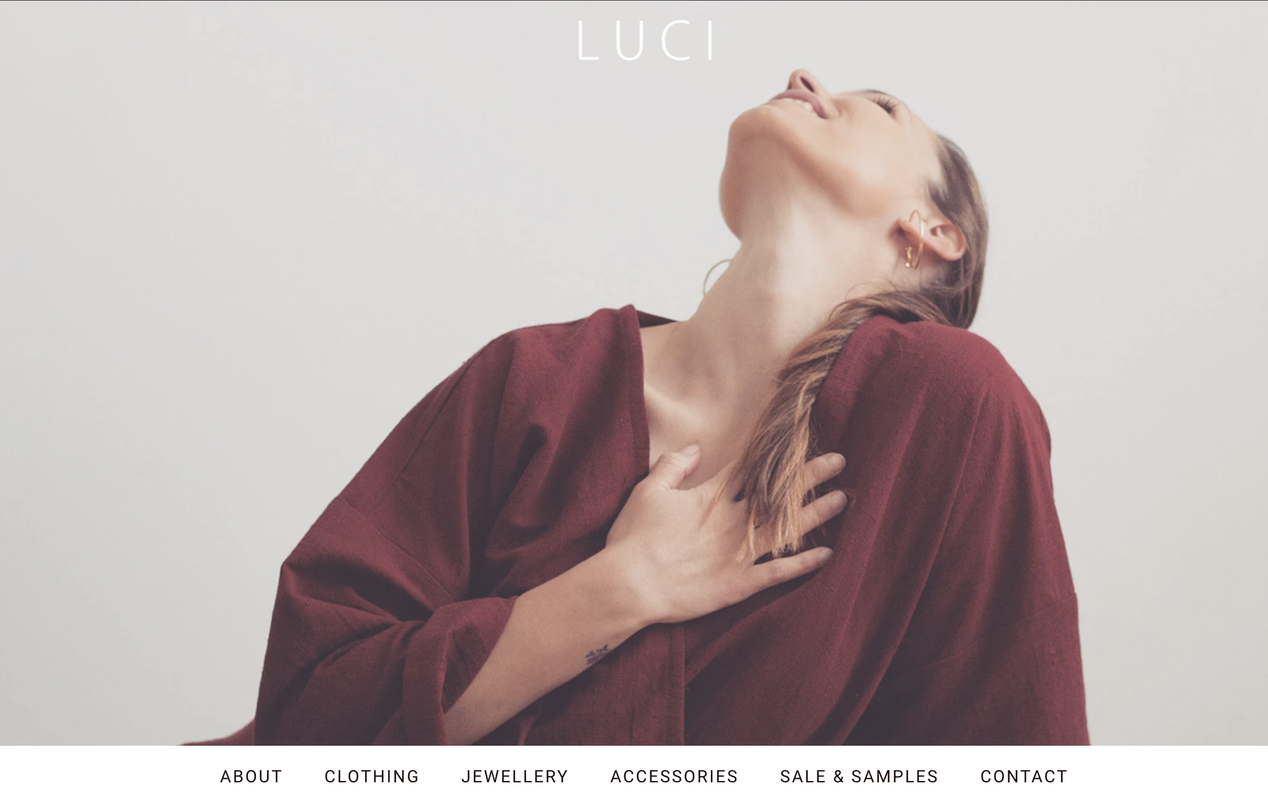 Sustainable Outdoor Clothing Brands in Germany
Two-Thirds is a Barcelona-based outdoor wear brand that ships EU-wide.
They make clothing from sustainable and recycled materials that have a lower impact on the planet.
Two-Thirds use a variety of fabrics that have a less negative environmental impact such as TENCEL™, lyocell, hemp, linen, and of course organic cotton than conventional materials.
Regional production is central to Two-Thirds' supply chain as most of their suppliers are based in Portugal, France, Italy, and Spain. Even some raw materials have European origins!
This eco-fashion brand even produces 60% of its own electricity thanks to its solar panel-equipped offices.
Price Range: T-shirts starting at €35,00. Trousers starting at €40,00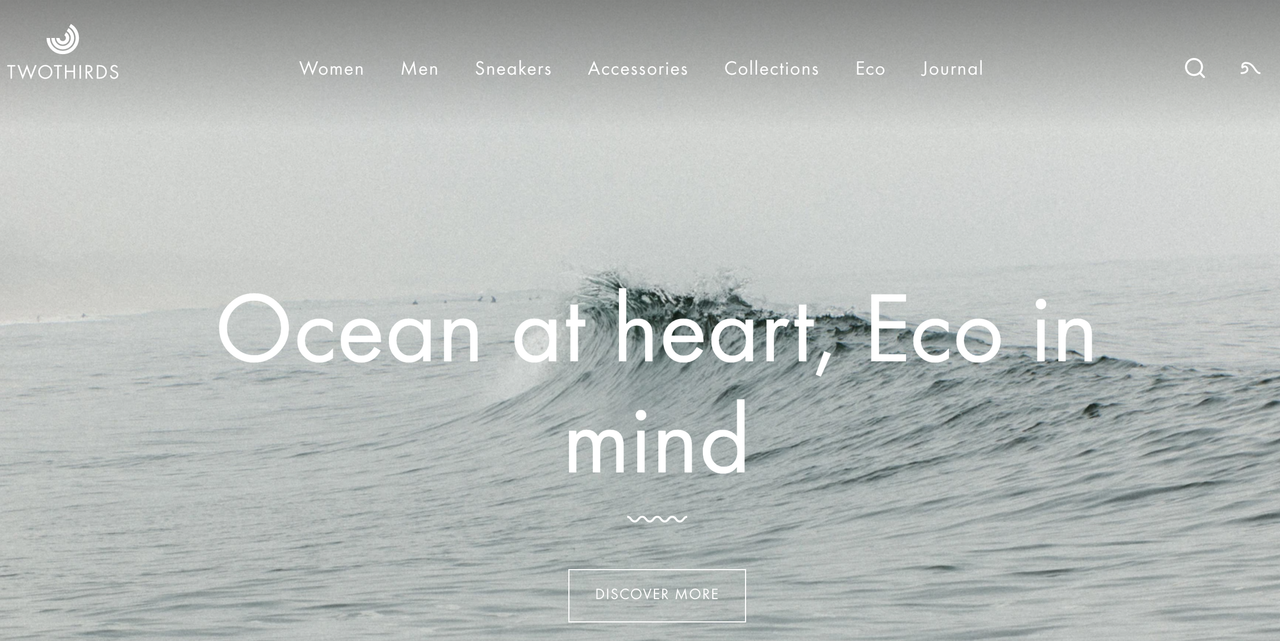 Sustainable Lifestyle Brands in Germany
Ultra Green is an online store with a huge collection of plastic-free products for your household.
Their mission statement is to offer their customers easy, small steps towards reducing waste in their everyday life. They believe that small changes in everyday life have a big impact.
To help with these small changes, they offer day-to-day products such as toothbrushes, soaps and shampoos, zero waste razor sets, cleaning materials for the kitchen and toilet, and much more. All their products are plastic-free and made from natural and eco-friendly materials such as copper, wood, bamboo, bee wax etc.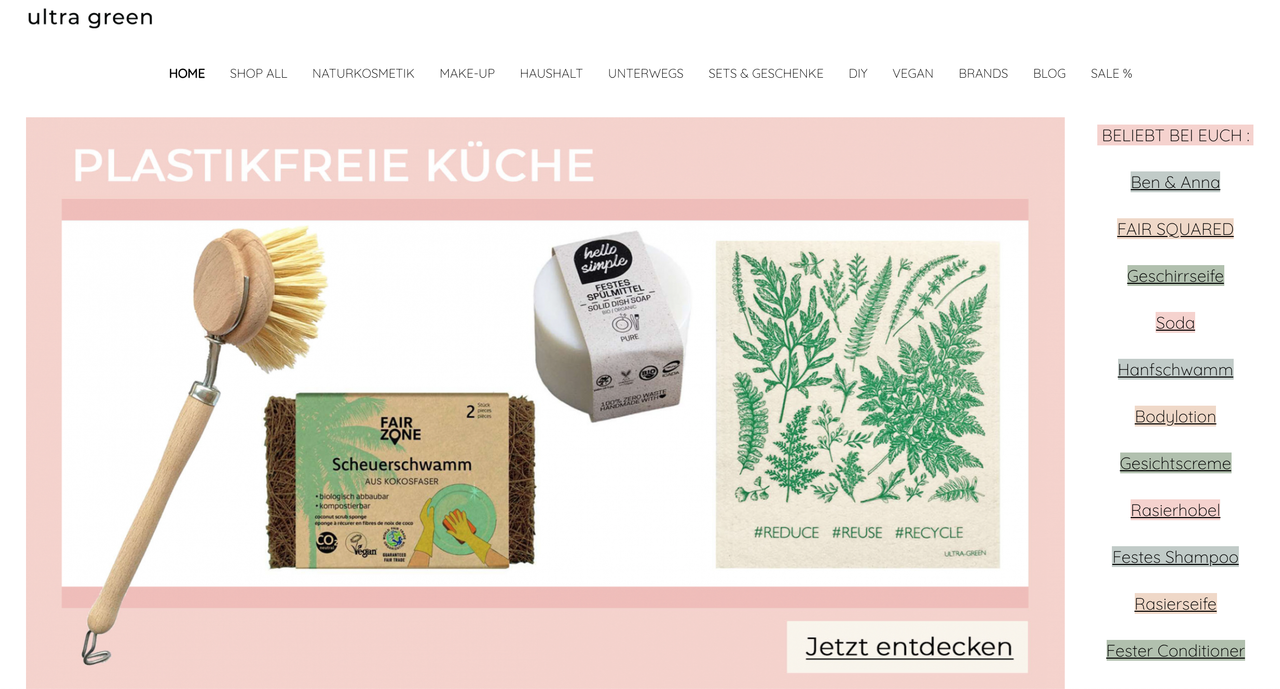 This is by no means an exhaustive list! If you want to recommend a sustainable clothing brand in Germany that you love, please let me know in the comments below.