Ten-Day Golden Triangle Itinerary – How to Explore India's Golden Triangle
Last updated on June 23rd, 2020 at 06:18 pm
How many days you really need to explore the famous Golden Triangle of India. Here is my Ten-Day Golden Triangle Itinerary covering the beautiful tourist attractions in New Delhi, Jaipur and Agra.  
Golden Triangle of India is one of those regions where you can zip through in under a week or take your time and explore what this culturally rich area has to offer to its visitors.
If you are not yet familiar with the Golden Triangle of India – it is a near-perfect geographical triangle formed by three major north Indian cities. Namely, New Delhi, Jaipur and Agra.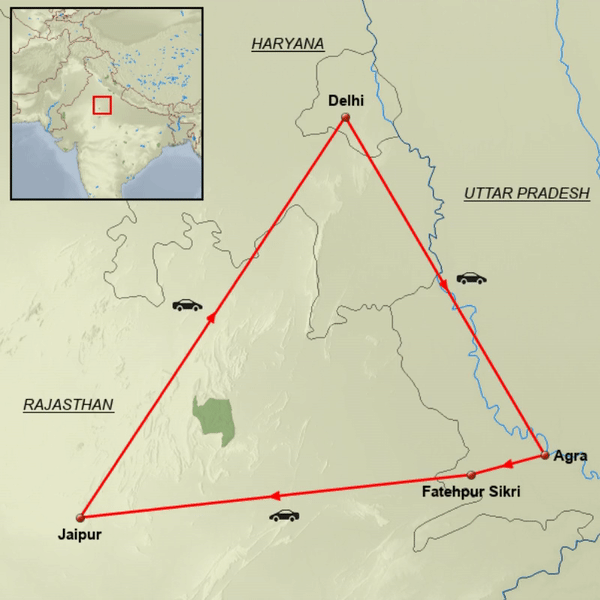 All of these cities are about 300kms from one another. It is very easy to travel between them through air, train or car within a few hours.
This ten-day Golden Triangle itinerary is loosely based on my travel to India this fall. In this trip, I realised I did not plan enough days to discover New Delhi and allotted more days than necessary to Agra.
So this Golden Triangle itinerary is a better version of the trip that I would have liked to experience the first time around. There are more days to spend in New Delhi and a quick overnight trip to Agra.
This version of my Golden Triangle itinerary includes some exciting street market shopping days and park exploration in New Delhi in the middle of the trip. Something that both my fiance and I enjoy a lot.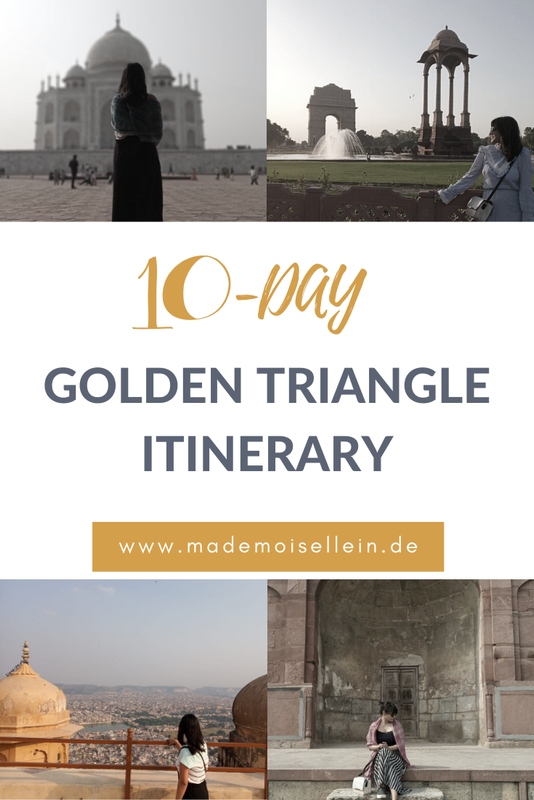 ---
Overview: Ten-Day Golden Triangle Itinerary
New Delhi
Day 1: Central Delhi – Old Fort/ Jantar Mantar/ Gandhi Memorial/ India Gate in the twilight
Day 2: Southern Delhi – Mehrauli Archaeological Park/ Qutub Minar/ Hauz Khas
Day 3: Central Delhi – Red Fort/ Chandni Chowk/ Lodhi Garden + Lodhi Art District/ Khan Market
Agra
Day 4: Morning drive to Agra (approx. three hrs) /Agra Fort/ Mehtab Bagh
Day 5: Early morning visit to Taj Mahal/ (Optional visit to Fatehpur Sikri)/ Drive back to Delhi
New Delhi
Day 6: Explore Delhi's street markets – Dilli Haat/ Sarojini Nagar/ Lajpat Nagar
Day 7: East Delhi trip to Akshardham Temple/ Connaught Place/ Janpath Market
Jaipur
Day 8: Morning flight (one hr) or drive (approx. five hrs) to Jaipur / Pink City tour or walkabout
Day 9: Amer Fort/ Nahargarh Fort/ Jaighar Fort
Day 10: Hawa Mahal/Jantar Mantar/ City Palace/ Fly back to Delhi/ Outbound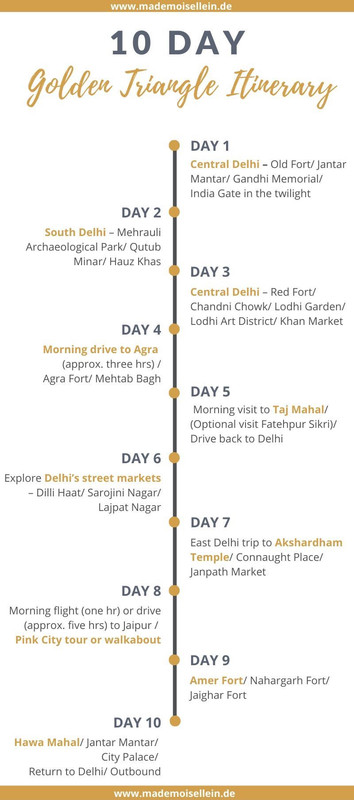 ---
Travelling in New Delhi



How many days you need in New Delhi
5-6 days, at the minimum. Delhi is huge and there is so much to see and experience. So a week in Delhi will gently warm you up to North India. 
You can also split your time in Delhi between Jaipur & Agra trips. Plan the first three days in Delhi. Then an overnight visit to Agra and come back to Delhi. From there next few days in Jaipur before continuing your journey. 
Where to stay in New Delhi
South and Central Delhi are the best (and safest) neighbourhoods for tourists. Hauz Khas, Lajpat Nagar, or hotels close to Connaught Place offer numerous hotels for a range of budgets.
What to do in New Delhi
Since New Delhi is huge, it's best to discover the city zone by zone. 
If you are staying somewhere in Central Delhi, set aside a day to visit tourist destinations like Old Fort, Red Fort, India Gate, Jantar Mantar & the Presidential Palace.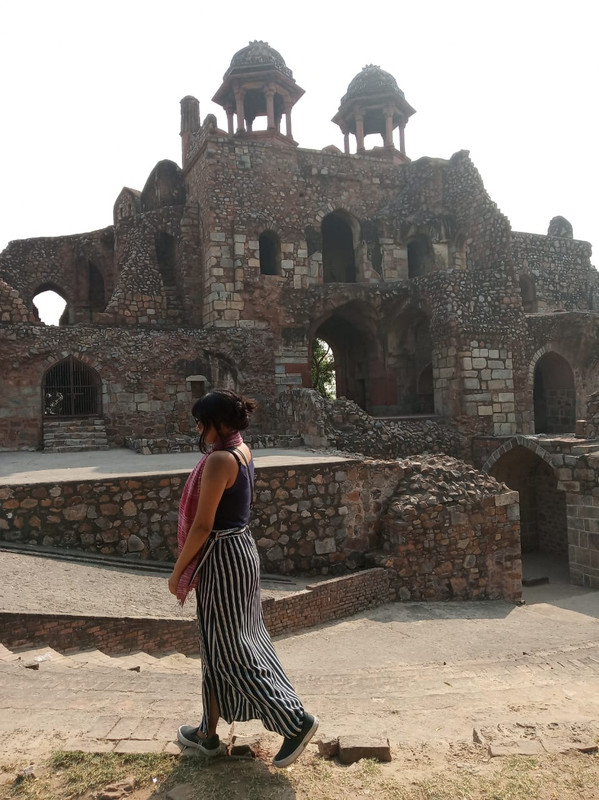 Explore the Mughal era relics.
In the next days, cover all the destinations in Mehrauli archaeological park and the surrounding areas in South Delhi. Start with Qutub Minar in the morning and then head over to Mehrauli Archaeological Park. You can easily spend about 2-3 hours at both.
From here you can take a cab ride to Haus Khas Village and grab lunch at one of its trendy cafes overlooking the Deer Park lake.
Go shopping!
Delhi has so many vibrant street markets. Some of the best known are Delhi Haat, Lajpat Nagar, Janpath or Sarojini Nagar. Here you can find all kinds of stuff – from Indian clothing to western dresses, blouses to traditional Indian decor items and accessories.
Some people also recommend Palika Market and Chandni Chawk but I avoid them since they're a big nuisance for women.
What to eat in New Delhi
Street Food!
I know a lot of tourist guides recommend some specific places where you can get street food in New Delhi. The truth is though, street food is everywhere in the city. You can sample the popular street food of New Delhi at Delhi Haat, Khan Market Kamla Nagar or anywhere really.
The real question is what to eat!

My recommendations will be trying out some of the most beloved street food in the city-
Aloo Chaat (spicy potato cubes, kinda like Indian patata bravas), Aloo Tikki (spicy potato patties with various sauces), Dahi Bhalla (Crispy lentil balls in spicy yoghurt sauce), Momos (steamed dim sum with spicy chilly sauce), chole bhature, Paani Puri etc etc.
The list is endless!

Insider tips for travelling in New Delhi
Go to the cat cafe in Hauz Khas Village. Hauz Khas Village (AKA HKV by Delhiites) in New Delhi is home to North India's first cat cafe. We discovered it totally by accident. It was not even properly launched at that time, but the cafe's 'meow zone' was already set up and open to guests.
At that time, the meow zone was home to a few street kitties who were up for adoption. If you are a cat lover then you don't want to miss this cute little cat cafe.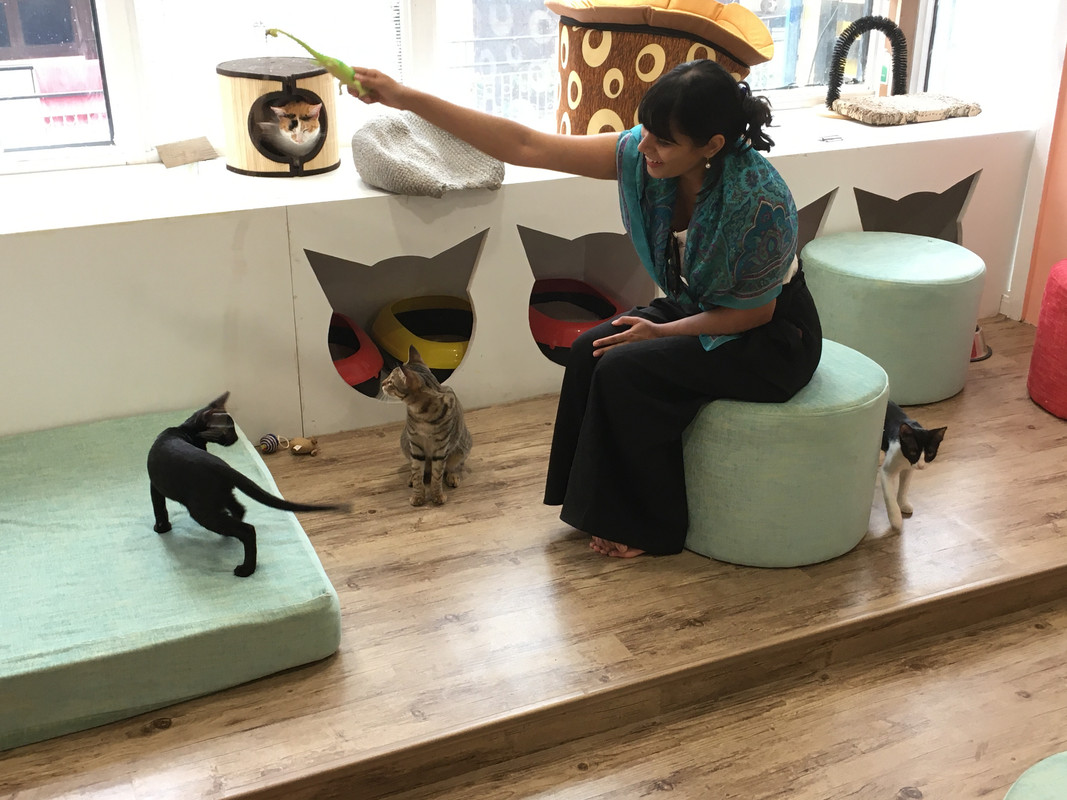 Get some quiet time at Deer Park. Just about a minute walk from the cat cafe is a lovely Deer Park in Hauz Khas Village. Here you can get away from noisy city traffic and recharge your batteries.

Lodhi Garden is also another lovely park located in Central Delhi. It is a lush green pocket where you can enjoy nature, and also stop by for a coffee in a restaurant located right in the middle of the park. There are also some Mughal era tombs and structures here.  
Go for a photoshoot at Lodhi Art District. It is only a few hundred meters away from Lodhi Garden. This district is known for beautiful graffitied walls in this neighbourhood. The only problem is this place is that it was a bit hard to find. Google Maps address is apparently not the accurate one and you have to walk around to find the muraled walls.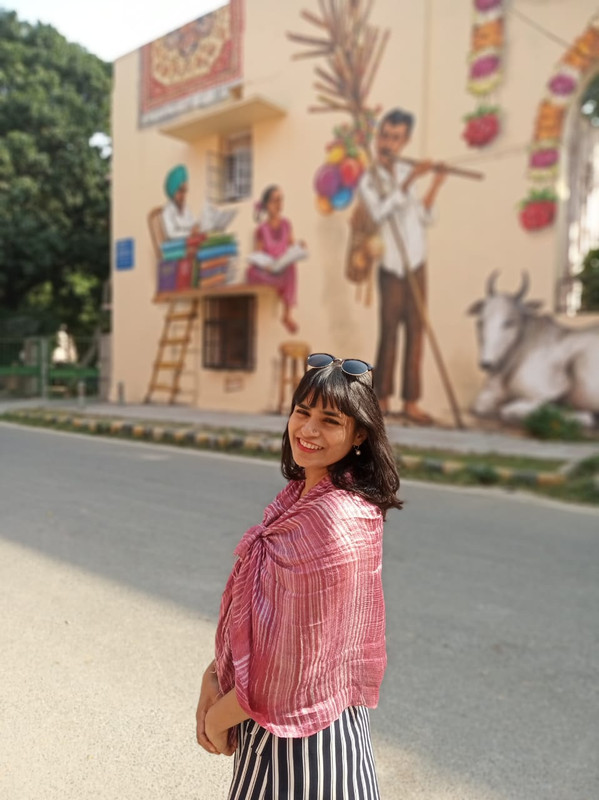 What to be aware of while travelling in New Delhi
Auto rickshaws or cabs are notorious for overcharging tourists. Use a cab booking app such as Ola or Uber. Ola is widely used in India so it gives you more coverage on smaller cities like Agra & Jaipur as well. 
There are several hop on hop off tours in Delhi. You can easily book them online. These tours are a good way to get a first impression of the city.
---
You Might be Interested in: How to Travel Safely in India 
---
Travelling in Agra
How many days you need in Agra
1 – 1 ½ days. MAX!
There's not much to see and experience in Agra, besides Taj Mahal, obviously! 
I had read this advice in several blogs but chose to ignore it. I was overly optimistic and naively thought that we could enjoy a few more days exploring the city. Le sigh…I stand corrected!
What to do in Agra
If you start from New Delhi in the early morning, you will reach Agra by afternoon. Since you will have half a day to kill you can start by heading over to Mehtab Bagh. Here you can take lovely photos with Taj looking all majestic in the background. 
When we visited Mehtab Bagh, the garden itself was poorly maintained. Puddles of muddy water dried up plants, and litter lined up the landscape. 
Nevertheless, it has an unobstructed view of the Taj!
If you are lucky to be there on a clear day, you can get some amazing shots of Taj Mahal.
The next morning it's finally time to visit the Taj Mahal.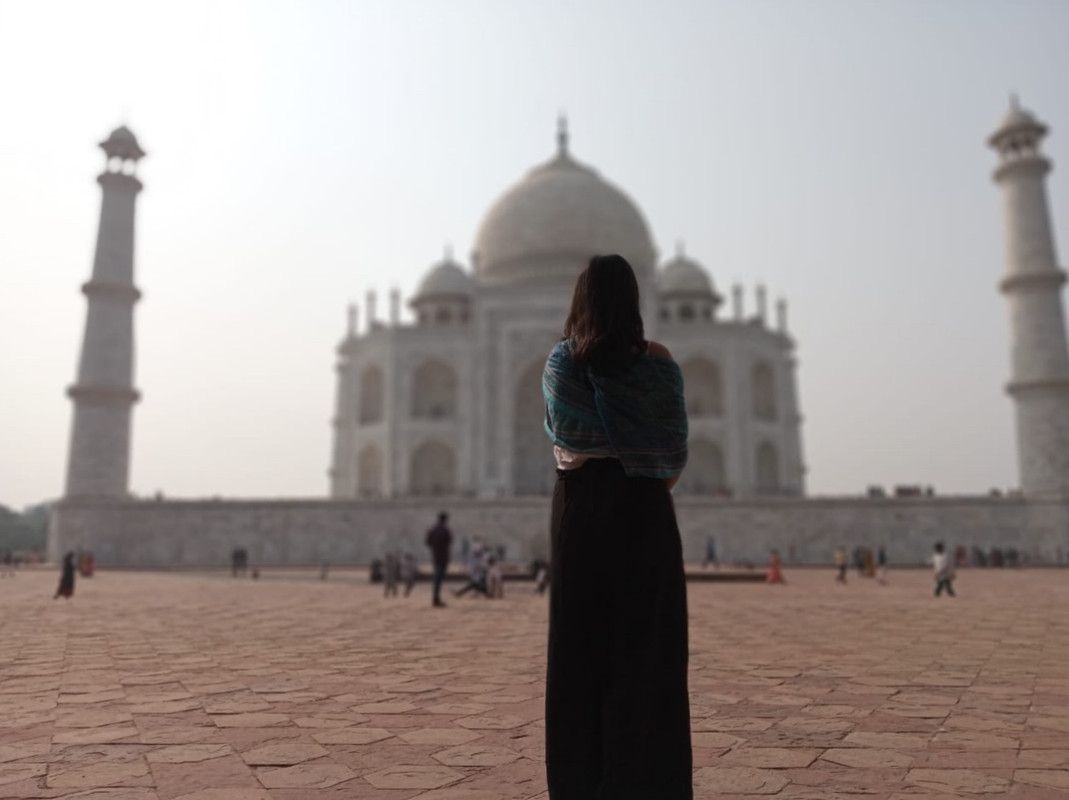 Many people recommend visiting Taj in the early morning. And that's true. Taj is lovely in the morning sun and it is much less crowded in the mornings. 
If your goal is to get some Instagram worthy photos, then kick yourself out of bed at 5 am and head out. 😉 
However, you can still enjoy the Taj during peak hours. Since I'm not a morning person (even to see the Taj Mahal with no crowd), we went around noon and it was still a pleasant visit. 
Foreign tourists' queues are generally short at Indian tourist destinations. If you're lucky you will get through it very fast. We got through the ticket office and security in about 5 minutes!
We also didn't find Taj Mahal any more crowded than other popular Golden Triangle sights like Qutub Minar, India Gate or Hawa Mahal. 
Besides, the Taj Mahal complex is HUGE! The crowd is thinly distributed throughout so you can get around without constantly brushing up against others. 
Note that nowadays visitors are allowed only 3 hours inside Taj Mahal Complex. If you stay longer than the time on your ticket you will end up re-paying the entire entry fee. 
Once you're out of Taj Mahal, head over to Agra Fort. It is another touristy destination you can visit, but only if you have time. There is not much you are going to miss out on. Since we had time, we went there. It was…okay!  But nothing wow-worthy.

You can also see the Taj Mahal from Agra Fort. When we went there, the pollution in Agra was so bad that this massive structure was not even visible.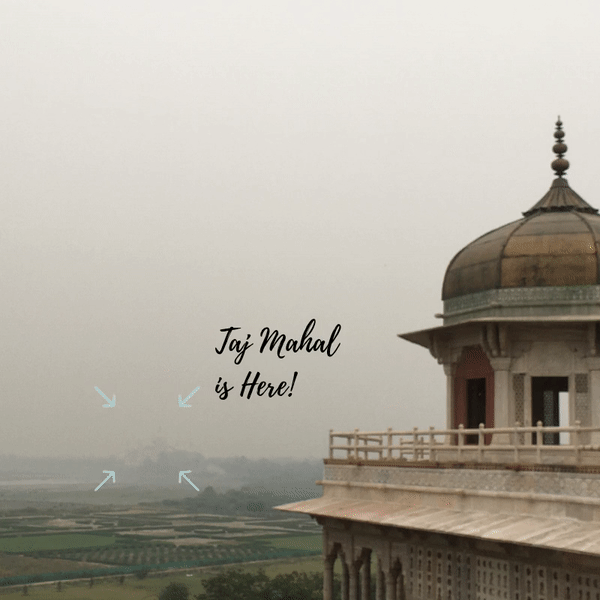 If you still have time to kill, then book a day trip to Fatehpur Sikri. It is an abandoned Mughal era city about 50 kms from Agra.
What to eat in Agra
Mughal Cuisine!
Agra was a major city of the Mughal empire. The food especially, lamb and chicken dishes, were the key highlights for me. We ate at our hotel and also went out to a couple of restaurants at the eastern gate near the Taj Mahal.
Where to stay in Agra
I would highly recommend staying within 1- 2 km radius of the Taj Mahal.
You will be close to restaurants, cafes, shops, ATMs and to the Taj itself. Look for the hotels near East Gate of The Taj Mahal. You will save yourself a lot of hassle!  
We stayed about 3 kms away from the Taj Mahal. Besides the small street where our hotel was located, the entire area was very unsightly. It even lacks proper walkways. We found ourselves walking on the roadside.
Insider tips for travelling in Agra
As with New Delhi, Ola is your best friend in Agra for getting around the city. 
The eastern gate has the shortest queues for Taj Mahal. We went in the noon expecting a looooong queue. To our surprise, there was NO waiting time. 
You can take a small handbag in Taj Mahal. Avoid taking any backpacks and unnecessary equipment. The official website of the Taj Mahal also has a list of dos and don'ts.
What to be aware of while travelling in Agra
Don't book more than one and a half days for Agra.
The problem with Agra is not that there are not enough places to see. The issue is that the city is so poorly maintained that you don't experience these otherwise lovely sights in their full glory. 
Agra is quite an unappealing city lacking even the basic infrastructure. I found this extremely sad considering it is home to one of the most recognisable buildings in the world. 
We naively booked three days for Agra. Shortly after arriving we realised one or a half-day would have just done the trick. Still, we tried to make the most of it.
---
You May Also Like: Safety Tips For Women Travelling in India 
---
Travelling in Jaipur
How many days you need in Jaipur
Two to three days suffice for a Jaipur trip.
What to do in Jaipur
Depending on when you arrive and where you're staying, you can hop on an auto rickshaw (or a cab to avoid breathing in the polluted air) and take a little trip to the Pink City. This is best done during the daytime or twilight because then you can experience the real pinkness and hustle bustle of Jaipur! 🙂 
If you still have some time left to go to some of the main tourist attractions in the city. Jantar Mantar or Hawa Mahal.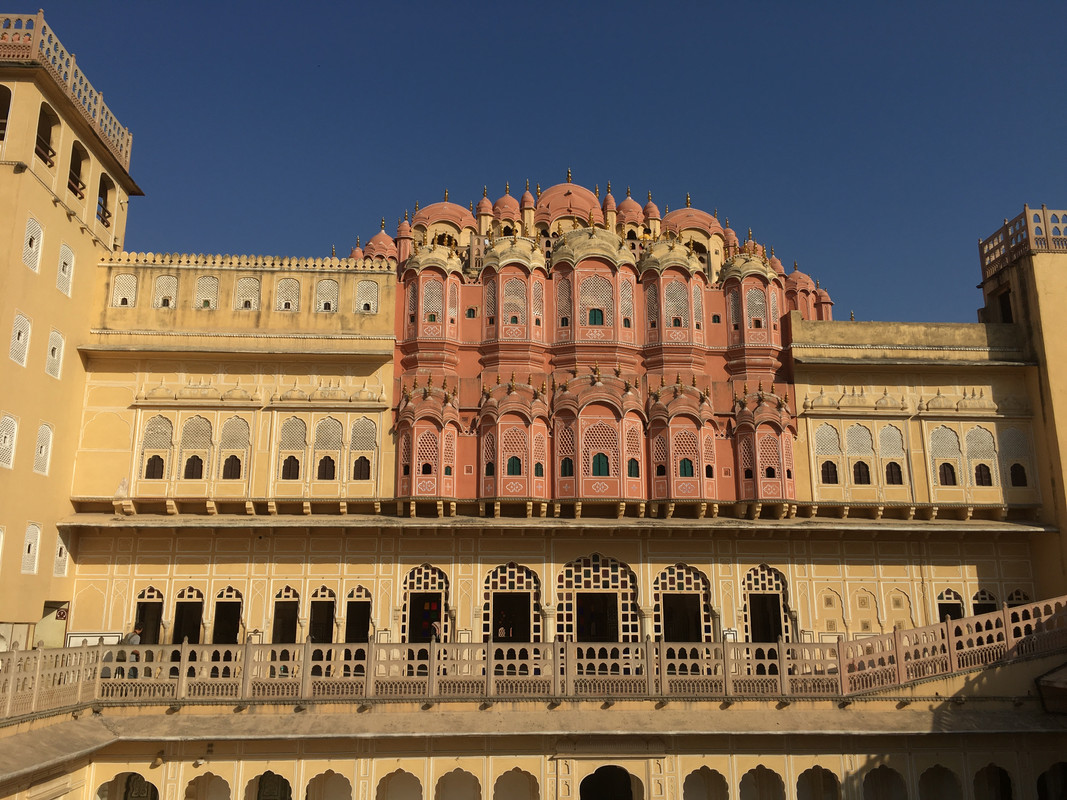 On the next day, take a leisurely drive up to the Amer (Amber) Fort. On the way up, ask your driver to take you to the stepwell (known as Panna Menna ku Kund in the local lingo).
You can easily spend 3-4 hours in Amer Fort. Here you will find the famous Sheesh Mahal (mirror palace), Ganesh Gate and some great views of the Aravali mountain range. 
On the drive down stop at the Jal Mahal (Water Palace).
Visitors are not allowed in this palace, however, the view from the promenade is lovely. There is a cute little street market where you can shop for trinkets and souvenirs. The only downside is you probably get hounded by sellers throughout the walk.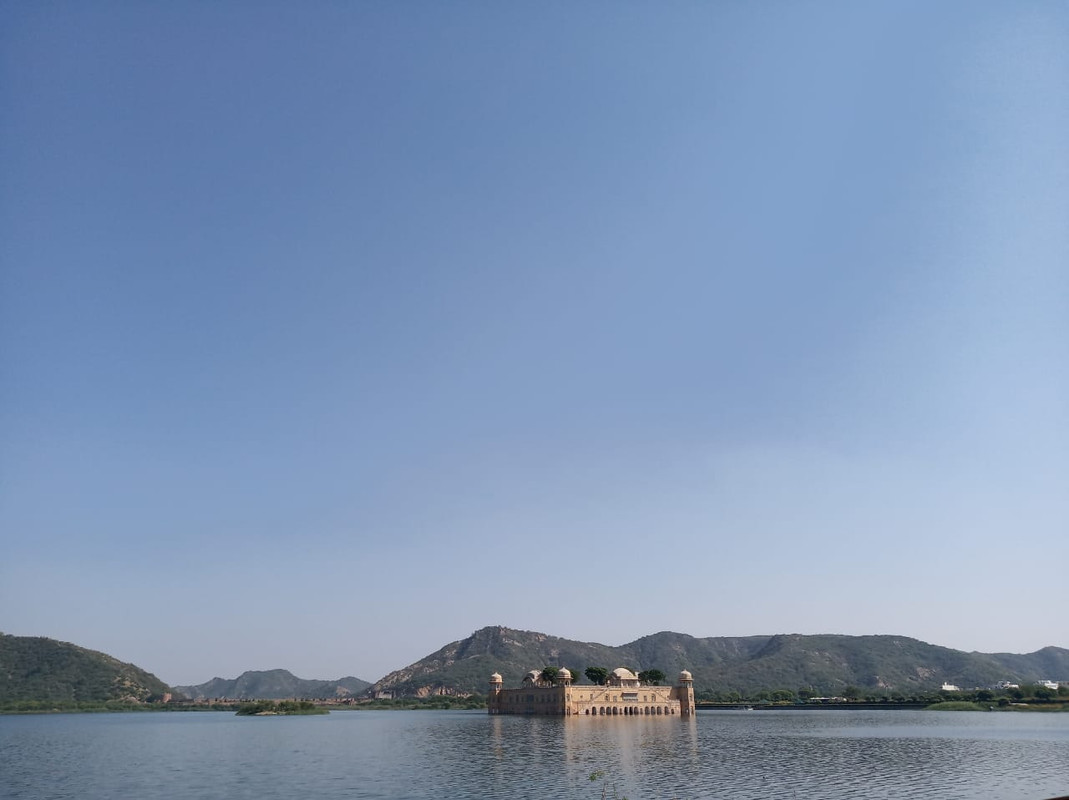 You can cover at least two forts Nahargarh & Jaighar in one afternoon.
Nahargarh is a run-down fort. There is not much to see but it offers fantastic views of the city. This is exactly what most visitors seem to do when there. Jaigarh Fort seems to have more to offer from a historical point of view but I found Amer Fort to be the best of the three. 

What to eat in Jaipur
Dhal Bhaati Churma & Laal Maas (very spicy!) are typical regional food from Rajasthan.
Since there are too many regional dishes to try, go to a place where they serve a 'thali' (palette). This way you would be able to try many local dishes in just one human-sized portion. 
Authentic Rajasthani food is either very spicy or very sweet!
But I found that staff at most restaurants ask guests about the level of spiciness. If you like to live dangerously you can always request them to make it 'Indian spicy'!
Where to stay in Jaipur
Find a place outside but close to the Pink City. Pink City is extremely crowded and loud. It seems like traffic never stops there. 
We stayed about 4-5 kms away in an upscale neighbourhood called Gopalbari. It is a residential area but has a number of 3-4 star hotels with several restaurants and cafes. We were able to safely walk to eat out every evening.
Insider tips for travelling in Jaipur
Go to one of the cafes overlooking Hawa Mahal. Drink a masala chai or a beer and watch Jaipur's chaotic traffic pass by. 

What to be aware of while travelling in Jaipur
Same as New Delhi and Agra you should use Ola- both for safety and avoid getting scammed. 
If your hotel offers you a cab for the entire day to take you around Jaipur attractions- decline their offer. They are ripping you off!
If you are really interested in their offer, then ask them clearly what it includes and what exactly do they offer. Better still demand them to give you a receipt in writing to make sure everyone knows the exact amount to be paid.
Our hotel offered us a seemingly decent deal for a day cab, but soon it turned into a cash grab as they sent a guide along (which we neither asked for nor were informed about). 
Even though we repeatedly told them we do not want a guide they kept insisting it was a part of the deal. At the end of the day, you are expected to tip these guys. You don't have to but yeah just something to keep in mind. 
Don't visit any Elephant Village or Sanctuary in Jaipur.
Your cab drivers will push you to visit these places (amongst several others). Unless you want to contribute to animal abuse and part with your money in the process – Stay firm and say no.
These places charge ludicrous amounts of money and NONE of it goes towards the benefit of the animals. 
While we are at this – resist the urge to ride the elephants. I know elephant rides in Rajasthan seem to be a very popular touristic activity. Many tourists come here in hopes of experiencing that.
However, these poor animals are not properly taken care of and are kept in dismal conditions. Your expensive ride money does not go towards any benefits for these elephants. 
So here is my 10-day Golden Triangle itinerary covering all major attractions in New Delhi, Jaipur and Agra. Including a couple of shopping and local exploration days!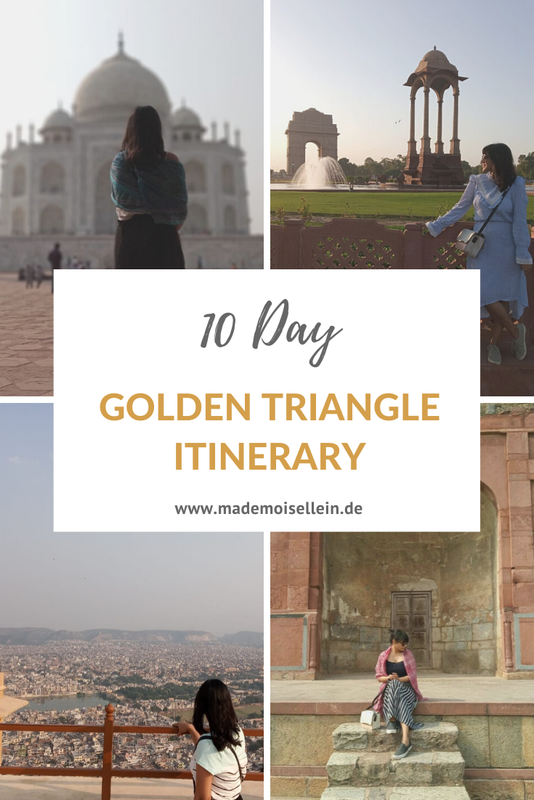 How many days you really need to explore the famous Golden Triangle of India. Have you travelled to this part of India? What is your ideal Golden Triangle itinerary? Tell us in the comments below.