7 Exciting Things to Do in Capri Island
Top Takeaways From This Post
Last updated on May 13th, 2021 at 03:05 pm
Planning a holiday in Capri or just looking for things to do in Capri island in Italy? Read this article to learn how to get there, where to stay and all you could do to have a fantastic island holiday in Italy.
This holiday in Capri was part of our longer holiday in the Campania region of southern Italy. After spending some days exploring Amalfi coast we decided to go island hopping in Capri. After all, it is one of the most beautiful islands in the region.
Capri is situated a few kilometres off the Sorrento peninsula in the Campania region. Day trips to the island are a very popular day trip for visitors to Sorrento and the Amalfi Coast. We decided to spend a few nights there as we were really looking for some proper time off!
Read further to learn more about all the things to do in Capri during your holiday on this surreal island.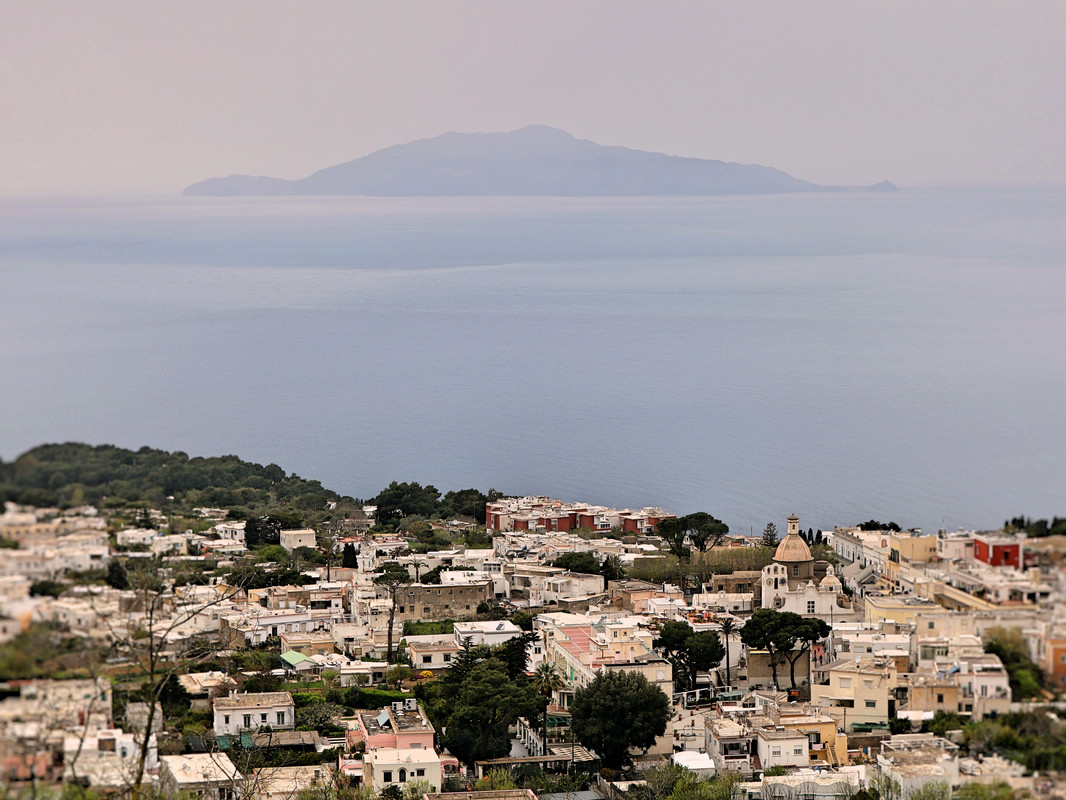 ---
This blog post may include affiliate links. These links do not cost you anything but I might earn a small commission if you decide to order something from one of my recommended partners. Thank you for your support to help keep this platform growing!
---
2021 UPDATE:
Please click here to learn about the latest travel restrictions for travelling to Italy.
Read this page to learn about the requirements to enter Germany from abroad.
1) How to Get to Capri Island
A short ferry ride from Sorrento took us to this stunning little island.
Ferries to Capri leave from both Amalfi and Sorrento (the shortest and most popular ferry route, around 20 minutes), and also from Naples (the longest of the ferry routes available, around 45 minutes). Check out the latest ferry prices and schedule here.
You will arrive in Capri by ferry into the port of Marina Grande, on the northeast coast of the island. As you approach and get your first view of the colourful houses overlooking the harbour filled with small fishing boats and the mountain behind you to get your first hint of how beautiful Capri is going to be.
If you are travelling to Italy from Germany, check out the direct flights to Naples here (for under €150/ per person.)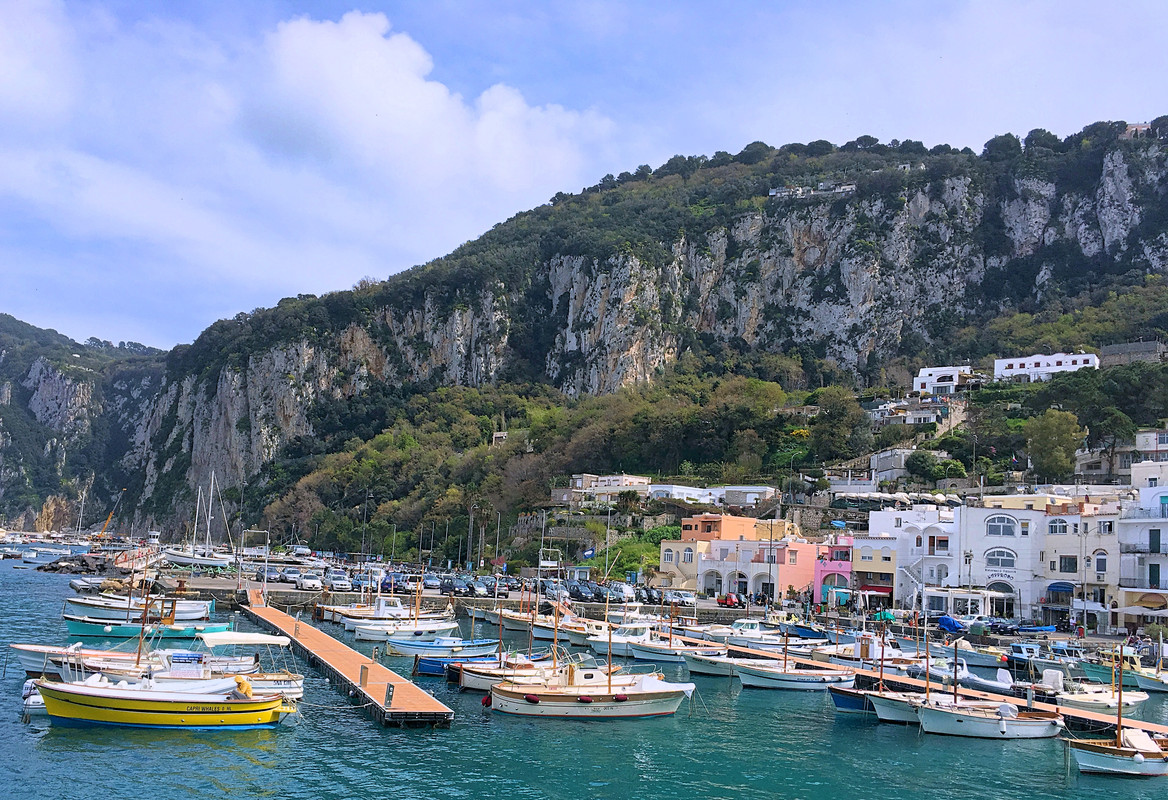 2) Where to Stay in Capri
We choose to stay in the non-touristy part of the island called Anacapri. It wasn't quite as crowded with daily visitors to the main port of the island.
During peak seasons, nearly 15 thousand visitors come to Capri every day on ferries from the mainland. But they only spend time in Capri town with its well-known sites like the Piazzetta, Marina Piccola and the famous shopping streets.
Anacapri is like this another hidden world just a short bus or taxi ride away on the other side of the island. It is much more spread out and residential. We saw a lot of old-timers running around on the port side when we arrived. Since the weather was great that day, we decided to hire a Cabrio old-timer taxi to reach our rental apartment in Anacapri.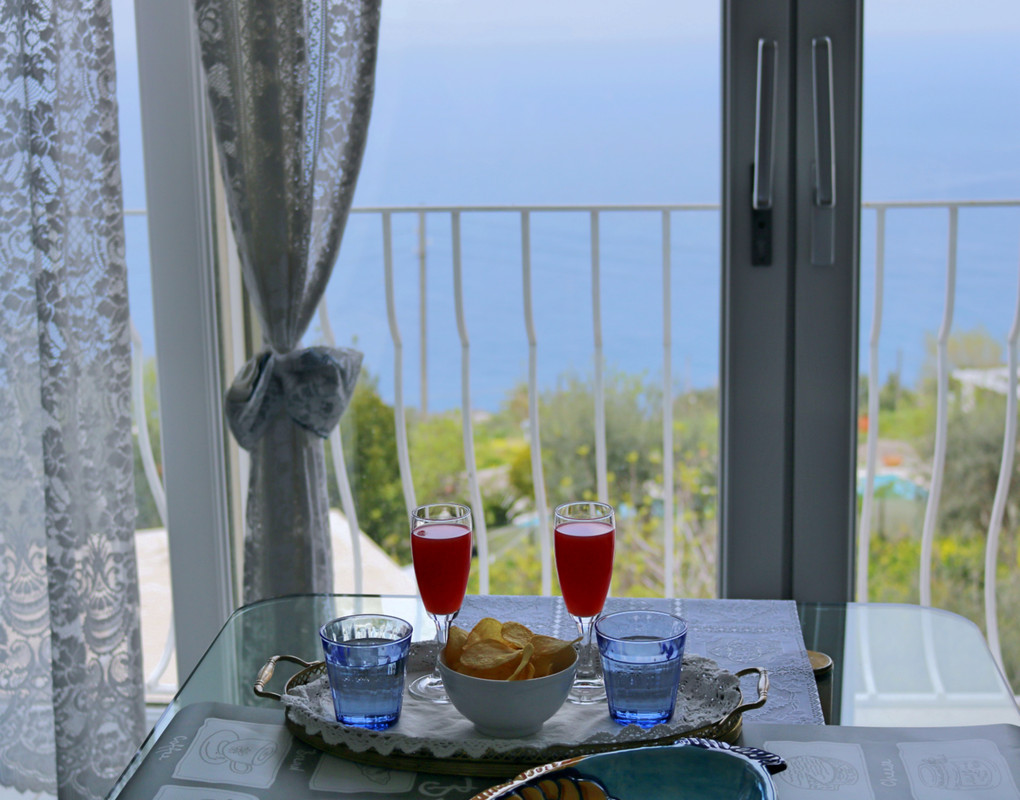 Of course, when you go to an island, why miss a chance to have the view of the sea – so we decided to stay at a rental very close to the sea. It was a bit pricey but totally worth it!
This is a family-owned and run holiday apartment and our hosts (two brothers) were absolutely delightful and guest-oriented. We were welcomed with a typical Italian aperitif when we checked in.
I really cannot praise them enough. They offer a pick-up and drop off service at a meeting point because the drive to their rental apartment is quite hard for non-locals. We got some great tips for local restaurants and sightseeing. Every morning a yummy breakfast was delivered to our room. The host brothers really took very good care of us.
If you are looking for a relaxing holiday in Capri, then you will not regret staying in this holiday rental.
TripAdvisor has a vast collection of privately hosted holiday apartments in Capri.
Click here to find a lovely holiday home in Capri (starting from under €80 per night)
3) Why Should You Stay in Anacapri
Anacapri is located at a much higher altitude than Capri itself. It is a more residential than touristy part of the island. Although one could say that it is less interesting than Capri town, I found it to be very peaceful and calming. Just the perfect place to completely unwind and forget about the rest of the world.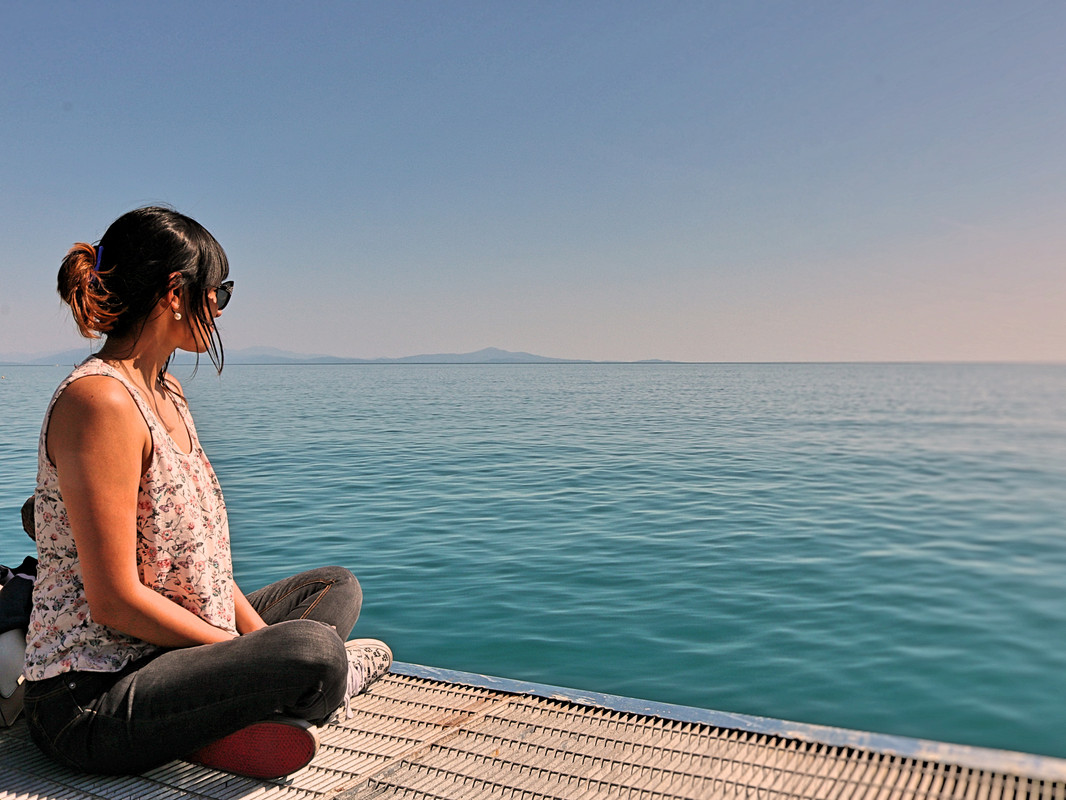 Here we felt as if we had the entire island to ourselves. We were able to walk around everywhere since this side of the island is small. There are miles of wild hiking trails and walking paths on this side of the island.
Anacapri retains the same architecture of picturesque small whitewashed houses and is very pleasant to explore.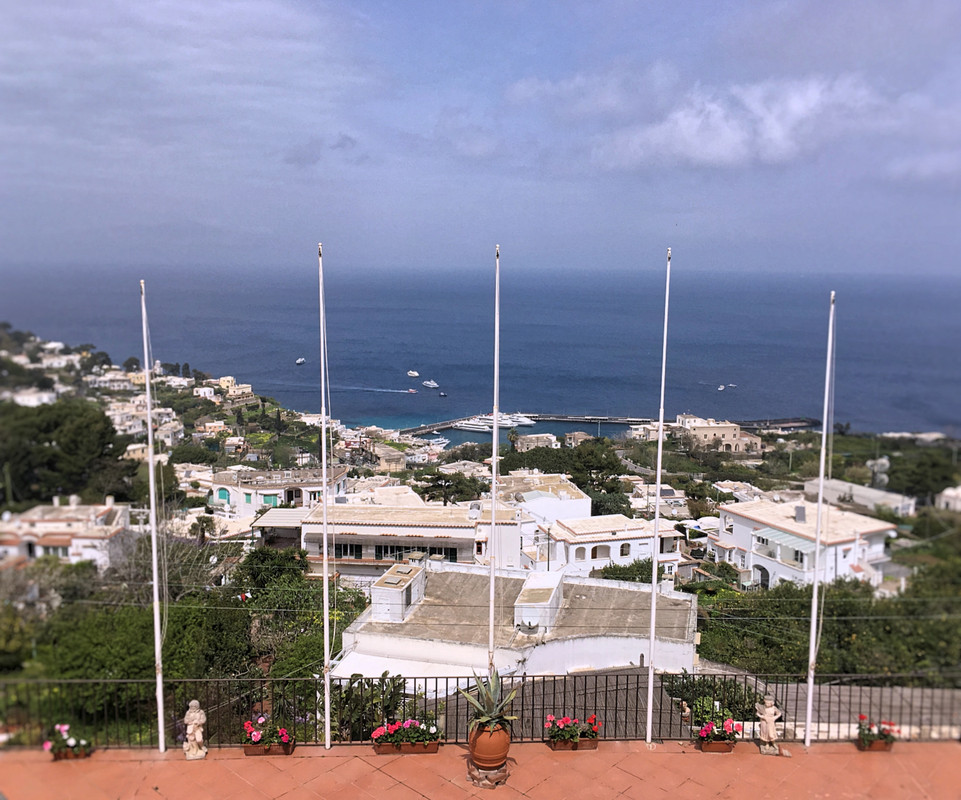 4) Essential Things To Do in Capri
4.1) Enjoy nature walks at Capri's hiking trails
The Pizzolungo which is a series of steps, wooded trail and a paved path will take you through an ancient forest grotto, past the modern architectural marvel of the Casa Malaparte to a breathtaking view of the sea and the Faraglioni.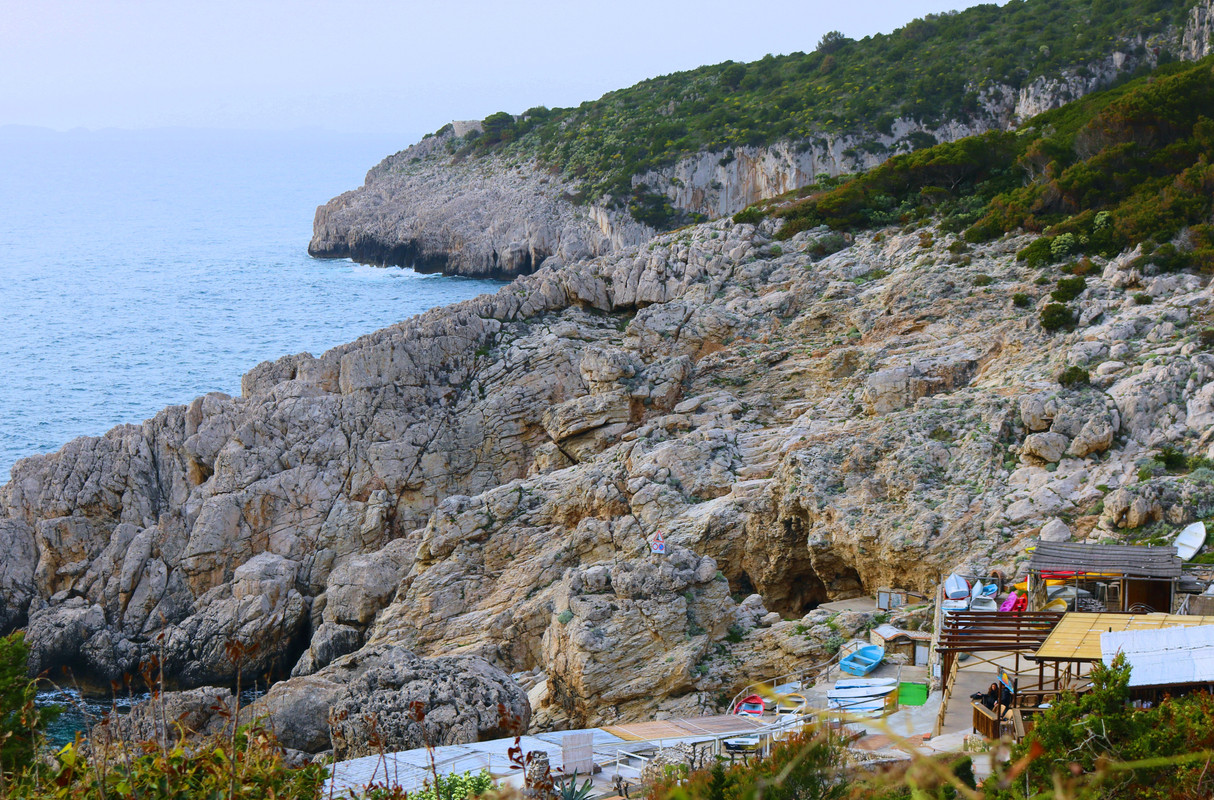 4.2) Indulge yourself with gelato during your walks
We got ourselves some famous Italian Gelato and were on our way to walk around the island. If you have been to Italy before then you know they tea their ice cream game very seriously. You are spoilt for choice, and Capri is well known for its chocolate products for some reason. So make sure you check those out.
4.3) Watch the sunset at one of its many viewpoints
If you feel like you have had too much of that Gelato and no workout, then you can climb the 921 Phoenician stone steps that link Anacapri to the Marina Grande. Another perfect way to explore Anacapri is the 'Path of the Little Forts', which you can time to end with a sunset.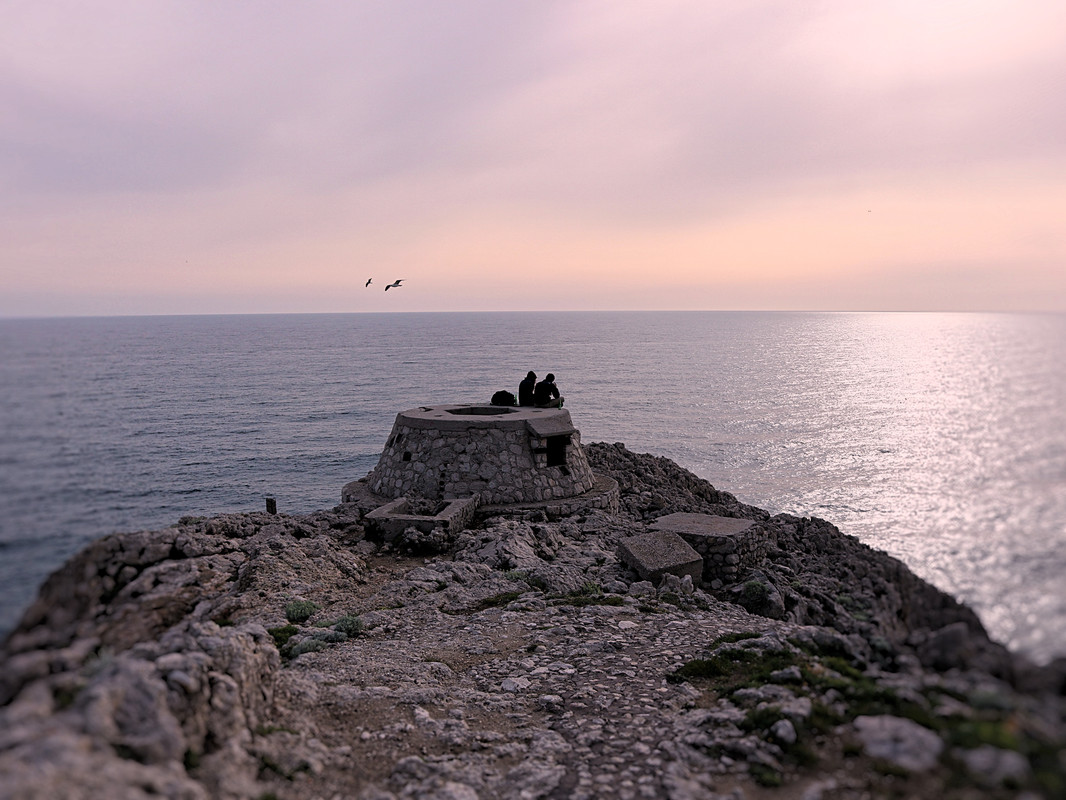 You can't just have a holiday in Capri and not spend some time watching the sun go down with a cocktail.
Punta Carena Lighthouse is the best spot to watch the sunset in Anacapri with some nice Prosecco. Since we stayed just a few kilometres away and love to walk around, we decided to stroll there. When we got there, only a couple of shacks were open at the beach but it was enough for us to sit and have a couple of cocktails while watching the gorgeous sunset.
You can take the bus to Anacapri, and then another bus to Faro to get there. Make sure you leave quickly after the sun sets otherwise there is a very long line for the bus back to town!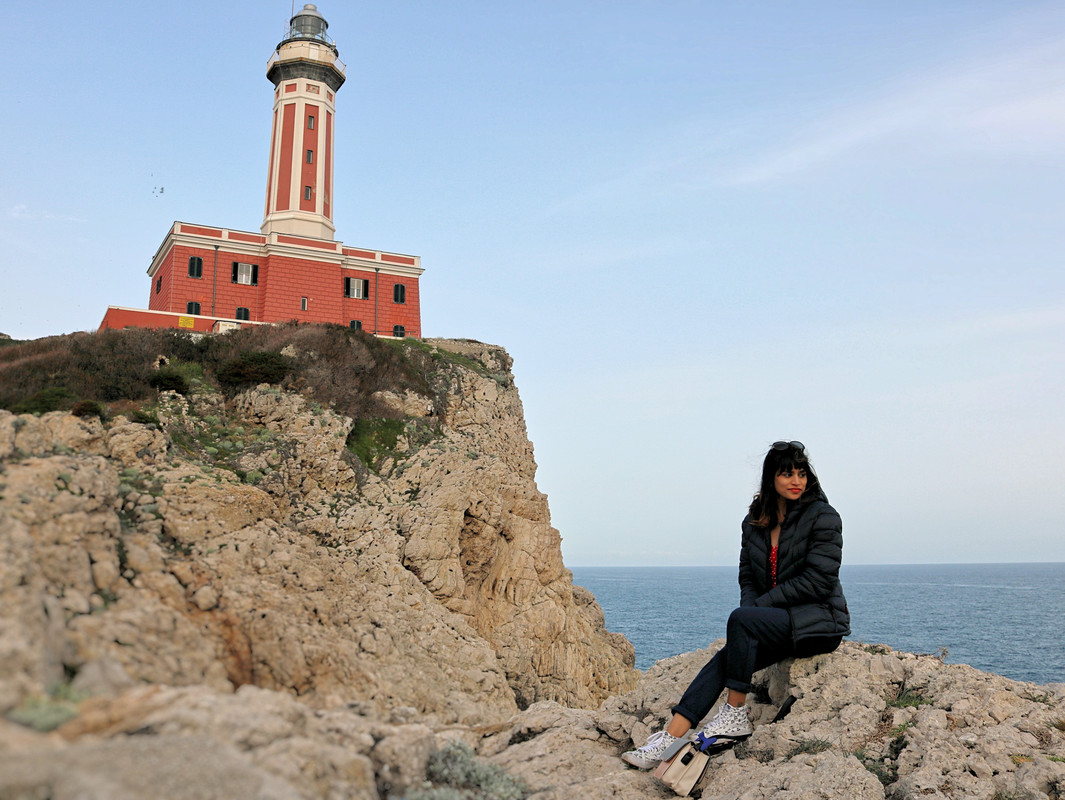 4.4) Get some 360-degree views from Monte Solaro
Now, do you want to experience Capri's most beautiful panorama? Well, you need to visit Monte Solaro – the highest point on Capri. Since I love heights and panoramic views, this turned out to be one of my favourite things to do in Capri.
At 589 metres above sea level, Monte Solaro is the highest and most panoramic point on the island. The terrace on Monte Solaro is one of the most popular and stunning places to visit for a bird's-eye views of the coast of Capri.
The easiest way to get to Monte Solaro is by chairlift from Anacapri city centre
with a really peaceful and serene ascent and descent.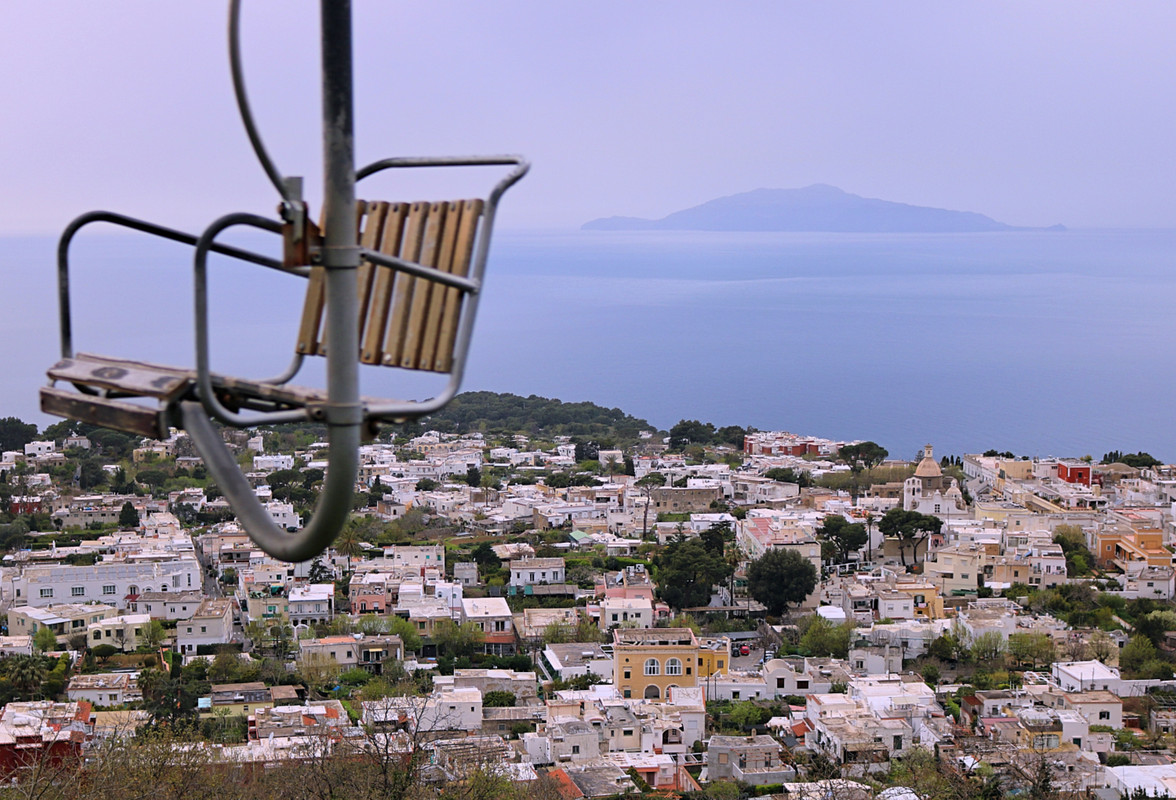 Once you reach the peak, you can relax with a drink on the rocking chairs at the La Canzone del Cielo café or simply stroll along the scenic overlook and take lots of pictures.
You can see the whitewashed houses which cover the hillsides of Capri Town, the Faraglioni lying off the coast and the Bay of Naples and the islands of Ischia and Procida. There is also a ruined 18th-century fort, the Fortino di Bruto.
4.5) Get low in the Blue Grotto
A visit to Blue Grotto is one of the essential things to do in Capri. The Blue Grotto has been bewitching visitors since the time of the Roman empire. The extraordinary optical effects are created by the sunlight bouncing on the cave walls which produces water that is an electric blue that seems to glow. Be ready to transfer into a smaller rowboat at the entrance and to lie flat on the boat to fit into the cave entrance depending on weather conditions.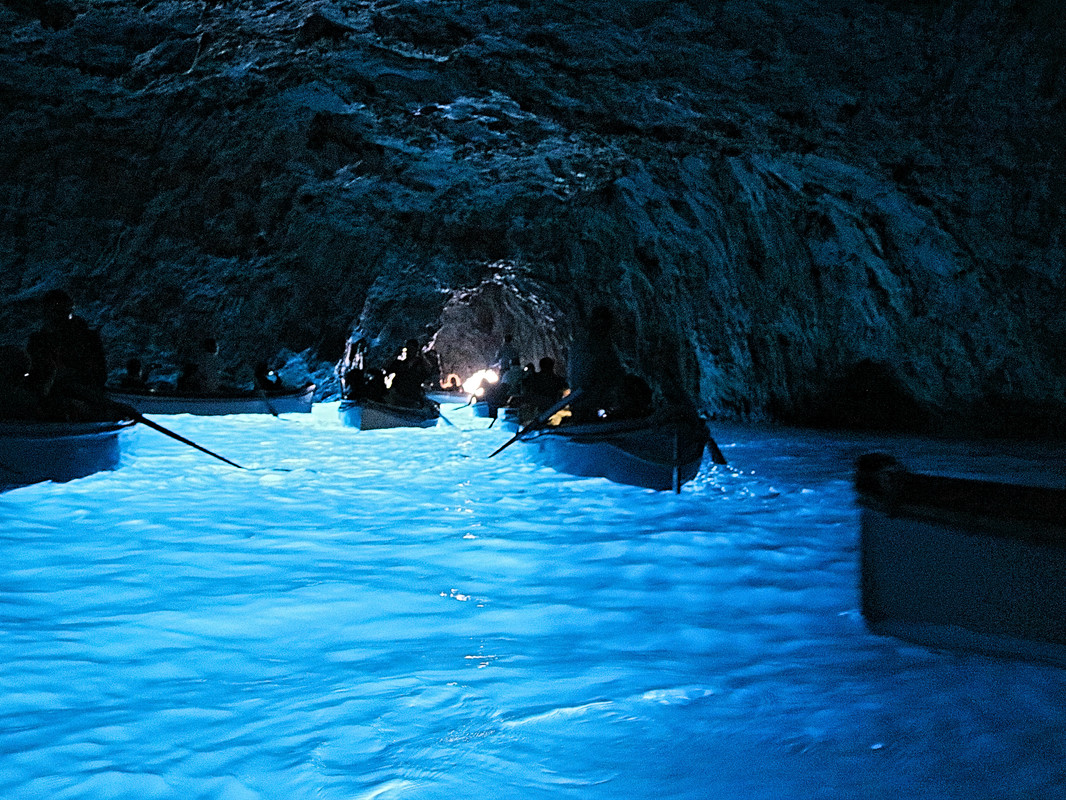 4.6) Treat yourself with a boat tour
If the weather permits, don't leave Capri without getting exploring the island with a boat. With a boat tour, you'll be able to see the island from all its angles. Tour operators in Capri offer private, semi-private and group boat tours.
Obviously, private boat tours are quite something out of this world but also cost more.
Click here to explore some Capri Island boat tours (starting from as little as €15)
4.7) Pet the local stray kitties
A note for cat lovers – Capri is full of sweet friendly stray kitties that are more than happy to get some pets and chin scritches. I don't know about you, but I just cannot resist petting a cat when I see one!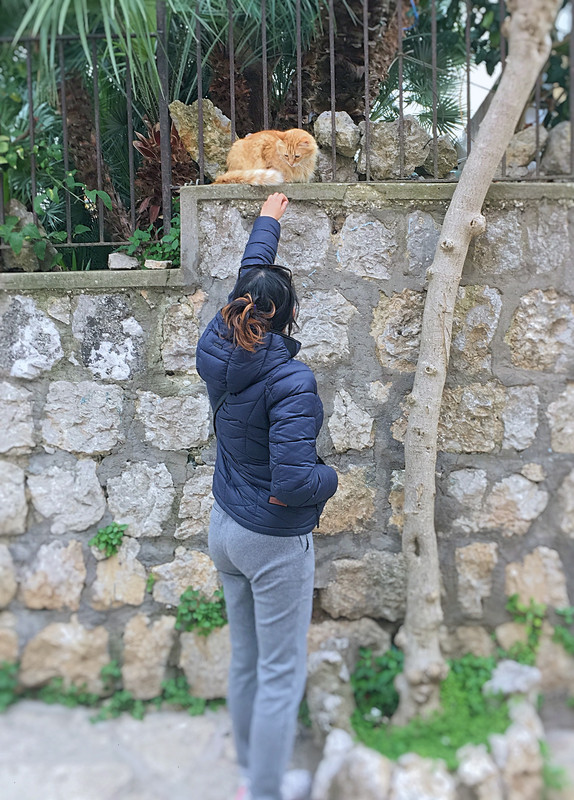 At one point I followed a couple of kitties in an alley only to end up in the backyard of a sweet Italian granny. A funny conversation ensued which only consisted of 'Gatto' and a lot of smiles.
You are guaranteed to run to cats multiple times a day in Capri streets. You may as well wanna carry some dry cat food with you and turn yourself in a Pied Piper of Capri.
5) How Much Should You Budget for Capri
So apparently Capri has a reputation for being a celebrity favourite and therefore being quite pricey. I did not notice this during or stay there. We did not run into Beyonce or Lenny Kravitz, but then I was too busy petting cats anyway. 😉
Jokes apart, we didn't find our holiday in Capri anymore expensive or cheaper than in any other Italian tourist spot. The food and drink for two nearly cost the same as anywhere in Italy or even Germany. These were the restaurants in the city centre or at the beachside shacks. All recommended by our Airbnb hosts as well.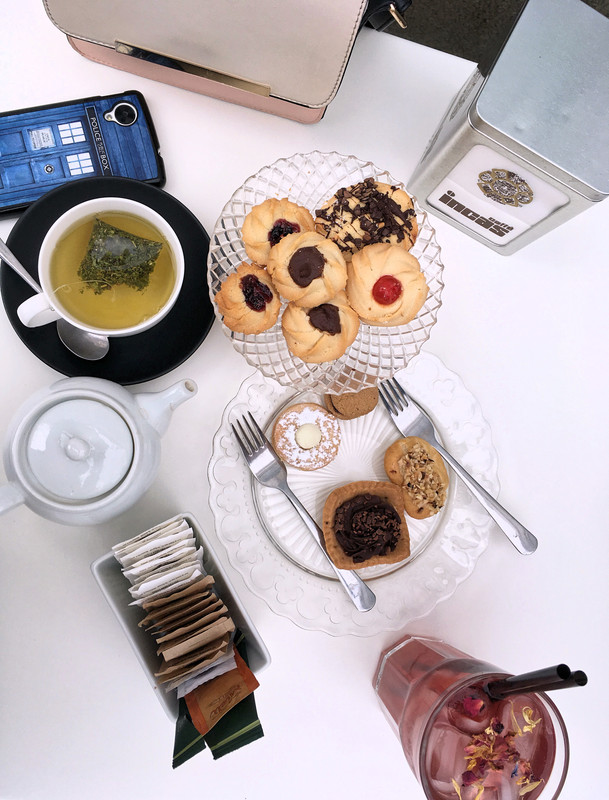 Besides the tickets costs for Blue Grotto and Monte Solaro and our Airbnb (which we found quite reasonable considering we got many services inclusive!), we found Capri to be a very reasonably priced tourist destination.
Here's a rough estimate of how much you can expect to spend per person during a holiday in Capri:
Round trip high-speed ferry ticket: EUR 35
Funicular ticket: EUR 1.80
Group boat tour of the island: EUR 17
Blue Grotto entrance ticket: EUR 14
Chairlift ticket to Mount Solaro: EUR 10
Entrance ticket to Villa San Michele: EUR 7
Lunch in a restaurant: from EUR 20
Dinner in a city centre restaurant: from EUR 25
Espresso/ Coffee in the Piazzetta: EUR 5
Cocktail at a beach shack: From EUR 5
Gelato: EUR 1.50 – EUR 3
Hotel or Holiday Home: from EUR 80 onwards per night
If you go to Capri during the off-season time as we did, you may find it not too different from other places in the region.
---
Want to find more about other destinations in this beautiful region?
Read this post to learn how to plan a ten-day trip to Campania including a road trip to Amalfi Coast, a day trip to Mount Vesuvius and Pompeii and city trips to Naples and Rome.
---
So here were some of my suggestions for things to do in Capri or how to plan a trip to Capri. Have you been to this wonderfully beautiful island? Tell us your tips to spend a holiday in Capri in the comments below.