Things to do in Carcassonne and Toulouse: Holiday in South France
Last updated on July 6th, 2020 at 02:35 pm
2018 was the year of road trips for us. After an Italy road trip in spring, we went on a couple of smaller trips in Germany and finally in fall we had a long road trip holiday in South France. It is my favourite vacation ever to date. Read my tips on how to plan a  holiday in South France and cover beach, city, historical town and a safari in one trip!
Carcassonne might be a familiar name for board gamers. In fact, my fiancé and I went there because of our love for this game! It is just a bonus that this fortified city is so gorgeous that it feels surreal. 
When I was researching to plan this trip I read some reviews that Carcassonne is hours away from anything worthwhile, so visitors get stranded here with more time than they need. But actually that is inaccurate and even a bit unfair.
Carcassonne is actually a great base for a long holiday because – 
It is surrounded by four nature reserves (one of which includes an

African safari park

!)

It is just about an hour train journey away from big cities like Toulouse and Montpellier

It is about an hour car ride away from the beach towns and resorts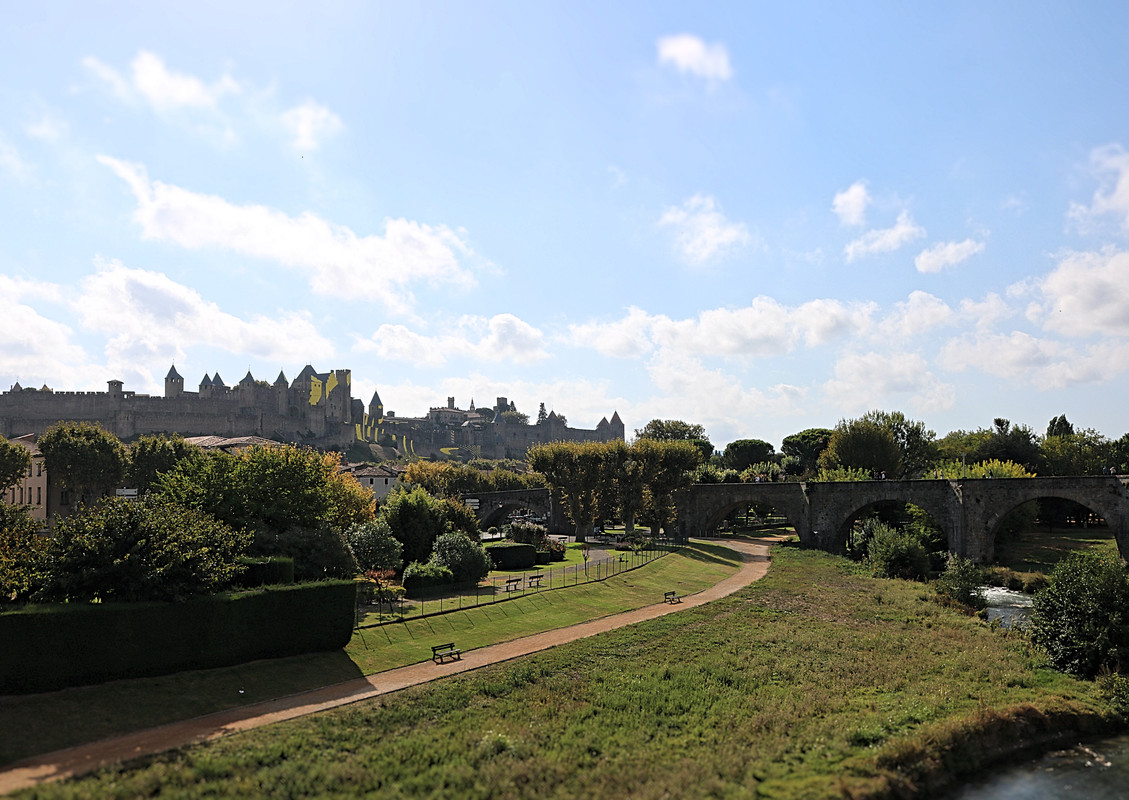 We planned our holiday with Carcassonne as the base and were able to experience all of the above in a 10-day long vacation. We covered three cities during this trip – Toulouse, Carcassonne and La Grande-Motte including a day trip to Réserve Africaine de Sigean. 
If you are looking for inspiration or ideas for a holiday in South France this year then go ahead and read this post. I will cover each destination one by one.
---
This blog posts may include affiliate links. These affiliate links do not cost you anything but we might earn a small commission if you decide to order something from one of our recommended partners. Thank you for your support to help keep this platform growing!
---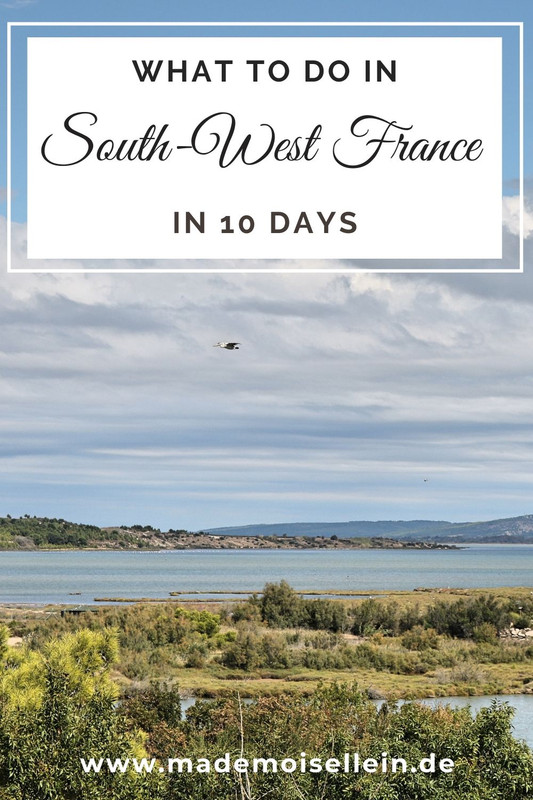 Carcassonne Travel Guide 
Carcassonne is a great destination for castles and medieval era nerds. 
It is a hilltop town in southern France's Languedoc area, and famous for its medieval citadel, La Cité, with numerous watchtowers and double-walled fortifications. These walls were built in Gallo-Roman times, with major additions made in the 13th and 14th centuries.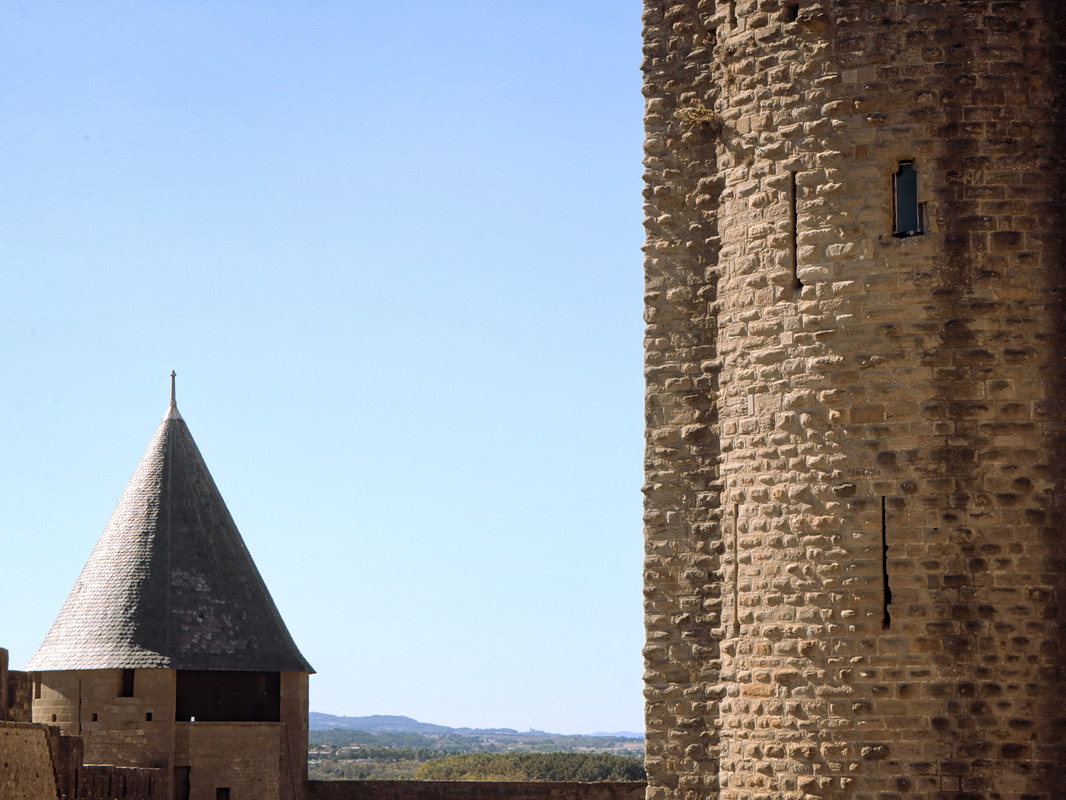 How to reach Carcassonne
You can fly to Toulouse and then take a train to Carcassonne. The city also has a small airport for domestic flights. We rented a car from Toulouse airport since we wanted to take a couple of day trips from Carcassonne to nearby nature reserves. 
Click here to find out the best car rental offers from SIXT from Toulouse Airport.
Where to stay in Carcassonne
Carcassonne is quite a popular tourist city in this region, so there is no shortage of hotels and holiday homes in the area. If you feel fancy, there is a luxury hotel and spa inside the medieval fortress itself. 
As for us, we rented an Airbnb in the middle of the city centre. It was a well located and equipped studio apartment close to La Cité, a number of restaurants, and basically everything. Our Airbnb host was quite friendly and spoke English as well. 
Find a hotel or a holiday apartment in Carcassonne here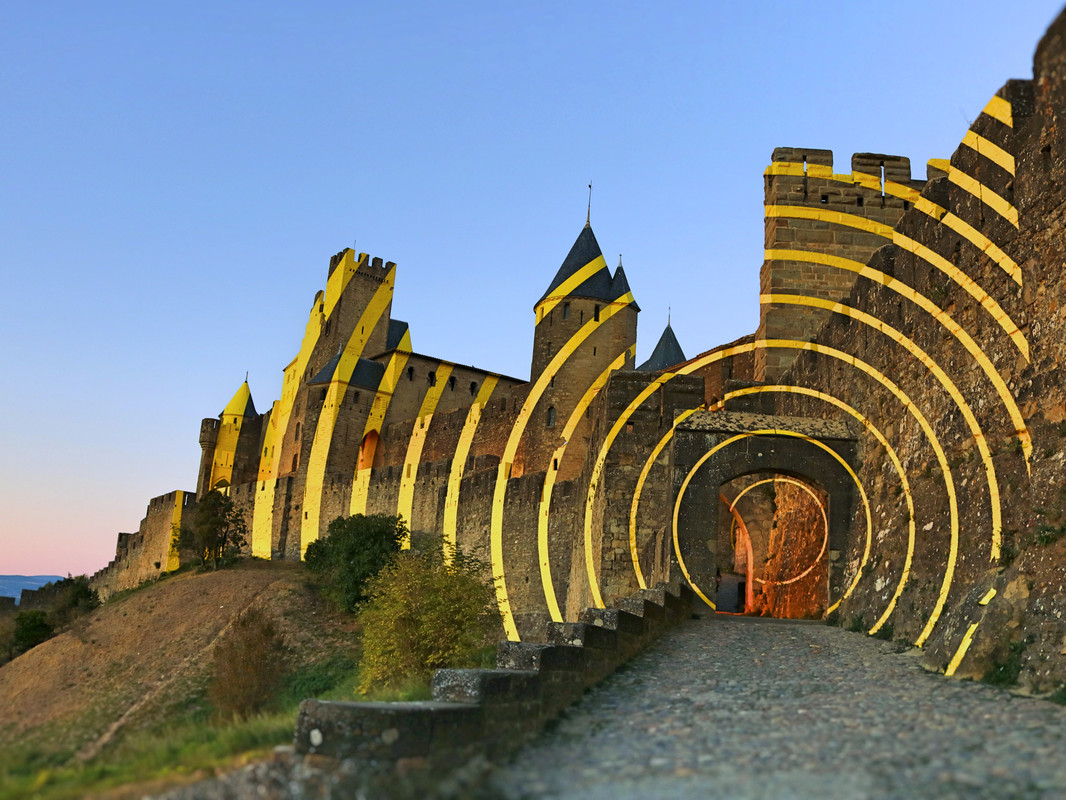 What to do in Carcassonne
Explore La Cité 
Want to experience a picture-perfect medieval castle or simply love time travel? Then La Cité is a must-visit. I mean this is probably the only reason to visit Carcassonne, right?! 
La Cité is easily walkable for anyone who doesn't mind a bit of a hike uphill. Be prepared to walk a lot and take your time to explore the city. Wandering through its several hundred years old cobbled streets feels like stepping back in time. 
You can enter La Cité from two gates: Porte Narbonnaise and Porte de l'Aude
The insides of the city really look like it was taken out of a history book or a fairy tale. It is well worth a leisurely stroll to appreciate some of the most remarkably intact old fortifications. You are instantly brought back in time.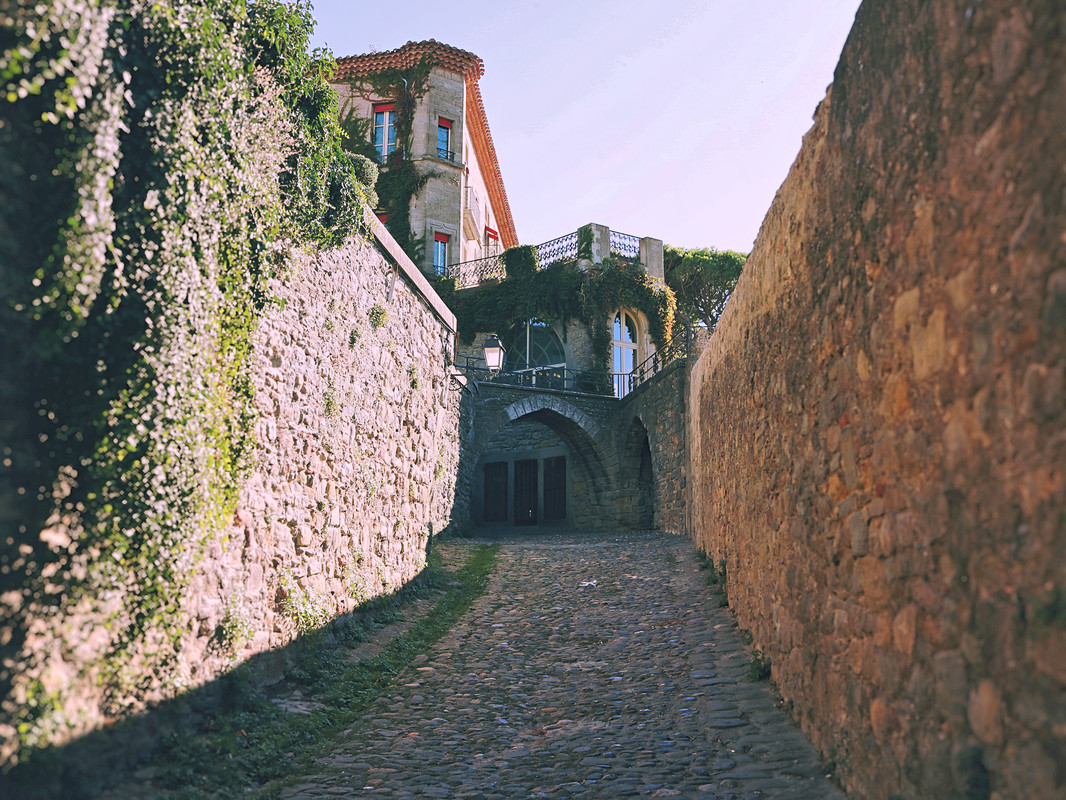 There are many cute little cafes, restaurants, gelaterias and shops within the walled city. We stopped every now and then just to enjoy French bakery, sweets, ice cream or the world-famous foie gras with a nice red wine. I mean you gotta replenish all those lost calories after all! 😉 
We were there in early October but it still felt quite vibrant with activity without feeling too packed. 
We spent three nights in Carcassonne. On the first day, we explored the two sets of walls and the old city.  The next day we toured the inner castle and fortress (Château Comtal).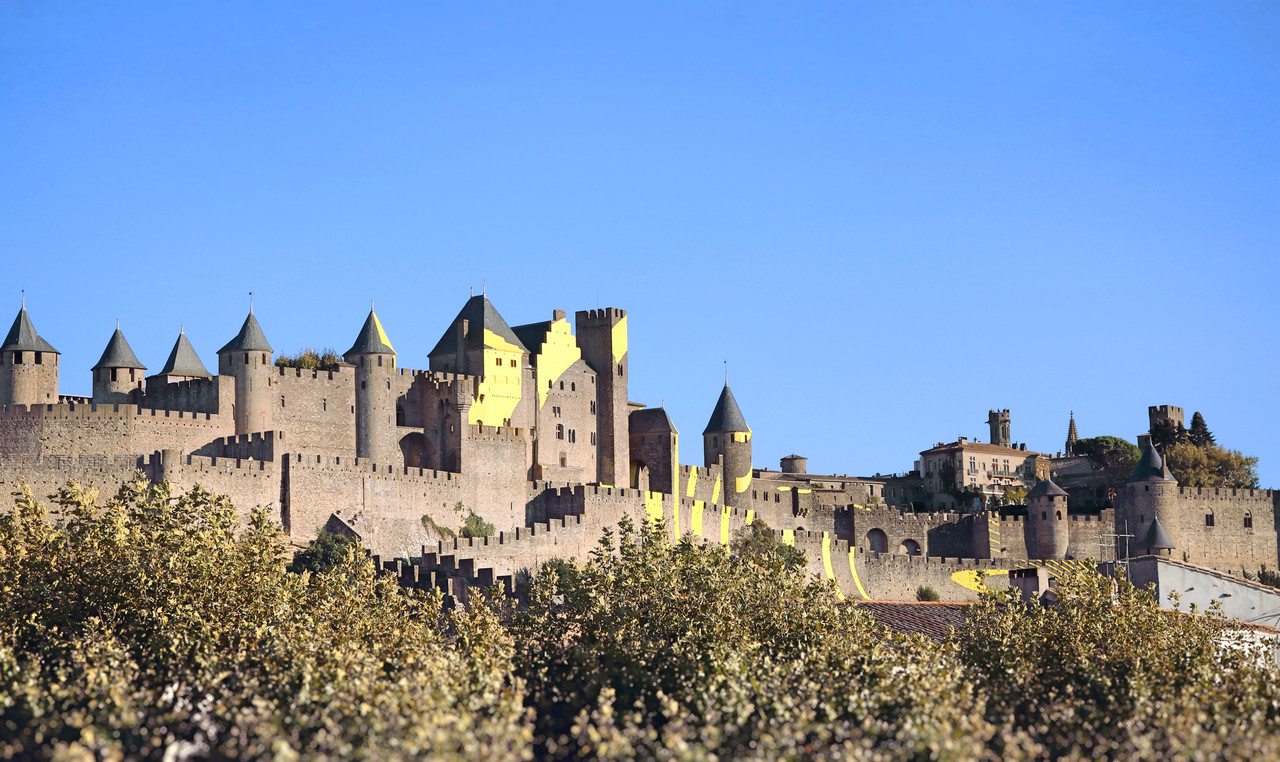 Château Comtal
La Cité itself is a lovely place to walk around and have a quality day out. But if you decide to go to the inner castle (Château Comtal) your experience will be even richer. It is well worth a few euros.
Château Comtal, the 12th-century castle within La Cité is spectacular and really big. It showcases archaeological exhibits and a tour of the inner ramparts.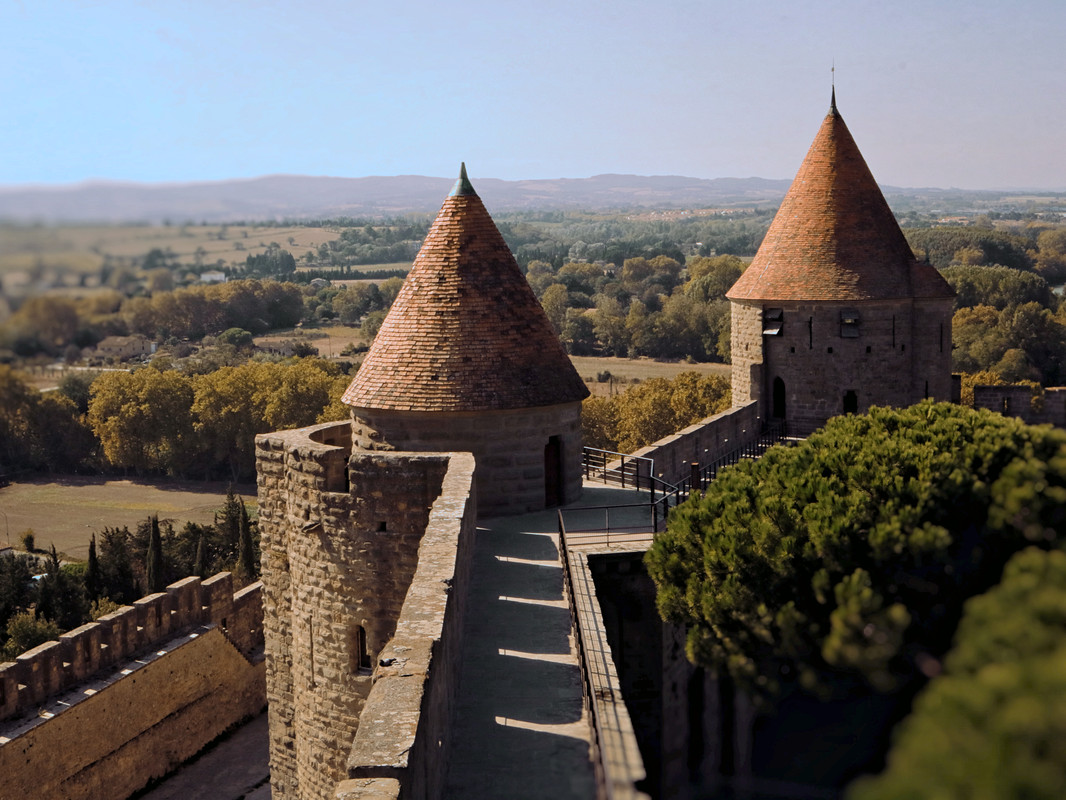 You can buy an audio guide for a self-guided tour that explains the history of each part of the castle. Take your time for this one. The inner walls are absolutely beautiful and the views of Carcassonne are astounding. I felt like a kid on an adventure walking along the walls and ramparts. Easily worth every penny.
Pro Tip: Make sure to wear proper shoes when you visit Château Comtal and La Cité. If you love your ankles then heels are a no-no. The trail leading up the castle, and the stairs further up are rugged and kinda slippery. Proper footwear, water, a sunhat if it's a summer day, a camera and you are golden.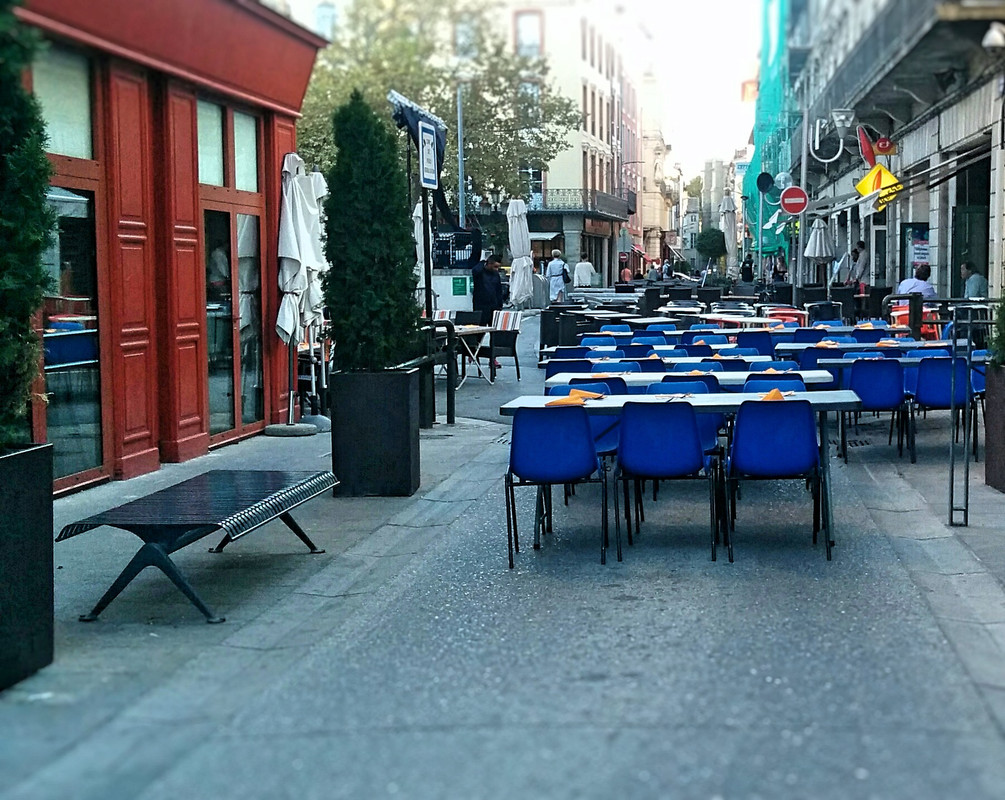 What to eat in Carcassonne 
For such a small-sized city, there are tons of cute restaurants, cafes and bars in Carcassonne. We took the opportunity to eat out in both La Cite and in Carcassonne city. 
Duck confit (Confit de canard) is quite a well known local delicacy with a rich history. Cassoulet is a rich, slow-cooked casserole with meat and white beans native to this region. 
Anytime you are in France you should take the opportunity to try Foie Gras. It is a super fatty paste typically served with crispy toast and marmalade. Whenever we are in France, we always have it at least once during our visit. This holiday we must have had Foie Gras every time we dined. The downside is that it is quite an expensive dish. On the upside it is calorie-dense, so it fills up your tummy really quick.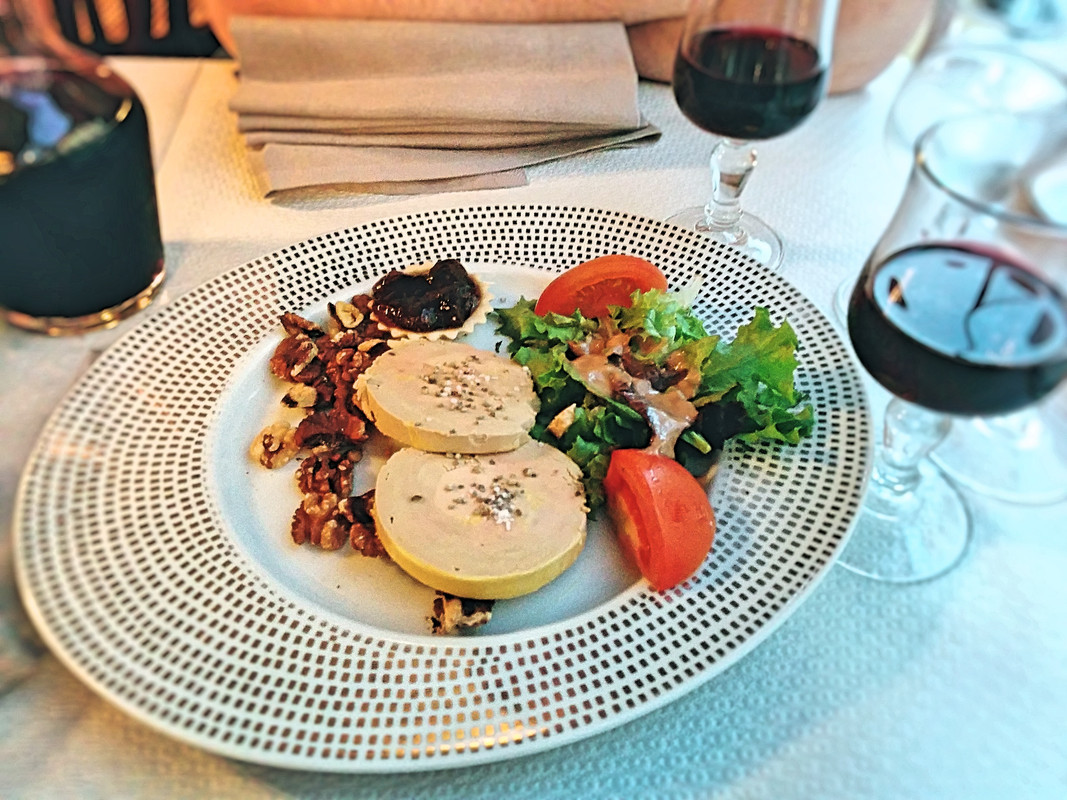 Pro Tip: Comptoir Ludique is a must-visit board game cafe in Carcassonne. They have a huge variety of table games that you can buy or rent while you have a drink or snack. We accidentally discovered this cafe while wandering in the streets. Of course, we went in and sat down for a session of Carcassonne board game with a side of tea. What a little treasure trove! 
Réserve Africaine de Sigean Guide
We drove to Réserve Africaine de Sigean as a day trip from Carcassonne. It's only an hour drive from there.
Honestly, we didn't know a thing about this park so we went there expecting nothing. It turned out to be one of the most surreal days of this trip.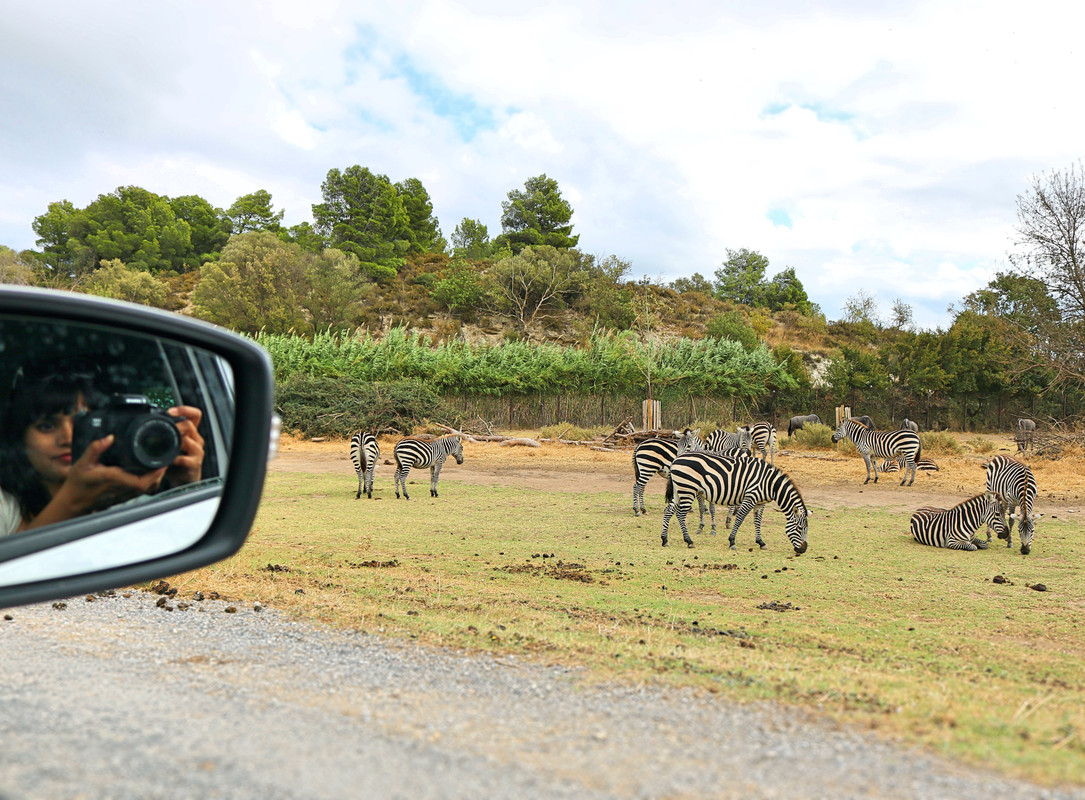 I mean, who goes on holiday to France and expects to be wowed by an African safari? The safari is actually only a part of the whole setting. There is an open zoo including a petting zoo at the end of the whole experience. 
Be warned though. This place is HUGE! 
The visit to the Réserve Africaine de Sigean is covered by your own car first for about one hour, and then on foot for about two and a half hours. Both parts – car safari and the walking circuits are wonderful. 
You start a 7,5 km car safari from African bush segment where you will come across Red Buffalos, Impalas, Zebras, Springboks, Ostriches, Giraffes. Then you enter the Asiatic black bears' park and finally the lions' park. Final destination in the safari is three African savannah parks where all White Rhinoceros, Sitatungas, Cape Elands, Zebras, Somali Wild Ass live in wide-open spaces.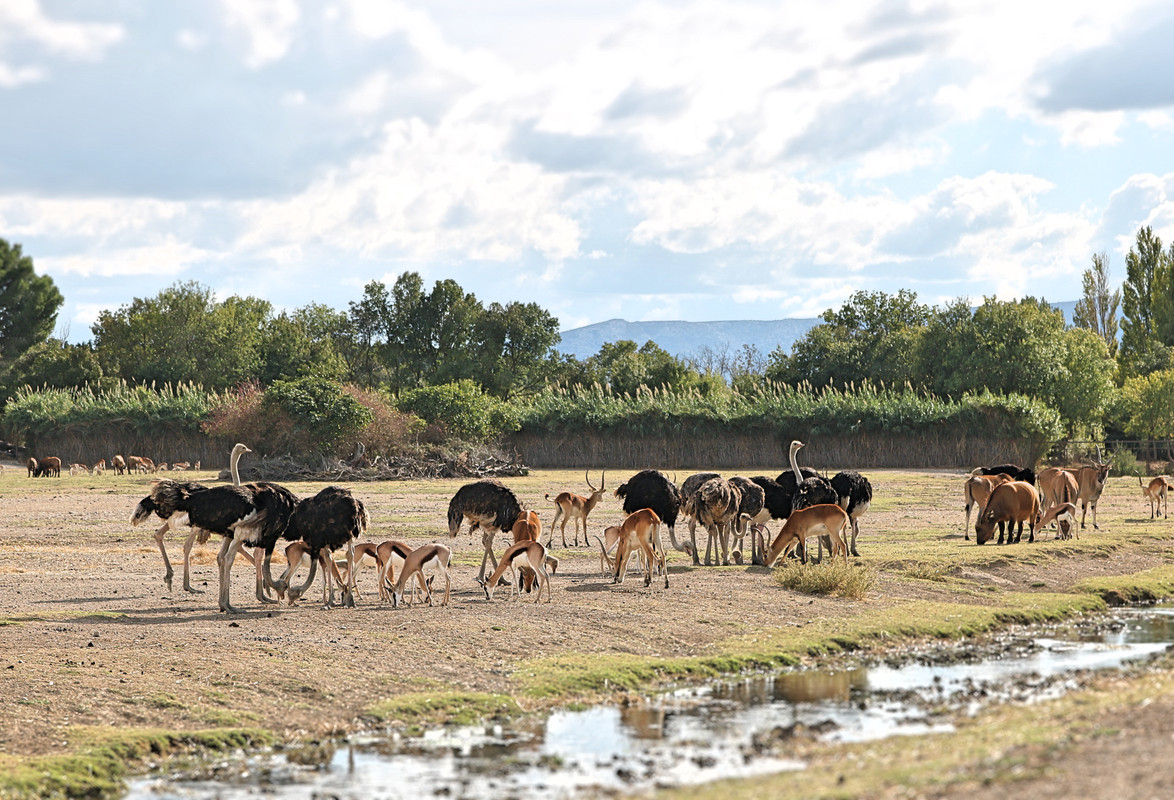 Honestly, I had never seen an Emu so up close, they really walk up to the cars for inspection. 
You end the safari at the car parks. There are a couple of restaurants and picnic areas next to it. This is an ideal opportunity to take a short break since on foot circuit is over two hours long and also has some uphill stretches.
You start the zoo tour on foot alongside the salt-lakes where flamingos, Pink-backed Pelicans and White Storks usually chill. There's also a vivarium that is home to the alligators, turtles and other reptiles. 
The location of this zoo next to a salt lake and the garrigue evoke the feel of a real African landscape where the most animals originate from. The natural bays and hills give this place an open, natural feeling.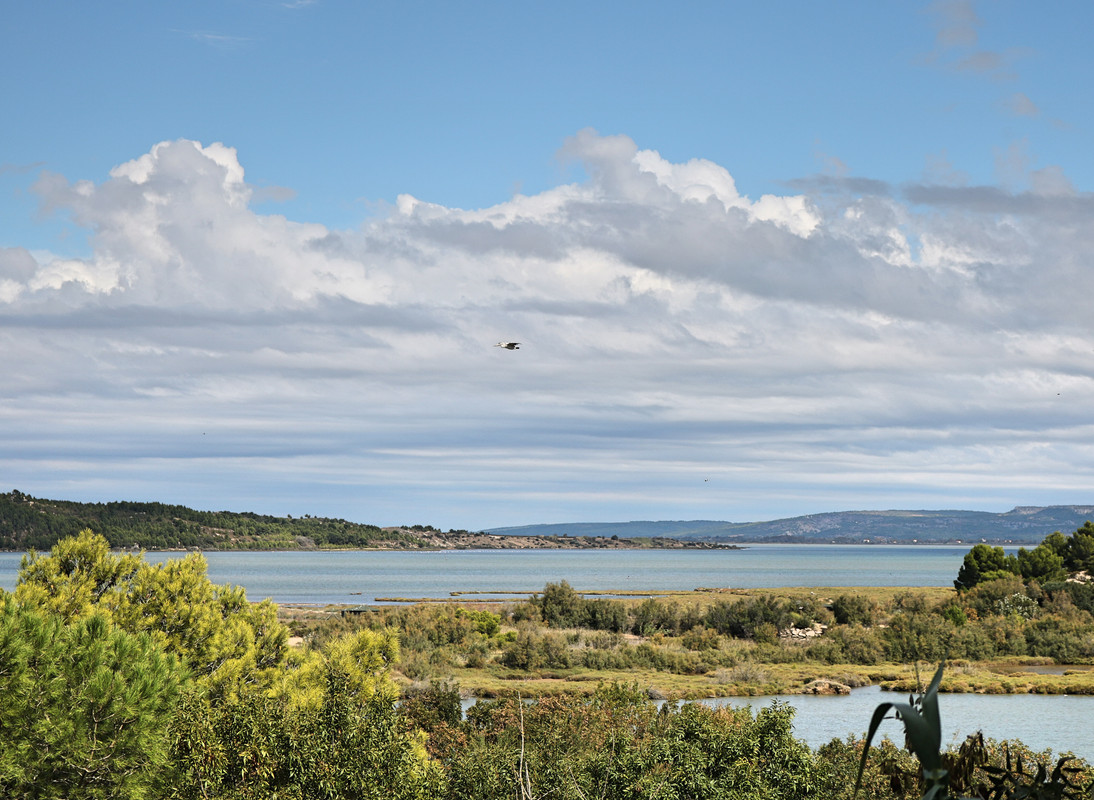 All in all, Réserve Africaine has done a marvellous job with the conservation of wild animals. This 'zoo'' sprawls over 300-hectare and is home to some 3,800 animals. The enclosures are basically enormous fields that give a huge amount of space for the animals to wander. Some animals even share space with the others and seem much happier than I've seen in traditional zoos. 
You will need 3-4 hours minimum to visit the whole park, so you might as well plan the entire day to fully enjoy the place! There are many picnic areas in the park so you can also bring some snacks and drinks with you.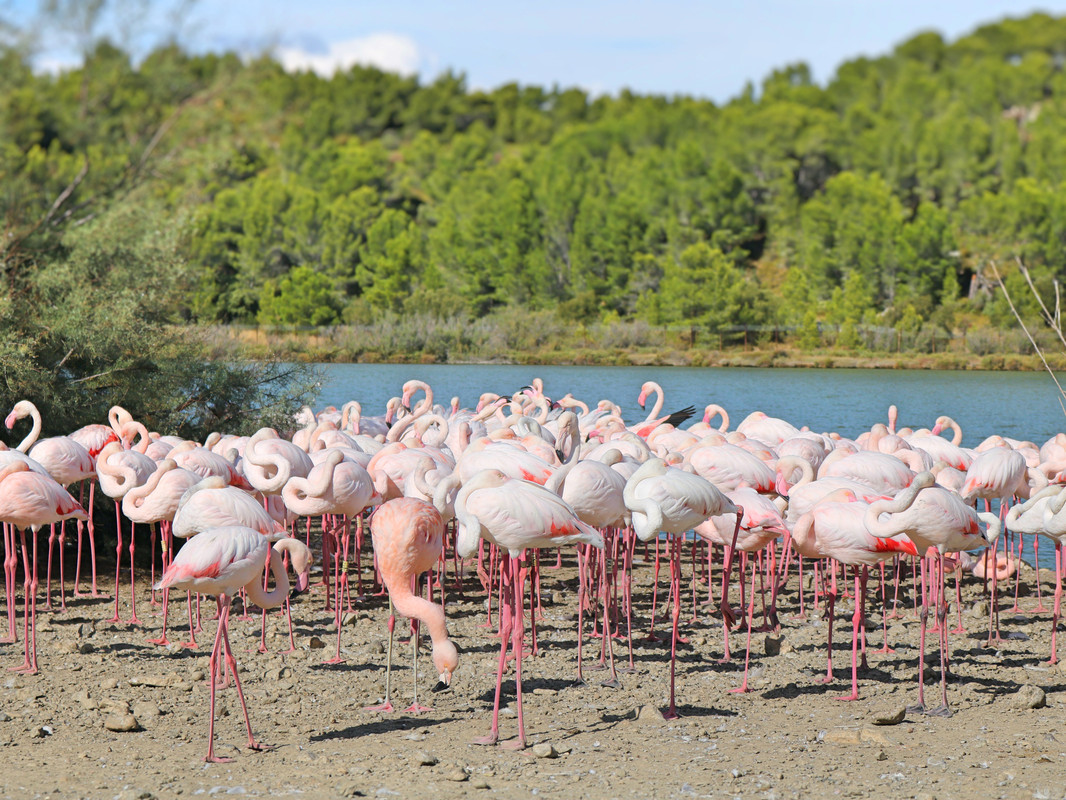 La Grande-Motte

Travel Guide
One of the best things about a holiday in South France is that you can discover a new beach resort every 20 miles or so. La Grande-Motte is one such Mediterranean beachside resort.
It was developed into a tourist destination in the 1960s and 70s and receives about 2 million tourists annually.  
This resort is particularly pleasant out of season. We were there in early October and practically had the entire beach to ourselves. As a bonus, the weather was still warm!
It's the perfect slow-paced summer destination to soak in the sunshine, discover delicious new seafood and meet people who are as warm and welcoming.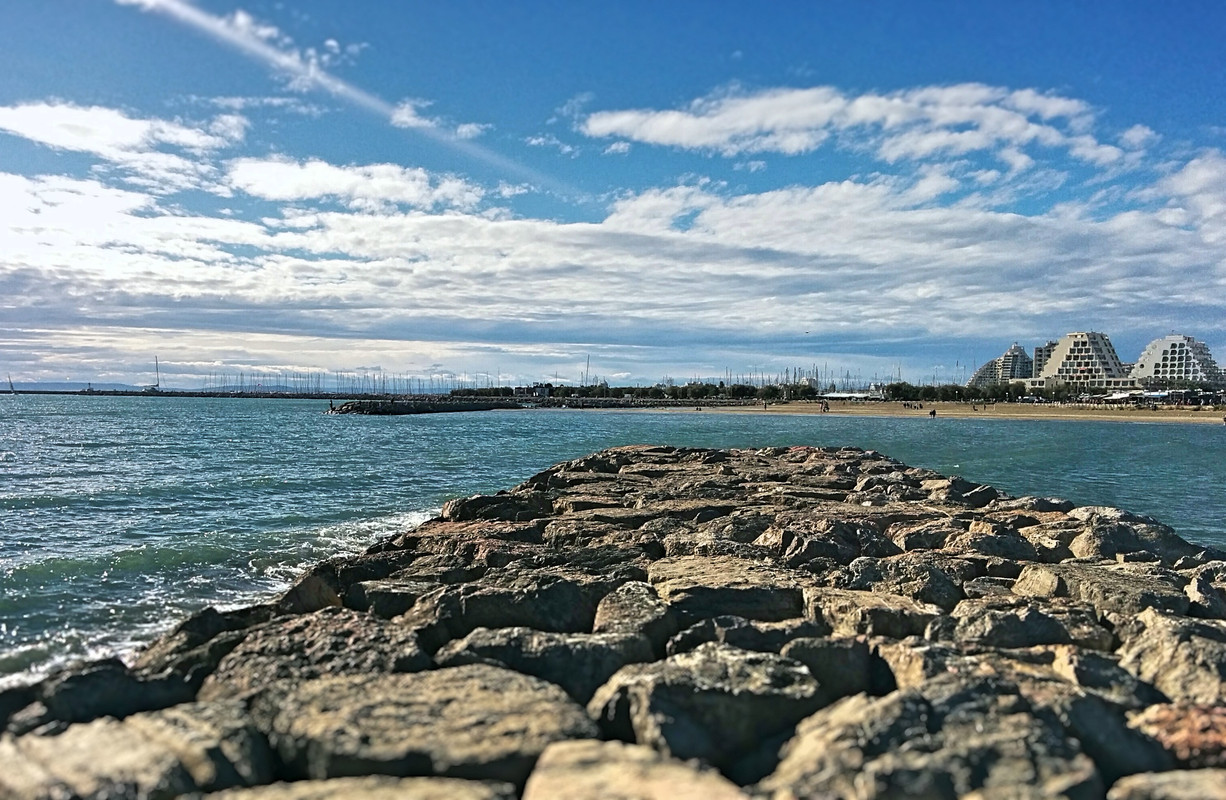 How to reach

La Grande-Motte 
La Grande-Motte is a Mediterranean beachside resort just 30 minutes drive from Montpellier and about one and a half hours away from Carcassonne.
A train journey from Paris to La Grande-Motte takes 4h 51m and costs 110€ – 160€. But the cheapest way to get from Paris to La Grande-Motte is a night bus that costs 23€ – 29€. The downside is that it takes over 12 hrs to reach the beachside resort.
Flying is also a good option if you are travelling from a distance. Montpellier-Méditerranée Airport is the closest airport to La Grande-Motte. The quickest flight from Paris Orly to Montpellier is 1h 15m long direct flight.
Where to stay in La Grande-Motte 
There are a number of hotels, spas, and Airbnbs in La Grande-Motte. Once again we found a pretty cool little studio apartment facing the beach.
It was so relaxing to wake up every morning and enjoy a cup of coffee looking at the waves and the morning fishermen catching fish. Since we had a fully equipped kitchen, we also had dinner a couple of times at the apartment.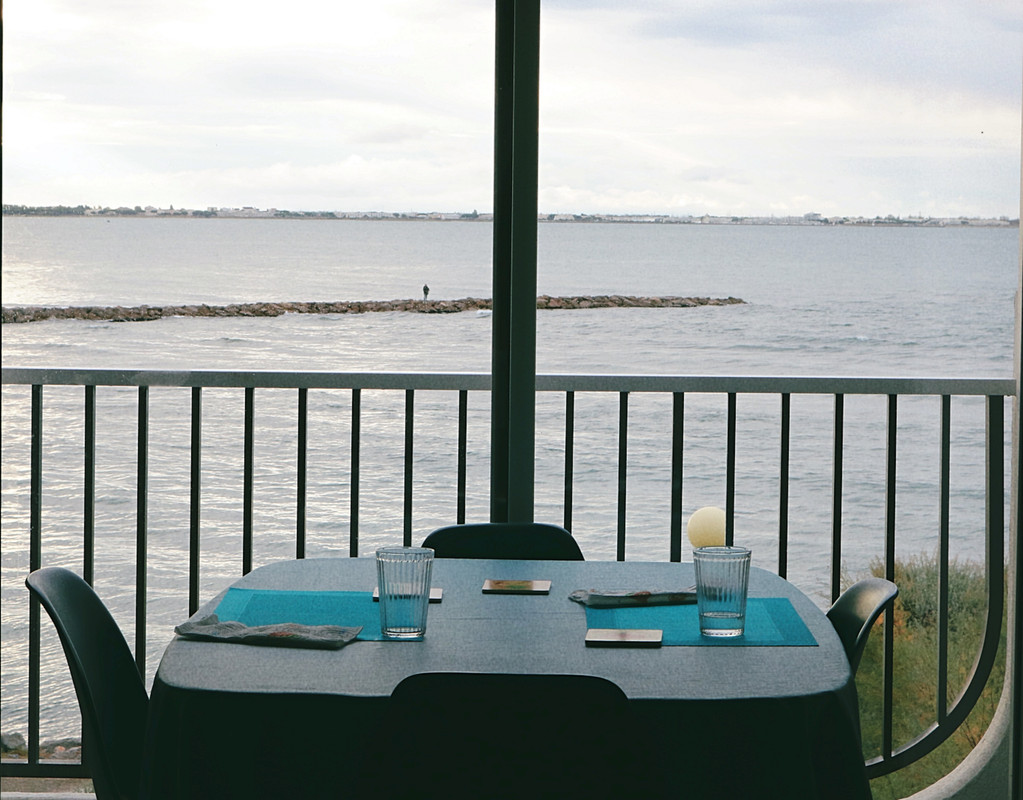 Things to do in La Grande-Motte 
Spend a day at the beach
There are a couple of popular beaches – Plage du Grand Travers and Plage du Centre Ville – Point Zéro.
My fiancé went swimming a couple of times and found the water cold but swimmable. If you are fine with a bit of chilly Mediterranean waves, I would highly recommend spending a day or two at La Grande-Motte.
Besides this, since the beach is nearly empty you can also just lounge in the sun and finally read that book in peace.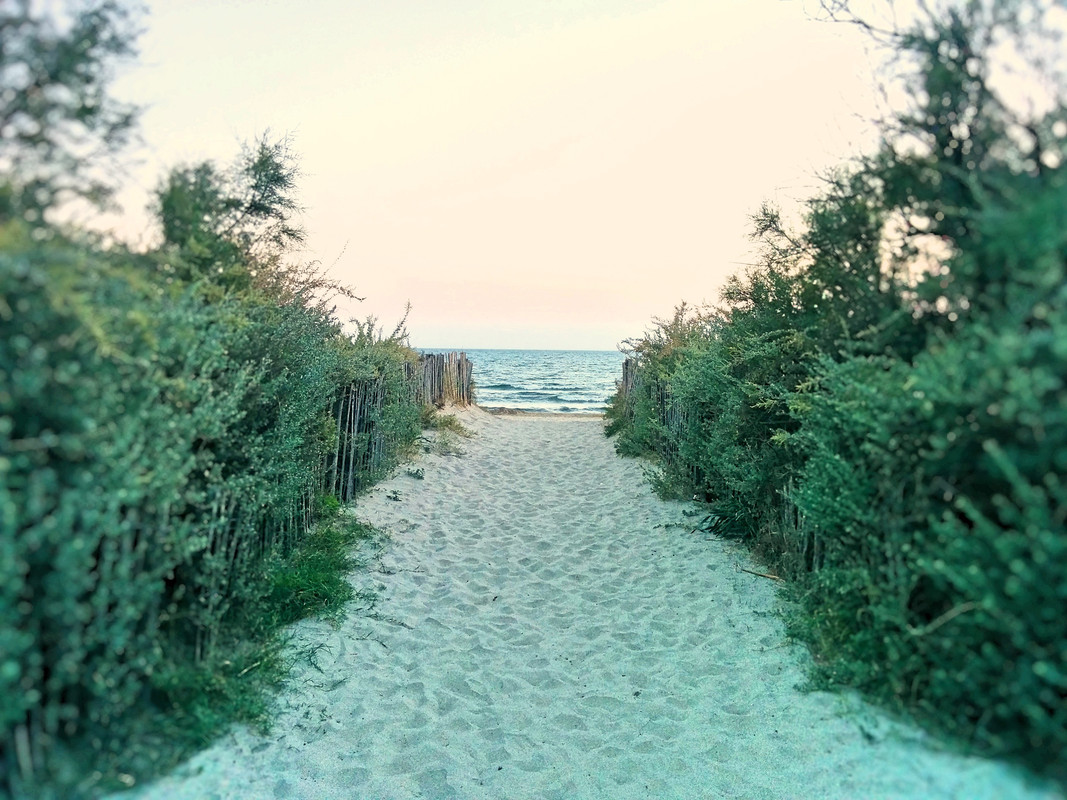 Go biking around the beach
If you don't fancy swimming, there are 25 kilometres of cycle paths connecting the green spaces that cover 70% of the town. It was very relaxing to linger there and walk through the pine-scented parks, facing the Mediterranean Sea and the big, futuristic Teotihuacan shaped buildings.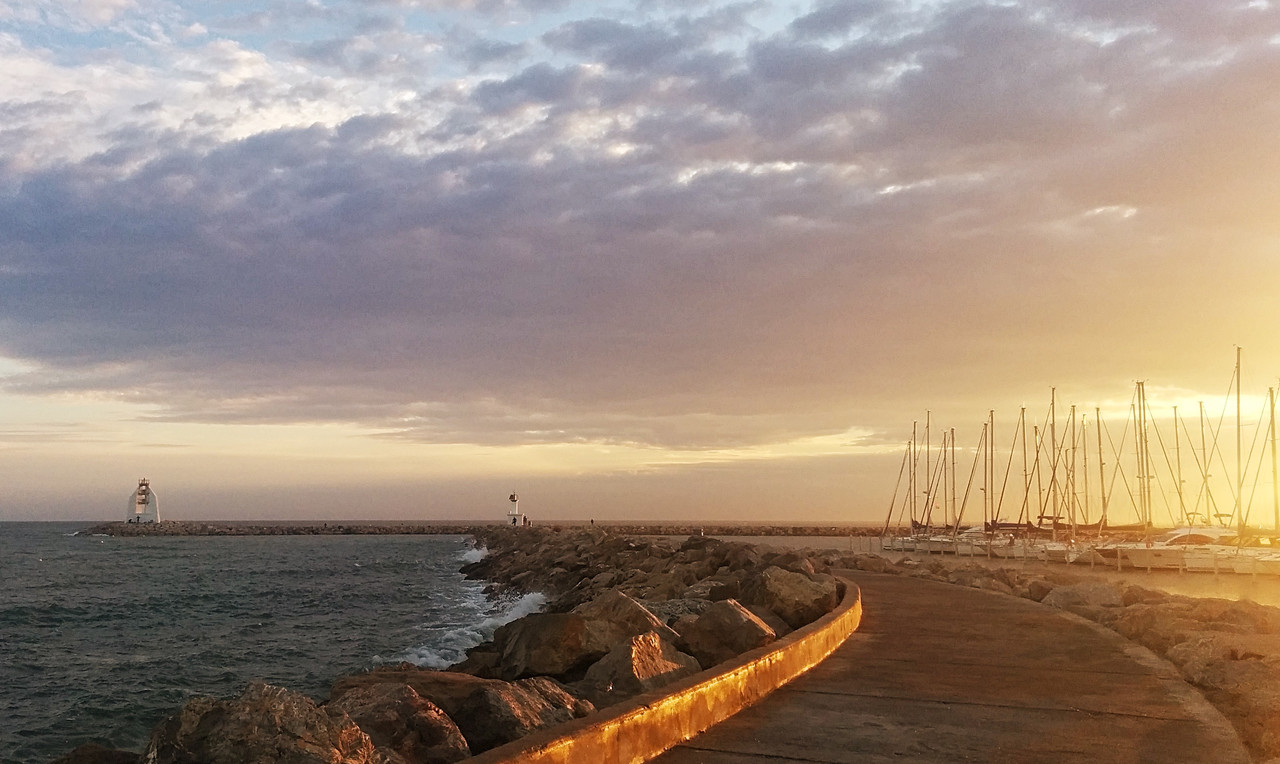 Walk along La Grande-Motte Marina
La Grande-Motte marina is wonderful to walk next to the Mediterranean sea and wind. It is especially glorious at the dusk when the entire place looks blush and gold. The long promenade next to the sea has several restaurants, cafes and shopping stores. Since the weather was amazing we took a long walk and stopped for lunch or drinks facing the sea.  
Again the perks of off-season travel shone through. We came across joggers, people walking their dogs and local fishermen every day but hardly any touristy crowds. 
Port de la Grande Motte has about 1500 moorings and quite a large parking place for yachts and boats for renting. On a good sunny day, you can see a number of swimmers or people enjoying some water sports.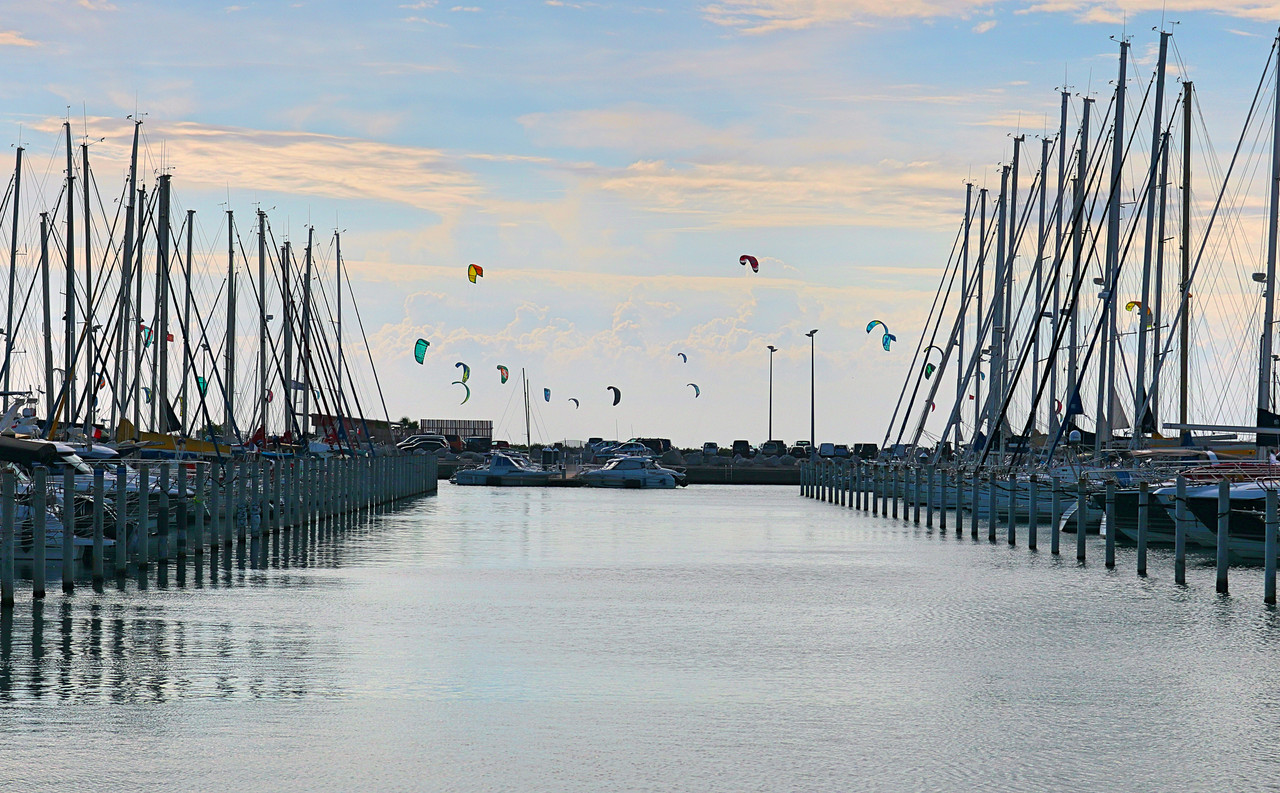 Spend an afternoon at Salle de Jeux Cyber Station
On a bad weather day, you can have a great family day 'in' at the Cyber Station. It's a huge gaming arcade on the La Grande-Motte marina. We went there on a sunny 'beach appropriate' day mind you – just to take a look, but ended up playing games for several hours!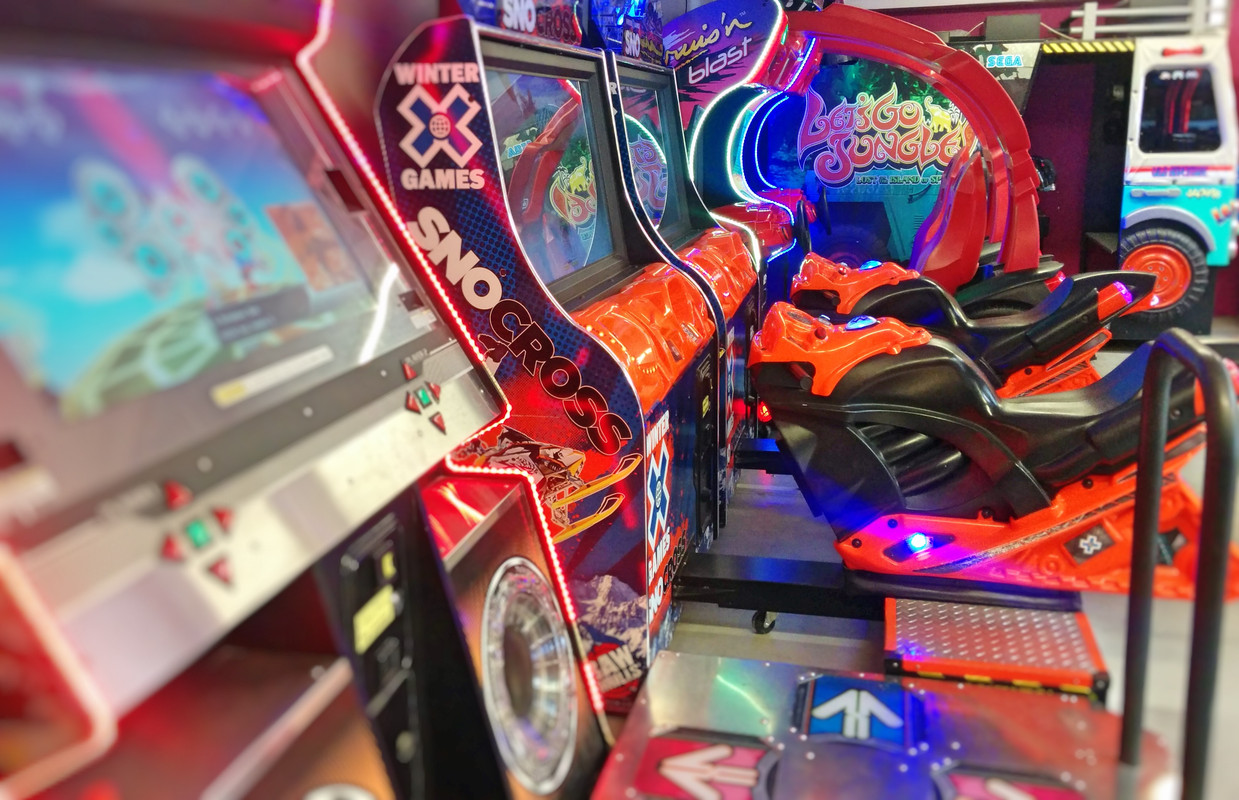 Shop at the weekly Marché Couvert 
There is a large traditional French weekly farmers market (le marché) just a few minutes walk from the beach. This one was (partially) covered market (marché couvert) so shoppers are protected from sun and rain. 
I love walking around these markets in France since we don't have anything similar in Germany. Typical French markets are a mix of the farmers' market and a traders' market.
La Grande-Motte marché has stalls with freshly caught fish, fruit and vegetable stalls, cheese stalls and other stalls offering a full range of local produce. This is also one of the best places to try French seafood snacks in La Grande-Motte. They practically prepare everything right in front of you!
What to eat in La Grande-Motte
FRENCH.SEA.FOOD!
The restaurants around the marina serve freshly caught fish and seafood. I tried a variety of french seafood, from Bouillabaisse, Moule Frites (it's actually Belgian but a beloved dish in France), to seared scallops.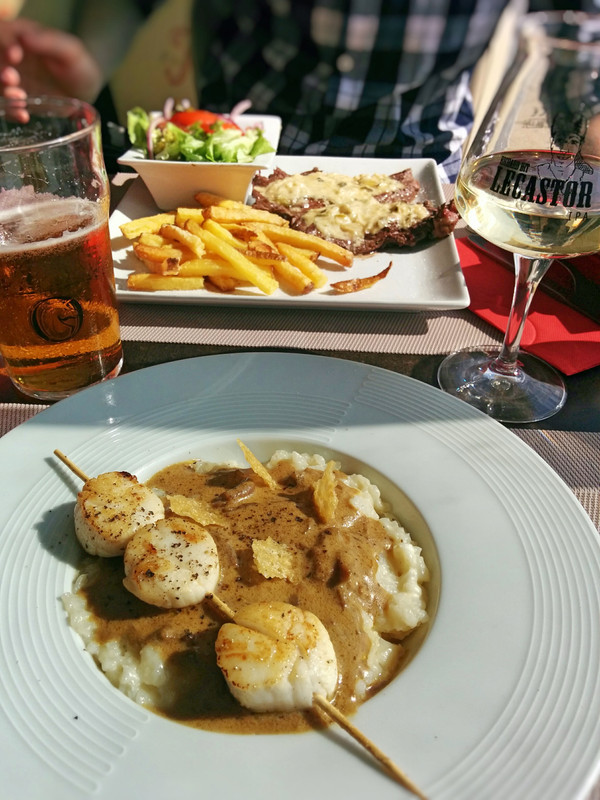 Toulouse Travel Guide
Toulouse is the capital of France's southern Occitanie region, sitting near the Spanish border. It's known as La Ville Rose (The Pink City) because of the many terra-cotta brick buildings. Its 17th-century Canal du Midi links the Garonne to the Mediterranean Sea and can be travelled by boat, bike or on foot.
How  to reach Toulouse
Toulouse is well connected by flights, trains and roads. We flew from Germany to Toulouse and rented a car from the airport to travel to the rest of our holiday destinations by road.
Use the form below to easily find a flight to Toulouse.
Where to stay in Toulouse
Toulouse being a large city in this region offers tons of accommodations for tourists. Hotels, Airbnb, holiday apartments are available in nearly any price range. We rented an Airbnb again. It was perfectly located in the city centre. We basically walked around everywhere and used public transport since everything is well connected here.
Click here to find a hotel in Toulouse 
What to do in Toulouse
Spend a day at Cité de l'Espace
As a space and space sci-fi fan (waving at you, The Expanse!), Cité de l'espace AKA Space City was a BIG highlight of this trip for me.
Space City is a famous space exploration theme park for people of all ages. It is full of educational, fun, interactive and engaging exhibits and games. There is never a dull moment in this park.
Where else can you climb inside an actual spaceship?!
You can reach Space City easily by bus from Toulouse city centre. It is the last stop of this bus route and very easy to recognise too! Right from the distance, you can see the full-scale model of the Ariane 5 rocket towering above the trees at 55 metres (180 feet).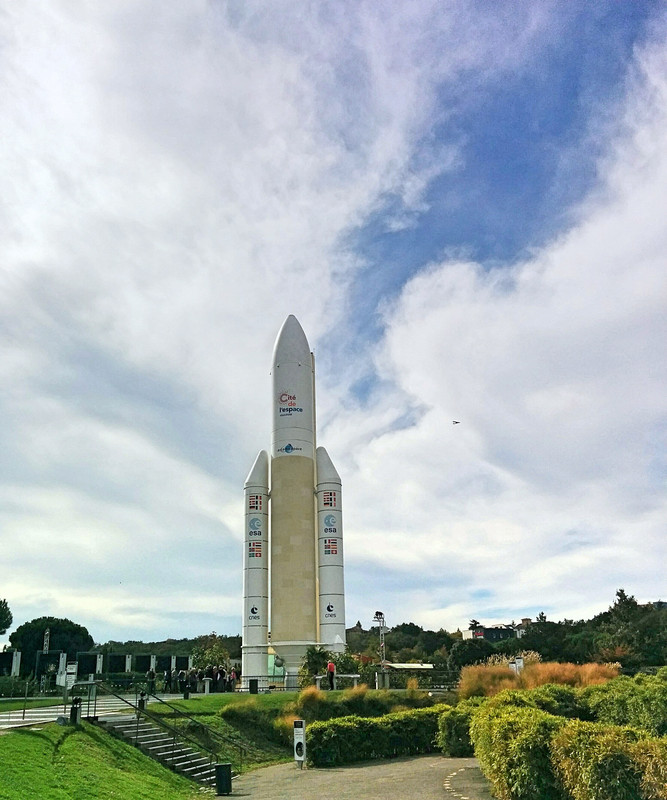 The park area is huge and expands over 3.5 hectares consisting of 2,000 square metres (21,500 sq ft) of exhibition space.
Cité de l'Espace also has numerous exhibits, often interactive; for example,
There's life-sized mock-up of a control room near the model of Ariane 5, allows visitors to prepare the launching of a rocket, help with its flight and then place a satellite in orbit.
Terr@dome (a terrestrial half-sphere 25 metres or 82 feet in diameter) presents the history of space from the Big-bang to the solar system.
When you get tired of walking you can rest your feet watching the stellar visuals at Stellarium- a 280-seat planetarium equipped with a  600 square metres sized hemispherical screen.
In the outer complex, you can climb into the actual modules from Mir space station

 and 

Soyuz

 in the complex.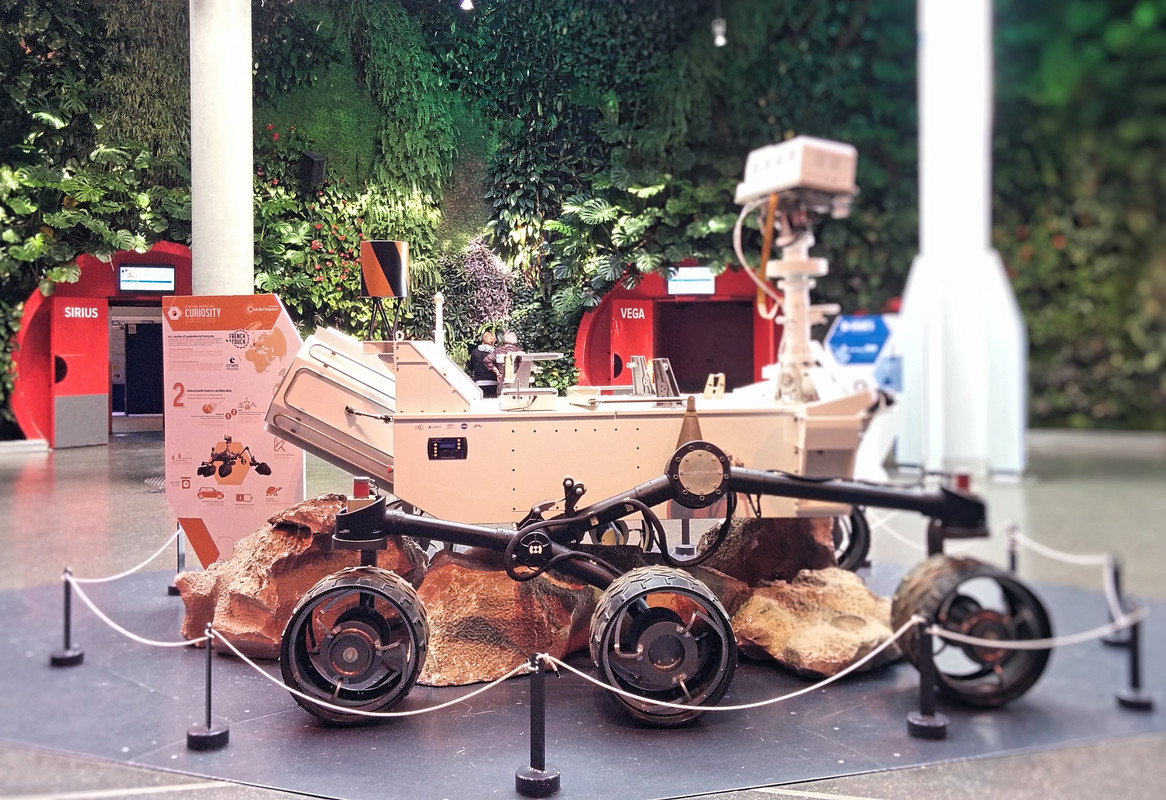 Overall, it's a highly recommended extensive and outstanding museum dedicated to space, space crafts, satellites, and meteorology. All exhibits are available in French, English, and Spanish. Entertaining and informative for children and adults.
There is a restaurant which gets pretty busy in between the planetarium shows. But there was a bistro that serves sandwiches and paninis and beverages.
You can easily spend the whole day there. We couldn't explore the entire museum since it's so large even though we arrived around 11 am.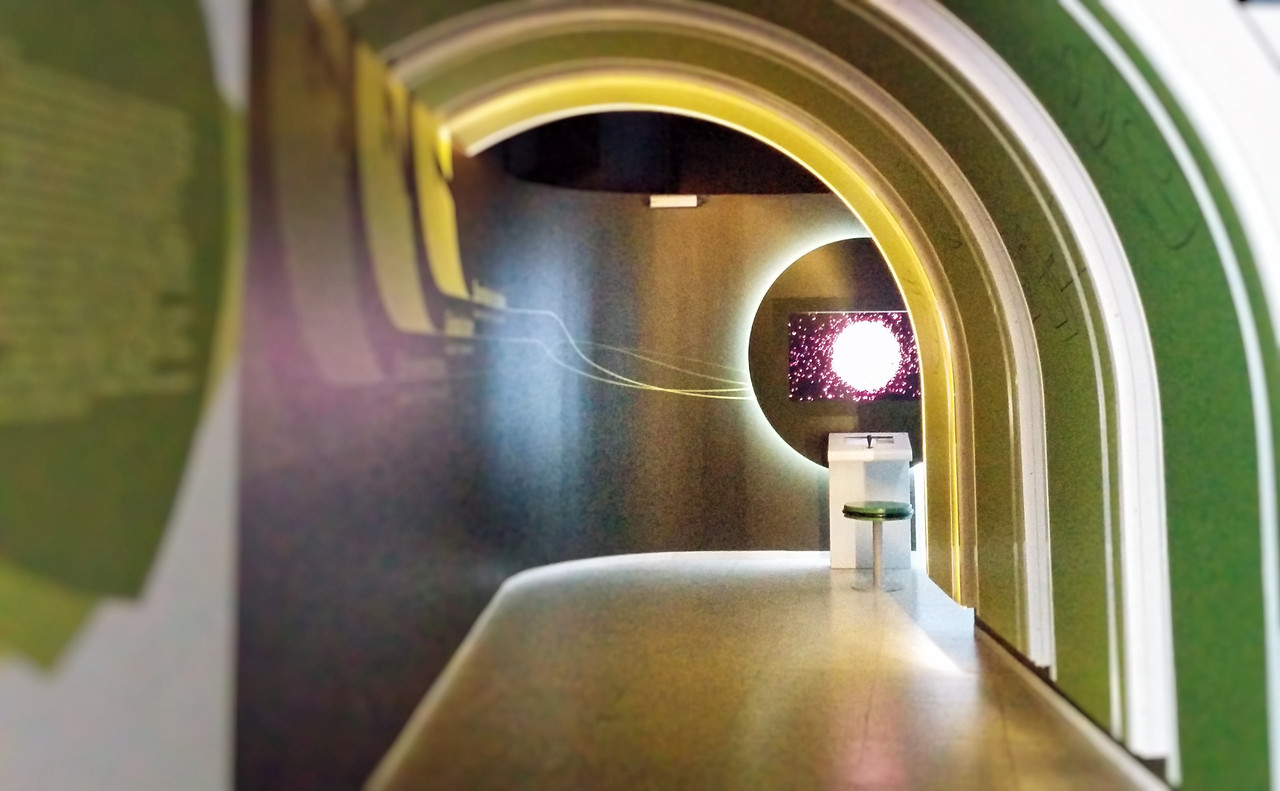 Admire the Details at Basilica of Saint Sernin
This is a gorgeous place to visit if you're ever in Toulouse. From the architecture to the history, there's plenty to see and discover here. If you get here at the right time, you may even see rehearsals for the mass.
The architecture of this building is both Gothic and Romanesque with a very ornate basilica. 
Take Photos at Pont Neuf 
This ages-old bridge is great to enjoy the sunset and night lights of the city. You could enjoy the landscape of Toulouse all the shades of pink from here and see why this city is called 'La Ville Rose'. 
The sunset by the bridge is beautiful. If you are in Toulouse you could enjoy some offers fantastic performances in prairie des filtres. the Quai de la daurade is nearby and you can go for a leisurely stroll from here. 
Enjoy the Silence at Couvent des Jacobins
This historic church made out of pink stones is typical of Toulouse architecture. The church space is huge and resonant, with some impressive cloisters, and the huge refectory. The vault reaches a height of 22 meters. 
The remains of the hugely influential philosopher Saint Thomas Aquinas still reside under the altar of the chapel since 1369.
Overall, a nice place to visit in Toulouse.
What to eat in Toulouse
Toulouse being the capital of Occitanie has a rich culinary repertoire. You can enjoy seafood delicacies originating from its coastal Mediterranean towns, cheese and meat dishes from mountainous regions. Occitanie is also France's largest (and underrated) wine producer. So you can be sure of tasting some of the finest local wines whenever you dine out.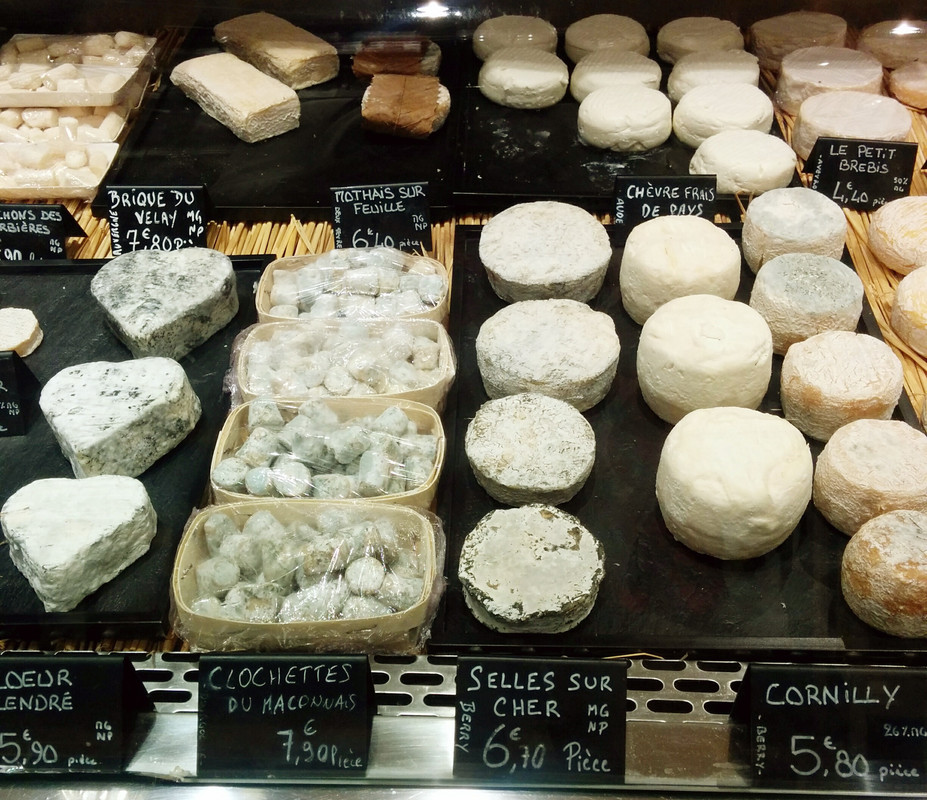 Pro Tip: Eat Moule Frites at Quand les Moules Auront des Dents. Our Airbnb host recommended this seafood restaurant. We nearly gave up and missed it as it is tucked away from the main touristy restaurant streets.
But we are so grateful that we went there because they serve amazing seafood. In fact, we ended up going there two nights in a row just to eat Moule Frites. Even my fiancé, who has fish allergy was able to enjoy some amazing steak and chicken on both occasions. The staff was super friendly and even showed me how to properly eat Moule Frites.
Even though Occitanie is relatively under-appreciated internationally by tourists, it is still one of the most amazing places to spend a slow-paced summer holiday in South France. Sure there are other glamorous cities like Nice, Cannes or Monaco in South France. But in comparison, I felt Occitanie offers a much more diverse and rich experience than these commercially successful and better-known holiday destinations in South France.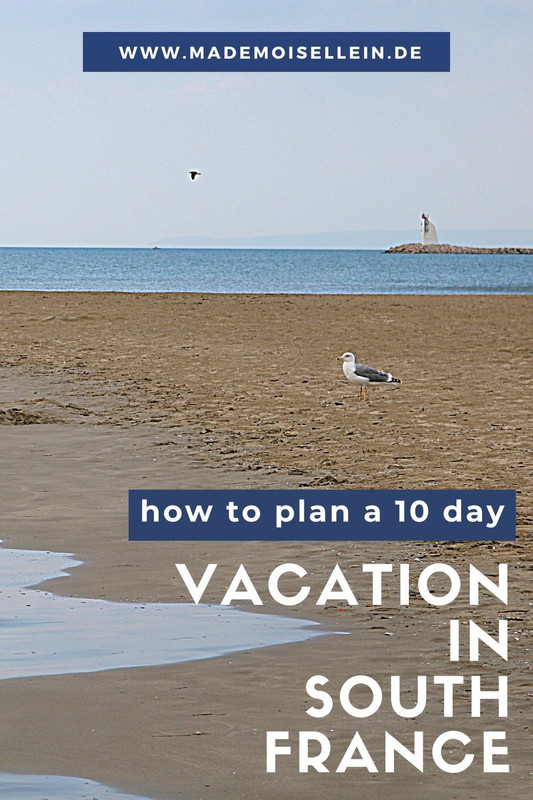 So here were my tips on how to plan a  holiday in South France and cover beach, city, historical town and a safari in one trip! Have you also travelled to this region? How was your experience? Let us know in comments below.