Tips for Buying Land in Germany as a Foreigner + FREE Checklist of Questions to Ask Before Buying
Last updated on January 23rd, 2023 at 12:51 pm
Are you considering investing in real estate in Germany? Recently, we took the plunge and purchased property in Germany. Here are my tips that you should consider before buying land in Germany as a foreigner.

PS: Don't forget to download my detailed checklist of all questions to ask before you buy a property in Germany.
Germany has the lowest homeownership rate in Europe. Tenant laws are highly protective of the renters, so it is no surprise that so many Germans just don't bother investing in real estate.
However, this should not stop any long-term immigrants from buying property in Germany. My partner fiancé husband and I recently bought land for building a future home.
Here are some of my tips for buying land in Germany as a foreigner.
---
Disclaimer: This post has some affiliate links to services that I used during my property-hunting process. I may earn a small commission from the qualifying transactions. This way I can keep maintaining this website.
---
1. Building a House vs Buying a House in Germany
Do you want to build a home from scratch or do you want to buy an existing house? Both have pros and cons. Let's take a look at both of these scenarios:
1.1) Buying land to build a house in Germany
Pros:

The biggest advantage of buying land is that you can build a customised home and get a design that fits your taste and preference- within the limits of the legal guidelines.
In some areas of Germany, it is actually cheaper to buy land and build a property brick by brick.
Cons:
Too many things to take care of. Too much paperwork as you have to deal with different offices, and contractors and maintain a HUGE amount of contracts.
Longer waiting time until your home is ready for you to move in
1.2) Buying a house in Germany
Pros:
Much more straightforward than buying land and building a house.
Shorter move in time.
Cons:
You have to settle for what you get. It is very hard to make any changes to an existing house in Germany. So once you have purchased it, you won't be able to alter the template of your house. At least not without a shitton of paperwork and permits.
It is often more expensive than building a house as the value of ready-to-move-in, finished properties are higher.
We evaluated all of these options.
Eventually, we decided that we will go ahead with construction land in the Bavarian countryside. For us, it was really important that we get to build a home according to our own specifications and requirements.
We are going to invest hundreds of thousands of euros in either case. So might as well, invest it into a house that we designed for ourselves.
---
FREE Checklist For a Land Buyer in Germany
Have more questions and doubts? Then download this FREE checklist consisting of 30 questions you should consider BEFORE buying land in Germany.
---
2. Search For Land to Build a House in Germany
Finding a perfect building plot can take a very long time. The more search criteria you have, the longer it may take you to find a building plot that meets your requirements.
2.1) Search beyond the city area
Depending on your location in Germany, anywhere about 30-40 drive-minute radius from the city centre is generally a good location to search for cheaper land.
Let's say you are working in Nürnberg city centre and want to live close to the city, then you may have a hard time finding a plot that meets your requirements or budget.
In such a case, you can look around the Nürnberg suburb or even the land area. In German, the land area is called 'Landkreis'. Look for available plots in these areas. Too often cost per square meter is much lower in these regions than closer to the city.
Find a plot of land in Germany here.
2.2) Watch out for Provision Free properties
Many properties on sale have a 'makler or provision' fee attached to them.  Makler is the German term for a real estate agent. This fee is usually calculated at 3.5% to 5% of the property price. When you buy a property directly from the owner, you can skip this extra fee entirely – but such properties are rare to find.
Try the following search terms in Google to find provision-free properties in your area.
'provisionsfrei grundstück kaufen + your desired location',
'grundstück Ohne Makler kaufen + your desired location' or
'grundstück von Privat kaufen + your desired location'
You can also easily find 'maklerfrei' properties in Germany on ohne-makler.net. Ohne-Makler.net is the largest directory of provision free properties in Germany.
---

Recommended Reading: The Complete Guide to German Property Investment

---
3. Understand The Local Development Regulations
Do you want to build a city villa or log cabin? One or two stories? Flat roof or saddle roof?
You may have something very specific for your dream house, but you may not be able to realise it everywhere in Germany.
3.1) Check the local planning permissions
Before you buy land in Germany you should be fully aware of the development plan (Bebauungsplan). This plan regulates how a residential building may be built e.g. how many levels, how big, what type of roof etc.
Potential home builders should make sure to read the regulations – and know the formulas and abbreviations before purchasing the land. The best way to know what you can build on your potential plot is by getting in touch with the seller or agent directly and request more information.
---

Recommended Reading: Tricks and Bricks Germany – 75 Property Investment Tips

---
3.2) Are there any building restrictions?
Ask for the building permit details from your seller or agent beforehand.
A building permit (Baugenehmigung)  is a certificate from the local building authority (Bauamt). With this permit, the building authority indicates that it has no reservations about the planned construction project in terms of legal regulations.
Another thing to consider is the construction deadline (Bauzwang).
This deadline generally dictates the time by which the construction of the house should begin or finish on the plot. Some properties may have a deadline of five years or some may have none.
Our property does not have any such construction deadlines, so we have the freedom to take some time to plan, and save up before starting with the construction of the house.
3.3) Is the plot fully developed?



Before you buy land in Germany, verify its development status from local authorities.
Partially developed (teilerschlossenes Grundstück) or undeveloped (Nicht erschlossenes Grundstück) is a piece of land that is not yet entirely suitable for construction.
For a plot to be considered fully developed (vollerschlossenes Grundstück), four basic supply lines must be available.
These are gas, water, electricity and sewage.
The partially developed property is characterised by the fact that not all four supply lines are available. This means that the buyer must undertake this development after purchasing and that generally leads to additional costs.
A partially developed plot is usually cheaper.
However, you have to be prepared to invest at a later stage. The costs for a complete development must be included in the construction planning and financing.
---

Recommended Reading: Single-Family Houses: Contemporary Homes in Germany

---
3.4) Make sure to inspect the property in person

When you decide to buy land in Germany – make sure to inspect it and get a feel of the surroundings.
A personal visit is the best way to do that.
Set up an appointment with your seller or agent. Ask them to take you to the property in person. It is a very normal part of the process anyway, so they will offer this even before you request.
Here are key things that you should watch out for during your inspection visit:
Ask your Makler why the land is on sale or technical questions about the development and building permissions.
Is the land located on a slope? This requires additional costs for preparing the foundation of the house and waterproofing the cellar.
Is the neighbourhood too loud? Or too quiet?
Is there enough sunlight or is it getting blocked by nearby houses or trees?
Clarify any doubts about the location. Take a drive from there to your workplace, school or to the nearest shopping centre. This is how you will be travelling each day once you have moved in. Get a first-hand feel for everyday activities.
If you are still happy with the plot, then ask the next questions…
---

Also read: How to avoid going bankrupt and legally protect yourself as an expat in Germany

---
4. Assess Your Financing Options
4.1) Can you afford to build a house in Germany?

Buying the building plot is simply the first stage.
Depending on your location your land could easily cost several hundred thousand. The average cost per square meter can range from €180 to €2500 depending on the location. In the countryside and smaller cities, you have much more variation in the price range.
Besides the cost of the building plot, you'd also need to think about financing the whole construction project. As mentioned in the above section, if your plot is only partly developed you will have to incur the costs of completely developing it.
The cost of land development can be high and is largely borne by the property owners.
Municipalities usually cover a small part of the fees, but the proportion of owners is much larger.
For example, the development costs are higher in an urban city area. On the other hand, plots of land "in the countryside" are relatively cheap to develop.
4.2) Consider how you're going to finance your property



Now comes one of the most challenging parts of buying land in Germany as a foreigner.
Financing your property – Are you going to finance it through a bank or privately?
Both have advantages and disadvantages.
Financing with a credit institute is a no-brainer since most of us do not have six-figure chunks of money sitting in the bank.
The other option is, of course, to finance everything privately. If you have substantial savings you can fund yourself without any credit. This way you can also save on the interest rates payments.
Financing properties is a huge complicated topic, which cannot be covered in one small section. Read this comprehensive guide on getting a real estate loan in Germany as a foreigner.
---

Or, you can get custom house financing offers in ENGLISH from LoanLink through this simple form here

---
Last but not least,
5. Protect Yourself Legally as a Property Owner in Germany
5.1) Get the purchase contract verified by an independent lawyer
Before signing a purchase contract make sure to get it checked out by a neutral, 3rd party lawyer. This is very important for non-German speakers.
Backtracking on a signed agreement is nearly impossible in Germany. A lawyer can check for any possible clauses that could come back to bite you in the ass later. You can search for and hire a lawyer in your local area yourself.
Another option is to use an online contract verification service by 'YourXpert.de'.
You can upload your contract online and the YourXpert team will assign a real estate lawyer to investigate your contract for
any potential pitfalls in the contract,
missing and unfavourable clauses
identify any legally doubtful or improvable passages
make suggestions for improving the wording and clauses in your favour
This service costs under just 190 EUR (for comparison our real estate lawyer charged 300 EUR/hr)
Check out how the contract check works here (in German)
---

Recommended Reading: How to hire an English speaking lawyer in Germany

---
5.2) Get all your insurances up to date
As we left the Notar's office after signing our contracts, our Makler congratulated us and promptly told us that we must get landowners' liability insurance. It was just the beginning of winter and he warned us that if someone slips on our sidewalk because of the frost, we will have to pay for any related expenses.
And he had a point.
As you may be aware, Germans LOVE their insurances. There's really insurance for everything here. 😉
Before you buy land in Germany, consider investing in good liability insurance for private homebuilders and landowners. In German, it is commonly known as
Personal liability has far-reaching consequences in Germany – enough to lead to lifelong bankruptcy. The responsible party is liable to compensate for unlimited amounts and with their entire current and future assets. A claim for such damages can basically lead to complete financial ruin.
Therefore, protection with a house builder's liability insurance is extremely important. As with any kind of insurance in Germany, there are a number of providers who offer this kind of coverage.
CosmoDirekt offers comprehensive coverage for both home and landowners and for those who are planning to build their property sometime soon.
---

Recommended Reading: TWO Must Have Insurance for Land Owners in Germany

---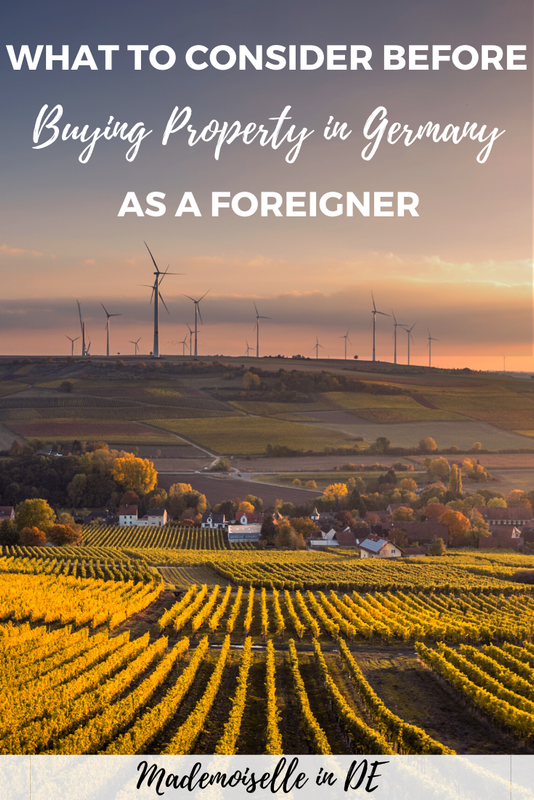 So that is how I ended up buying a property in Germany (as a foreigner). I hope these tips will be helpful when the time comes for you to buy land in Germany as an expat.
Start here to find and buy a plot of land in Germany to build a house.
Did you buy a property in Germany? What was your experience of buying land in Germany as a foreigner? Let us know in the comments below.