Internship In Germany Part III: Tip For Interning In Germany
Last updated on January 2nd, 2023 at 12:44 pm
So you successfully braved through the rigorous German Internship Visa Application Process and got the visa approval. Congratulations! Once the excitement settles in, the real work begins.
Let's prepare you for interning in Germany.
Here are some of the key points to consider when you are going to stay for interning in Germany.
1. Travel Arrangements to Germany
Book your flights to Germany as soon as you get your visa approval.
We all know that last-minute flights can be quite expensive. Besides this, you want to be as prepared as possible.
The best way to book flights is through online travel agencies as they can offer you the best fare. For instance, OPODO is an international travel platform that can scan the web for the best flight deals. You might see the German version first, but you can easily switch to their global site which is in English.
Make sure to check how far is your new city from the airport. If you expect to travel quite a distance from the airport to your arrival city in Germany, then find out the public transport options are available on arrival. Flights can delay and getting past through immigration checks can take a while.
Book your flight with some buffer time in mind. You don't want to land in a foreign country where you don't speak the language in the middle of the night.
Once you are out of the 'Nothing to Declare' you can continue the rest of your journey with either a rental car, travel by train or bus.
1.1) Driving a car in Germany
I always recommend SIXT as one of the best car rental services in Germany. They have a vast network all over Europe. We have been using them for years now for all purposes – holidays, travel to & from airports, and also for a month or so when our car broke down.
Car sharing is also a fast-growing trend for low-cost car travel in Germany. There are several car-sharing service providers in Germany that offer easy booking for cars through apps and websites.
Read: Car sharing in Germany
1.2) Trains in Germany
If you plan to travel by train after your arrival in Germany, I would recommend buying train tickets after arrival in Germany. Booking in advance may cause unnecessary trouble if your flight is delayed or you don't know the exact exit for the train.
TIP: Deutsche Bahn Super saver fare (for as little as EUR 17,50)
1.3) Buses in Germany
Another economical option is Flixbus. Flixbus has a wide network of routes all over Germany and Europe including major airports. The bus journey might be long, but it is much cheaper than Deutsche Bahn. I didn't notice much discomfort whenever I travelled with them. Plus they offer free WiFi and charging sockets so bring on that tablet and NetFlix! 😉
2) Health Insurance in Germany
Health insurance is obligatory in Germany. Even though you will be interning in Germany for a short term, you still need valid health insurance in Germany.
Very comprehensive coverage is available at relatively low rates. It is possible to bring your health insurance from your home country to Germany, but if it is not valid in Germany, you will have to sign up for new coverage in Germany.
2.1) Public Health Insurance in Germany
A public health insurance policy costs about 80 euros a month until you reach the age of 30. After that, the monthly premium may increase depending on your financial situation. This amount is determined by a caseworker who makes an assessment based on the details you provide them.
DAK, Barmer, AOK, Techniker Krankenkasse (TK) are some of the major public health companies.
DAK is very popular in the German international community because it offers its services in English, Arabic, Polish, Russian, Turkish and several other languages – as opposed to other companies that only operate in German.
2.2) Private Health Insurance in Germany
There are several private insurance providers that offer reasonable rates. You should always check if they are covering you adequately before you sign up for them though.
Private health insurance is open to almost all occupational groups without any preconditions.
Around nine million people in Germany have opted for private health insurance (PKV). There are various factors that are taken into account for joining a private health insurance provider.
Your age
Your general health condition
Your profession
Your or your family's medical history (This is relevant for those of you who have dependents)
Any preexisting health conditions or certain health risks
Read: Visa office approved German health insurances that anyone can get while interning in Germany
3) Short-Term Housing in Germany
Interns in Germany can either live in private accommodation or get help from their company. It is recommended that you find accommodation before arriving in Germany.
You'll most likely have to find a place to live on your own because, in Germany, companies often do not offer accommodations to their interns. However, they can assist them with house hunting through their network.
If you are interning in Germany for three to six months, then you will have to book one of the temporary residences or the halls of residences catering to students and interns. These halls of residence are different from the accommodation offered by the universities.
Many cities have Wohngemeinschaft or WG services that also offer good possibilities for young people who aren't too excited about resident halls. Many young professionals in Germany live in the WGs. Not only it is budget-friendly, but also an excellent way of getting adopted by Germans on arrival.
4) Finances in Germany
4.1) Banking in Germany
This is a very important aspect of your stay abroad. Not just in Germany, but also in any foreign country. While interning in Germany, you will be away from your family's safety net for a few months. You need to cover your bases financially to be best prepared for any emergency scenarios.
Foreigners staying in Germany even six to twelve months will need a German bank for practical reasons. I know it means even more paperwork and red tape, but this one is worth it. I promise!
With a German bank account, you can easily receive your salary from your internship if you have a paid one and pay your monthly rent, healthcare premium, internet or phone bills.
You can also withdraw money from several cash machines free of charge. Plus it is much safer & cheaper to keep money in a local bank account since international transactions cost some fees.
Most German banks offer very inexpensive starter current accounts which normally come with a free EC card. You can set up your bank account quite easily online with most of the major German banks.
Setting up an account is a fairly straightforward operation, much the same as at home.
Passport or personal identification card
Student ID or certificate of enrolment or notification of admission from your university
Confirmation of registration from the Resident Registration Office or Alien Registration Office
Proof of a German address
Cash for the initial deposit
4.2) Cost of Living in Germany
Germany falls in the mid-range when it comes to the cost of living in the EU. Nordic countries are super expensive, whereas Southern EU countries like Italy or Portugal have a lower cost of living.
As a rule of thumb, you want to budget between €800 and €1000 a month for the cost of living in Germany. And that's being a tad modest.
Of course, this will vary depending on the region you are in and your own lifestyle. Places like Munich and Frankfurt are very expensive in comparison to their neighbouring cities.
The idea that smaller cities are inexpensive to live in doesn't apply in Germany. If a relatively small unglamorous city has some big industries you will find that the cost of living there is higher than in some larger cities. Case in point: Herzogenaurach in Bavaria has a higher COL than neighbouring Erlangen or Nuremberg.
Bear in mind that the first month may cost higher as you may have to pay for the rental deposit, various bureaucratic fees, and of course, for your initial food and other things.
Read: Cost of Living in Germany in 2022 (and How to Save Money)
5. Other Details To Keep In Mind
5.1) Wear Weather Appropriate Clothing
If you are from North America or a European country, this section doesn't apply to you! 😉
However, if you have never lived in a country with a frosty wet climate such as Germany, then you seriously need to reconsider your wardrobe. Germany can get quite cold in winter, going as low as -10 on some days.
Summer is the worst!
What you expect is the sun, and all you get is rain, cold wind and grey skies for several weeks. If you come from a warmer, tropical region (in that case, you lucky bastards!), you will need some properly lined, rainproof outerwear. And lots of therapy! 😉
If you arrive between March to September:
You won't need heavy winter clothing. A light to warm jacket should be enough to cover up during chilly mornings or late nights. Make sure to pack something rain and windproof throughout the year. And learn to layer your clothing!
Jack Wolfskin offers a large collection of all-weather and winter clothing in Germany PLUS it is available everywhere in Germany.
If you arrive between October – February:
It's sensible to buy winter clothing once you arrive in Germany since their winter clothes are best suited for the local weather. Pack some warm clothes to last you a week or two, and then hit the shops to look for weather appropriate clothing.
TIP: Buy High-Quality Pre-Loved Winter Clothing From Momox Fashion (and save money!)
5.2) Phone & Internet
You don't want to use your home number for calling your family and friends. It's easy to get a pay as you go phone from most service providers.
With congstar's prepaid six-month package, you get 3 GB as well as a phone and SMS flat rate every month for a one-time fee of €50.
And if you still want it after half a year, you can simply top up your credit again and start the next six months!
Prepaid mobile plans in Germany are pretty shit for Internet use though as they do not last too long. There are also alternatives such as a data card, although you may find them expensive for three to six months of use. So the best bet is to share the cost of the existing Internet connection with your new roomies.
Another alternative is the Internet connectivity via LTE for your home that you can also use it via mobile devices. The congstar Homespot is the DSL alternative that is ready for use immediately without the need for a technician.
TIP: congstar Daten Tarife starting from 50 GB for 20 € per month
5.3) Travel Around Germany and the EU
I would highly recommend using your free time to travel – not just in Germany, but also in the EU.
Germany is located rather centrally in Western Europe. You can just hop on the train to visit some of the most beautiful countries in the world. Long-distance buses are also a great way of travelling around the EU – especially if you are low on budget. 
France, Italy, Switzerland, Austria, the Netherlands, and Poland are all so easily accessible from Germany that it would be a pity to miss out on these experiences. If you need inspiration or ideas you can read some of my travel guides in the EU and Germany.
The train is one of the most convenient ways to discover the EU. You can not only travel all over Germany but also to other EU countries with DB.
TIP: Deutsche Bahn offers Super saver fare from as little as EUR 17,50
5.4) Learn The Language
I'll not sugarcoat it. It is intimidating to be in a new country, it's even harder when you don't speak and understand the lingo.
German is not the easiest language out there. But it'll make your life so much easier if you familiarise yourself with the language. No one expects you to master the language in a couple of months.
But learning some basic German phrases will help you immensely with day to day life while interning in Germany.
As long as you keep these simple preparation tips in mind, you'll be golden. Use common sense, make an effort to learn the language and meet new people.
Most importantly, have fun while interning in Germany!
---

Learn more about finding an internship in Germany and the internship visa application process.

---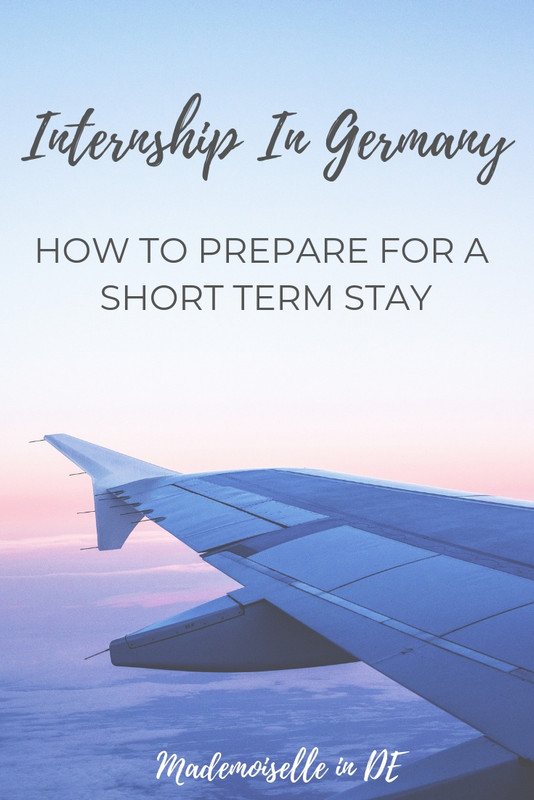 Did you ever intern in Germany? How was your experience? Did you experienced any culture shock? Tell us in comments below about interning in Germany.