Upwork Proposal Tips That Earned Me $22,397 in 12 Months (As Part-Time Income)
Top Takeaways From This Post
Last updated on March 12th, 2021 at 01:03 pm
How to write Upwork proposals to get high paying clients? These Upwork proposal tips will help you get high paying clients on Upwork. Download my real project winning proposal templates and full transcripts (for free) at the end of the post!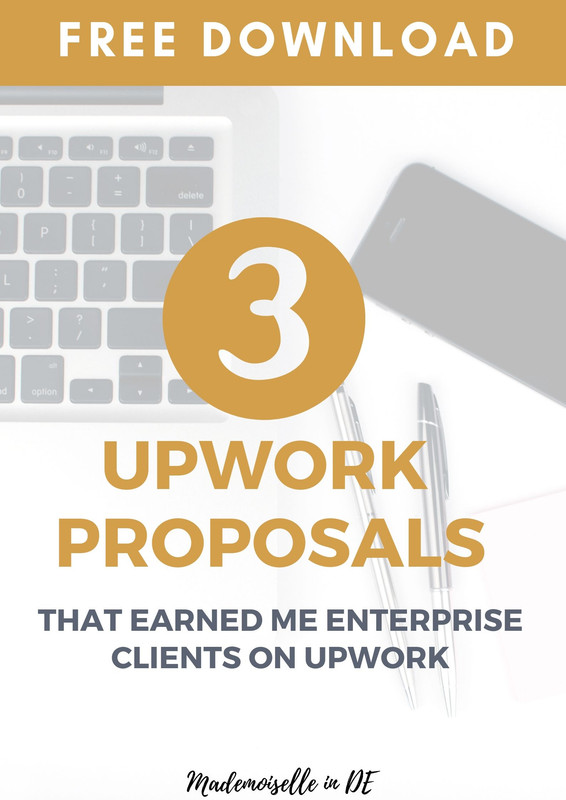 Depending on who you ask, freelancing marketplaces like Upwork either get rave or shit reviews. On one hand- they are overcrowded, the price point of most clients is notoriously low, and T&Cs are unfavourable for freelancers.
On the other, these marketplaces come full of warm leads – potential clients who are actively looking to hire. All you have to do is market yourself to them – successfully. An Upwork proposal is your single most important tool to find, win and retain projects.
As a side note: While such platforms are good for getting a foot in the door for new freelancers, I don't see them as a sustainable option for long term success.

After all, you don't become a freelancer to let third parties dictate the progress of your career. Some freelancers have been completely banned from freelance marketplaces for smallest of defaults. I highly recommend diversifying your client acquisition tactics.
---
Read More: Where to Find Remote Work Clients (in Germany or Anywhere)
---
Before I started my virtual marketing agency, I successfully secured projects via Upwork. Like with most freelancers on Upwork, they were quite low paid projects in the beginning.
With time I learned to improve my proposals and started landing better-paid projects. The first gig that I ever got on Upwork paid me about $6.50/hr. As of last year (2017), I charge about $35 – $45/hr depending on the scope of work.
After my work took off outside Upwork, I started taking fewer projects on the platform. And whenever I do, I stick to fixed-rate projects. Upwork accounts for 30% – 45% per cent of my revenue stream.
Want to learn how I introduce myself to potential clients, sell my skills, and close deals?
Download three of my most lucrative Upwork Proposal Templates at the end of this post.

In this post, I'm sharing some Upwork proposal tips that I've learned as a freelancer and a client on the platform. Let's start with the most obvious Upwork proposal tip.
Pimp Your Profile
Use a nice professional image. Avoid selfies. You don't want to appear unprofessional. Take advantage of portfolio items and attach certifications that are relevant to your freelancer profile.
Add a decent description that clearly and concisely describes what you do. Make sure to ask your clients to leave a review once you finish a project.
The best way to improve your professional profile, website or anything is to learn from your successful competitors. Don't sulk if your potential client awards the project to your competition.
Instead, go to the profile of the freelancer who won the bid and see how they present themselves. Otherwise, check the clients' job history and see the kind of freelancers that they hired for jobs similar to your expertise.
There is always something new to learn from your competition.
Stop Applying For Shit Projects
Be selective about your projects. Even though you want to get as many projects as possible, try to be a bit picky. If you continue applying to each and every project that meets your skillset, you won't get any high-value projects.
Make it about quality, not quantity. I screen potential projects that have a decent budget. Here is how I use the filters for finding new projects.



Stop Sending Shit Proposals
DO. NOT. COPY PASTE: Clients can tell this. I have received some copy-pasted proposals where candidates didn't even bother changing the details of the last project they applied to. They were archived right away.
Make some effort and craft a personalised cover letter.
Read the project description: Properly. This may sound like a no brainer. Like many other clients on Upwork, I too, add a 'read the full description test'.
This is usually a phrase that freelancers are supposed to mention in their proposal. It's shocking how many actually miss this. These proposals are also archived right away.
Address your potential client by name: Please don't start with "Dear hiring manager/ sir/ madam". Now I hear you say, "but Upwork does not show client's name until they reply to our proposal." Well yes, it's still possible to find their name.
You can do this by checking the client's job history. Look at their feedback left by other freelancers. If you scan through it you will be able to see their name in one of them.
It may seem like a very minor detail, but it greatly humanises your proposal. Everyone likes to be addressed by their name.
Make an effort: Answer the screening questions properly. If they've requested links or samples of your past similar projects, then add them.
Ask relevant questions about the project. If a freelancer sends a lazy proposal, I can't trust them to be diligent enough for the project.



Quote Appropriately
Don't under quote. It doesn't improve your chances of getting hired. It only shows that you don't respect your skillset or are not confident enough in your own skills.
I've received proposals with phrases like 'I provide the cheapest price guaranteed'. ?On the other hand, don't grossly overquote.
But how should you know what the appropriate budget is? There is no right answer to this. Once again, the client's job history gives a ton of hints.
Go check their past projects. Are there any related your niche? What was the budget for these projects? Now you have some data to set a budget range for this specific client.
---
You Might Be Interested In: Negotiation Tips That Earned me $10k Projects as a Freelancer
---
Make a Personal Connection Before Finalising Budget



This is more important if you are taking on a big ongoing project. Add a note in your proposal that you have used a 'placeholder budget' and invite them for a short discovery call to define the scope of work. This has two advantages.
First, many clients don't know the scope of work, the estimated time and therefore, the actual budget. I let them know that I'm quoting a placeholder budget as we don't have a specific scope of work at this point. So they are mentally prepared for a change in the quote in the initial Upwork proposal.
---
---
Second, it gives you a chance to make a personal connection with your potential client. You can gauge their personality and talk about the budget during the call. I always send them a 'formal' proposal with my actual budget after the discovery call.
This formal proposal is a PDF with a corporate look and feel with a clearly defined scope of work, some of my (relevant) past projects, my deliverables and the cost of each deliverable.
---
Read more: Remote Job Board for Expats & Digital Nomads
---
Don't Contact Clients Outside Upwork
This is the single most annoying thing I've experienced as an Upwork client. Just because a business is looking for freelancers on Upwork does not mean that they are ready to hire outside.
There are so many reasons they may prefer to work via platforms like Upwork – ease of payment, the convenience of finding experts in multiple niches on a single platform, freelancer's reviews and project history etc. A client has most likely weighed all their options before posting a project on Upwork.
I often get unsolicited emails from Upwork freelancers. They have resulted in exactly zero hires. Recently someone reached out to me on email, Skype, AND Whatsapp.
Instead of making me go back to their Upwork proposal, this approach prompted me to blocked them everywhere.
Golden rule – If a client has posted their project on Upwork, then just do your business with them on Upwork.
In conclusion, if you want to build a serious, lucrative freelance career, I wouldn't recommend surrendering all your eggs in the baskets of marketplaces such as Upwork, Freelance etc.
However, if you are new to freelancing, they are practical for finding clients and building your portfolio. Once you have initial success under your belt, go out in the wild. Build strong, personal relationships with long-term clients that value your work and pay you accordingly.
And most importantly, do a great job on each project so they want to retain their business with you.
---
Using Upwork in Germany? Watch this video on how to make your Upwork invoices compliant with German tax and VAT laws. 
---
Have you ever worked via platforms like Upwork? How was your experience? Do you have any interesting Upwork proposal tips? Let us know in comments below.