7 Things to do in Usedom – Baltic Sea Beach Holiday in Germany
Top Takeaways From This Post
Last updated on July 3rd, 2020 at 01:39 pm
Craving for some much-needed sun and warmth after the corona lockdown? Why not plan a beach holiday in Germany? Read this article and learn all the things to do in Usedom and how you can spend a week-long beach holiday in Germany this summer. 
When we think of a beach holiday, Germany is the last place that pops in mind – right? Well, my friends, let me introduce you to the German Riviera.
The Baltic Sea Coast (Ostseeküste) of Germany is a gorgeous spot located in the northern German states, Schleswig-Holstein and Mecklenburg-Western Pomerania. This region is lovingly known as the German Riviera. 
At first glance, it may not appear as glamorous as its fancy sisters, French and Italian Riviera. However, it is one of the most beautiful tourist destinations in Europe. Unfortunately (or fortunately?), many foreign tourists don't even know about its existence.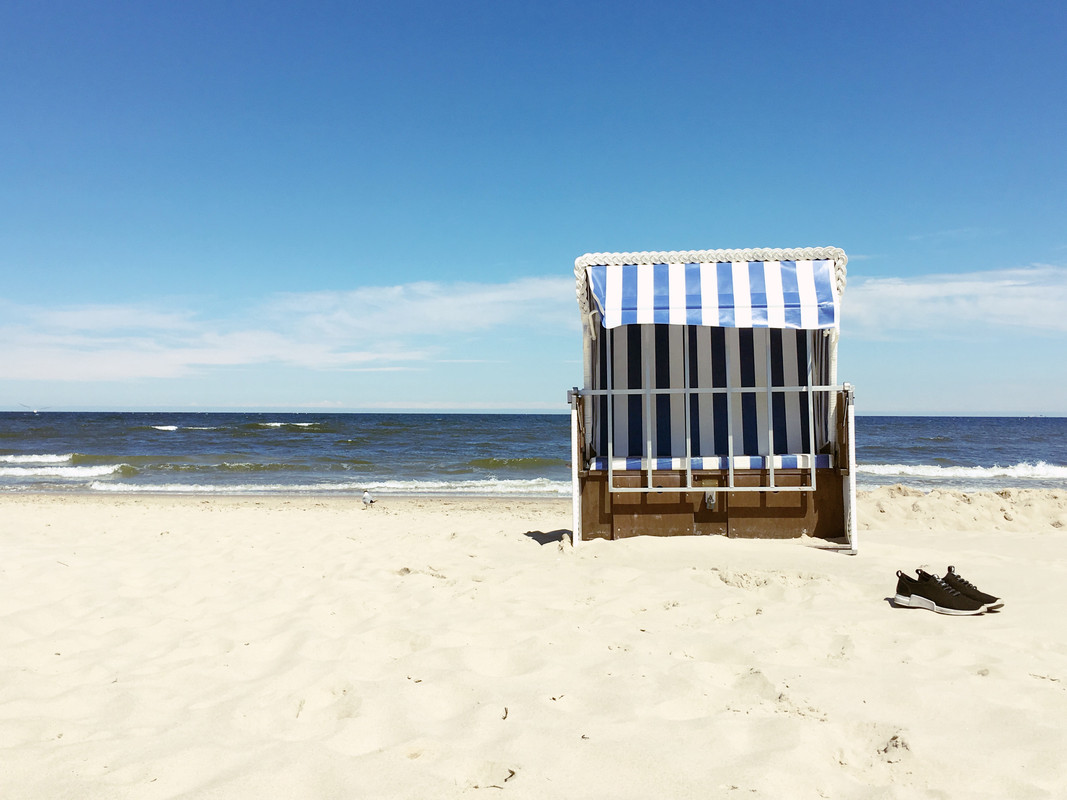 Last June, exactly this week we went on a week-long road trip (with our cat, mind you) to Usedom. Usedom is one of the cutest islands located on the Baltic Sea coast of Germany. 
Now that Corona lockdown has relaxed a bit in Germany, it might be the right time to take some advantage of fewer tourists around the country's most popular beach destinations.  
In this post I will give you an overview of Usedom and its surrounding areas and how could you spend a one week beach holiday in Germany.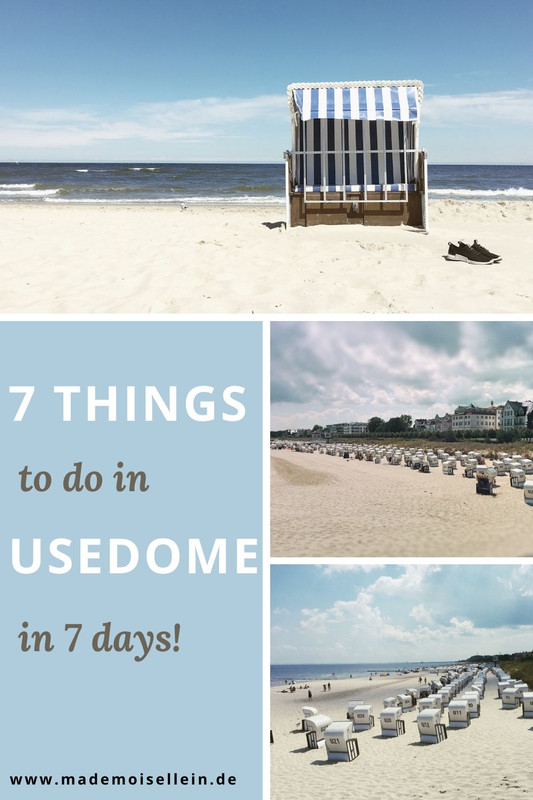 ---
Disclaimer: This blog post may include affiliate links. These links do not cost you anything but I might earn a small commission if you decide to order something from one of my recommended partners. Thank you for your support to help keep this platform growing!
---
Where is Usedom
Usedom is an island in the Baltic Sea coast and shared by Germany and Poland.   
About 80% of the island belongs to the German federal state of Mecklenburg-Vorpommern. The eastern part of Usedom belongs to the Polish West Pomeranian Voivodeship.
This little island is home to three imperial seaside resorts towns Ahlbeck, Heringsdorf and Bansin. This is where the Berlin High Society of the late 19th and the early 20th century used to hand out in their extravagant summer seaside residences. 
Even today, you can relive that vibrant atmosphere of the German Golden Twenties (Goldene Zwanziger) in Usedome's promenade, cafés, guesthouses and the elegant villas of the seaside resort architecture from the imperial era.
Why Should You Visit Usedom
Well, who wouldn't want a beach holiday in Germany?
It has everything a coastal vacation with a bonus of vast open white sand beaches, peaceful uncrowded imperial cities and buzzing beach promenades. Plus it is a great region to go on a holiday with the entire family, including your fur child! The North Sea and Baltic sea are two of the most popular holiday spots in Germany for dog parents. 
With an annual average of 1906 sunshine hours, Usedom is the sunniest region of both Germany and Poland. It has been nicknamed "Sun Island" in both German and Polish. 
Doesn't it already sound like a must-visit holiday spot in Germany? 😉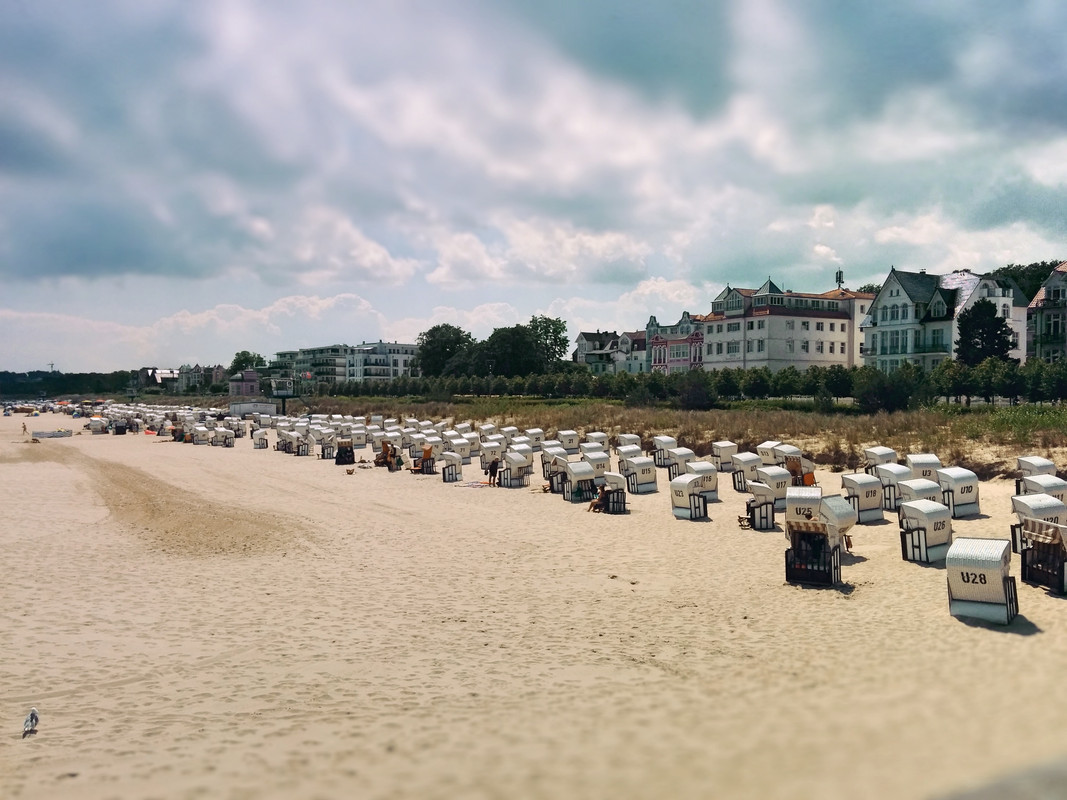 How to Get to Usedom 
By Flight 
Usedom Island is accessible from Heringsdorf airport. You can get information about the flight connections and ticket booking here.  
If you are concerned about the current circumstances, Opodo offers low-cost flights with a possibility to rebook without any extra fee.
By Train 
You can reach Usedom island by train from anywhere in Germany. 
You can plan your train journey to Usedom by using the journey planner from the Deutsche Bahn. Currently, DB is also offering super saver fare tickets for all over Germany! With the super saver fare, you can book affordable train tickets to travel through Germany for as little as EUR 17.90
By Bus
More and more bus operators provide bus connections to the Usedom island from German cities.
Flixbus offers amazingly affordable fares for travel in Germany. The bus fare for two adults from Berlin to Usedom costs under €20 for a mid-July journey!
Similarly, the journey Frankfurt to Usedom costs only €65 for two travellers. However, it is a night bus and a long journey. Flixbus offers free wifi, so I reckon 12 hours can go by pretty fast sleeping or streaming on the bus.
By Car
I am too old to travel a long distance on the bus so we decided to use the car instead. 😉 Plus we had a pet in tow. Just as a reference this was an 8-hour drive for us from Nuremberg to Usedom. 
Before Usedom, we used SIXT for all our major road trips so far – Algarve, Amalfi Coast, and South France. They have one of the largest car rental networks with over 2000 stations in the world even in smallish cities and airports. They also have an out of hour self-service key drop off or pick up possibility.
So for our road trip to Usedom we rented a car from SIXT as well. Funny enough we had booked a smallish car because of lower rates. However, when we went to collect it, they gave us a free upgraded to a top of the line Audi because our originally booked car was unavailable at the time.
It was a win-win situation because we were travelling with our cat and this upgrade had a lot of space for his XXL size travel carrier in the backseat.
Click here to find the latest car rentals on offer from SIXT.
Where to Stay in Usedom
As any tourist area, Usedom has tons of hotels and beachside resorts. They are typically expensive since most of these are in seaside resorts. We chose to stay at a 'ferienwohnung' or a holiday apartment or FeWo in short.
We travel a lot with our cat and have noticed that is is much easier to find a self-serviced holiday apartment within our budget that allows pets as well. Plus they are much larger in size than a hotel room (often have a balcony!) so our cat has space to watch birds or run around. 
Hotels, on the other hand, are generally smaller than a FeWo and charge much more once you add a pet to the booking.
We found a cute and modern fully furnished two-bedroom apartment through TUI's Ferienwohnung portal. Our apartment had a completely equipped kitchen and a balcony overlooking Balmer lake. We had lazy mornings chilling on the balcony with our kitty and enjoying coffee and cookies.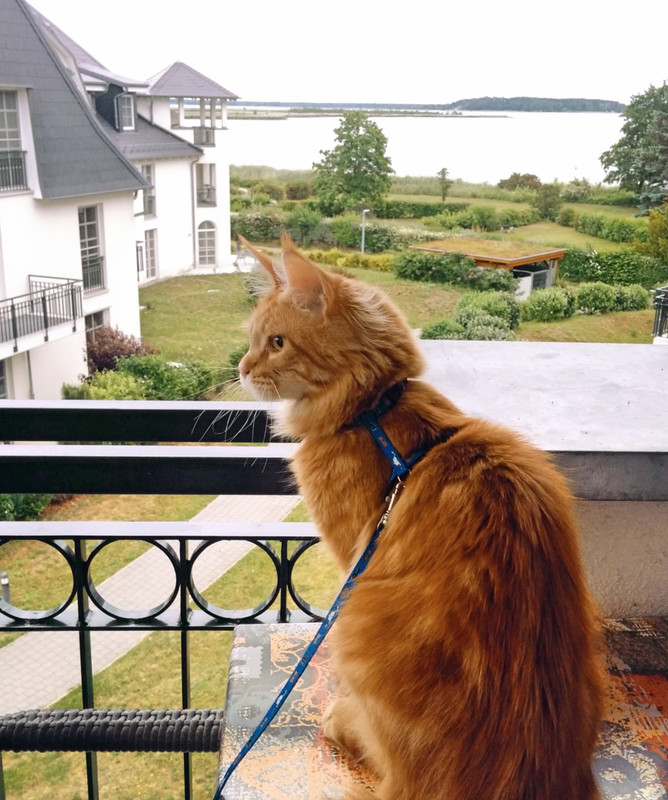 In our little experience, TUI is excellent for finding affordable holiday apartments in Germany when travelling with pets. They have an entire section dedicated to holiday packages with dogs in Germany and abroad. 
If you are taking your kitty on a holiday then make sure that FeWo's description includes 'haustiere erlaubt'. If 'cats' is not explicitly mentioned in the description just message the property owner to confirm if they allow cats in their property.
Pro tip: If you are travelling with your dog, then make sure you have the dog liability insurance. In fact, most FeWos in Germany won't let you book without this insurance.
Seven+ Things to Do in Usedom in Seven Days
So now that you know how you can get to Usedom and where you can stay on the island, you need some ideas on what you can do in a week-long beach holiday in Germany's sunniest island.
Here are seven or more things to do in Usedom in one week!
Take a Seaside Stroll from Germany to Poland on Europe's Longest Beach Promenade
Usedom's beachside promenade stretches for 12 km and is the longest promenade in Europe. This single promenade connects the coastal cities of Bansin, Heringsdorf, and Ahlbeck in Germany and Swinemünde in Poland.
Each of the three German resort towns has a pier each which offer gorgeous viewing points, ice cream parlours, cute cafes and restaurants. 
If you are motivated enough, grab an ice cream cream and cover all three piers in one single day on foot.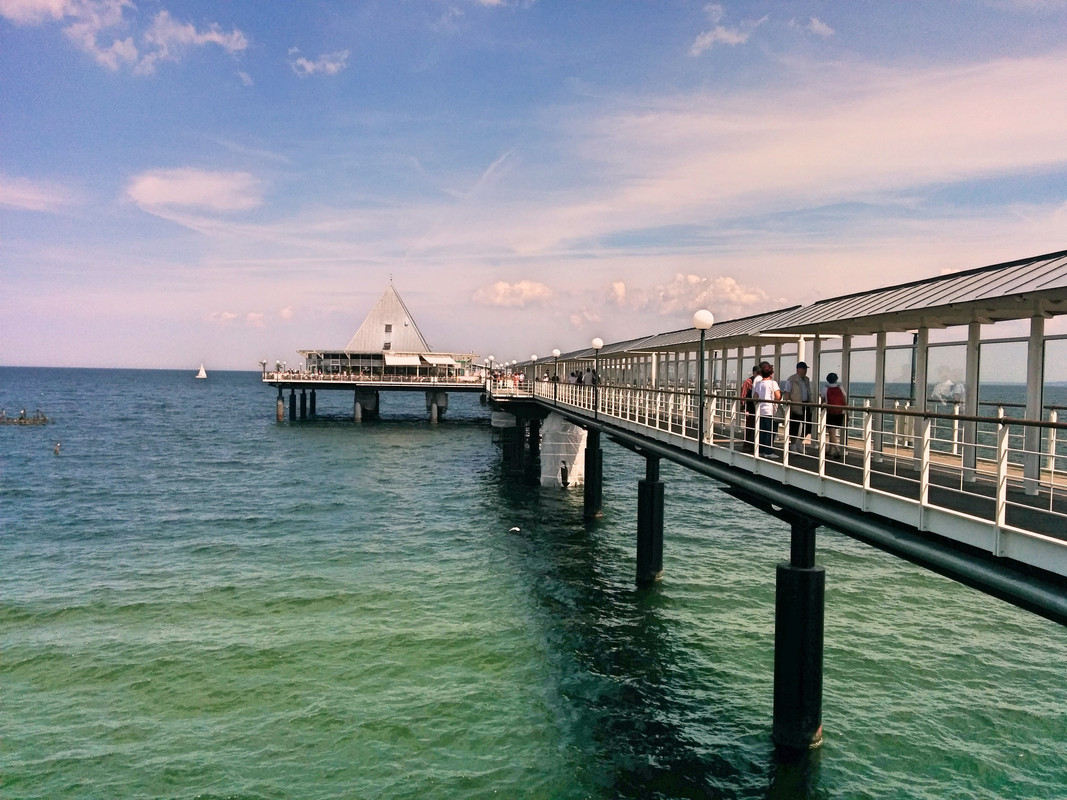 Spend an entire day in the Strandkorb on one of the white sandy beaches
Strandkorb is a national treasure!
You can't just go to the Baltic coast of Germany and NOT spend a beach day in the iconic strandkorb AKA hooded beach chair.
Even if you have never heard of a strandkorb before, you will still recognise it the moment you lay eyes on it. There is not a single image from the North or Baltic Sea that does not feature the endless rows of blue-white striped strandkorbe on white-sand beaches.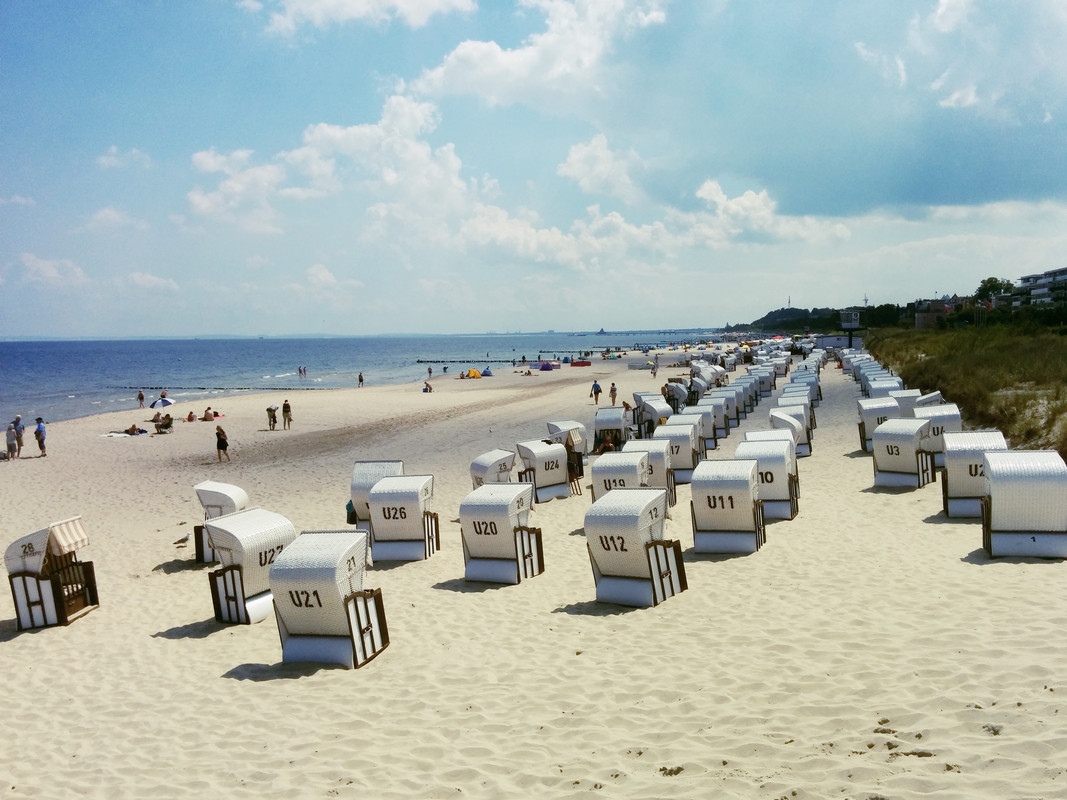 You truly get to experience German Gemütlichkeit and efficiency at the same time in this cult object. 
Strandkorb was engineered to provide comfortable seating and shelter from seaside wind, rain, sand gusts and sunburn on the Baltic beaches in Germany. Other small but handy details, like extendable footrests, sun awning, side-folding tables and storage space are all there to make sure you never have to leave the beach.
So no more wrestling with the beach towel caught up in the strong winds or getting baked and overheated in the direct sun like a peasant.
In a strandkorb, you can comfortably sit enjoy uninterrupted beach time for hours. Go swimming, fly kites, play volleyball, enjoy ice-creams. Come back to the strandkorb whenever you need to chill. 
Every beach has a 'beach-chair warden' (Strandkorbwärter) where you can easily rent them for a specific time period. Generally, they are available for 1 hr, half-day (4 hrs) or full-day (8 hrs) for very affordable prices.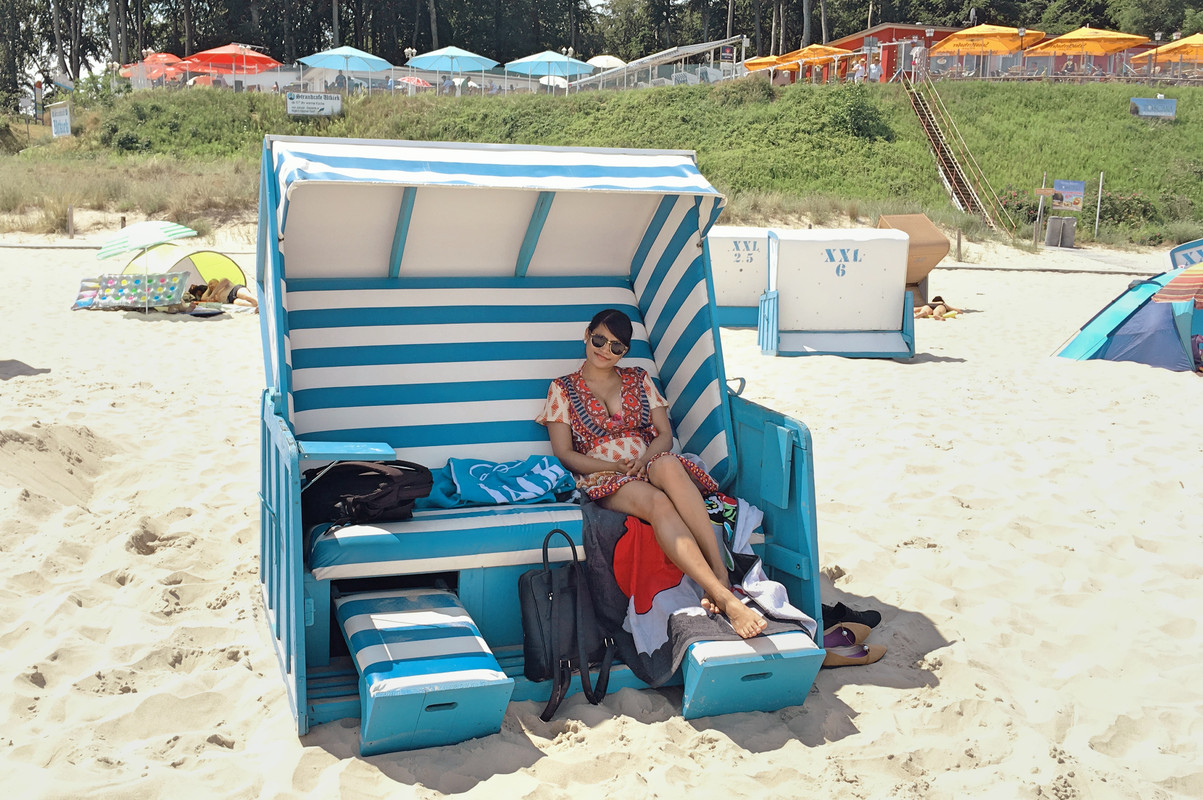 Enjoy German seafood
Seafood in Usedom is a must-try. Most local seafood restaurants use the fish from the morning catch. By midday, it is processed, smoked, marinated, grilled and served on your platter. Fischeintopf (fish stew) and Fischsülze (fish in aspic jelly) are some local delicacies to try. 
But Fischbrötchen (German fish roll) is the undisputed superstar when it comes to regional cuisine. This humble sandwich is made with fish and other condiments such as fresh white or dried onions, crunchy pickles, remoulade, creamy horseradish sauce, ketchup, or cocktail sauce. 
Fischbrötchen comes in a number of avatars – Bismarck herring, matie, fried herring, rollmops, sprat, salmon or salmon cutlets, mackerel as well as North Sea shrimp or crabs.
It is a must for anyone who visits the German Baltic coast, even if only for one day. These fish rolls are available in every restaurant, cafe, imbiss or beach shack in Usedom.
One of my favourite memory of our beach holiday in Usedom is enjoying a crispy Fischbrötchen and bier in a Strandkorb on the beach.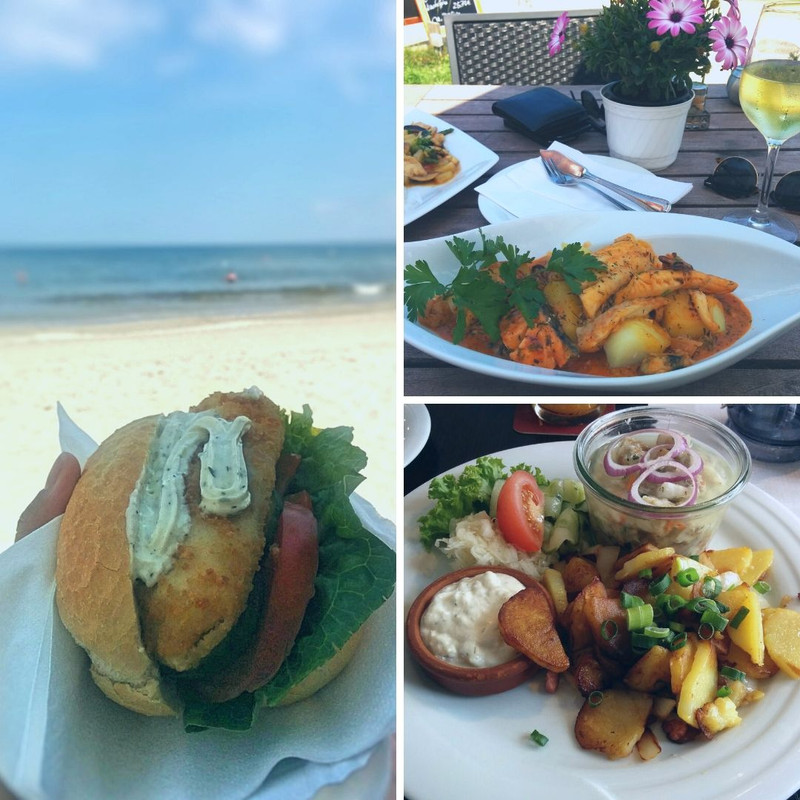 Bike around some of the scenic rural areas in the island
There are almost 200 kilometres of bike paths on the Usedom island. From the longest promenade in Europe, which leads from Bansin via Heringsdorf and Ahlbeck to the Polish city of Świnoujście.
In fact, this region is very popular for biking tours and biker lanes and parking places are everywhere. There are a number of guided biking tours and offer a lot to explore in the area. You can visit medieval churches or modern art exhibitions or just enjoy the natural beauty of Usedom.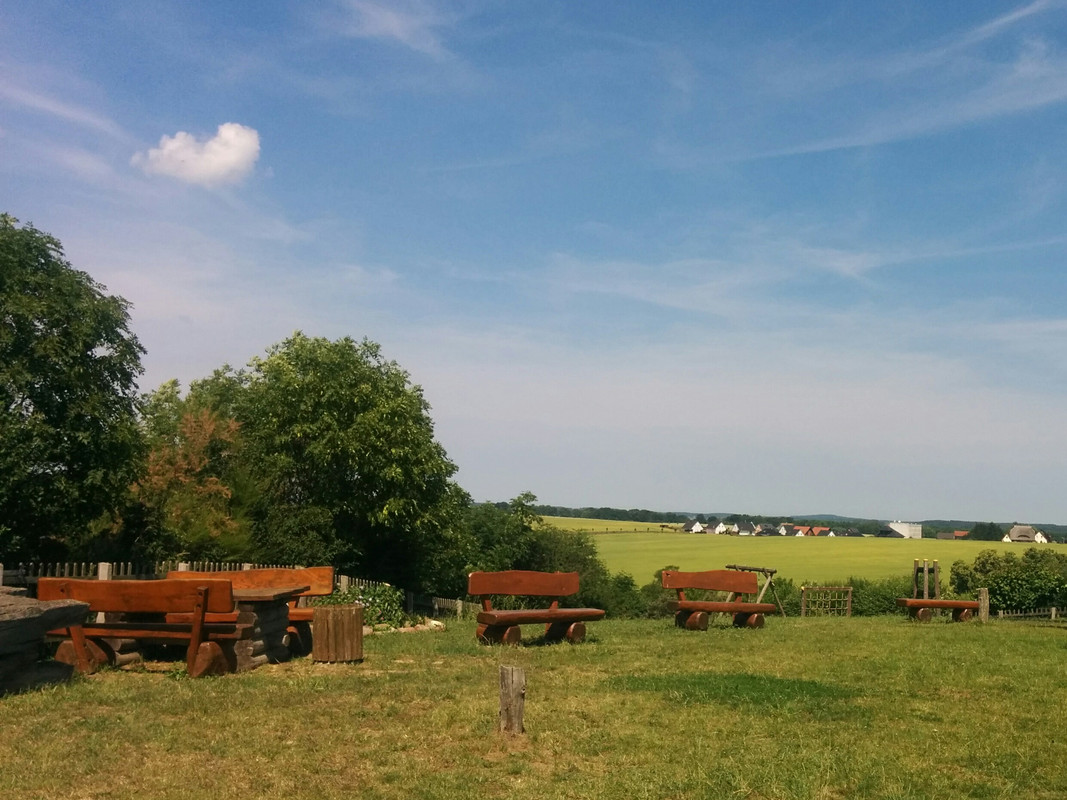 You don't need to bring your own bike either.
Usedom Rad is a popular bike rental service for tourists.  It is kind of SIXT of bike rental. You can rent bikes at one of the over 100 stations. When you are done exploring the island, you can drop it back at any station you want.
Here is an interactive map showing an overview of all the bike rental station in the area.
But before you book a bike, check with your FeWo or hotel if they provide bikes to their guests. It is common for local hotels and holiday apartments provide their own bike rental services. Our property owner had included access to two bikes for free! 
Go for a Nordic Walking tour (with your pet)
Usedom has been called the paradise of Nordic Walking.
There are seven Nordic Walking tours in this region each with various difficulty grades and length between 4 and 20 kilometres. Each of these tours has a common start point: the beach access in Heringsdorf on the left side of the pier. 
Since you are on a beach holiday in Germany, you can walk along the infinitely long beach. But don't miss out on the lush walking trails through the forests around the three Imperial resort towns.
The routes are marked everywhere with signposts and maps so it is possible to safely walk on your own. It is also possible to do the Nordic walking with a qualified guide for a fee.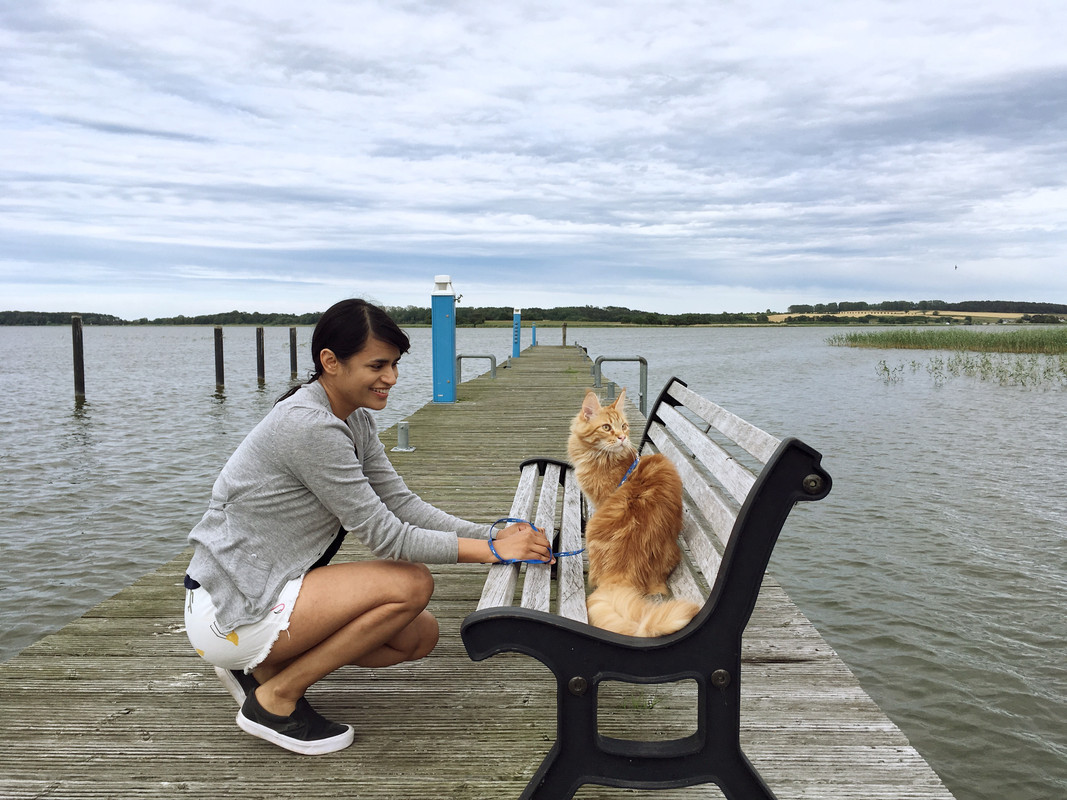 Visit an FKK beach
Sun, sea, and skinny dipping. Now that sounds like a perfect beach holiday in Germany. For some anyway!
FKK short for Freikörperkultur or naturism or nudism emerged in former East Germany into a real beach and bathing culture. Even after the collapse of the GDR, it is very popular in the entire country. 
FKK beaches are completely normal. Usedom has predominantly textile beaches. There are about 10 nudists beaches where you can sunbathe and swim around naked.
Nudist and textile beaches are generally separated. The beginning of each naturist beach is marked clearly with German, Polish and English signs- most likely to warn confused foreigners who unknowingly wander into the FKK territories.
A word of caution though – FKK is not for everyone. First, you are expected to be completely naked in FKK beaches. It is definitely not a place to stare at naked men and women minding their own business at the beach.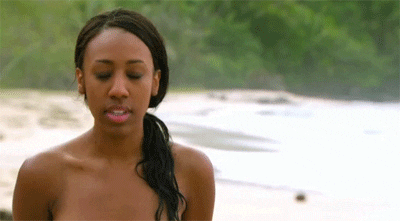 If you are neither ready to strip down to your birth suit nor used to the in-your-face European nudist culture – then it would be better to stay in the textile territory.
Here are some other exciting things to do in Usedom in one week
Usedom is truly underrated but must-visit beach holiday destinations in Germany. You can sit back and sink your feet in the pleasant and warm sand. It is vibrant, without being overcrowded with tourists. So next time when you're craving for some beach time, don't overlook Germany's Baltic and North sea coast.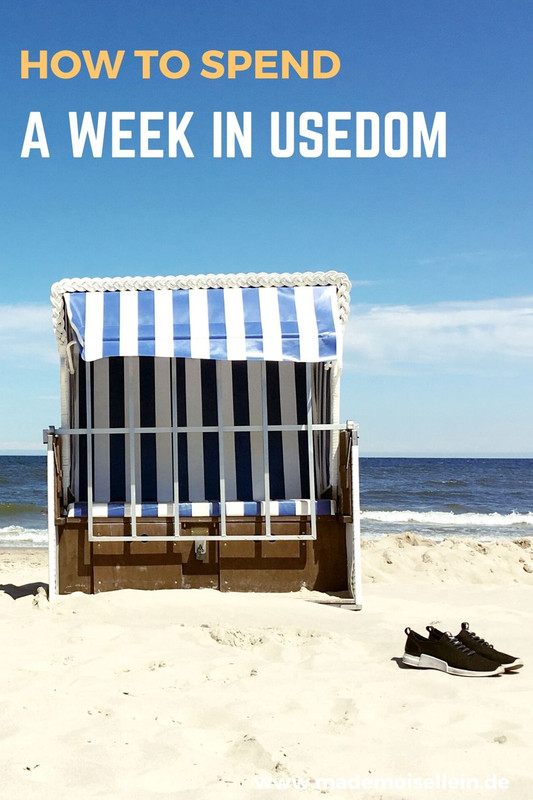 So this was my guide on things to do in Usedom in seven days. Have you also had a beach holiday in Germany? Was it in Baltic sea or the North Sea? Did I miss some exciting tips? Let us know in the comments below.