All About SCHUFA Credit Check Explained (2023 Update)
Top Takeaways From This Post
Last updated on May 19th, 2023 at 09:10 am
Have you been asked for SCHUFA in Germany? But what exactly is a SCHUFA credit check and how does it work? How to get schufa in Germany? Learn more in this post. 
Most of us need a SCHUFA certificate when we want to rent an apartment in Germany. Or when someone wants to take out a loan from a bank to build a house or buy a property in Germany. Heck, you might even need a credit check for taking out a mobile phone contract.
So let's learn a bit more about SCHUFA in Germany.
1) What is a SCHUFA credit report?
SCHUFA is short for Schutzgemeinschaft für allgemeine Kreditsicherung (Germany's largest credit agency since 1927).
SCHUFA credit check (aka SCHUFA-Bonitätscheck) provides information about a customer's ability to pay their bills regularly, also known as 'creditworthiness'.
This credit check report in Germany considers various factors and is based on a formula. Legend has it that this formula is a trade secret and is not publicly available.
2) Why or when do you need a SCHUFA credit check?
Most commonly, a SCHUFA credit check for foreigners (and locals) comes into question when they need to prove their ability to keep up with the bills.
Basically, any purchases that need payment in instalments will almost always warrant a SCHUFA credit check in Germany.
Another most common reason is when renting an apartment in Germany. It's very rare for a German landlord to lease an apartment without a SCHUFA certificate.
If you want to take out a personal, housing or business loan in Germany, then of course your bank will want to check your SCHUFA credit score.
In some cases, you may need a credit check to sign up for a long-term contract – such as a mobile phone or Internet contract.
3) What if you are completely new in Germany and have no credit history?
Of course, your SCHUFA credit check will generate very little info if you have never lived in Germany. But it does not mean that you cannot take out a phone or internet contract or rent an apartment in Germany.
In this case, you may have to provide additional documents such as your recent salary slips, or your work contract at a German employer or any other sources of financial stability such as a saving account or investments.
4)
How much does a SCHUFA credit check cost?
Most of the online providers charge a one-time fee of €29,00 to generate a digital SCHUFA credit report for you. This report usually suffices for typical German contracts such as a rental agreement or a mobile phone contract.
You can also obtain a free SCHUFA report.
Unfortunately, the 'free' part is a bit misleading. It is actually not an official credit report!
Instead, this document is just a copy of ALL the data that SCHUFA has collected about you and your financial history in Germany.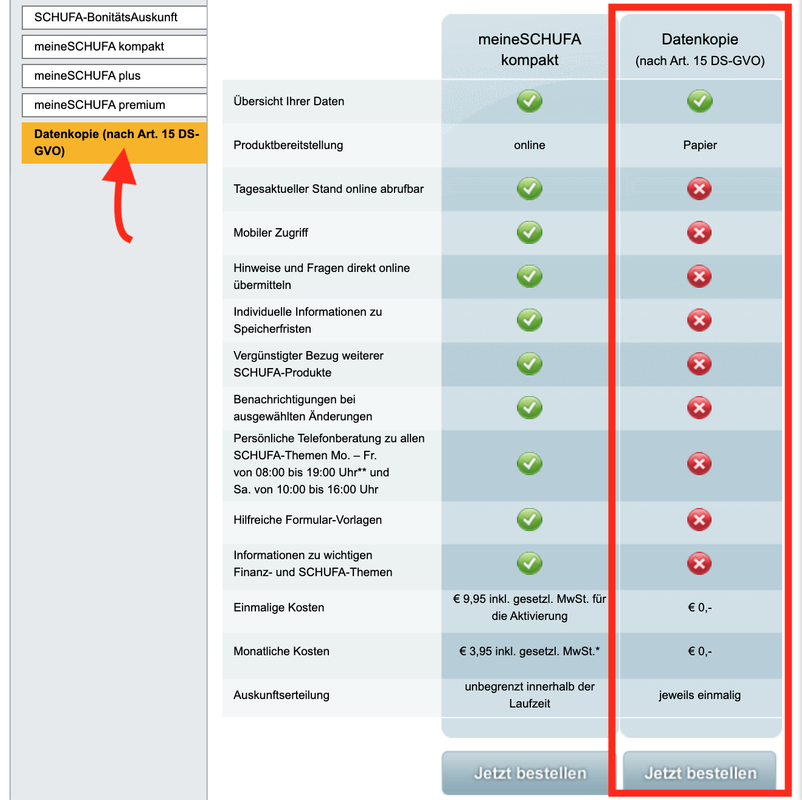 One caveat with this free SCHUFA information is that it does not have a sufficient legal basis for official uses such as a rental or Internet contract.
Moreover, this SCHUFA data copy is more like a 'for your eyes only' document.
It contains a lot of personal and financial data (e.g. any privately paid medical treatments). You probably do not want to disclose so much of your sensitive information to third parties such as a potential landlord or a loan broker.
However, it is absolutely perfect for monitoring your personal credit score in Germany.
5)
How can you get a free SCHUFA credit report?
All residents of Germany have the right to request this information once a year free of cost under Art. 15 DSGVO Federal Data Protection Act.
It is actually quite hard to locate the order form for this free SCHUFA report even on the official website. The trick is to search for 'Datenkopie (nach Art. 15 DS-GVO)' instead of 'SCHUFA-Auskunft' (the paid credit report).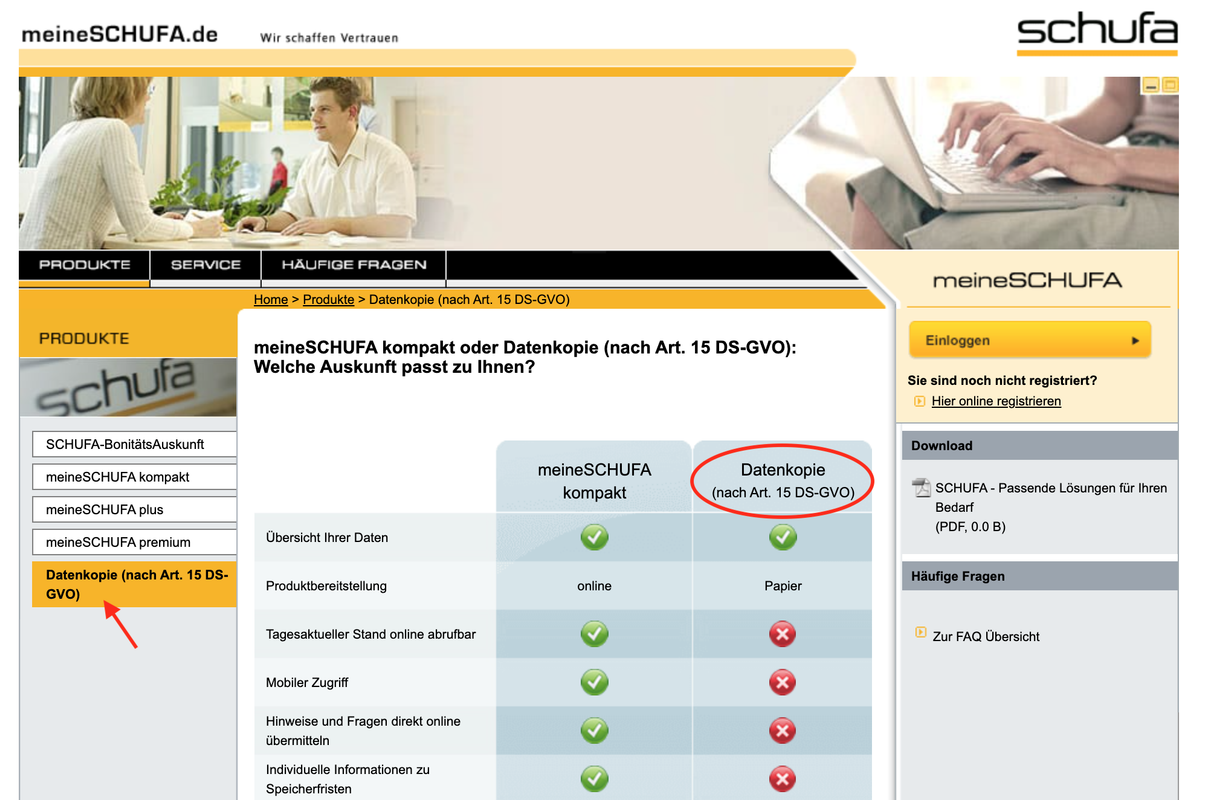 ---

Go to this page to request your SCHUFA personal data copy directly.
Click on Datenkopie (nach Art. 15 DS-GVO)' and fill up the online form.

---
6)
How do you get a SCHUFA in Germany as a foreigner?
There are two ways to get a credit report in Germany
6.1) Get it through MeineSCHUFA
You can request a SCHUFA-BonitätsCheck directly from meineSCHUFA.de
Usually, it works in the following simple steps:
Go to the providers' online form here: meineSCHUFA.de
Fill up the online form
Upload proof of your identity (copy of the passport or Meldebescheinigung)
Make the payment (standard cost is €29,00 with all providers)
The processing time is very fast and you receive your SCHUFA certificate immediately after the payment. This SCHUFA Auskunft contains no sensitive financial information (as in the free data copy) and just a statement about your 'creditworthiness.'
Here is what my SCHUFA certificate looked like when I ordered one for my rental contract a few years ago.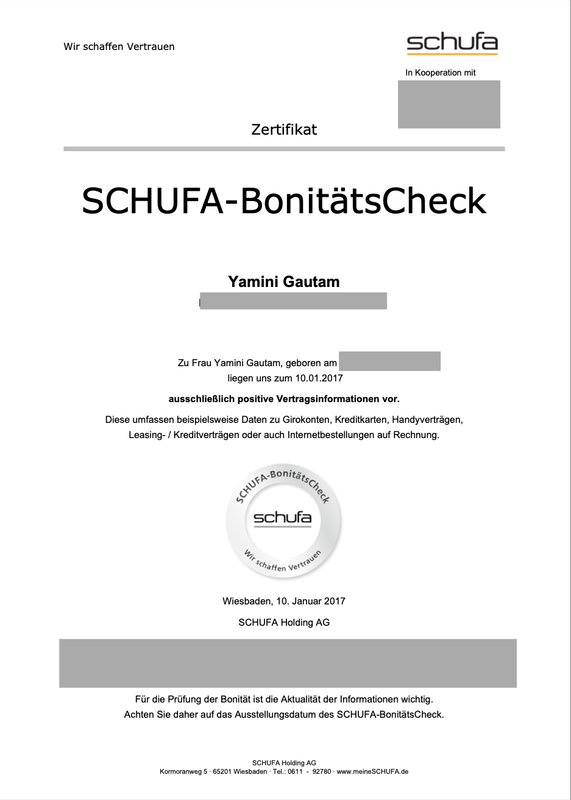 ---

Click here to order a SCHUFA Auskunft online

---
6.2) Get it through Bonify
bonify is pretty much a modern alternative to SCHUFA. It can help you to monitor your creditworthiness data and your SCHUFA score (for FREE!). They also inform you about changes in your credit rating and help you to improve it.
The best thing is that you can download its app and use it on your phone on the go.
The bonify Mieterauskunft (tenant certificate) summarises all the documents you need to present to landlords completely and clearly in one form. These are:
Personal data
Proof of creditworthiness from Boniversum
Proof of salary
Proof of employment
Rent payments for the last 3 months
In cooperation with Boniversum, bonify offers you the cheapest Mieterauskunft on the market. It costs you only € 14.99 and can be updated at any time.
---
Click here to order a Mieterauskunft for € 14.99
---
7) What data is collected by SCHUFA in Germany?
Personal data: Your full name, address, previous addresses and dates of birth.
Financial details: Existing bank accounts, credit card transactions, existing instalment payments, current or concluded loans, leasing contracts for vehicles, guarantees, contracts from the mobile phone or telecommunications industry, various insurance contracts and contracts with energy suppliers etc.
SHUFA also collects the history of your unpaid bills, fines and court judgments.
All this information is used to calculate your SCHUFA score which is then stated on the certificate.
8) What does your SCHUFA score mean?
SCHUFA uses various scoring methods, which are individually distributed among various categories.
There are two types of SCHUFA scores: a basic score and industry scores.
8.1) What is the basic score?
The SCHUFA basic score is for your eyes only. You can get this score by ordering a SCHUFA Selbstauskunft (self-disclosure) as explained in the above section.
This basic score shows the probability of reliable payment by you. A high score indicates a low risk of default.
For example – if you have a SCHUFA score of over 97.5, you belong to the group with the lowest risk of a payment default.
8.2) What is the industry score?
SCHUFA industry scores are also in your self-disclosure.
These scores are specially tailored to different industries, such as the SCHUFA score for phone or internet companies or banking, etc.
The industry scores are calculated differently depending on the industry. Then these scores are subdivided into rating levels.
8.3) Which SCHUFA score is considered good?
Generally, any SCHUFA credit score above 90% is considered to be a good one.
You should try to maintain a score of 97% or higher. This way you will never run into problems with the bank or landlords in Germany.
A low score can indicate that you have a high risk of defaulting on payments. This can make it more difficult, or even impossible, to get credit in Germany.
8.4) How often is the SCHUFA score updated?
Your SCHUFA credit score is updated every three months. If you want to check your latest score you can order the free SCHUFA data copy once a year.
8.5) What can cause the SCHUFA score to go down?
Your SCHUFA score can drop because of several reasons. For example:
Unpaid bills
Late payments on your credit.
Overdrawn accounts
Use of your bank overdraft
However, other factors may also contribute to the deterioration of your SCHUFA credit score in Germany, such as:
Age: Older people are more likely to be considered creditworthy. For lenders and banks, people around the age of 50 are most attractive as customers since they are perceived to have more financial stability than younger people.
Frequent financing: Frequently paying in instalments for typical household or retail shopping can damage the SCHUFA score in the long run.
For example, financing retail purchases such as household electronics from MediaMarkt or Saturn, clothing from Zalando or H&M or household shopping from Amazon. You should avoid it if you can.
Frequent changes of residence: Some lenders can interpret this as inconsistency and make it more difficult to find you. Although this does not apply to students or foreigners who have just arrived in Germany.
8.6) How can you improve your SCHUFA score?
You often can't improve your SCHUFA score overnight. But with a few simple steps, you can really help your credit rating:
Always pay your bills on time.
Cancel any unused current accounts and credit cards.
Check every entry in your credit report for accuracy.
Always pay instalments of any kind on time.
Keep a balance between income and expenditure.
Always keep an eye on your SCHUFA score. Especially, if you plan to take out a loan in Germany at some point in your life.
Anyone can run into unexpected financial difficulties. If you find yourself in one, you can always get in touch with your creditor and find a new payment plan. This can prevent also negative SCHUFA entries in your record.