What is Legal Aid in Germany and How to Apply for it
Last updated on December 21st, 2022 at 07:05 pm
Flexing legal muscles is one of the most preferred ways to solve conflicts in Germany. At the same time, hiring a lawyer can be very expensive. If you are a foreigner living here and suddenly found yourself in a pickle, here are some ways to get legal aid at an affordable cost or free legal advice in Germany.
Did you know that in 1919, Germany became one of the first countries to introduce a free legal support system for its financially challenged citizens? Free legal aid in Germany still exists and is available for all residents, including foreign citizens.
In this post, you can learn how to go about getting legal help in Germany if you:
have limited funds, and
are not a member of a trade union (Gewerkschaft) and
do not have legal protection insurance (Rechtsschutzversicherung)
1) Preventive measures to avoid excessive legal costs in Germany
You can avoid the inordinate legal costs in the first place by taking some preventive measures as soon as you start living in Germany. Here are some common ways locals deal with unexpected legal costs in their lifetime.
1.1) Contracts Check Services
Sometimes German contracts can be trappy by design. Even native German speakers tend to hire lawyers to get big contracts (such as real estate or rental) verified before signing.
Backtracking on a signed agreement is next to impossible in Germany. A lawyer can check for any possible clauses that could come back to bite you in the ass later. You can search for and hire a lawyer in Germany on your own.
Another option is to use an online contract check service by 'YourXpert.de'.
You can upload your contract online and YourXpert team will assign a lawyer to investigate your contract for –
any potential pitfalls in the contract
any missing and unfavourable clauses
identify any legally doubtful or improvable passages
make suggestions for improving the wording and clauses in your favour
This contract check service starts at 84 EUR (for comparison our real estate lawyer charged 300 EUR/hr).
Get your contract verified here:
1.2) Legal Protection Insurance
Get preemptive and arm yourself with a Rechtsschutzversicherung aka legal protection insurance in Germany.  When you sign up for legal protection in Germany, you pay a small monthly fee to your provider. If you ever run into an unexpected legal issue, they cover the financial costs of legal disputes. This insurance is important for both self-employed and private persons.
GetSafe offers expat-friendly legal protection in Germany for private persons – in English – with unlimited coverage!
If you are self-employed, you must take out legal protection insurance specific to your profession. Hiscox offers legal protection for professionals working in nearly 200+ traditional and modern professions.
1.3) Private Liability Insurance
Nearly 85% of Germans have this insurance. Private liability insurance protects you from any third-party claims if you accidentally damage something. As per German law, one is liable for an unlimited amount of damages AND with all personal assets.
A costly mistake in Germany can easily turn into lifelong bankruptcy. Private liability insurance usually costs under 10 EUR per month (for the entire family) and prevents exactly this type of sudden shitshow.
If you want an English-speaking service, you can sign up with GetSafe's private liability insurance or read this article to compare several more German providers.
---
If you neither have any legal protection insurance nor funds to hire a lawyer in Germany, then here is how you can apply for free legal aid in Germany.
2. What is legal aid in Germany?
Legal aid in Germany consists of Beratungshilfe and/or Prozesskostenhilfe.
Beratungshilfe basically means 'legal advice assistance' in German. With Beratungshilfe you can receive expert legal advice in Germany at a very low cost.
If legal advice alone is not enough and you need further help to defend your rights against a third party, then legal aid in Germany also covers lawyer's fees for representation in a court (Prozesskostenhilfe).
3. Which issues are covered by German legal aid?
Legal aid in Germany is granted for all legal matters. This includes the following areas:
• Civil law (e.g. sales law, landlord and tenant cases, claims for damages, road accidents, neighbourly disputes, divorce and maintenance cases, other family matters, inheritance disputes, insurance claims);
• Labour law (e.g. termination of labour contracts);
• Administrative law (e.g. Federal Training Assistance Act (BAFöG), tax law, school and university law, trade law);
• Social law (e.g. "Hartz IV" basic income for job seekers, statutory insurance for health, pensions and accidents);
• Tax law (e.g. matters related to child benefits under the Income Tax Act);
• Constitutional law (e.g. constitutional complaints due to violations of basic rights).
4. Who is eligible for legal aid in Germany?
If you meet the eligibility criteria as determined by Germany's Civil Procedure Code, you could receive free legal advice in Germany.
Anyone who doesn't have enough funds to pay the court costs, or can pay them only in part or in instalments, is eligible for legal aid. This includes support for legal advice (Beratungshilfe) as well as court costs (Prozesskostenhilfe).
Anyone who has no assets and whose available income amounts to less than €20 will be fully exempt from court costs and the cost of their own lawyer.
Non-German citizens are also eligible for legal help in Germany.
5. Which costs are covered by legal aid in Germany?
Depending on your available income, legal aid will either completely or partially cover your share of the court costs and the cost of your own lawyer. However, legal aid in Germany does not cover any costs you may have to pay to your opponent, particularly the cost of the opposing lawyer.
In most cases, therefore, whoever loses the case must cover the costs incurred by the opposing party, even if they have been granted legal aid.
Labour court disputes are the only exception to this rule.
6. How to apply for Beratungshilfe in Germany
Here are the steps as described by Bundes Justizamt for anyone applying for legal aid in Germany.
6.1) Make an appointment at your local Amtsgericht
First, find your Amtsgericht (local district court). You can do this by Googling "Amtsgericht + German city (where you are registered as a resident.)
You should make an appointment with a Rechtspfleger (paralegal) at the Rechtsantragstelle in your Amtsgericht. 
If you find yourself in an urgent situation, you can go without an appointment. However, you should show up early and be prepared to wait for your turn.
6.2) Apply there for a Beratungshilfeschein
Beratungshilfeschein is a legal aid certificate that covers your lawyer's consultation fee.
Before issuing a Beratungshilfeschein, the district court assesses whether you are financially unable to raise the funds for hiring a lawyer in Germany.
For this, you have to prepare the following documents-
A completely filled application form called Antrag auf Bewilligung von Beratungshilfe. You can also download this form online here.
Proof of personal and financial circumstances, current income documents (e.g. wage statement, unemployment benefit or assistance certificate, etc.), as well as all monthly expenses must be submitted in your application.
6.3) Make an appointment with a lawyer
Find a lawyer who has expertise in the required field of law (Strafrecht, Mietrecht, Vertragsrecht, etc..) and make an appointment with them to get legal advice. You can also find an English-speaking lawyer or one who speaks your native language.
7) What is the cost of legal aid in Germany?
Legal aid in Germany is free of charge for eligible recipients.
Generally speaking, a lawyer cannot charge anything above €15 from a person who has legal aid in Germany. In some cases, the lawyer declines the €15 payment if the person seeking help cannot afford it.
However, there are some exceptions to this.
1. If the court case was successful and you end up benefiting financially from winning the case (e.g. recovering a debt, receiving compensation for damages or inheriting money) — then the adviser can apply to the local court to withdraw the legal aid and demand payment of a previously agreed-upon amount.
Your lawyer must inform you of this before they take you on as a client.
2. If you submit your application after you have received legal advice from a lawyer, you may also have to pay more than €15.
For example, if the local court denies your application and you have already received legal advice, then the lawyer can demand their regular consultation fee. In this case, too, your lawyer must inform you of this before they take you on as a client.
3. Legal aid in Germany does not cover any compensation that you might have to pay to a third party. If you make a wrongful demand of a third party and they hire a lawyer to defend themselves, you may be required to pay the resulting lawyer fees of that party.
4. Finally, you may have to pay legal fees if you provide inaccurate information in your application. In case of a fraudulent application, the local court can withdraw the grant within one year and demand you to pay the legal fee in full.
8) What special laws apply to Hamburg, Bremen and Berlin?
These cities have different procedures to provide free legal advice to low-income people.
Hamburg: Legal advice in Hamburg is provided by the public legal information and conciliation office aka Öffentliche Rechtsauskunfts- und Vergleichsstelle (ÖRA).
Bremen: In Bremen, legal aid is provided by the chambers of labour (Arbeitnehmerkammer).
Berlin: To get legal aid in Berlin, you can choose between a public legal advice system and the legal aid scheme described above.
---
9) Some other ways to get legal counsel in Germany
You can seek low-cost or free legal advice in Germany or representation in court using the following resources if you have limited means or a low income.
9.1) Trade unions or non-profit organisations
If you are a member of a trade union or professional organisation then you would be able to get free legal advice through them. Some examples of such organisations are as follows:
Verbraucherzentralen are the consumer associations in Germany. 16 federal states have consumer associations that offer advice and information on consumer protection issues, help with legal problems and represent the interests of consumers at the state level.
Students at certain universities can get free legal advice in Germany from their universities too. If you are a student in need of legal counsel, then check the website of your city's Studentenwerk.
9.4) Use an online legal service provider platform
You can use online legal service provider platforms such as YourXpert and get quick legal advice at reasonable fixed rates. You might not be able to find a free lawyer in Germany, but certainly faster and more affordable than consulting a lawyer in your city centre.
If you speak even basic German these services can be helpful in urgent cases. However, most of these platforms have some English-speaking legal experts in their database.
Read this post to learn step by step guide to finding an English-speaking lawyer in Germany on YourXpert.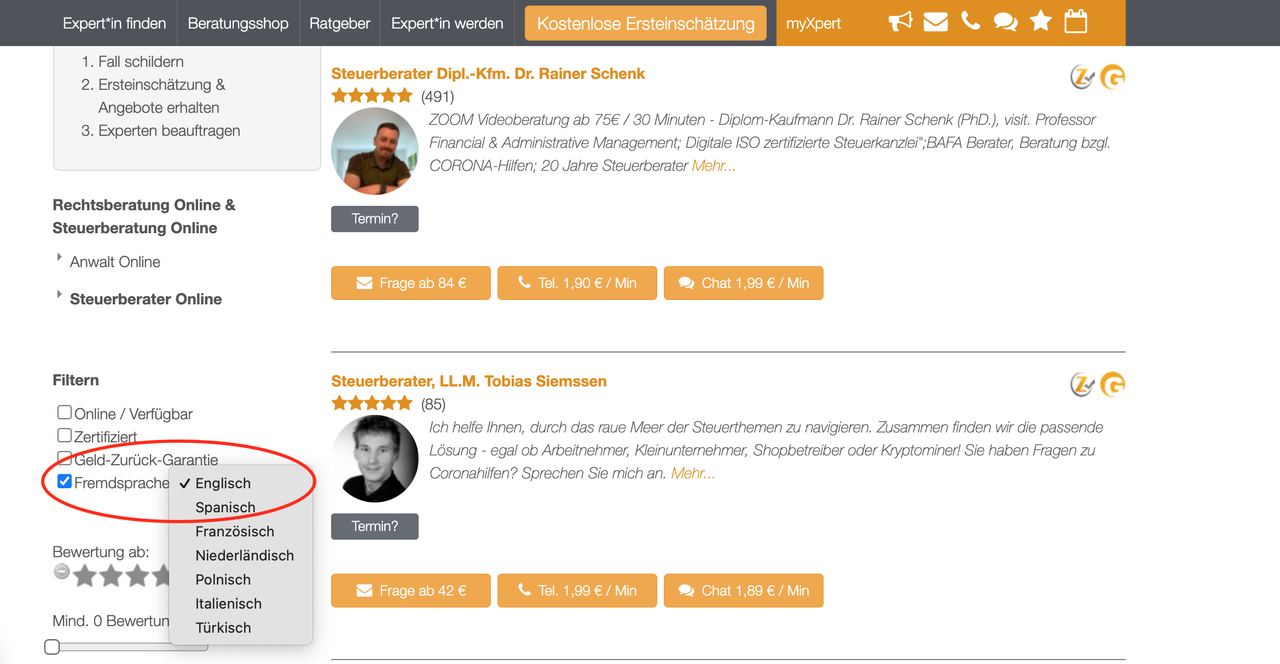 You can use the form below and describe your situation (and get a free budget estimate). Use a free translation tool such as Deepl to translate any text into German. It's not always 100% accurate but works pretty well for a free tool.
yourXpert: Rechtsanwälte Online!
---
So have you ever taken any legal aid in Germany? Or have you had any experience with a legal dispute here? How did you deal with it? Share it in the comments below. 
---
Disclaimer: This page may include affiliate links.  They do not cost you anything but I might earn a small income if you decide to use one of my recommended partners.  Thank you for your support to help keep this platform growing!
---