How to (Easily!) File Expat Taxes in Germany for Under €50!
Need to file your taxes in Germany soon? It is totally possible to file your taxes DIY or without professional help by an expensive German tax advisor. Learn how to easily and painlessly file your expat taxes in Germany!
In one of my older posts, I compared three ways expats can get help with their tax return in Germany. Outsourcing accounting to a professional is the most popular way of doing taxes in Germany, however, it can also be very expensive to hire an English speaking tax advisor in Germany. Thankfully, there are some cheaper alternatives for dealing with expat taxes in Germany.
Did you know that not all employees are required to file taxes in Germany. In most cases, one only needs to file a tax declaration if they are expecting to get a return.
In this post, I review popular online German tax return tools which are available in English and cater to the needs of expat taxes in Germany. 
---
Disclaimer: This blog post may include affiliate links. These links do not cost you anything but I might earn a small commission if you decide to order something from one of my recommended partners. Thank you for your support to help keep this platform growing!
---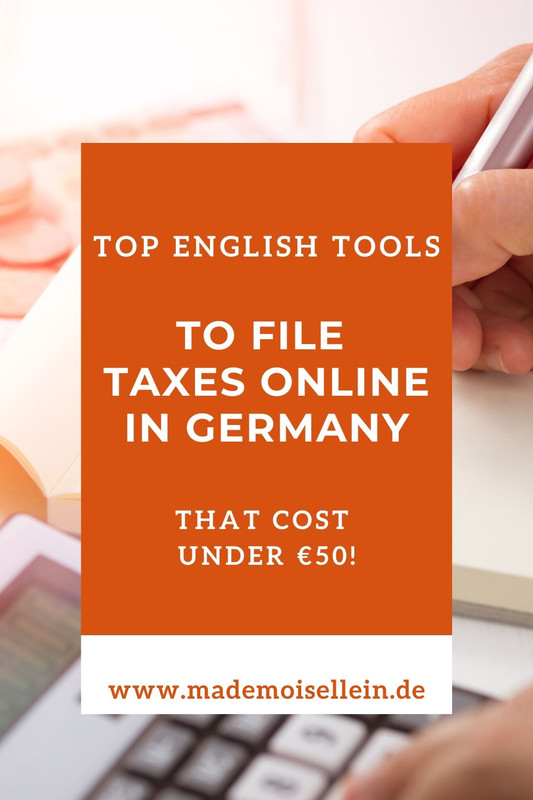 Head to Head Comparison of WunderTax and SteuerGo
English/ German/ Polish/ Russian (and more!)

Online questionnaire.
Helpful tips in real-time tailored to employee tax specifics to maximise tax return.

A simple online form to help in live mode. Keeps a track of everything, from personal information to useful tax tips.

PC, Mac, tablet or smartphone

PC, Mac, tablet or smartphone

Submission of the tax return up to 4 years retroactively possible

Smart Optimization Check. It checks your data to make sure you don't accidentally omit some of the expenses.

Tax refund is updated live and helps you determine whether filing for tax refund for the financial year is even worth it.


Transfer of data from the previous year tax returns

Checklist of tax documents. It helps you prepare and submit the correct supporting documents along with the tax return

Assistance with appeals through tips and templates for filing an objection to Tax Authorities

29,95 € / TWO tax returns
Wundertax GmbH is a fintech company headquartered in Berlin. Their main product Wundertax is a simple online tax return tool for submitting taxes in Germany to the Finanzamt.
Wundertax is tailored to the specific needs for different groups of people and professions – expats in Germany, students, police officers and soldiers.
They brand their regular tax return tool in English as GermanTaxes.
Wundertax is an intuitive tax tool that guides users quickly and safely through their tax returns by asking a series of simple questions. It calculates the estimated tax return in real-time and keeps the time required to prepare the tax return to a minimum.
Here are your top advantages with Wundertax.
It is available completely in English
You need a very short time (about 15 minutes) once you have all your data and documents ready
No downloads or installation is necessary. You can use Wundertax online
It can be used on multiple devices – PC/Laptop, Smartphone & Tablet
Free calculation of the expected tax refund
It intelligently optimises your tax return using tips and error checking
Submission of the tax return up to 4 years retroactively possible
It costs ONLY 34,90 Euro per tax return (this fee is completely tax-deductible!)
Click here to file your expat tax return  in English with Wundertax
SteuerGo is an online tax solution by a Berlin-based fintech company. It allows tax noobs to quickly complete and submit their income tax return in Germany.
The biggest plus of SteuerGo is that it is not only available in German and English but also Polish Russian, Hungarian and other European languages. They also have a customer support team in English which makes it very friendly and convenient for non-native German speakers.
This smart online tax tool knows the German tax regulations and laws inside out and automatically gives individual tax tips for the highest refund. SteuerGo is suitable for most taxpayer categories in Germany (Mantelbogen, Anlagen N, Kind, KAP, VOR , AV, G, S, R, SO, V).
The application is completely free of charge until the tax return is submitted. A fee is due only when you submit the tax return. SteuerGo Plus charges 29,95 € for TWO tax returns making it a little more pocket friendly than Wundertax.
Here are some of your main advantages of using SteuerGo.
It comes with a free trial. You pay only when you submit the tax return
Submission of the tax return to the Finanzamt
2 tax returns per tax year
You can easily transfer the data from the previous year tax returns
Customer support in English
You can continue working with the data from the trial version once you upgrade to SteuerGo Plus.
Click here to start filing your tax return in English with SteuerGo
Other Honourable Mentions
If your German is up to speed, there are some other excellent and affordable online tax tools as well.
Smartsteuer is ideally suited for singles, families, trainees, students, pensioners, the self-employed and business people. Smartsteuer supports you with:
Complete processing of your tax declaration and transfer to your local tax office
Online access to the tax assessment as soon as the tax office has processed your tax case.
Income surplus calculation (Einnahmenüberschussrechnung/EÜR), trade tax return, sales tax return
Smartsteuer costs 34,99 € – for 5 Tax returns per tax year. 
Taxfix App
Taxfix is a smart tax app available in English, German, Italian and French. It helps users by only asking the most relevant questions, saving time and getting back the maximum refund.
Taxfix app itself and calculating tax refund is free of charge. A fee is due only when submitting a tax return. Users pay 34.99€ only if the calculated refund is more than 50€ or they are obligated to file.
The submission of the tax return with Taxfix is free of charge if you are not obliged to submit it to tax office.
Lohnsteuerhilfeverein
If you're not sure about DIY filing your expat taxes in Germany, then you still have another option:
That is to join a Lohnsteuerhilfeverein.
If you are on a budget and would like to consult someone about German taxes year-round, a local Lohnsteuerhilfeverein can address all of your concerns. You can become a member by paying a monthly fee based on your annual income. Members at any Lohnsteuerhilfeverein are going to be mostly Germans, so you will need to have good knowledge of the German language.
---
Read more about joining Lohnsteuerhilfeverein (or hiring a Steuerberater in Germany) here.
---
So these are some ways you can either DIY or outsource your expat taxes in Germany. Are you also a tax-paying expat in Germany? How do you file your annual tax return in Germany? Let us know in the comments below!