Best English Accounting Software in Germany 2020
Like most non-German freelancers I have also suffered hair-pulling moments while managing my accounts and taxes. However, life got much better, once I found out that there are plenty of English accounting software in Germany. Here is a summary of some of the accounting software for freelancers in Germany that support multiple languages.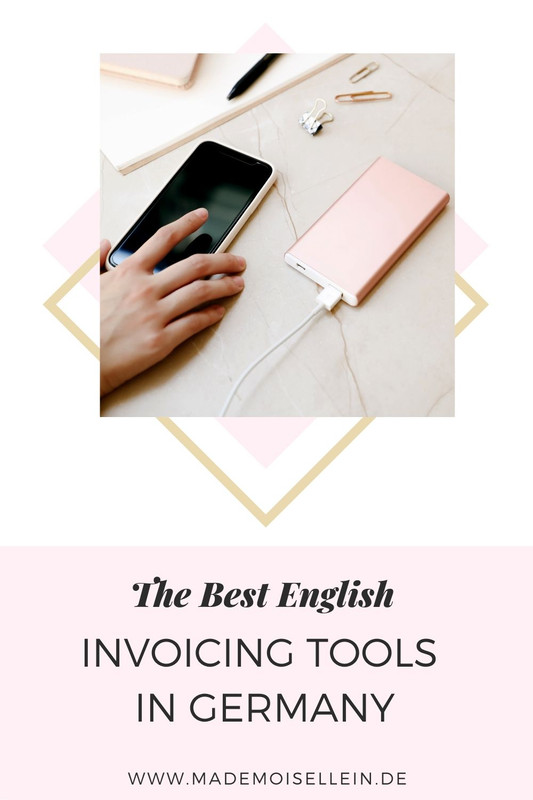 As a freelancer in Germany, you can totally get by manually creating VAT invoices for your clients.
However, creating an invoice in Word or Excel costs time, does not comply with the legal requirements and carries a high risk of error.
With the right accounting and invoicing software for freelancers, you can avoid costly mistakes, save valuable time in the boring soul-sucking admin work and stay on the safer side of the law.
But how do you know if you really need an accounting and invoicing software in Germany?
Well, that depends on your business situation.
Is your client base growing fast?
Do you have to create multiple invoices each month?
Do you have to register VAT every quarter?
If you answered YES to all of the above, then trust me an accounting tool will make your life as a freelancer in Germany so much easier. Plus it'll be lighter on your pockets as you could save hundreds if not thousands of euros in an accountant's fee per year.
In this post, I have compared some popular invoicing tools and given some tips on choosing the right English accounting software in Germany.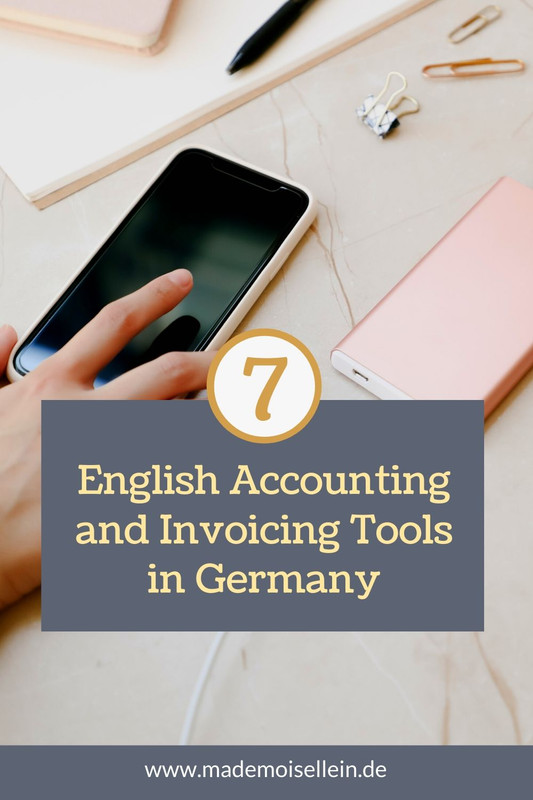 ---
Disclaimer: Some of the links in this post are affiliate links. I may earn some commission from qualifying purchases.
---
Recommended English Accounting Software in Germany
An ideal invoicing and accounting software should automatically create invoices, monitor open invoices, compare them with incoming payments or create payment reminders or dunning letters for unpaid invoices. International freelancers with a German and global client base would also want multiple language compatibilities. 
When reviewing invoicing and accounting tools available in Germany, I kept the following factors in mind: 
Compatibility with multiple languages, especially English – since you may not be fluent German speaker
Easy to terminate the contract since expat freelancers may be in Germany for a short term
Compatibility with multiple countries and geographic areas
Ability to report advance VAT to German tax authorities (Umsatzsteuervoranmeldung)
GOBD and GDPR compliant 
User-friendliness and a clean user interface
The extent of invoicing and accounting features
Third-party apps and integrations
Price and customer and tech support
Based on the above criterion, I chose the following four as the best English accounting software in Germany for international freelancers and expats.
| Top English Accounting software in Germany | LexOffice | Debitoor M | SevDesk Invoice | Billomat Business |
| --- | --- | --- | --- | --- |
| Overall Score | 4.9/5 | 4.7/5 | 4.9/5 | 4.5/5 |
| Language | English/ German | English/ Multiple | English/ Multiple | English/ Multiple |
| User-Friendliness | 4.9/5 | 4.8/5 | 4.7/5 | 4.6/5 |
| Invoicing and Accounting Features | 4.9/5 | 4.9/5 | 5/5 | 4.8/5 |
| Apps and Integrations | 4.9/5 | 4.8/5 | 4.9/5 | 4.6/5 |
| Service and Price | 4.8/5 | 4.7/5 | 4.9/5 | 4.7/5 |
| Price Per Month |  5,14 € | 8,99 € | 6,90 € | 6,00 € |
| Users | 1 | 1 | 1 | 1 |
| Trial Period | NA | 14 Days | 14 Days | 30 Days |
|   | Learn More | Learn More | Learn More | Learn More |
Top Invoicing Software in Germany
Here are six accounting and invoicing software in Germany at low monthly costs that are widely used by local and international small businesses and freelancers. 
These easy-to-use online invoicing software provide invoice templates and simple accounting features to meet the needs of freelancers and small business in Germany
Most importantly they are GOBD and GDPR compliant. You can use them as SaaS solutions – so no downloading or installing large software in your computers! Many of them are also accessible as an app, so you can keep an eye on your account on the go. Note that all these accounting software that I picked also support multiple languages including English.
So let's take a look at these accounting tools one by one.
sevDesk is a German accounting software that allows users to switch languages. Its sevDesk Invoice plan includes automatic quotes and offers generation and invoice creation and payment reminders. SevDesk also has a mobile app and is excellent in terms of usability. Its accounting interface is very neat, compatible with DATEV export and offers a 'tax consultant access'. An upgrade to the powerful version "sevDesk Accounting" is possible at any time.
You can start using sevDesk Invoice plan from €6,90 per month. Or also test it for free for 14 days.
Debitoor is a simple invoicing software in Germany for freelancers, solopreneurs and small businesses. This program offers all the important features of billing software and completely maps the process from the offer to the invoice generation to dunning process. 
The best feature about Debitoor is that you can create invoices compatible with various regions which makes it very convenient for international freelancers. 
Debitoor offers four plans to choose- starting from €4 per month. You can try for free for seven days and cancel your plan at any time.
Billomat is an invoicing and accounting program that supports the entire bookkeeping process. The "Billomat Business" version, is intuitive to use and offers all the functions from invoice generation to bookkeeping.
If you are looking for an invoicing program and would also like to do your own bookkeeping, Billomat is a great choice. Billomat's Solo plan starting at €6/ month is perfect for freelancers and side hustles like bloggers.
The Lexoffice "Invoice & Finance" invoicing program offers a powerful package with good intuitive usability and mobile apps, and obviously a full-featured accounting suite. It can create offers, invoices, delivery notes, credit notes, payments and most importantly, payment reminders.
Besides this, Lexoffice also offers integration with popular online business banks such as Kontist, Penta and Holvi. So you can automate bookkeeping in real-time. Other apps such as Zapier, Paypal, Shopify are also available. With Lexoffice, you can switch between German and English in one click. There is no trial period with Lexoffice, however, you can easily cancel your services on a monthly basis.
Get Lexoffice's starter plan from €5,14/ per month!
Papierkram Pro+ is an invoicing program specifically designed for freelancers and solopreneurs. In addition to the basic (and essential) invoicing functions, Papierkram also offers receipt management and bank account integration. A particularly practical feature is the integrated time tracking as part of simple project management.
I really love that even in their free plan, Papierkram offers a lot of must-have features like online bookkeeping, offers and invoices generation, inventory management etc.
---
Free Business Account for Freelancers and Entrepreneurs – Holvi
---
easybill is a simple invoicing software for online merchants i.e. those with e-commerce stores. Therefore, it comes with inbuilt integrations with the most popular shop systems out there such as Amazon, Etsy, Shopify etc. easybill Plus offers all billing functions except for dunning, which an online retailer may not need. Besides this, there is a mobile app with a great look, feel and usability.
Their basic plan starts at €9,00 per month and you can work with 20 clients and unlimited documents. You also get a personal onboarding session with any easybill plan.
---
Kontist Free – Kostenloses Geschäftskonto für Selbständige und Freelancer
---
What to Consider Before Buying an Accounting Software in Germany
As you can see from the above section that there are tons of accounting and invoicing software in Germany. Here are some of the features that you should carefully consider when investing in a bookkeeping software.
It should fit your requirements: If you are a freelancer with only a handful of invoices and expenses per month there is no need to get a fully-featured bookkeeping tool. A starter plan suitable for busy freelancers should suffice. On the other hand, if you are selling digital products or run an e-commerce business, then you may need some additional features to manage and organise all the transactions.
It should have an intuitive user interface:  Accounting is already a complex part of running a business. The last thing you need is a UI that complicates the process even more. An ideal invoicing and accounting software should take work off your hands and save time. Therefore its user interface must be intuitive and easy to learn.
It should be scalable and 'upgradable': As your business grows, the demands on the billing software will also increase. You should take this into account when buying the software.
It should have robust data protection features: Your accounting software often doubles up for managing customer data (CRM). Since so many invoicing and bookkeeping software solutions are available as SaaS, you should attach great importance to data security.
It should offer data backup and recovery: Any accounting software contains very important information which is relevant from a tax point of view. In Germany, you are required to maintain financial records for several years. Before buying an invoicing software in Germany, make sure that the provider offers regular data backups and restoration in case of an accident.
It should offer an ideal price/performance ratio: Although most well-known accounting software have very similar features, you should take a close look at the costs of the functionalities offered. This point becomes particularly important when upgrading from basic to 'pro' versions.
It should have excellent (and fast) customer support: If there are problems with the invoicing software, timely support from the provider is important. Please check whether a service hotline is offered and what costs may be incurred.
It should have a free trial phase: A test drive is a must before you commit to buying an accounting software in Germany. Take advantage of a free trial period and test the billing programs that are on the shortlist.
It should offer a knowledge base or/ and onboarding: Although many invoicing tools can be operated intuitively, the accounting software provider should also offer a comprehensive knowledge base or an onboarding program for first-time users. 
It should have GOBD conformity: Any invoicing software in Germany must comply with German legal requirements. For example, the storage periods of 10 years, the completeness of the documents and the non-manipulability of created documents, especially the invoices are crucial in German tax laws. Check and re-check if the accounting software of your choice conforms to these regulations. 
---
Read More: English Online Tax Tools For German Expat Tax Return (That cost Under €50!)
---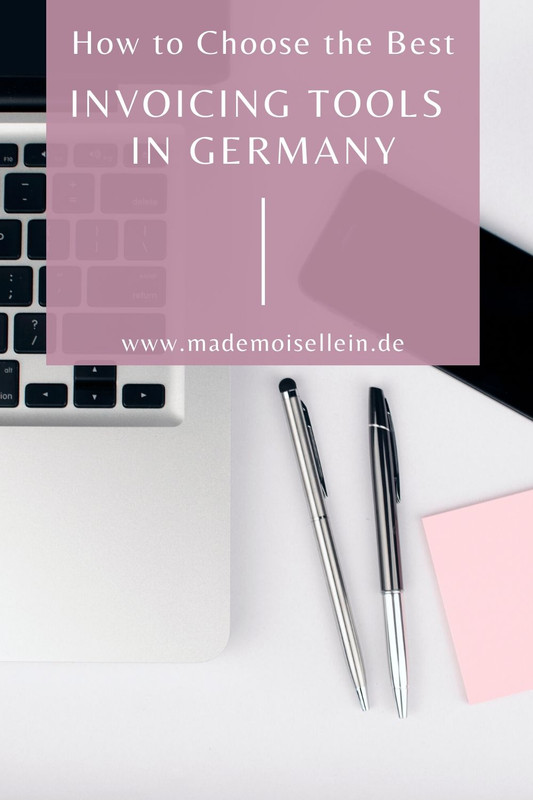 So here is my summary of the best English accounting software in Germany. Do you use some other tool for your invoicing and accounting? Tell us in the comments below!