Internship in Germany Part II: How To Apply For German Internship Visa
Last updated on December 23rd, 2022 at 05:04 pm
In an earlier post, we discussed some of the most practical ways of finding an internship in Germany.
In this edition, let's take a look at the details of the application process for a German internship visa.
1. Research Is The Key!
To prepare for everything, you need a maximum of 6 months before the start date of your internship.
This is ample time to apply for a German internship visa and to get yourself ready for the journey.
Depending on where you come from, I would suggest that you check the embassy in your city on the requirements. Hey, it's always good to ask! They will, and might, have the information ready for you in a leaflet.
Writing to them may save you some time to do some research. Find contacts of your local embassy in your country at Auswaertigesamt.de.
2. Prepare Documents For Visa Application
To apply for the German internship visa, you will need to provide relevant documents. This is the general set of documents that German internship visa applicants are requested to prepare. To find out country-specific requirements, I highly recommend checking the website German embassy in your city/country.
A visa application form
Two recent biometric photographs
Valid passport
Valid health insurance. Here is a list of visa-approved health insurance in Germany.
Proof of your studies and your qualifications
If an internship is tied to your studies – you will need to show proof that you are enrolled in a university for the semester. This is the case for most internships in Germany.
If your internship is unpaid – you will need to provide evidence that you have sufficient funds for the entire period of your internship.
If it's paid – the contract from your internship company shows proof of your estimated income
A copy of your 'Bundesagentur für Arbeit' (BfA).
This is normally processed by your employer to apply on your behalf. Some internships do not require an agreement with the BA, specifically, internships under EU-funded programmes (Leonardo, Socrates, Erasmus, etc.).
3. Get Ready For Your Appointment
Once you get all your documents in order for your German internship visa, you need to set an appointment to visit the German embassy. Visit your country's German embassy for more information to do this.
Once you submit your application, waiting times may vary.
Normally, it will take 3 weeks until you get a decision from the Embassy on your visa application. If your German internship visa is approved, you get a Schengen visa. It will allow you to enter Germany.
4. What To Do After Getting German Internship Visa
Don't forget to double-check the details written on your German internship visa. It should state that you are taking an internship with so and so company.
Don't fret if the visa says only 90 days when your internship is for a whole year! You have to extend it when you arrive in Germany.
When you arrive in Germany, you need to get your temporary residence permit from the Ausländerbehörde in the city of Germany when you arrive.
If your German internship visa is rejected, embassies would normally explain the reason for the rejection. Often, it's because you need to fulfil a missing requirement. The company or the organisation may need to coordinate with the government office for you to help you get your German internship visa.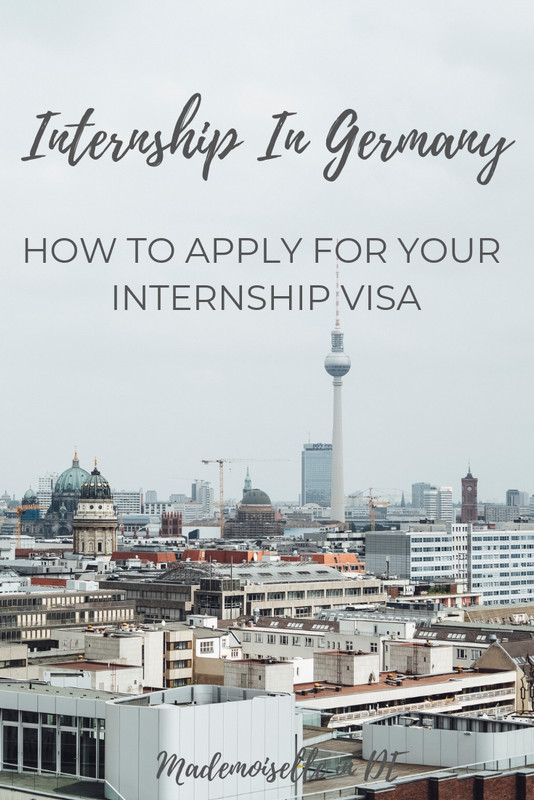 ---

Next up: How to prepare for your stay during your internship in Germany

---
Do you have any experience with German internship visa? How was your journey? Did you wait for a very long time? Tell us all about your experience in the comments below.