Tips For Planning a Day Trip to Mount Vesuvius and Pompeii
Top Takeaways From This Post
Are you planning a day trip to Mount Vesuvius and Pompeii? Read all you need to know about visiting the ruins of Pompeii and Herculaneum, and the crater of Mount Vesuvius.
One of the most amazing parts of our 10-day road trip to south Italy has to be the day trip to Mount Vesuvius and Pompeii. Mt. Vesuvius is probably the most famous volcano in the world. We all know about this one – every kid has read about it in the history textbooks – the volcano that destroyed Pompeii!
If not read in a school book, then you must have watched that particular episode of Dr. Who. 😉
If you want to plan a trip to Mount Vesuvius and Pompeii or even Herculaneum, then you will need to inform yourself beforehand about a few details. Read this post to learn all you need to know about a day trip to Mount Vesuvius and Pompeii.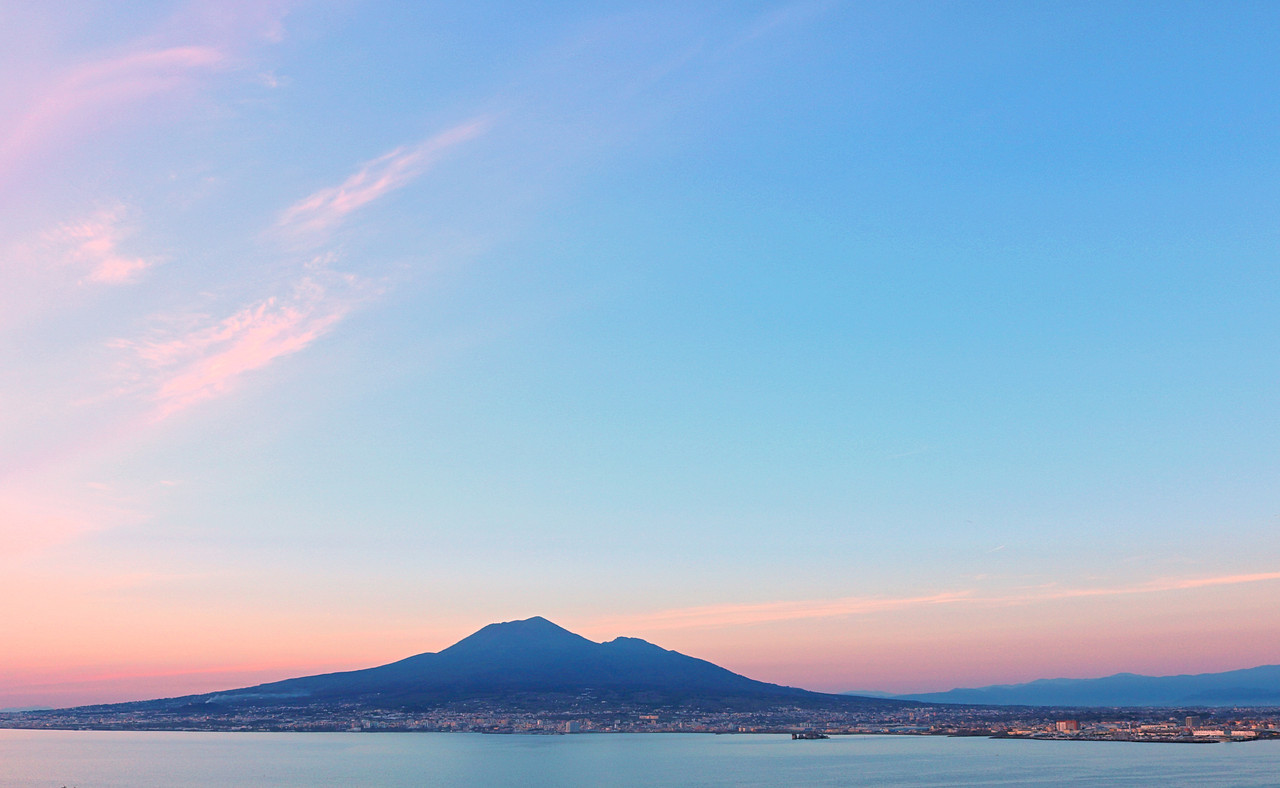 ---
This blog post may include affiliate links. These links do not cost you anything but I might earn a small commission if you decide to order something from one of my recommended partners. Thank you for your support to help keep this platform growing!
---
Hike Up to Mount Vesuvius Crater
Getting to the top of this active volcano is challenging – physically or logistically. Mount Vesuvius is one of the most popular tourist spots in Italy and reachable form many major points like Naples, Rome and Amalfi Coast. Our base for all our day trips was Castellammare di Stabia which is the centrally located for much-beloved places like Amalfi Coast, Naples, Capri, Pompeii and of course, Mount Vesuvius.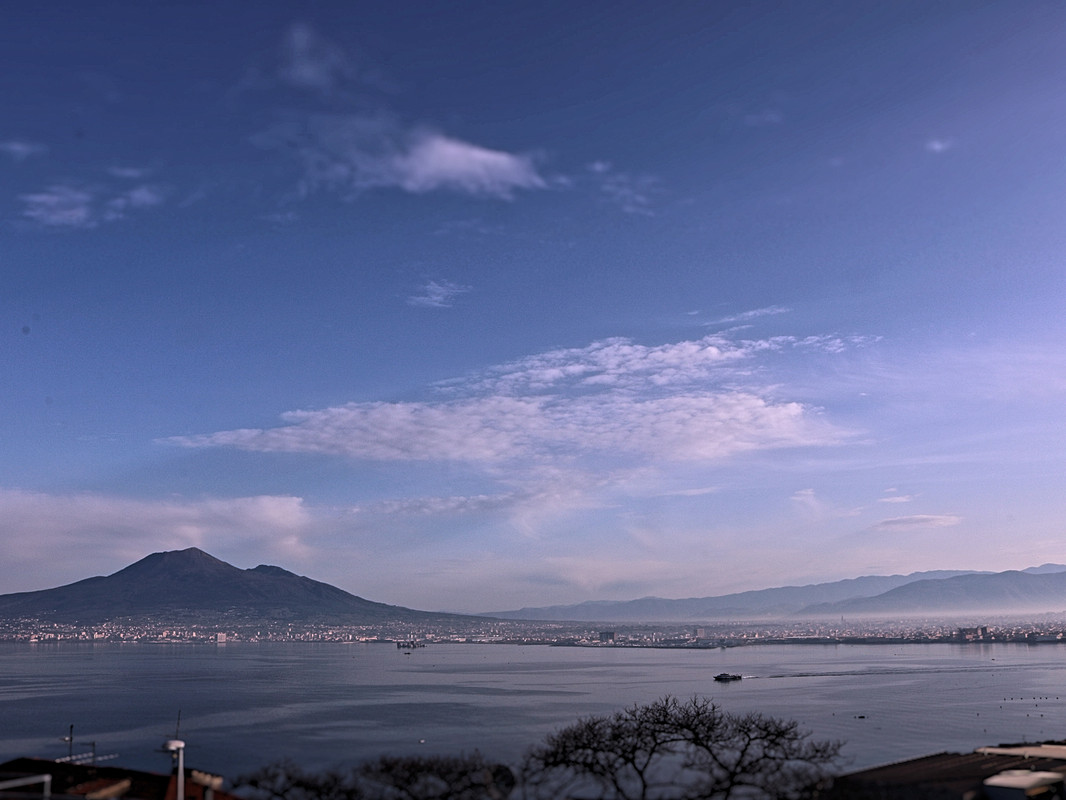 How to get to Mount Vesuvius base 
The easiest way to get to the starting point for the hike is with a tour or transfer. If you're coming from Naples, you have a lot of options to chose from.
Click here to find a perfect day trip to Mount Vesuvius and Pompeii
You can also use public transport to get to Mt. Vesuvius. The Vesuvio Express from the Ercolano Scavi station of the Circumvesuviana train is the best option. The Vesuvio Express leaves about every 40 minutes. One ticket costs €20 and includes the €10 entry fee that everybody would have to pay at the top.
Another way – what we also did was simply rent a car and drive up to the base. We started in the morning and drove in our car. It's basically just one long winding road to the top. Just like in Amalfi Drive you have to be mindful of the hairpin bends and oncoming tourist buses on this tiny narrow road.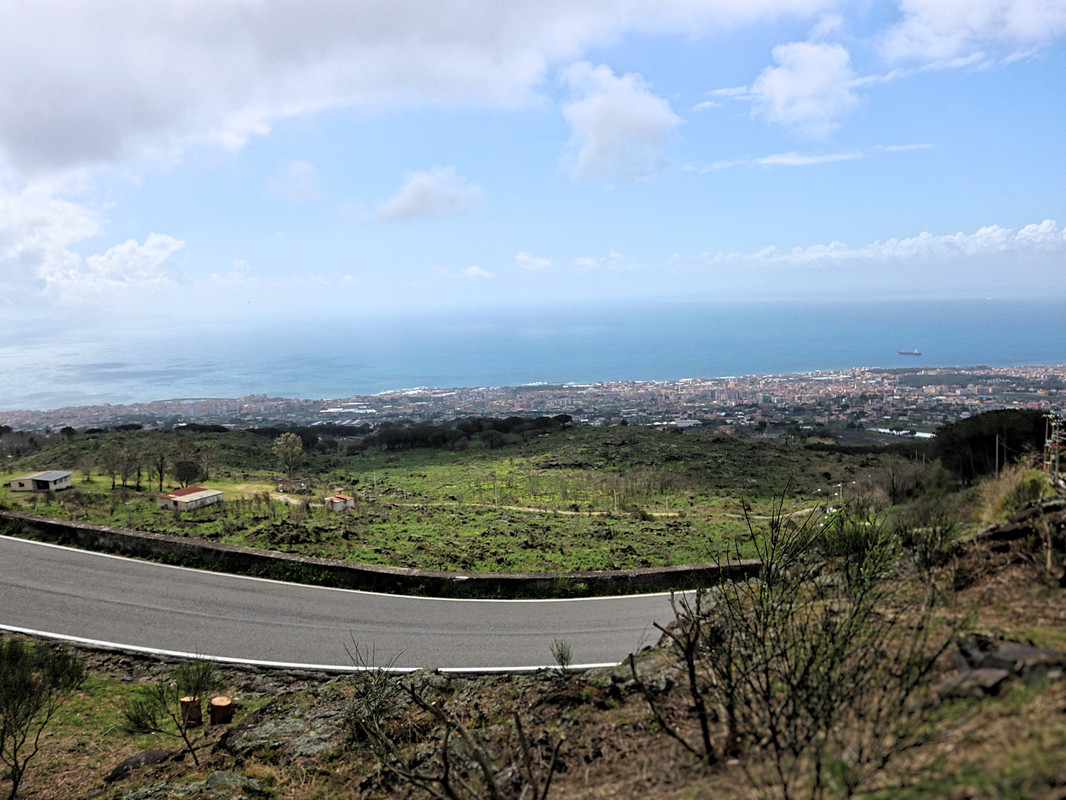 You will reach a car parking place. Mind you this is still NOT the base for the final hike.
From the car park, you can take another bus or a shuttle going up to the bus parking which is higher and closer to the base. If you are in the prime fitness you can also hike up all the way from the car park – but it will add about 30 minutes to your time.
Hiking to the Mount Vesuvius crater
Whether you take a car or bus ride up to the base, you will still need to hike the last few 100 meters on foot. There is just no getting around that.
You will need a moderate degree of fitness. It may take you longer to cover the trail if you're not used to hiking uphill. Heck, I work out regularly and have a pretty good fitness level. But this last stretch quite steep and it took quite an effort for me to reach the summit.
It takes about half an hour to walk the whole way from the base.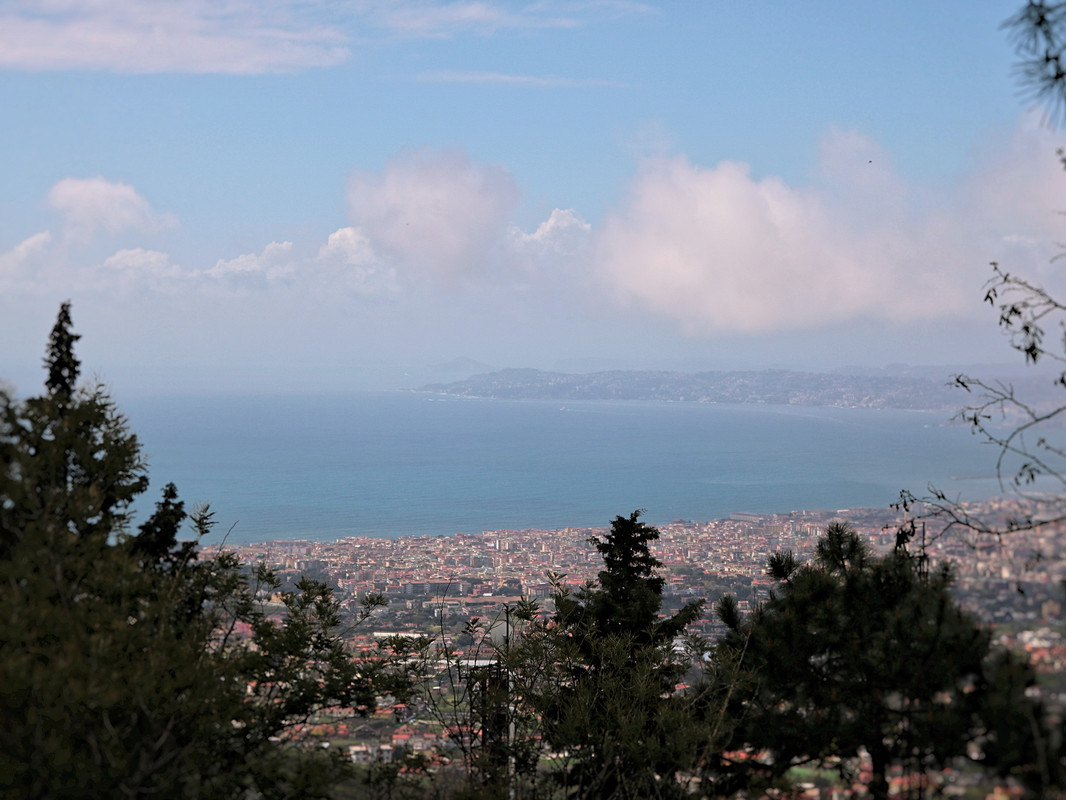 Reaching Mount Vesuvius summit
On a clear day, you will be able to see phenomenal views of the Naples Bay and the crater itself. 
However, after all the huffing and puffing we reached the crater only to find out that it was densely fogged, with very little visibility. None of those spectacular views of the crater and the cities in the Naples Bay as you couldn't see much up there.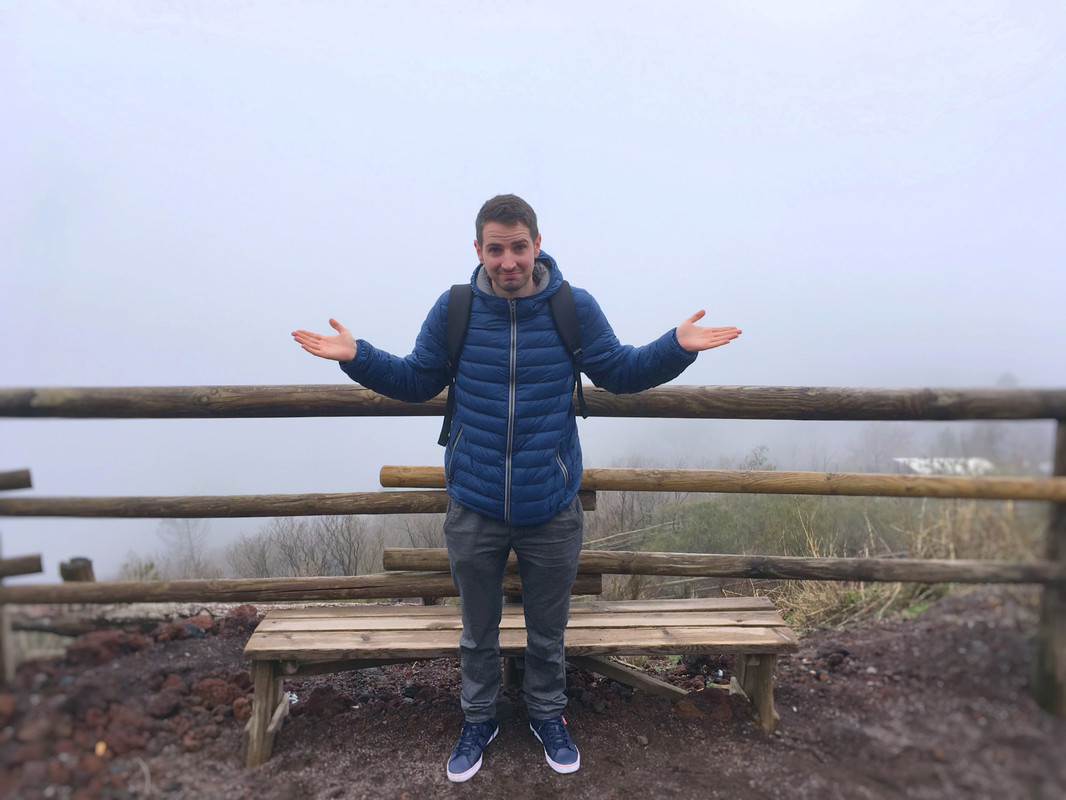 We should have felt gutted after all, but actually – the fog kinda made the whole experience a bit magical. Might I say it even added to the sense of danger and excitement?
Knowing that we are standing on an active volcano and literally surrounded by thick clouds added to the surrealism of this little adventure. Walking around the foggy paths I couldn't help feeling like I was a  little explorer in a fantasy story, only to see the danger signs to snap back to reality.
I think there are very few places in the world as symbolic as Mount Vesuvius. Experiencing this mythical volcano crater was an other-worldly experience. Something that will always stay with me.
We started our journey downwards when we were done exploring the foggy crater, photographing and buying souvenirs. Of course, the clouds started to clear up once we were halfway down though. 😉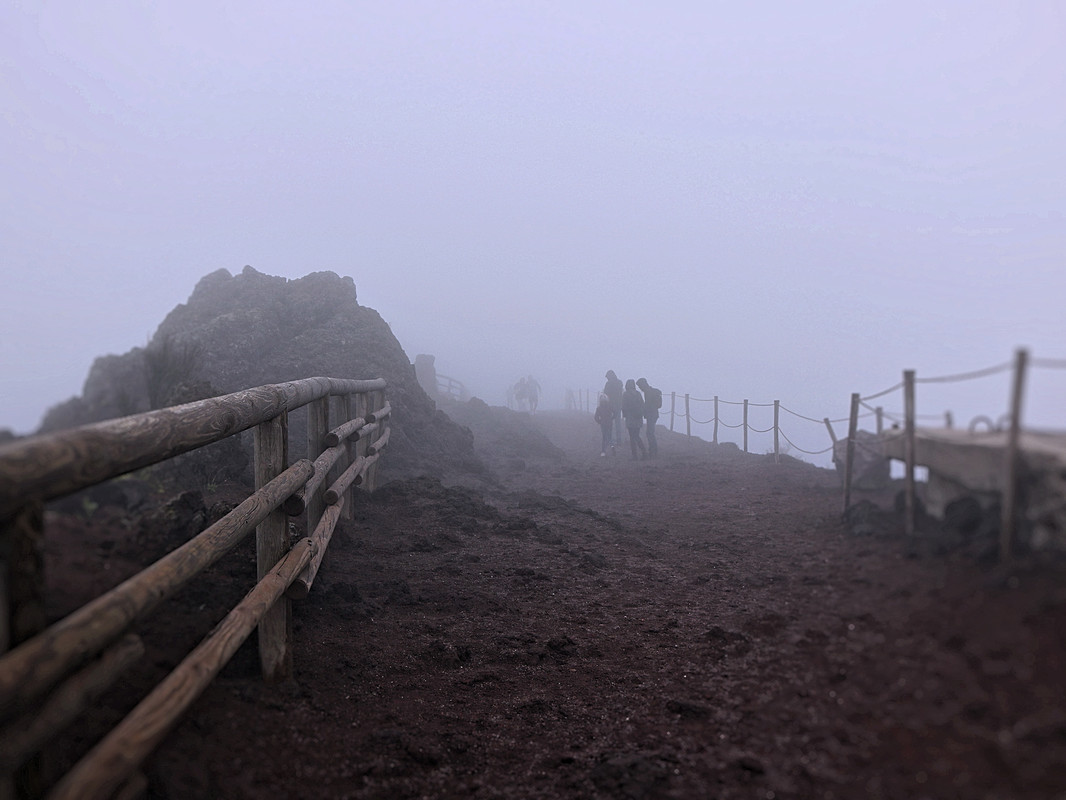 Tips to experience Mount Vesuvius
There is a souvenir shop on the top that also serves some snacks and beverages. It's a bit pricey so I will not recommend sitting down to eat there. The mountain is home to some local wineries and pizzerias, so you might want to give them a try. You will get some great authentic pizza, wine along with great views!
As for us, we decided to stop the car in one of the parking nooks and enjoy a pizza picnic while soaking in the views of Naples Bay.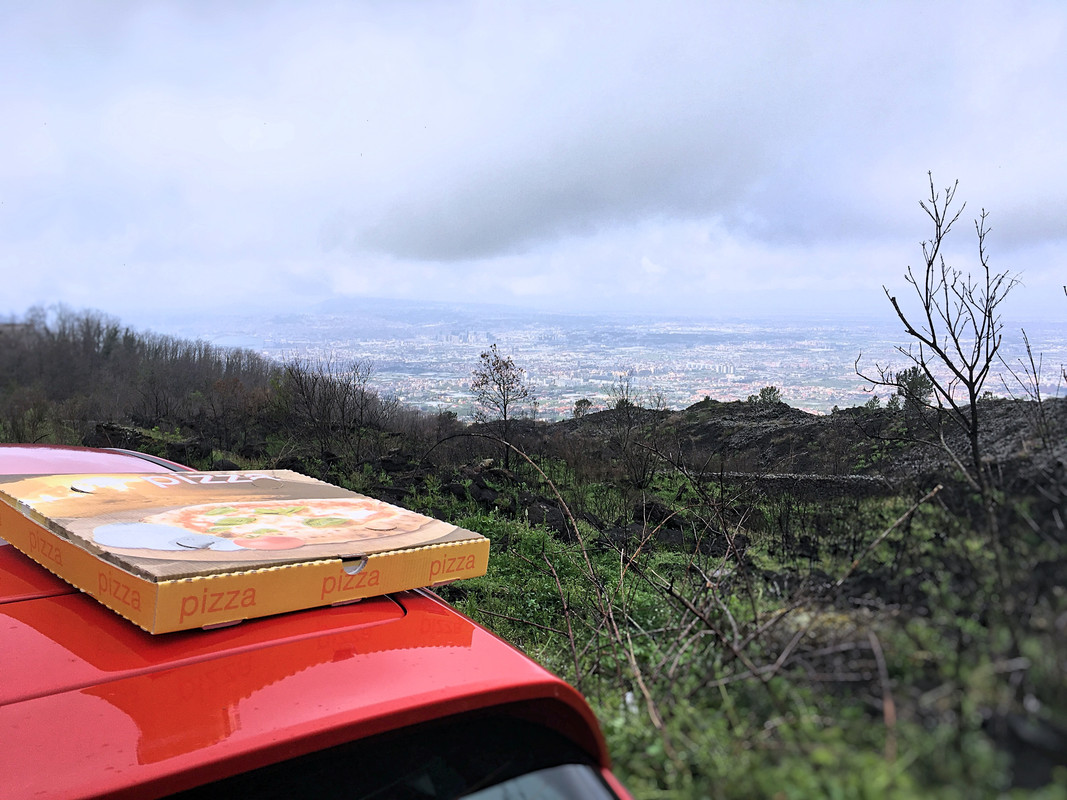 So even though we couldn't look into the eye of the volcano crater, the trip to Mount Vesuvius was not wasted on us. I think it was the 'highest picnic' I've ever had. Let's also add the 'highest pizza lunch' and the 'best picnic view' to that list.
Kinda hard to surpass don't you think?? 😉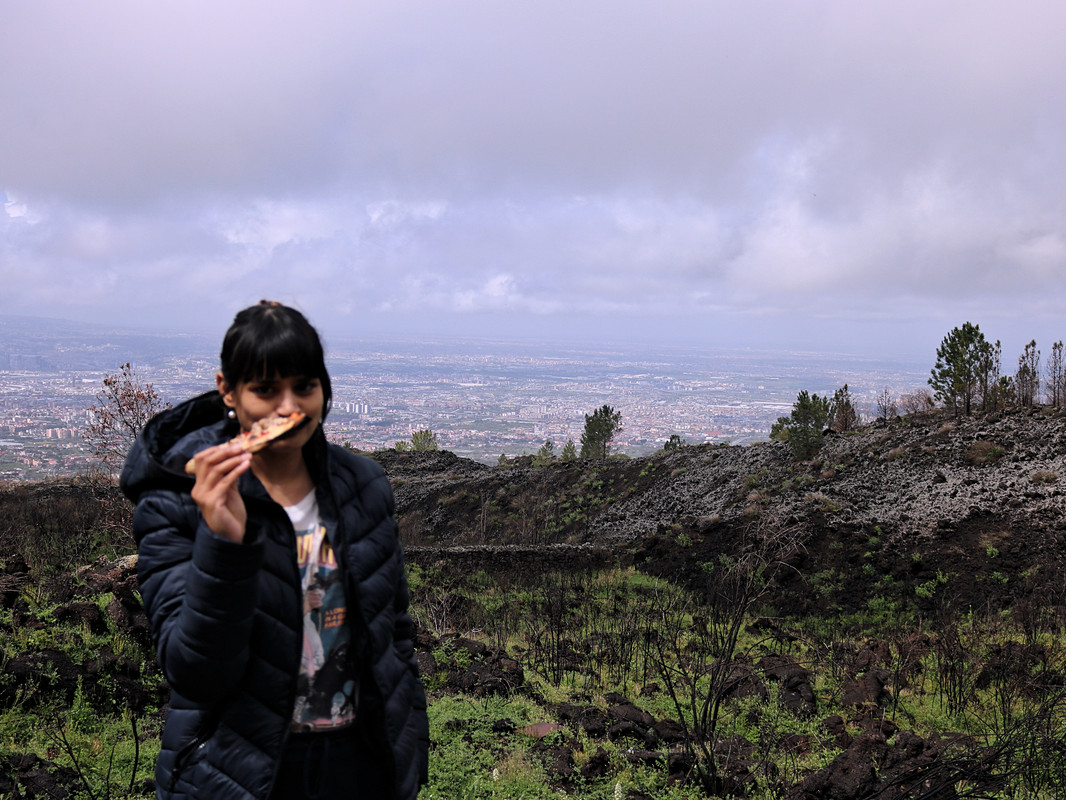 Explore the Ruins of Pompeii
Our next stop on this day trip was Pompeii. Since the city remained covered in a thick layer of ash for centuries, its remains are very well preserved to this day.
Even though Mt. Vesuvius destroyed the city, it also effectively preserved it by freezing life in Pompeii in its track. Now, this ash-covered ancient city gives us one of the best looks there is on ancient Roman life.
Today, Pompeii is a UNESCO World Heritage site, one of the most popular tourist attractions in Italy and one of the most visited archaeological sites in all the world.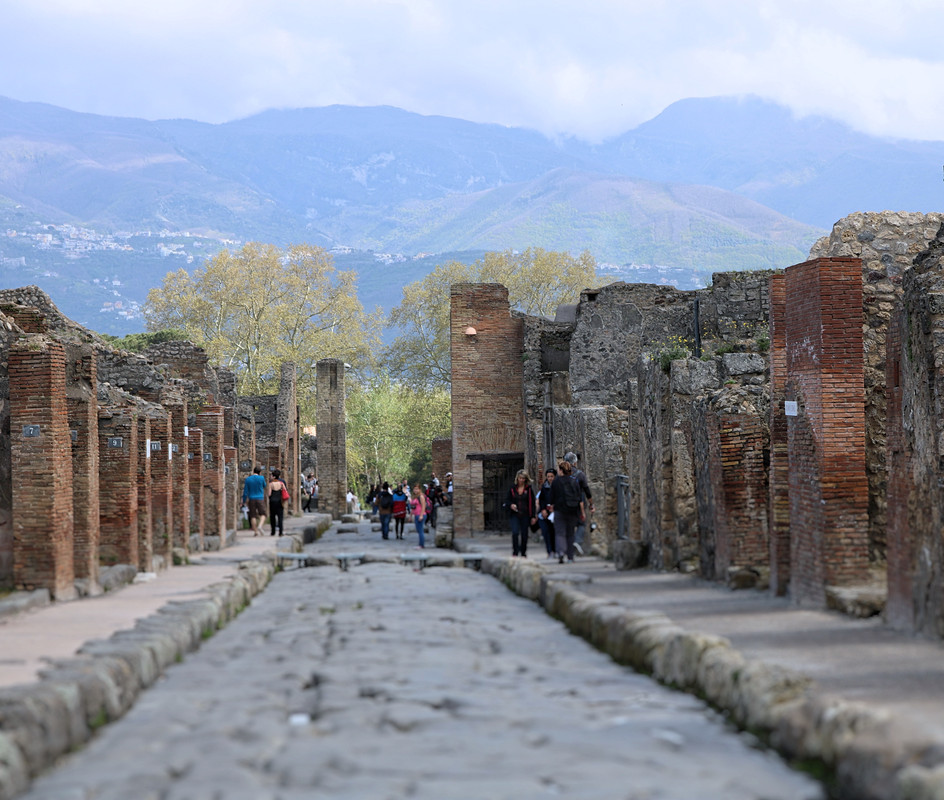 How to get to Pompeii
The ancient ghost city is a major stop and easy to reach from the major surrounding cities by train, car or even bus. We drove to Pompeii directly from Mt. Vesuvius and it's a short drive from there.
Where to get entrance tickets for Pompeii
You can buy the tickets online or from the ticket office at the gates of the city. The entrance tickets are currently 14 euro per adult. The prices change every season, so you can check the latest cost or book ahead here. Be sure you have cash as the ticket office doesn't always accept credit cards.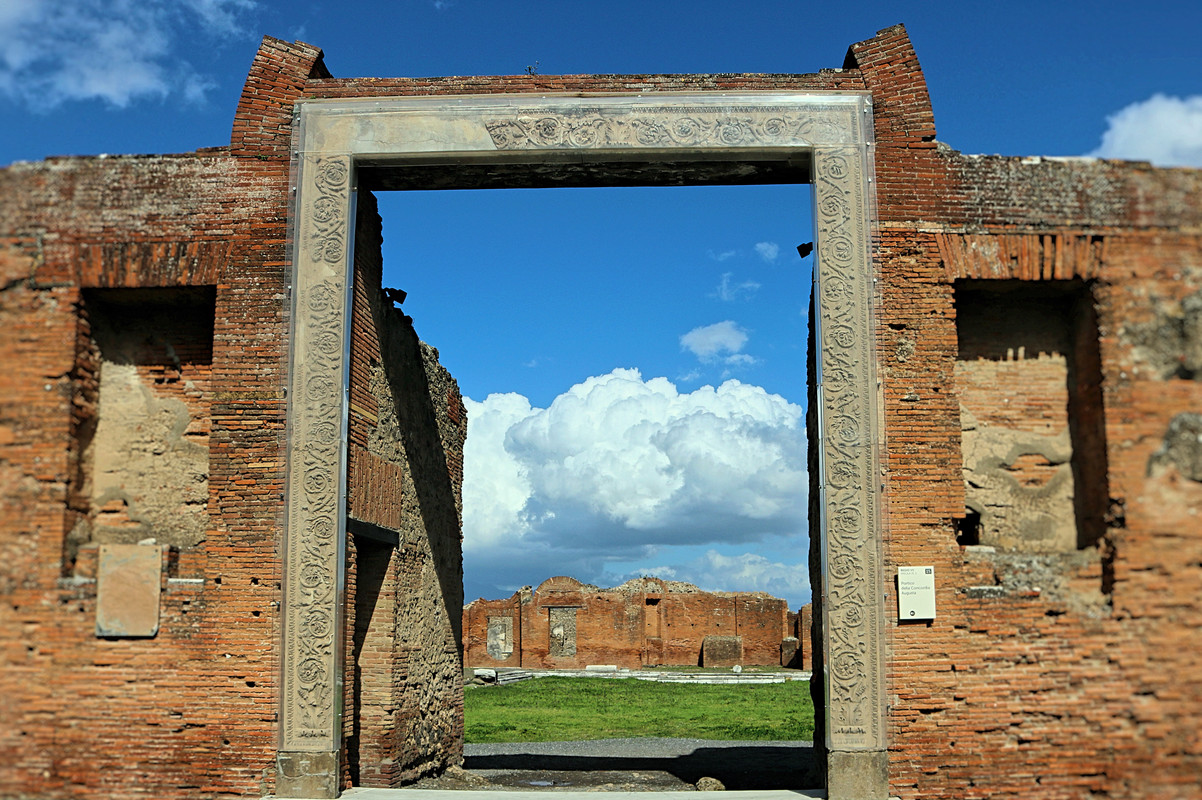 How much time should you plan for Pompeii
We combined Vesuvius and Pompeii in one day, but if time was not an issue we would have dedicated one entire day to Pompeii. As soon as we passed through the gates we realised that it deserves a full day for proper exploration. It's actually a proper city and not a museum!
Pompeii was once a major maritime city and the current site is vast with excavated 44 hectares of area. It is relatively big, with many ruins of ancient houses and villas. We underestimated the size of Pompeii and missed some parts in a half-day trip since we ran out of time.
However, if you start your day rather early in the morning you may be able to cover both destinations in 8 – 12 hours.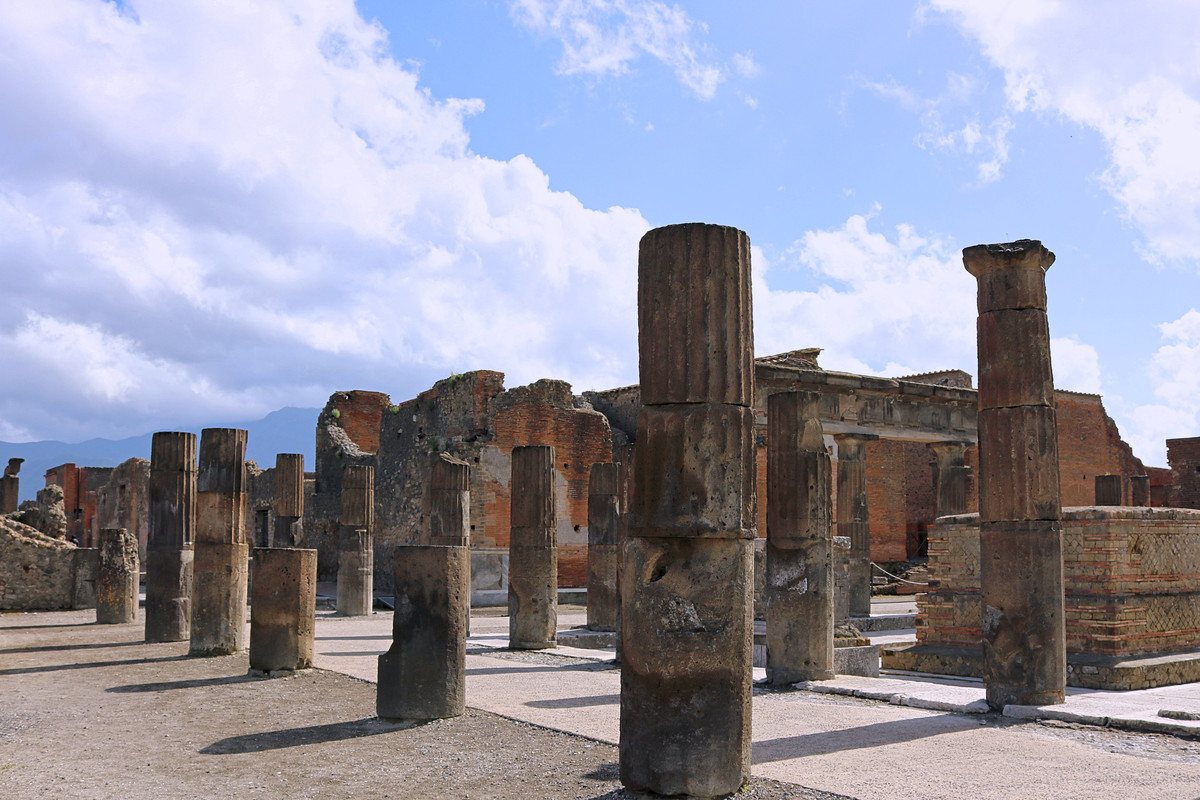 Tips for exploring Pompeii
If you are visiting during the summer months, then make sure to bring hats (or even umbrellas), snacks and bottles of water. Be generous with sunscreen since there is very little shelter from the sun inside the city.
There is only one small food stand with a small menu and unreliable hours of operation. Thankfully, there are water fountains throughout the site that you can use to refill your water bottles.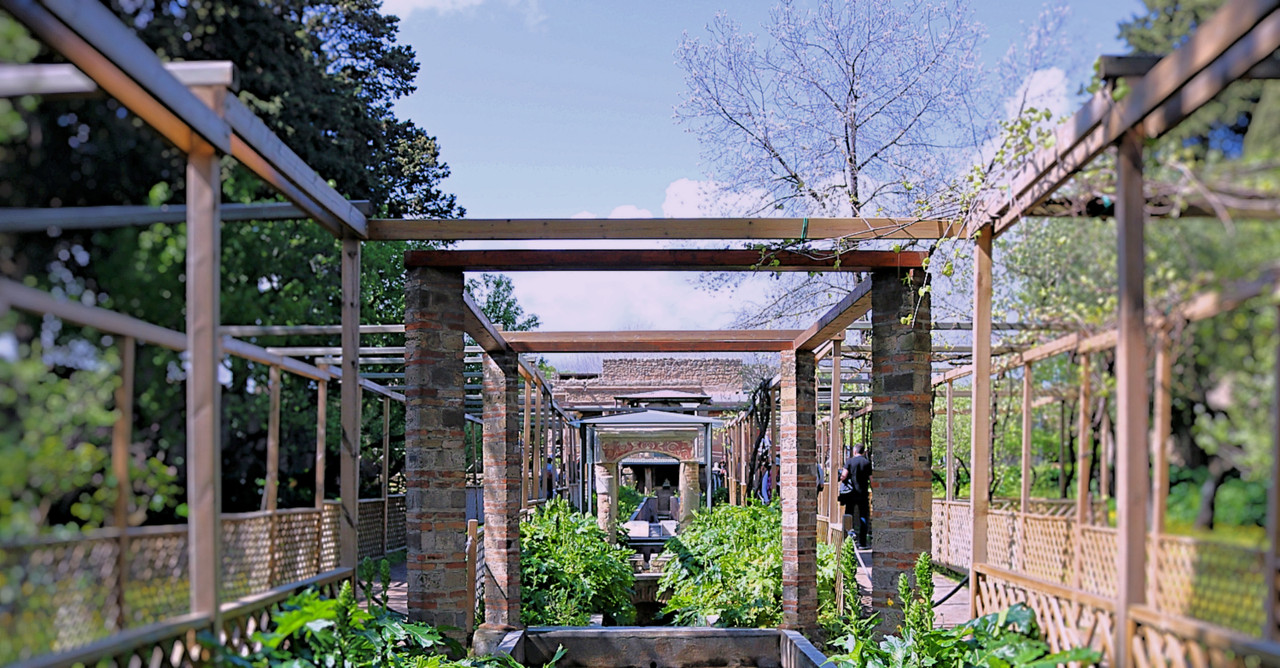 The largest museum with the Pompeii artefacts is in Naples. So if you ever feel like you didn't get to see enough Pompeiian pyroclastic mummies in one day, you can always head over to the Naples National Archaeological Museum.
Click here to find a perfect day trip to Mount Vesuvius and Pompeii
---
Want to find more about other destinations in this beautiful region?
Read this post to learn how to plan a ten-day trip to Campania including a weekend in Capri, an exciting road trip to Amalfi Coast and city trips to Naples and Rome.
---
So here is how you can plan a day trip to Mount Vesuvius and Pompeii. Have you been to these legendary places in Italy? Tell us your top tips for visiting Pompeii, Herculaneum and Mount Vesuvius in a day trip.